At the heart of it are groups like Black Country, New Road, Squid, and 2019 Mercury Prize nominees black midi; each distinctly combining elements of math-rock, jazz, post-punk, and post-rock under the watchful eye of producer and label head Dan Carey.
So, when Speedy Wunderground announced that they'd be releasing their first full-length back in June (previous releases were EP's and end of year compilations), was it going to be a purification of these methods, honing in on the fluid sound of a band like black midi? Or was it going to push the boundaries of that sound, channeling new genres into what is already a large bowl of genre-soup?
The answer is neither; Tiña's debut Positive Mental Health Music is, on the face of it, a far more conventional psych-rock album. 11 tracks, with the songs mostly three or four minutes long, and a routine line up of instruments. Dig deeper, however, and lead singer Josh Loftin's lyrics start to shine through like nuggets of gold. His vocals are unusually raw, shifting from vulnerable falsettos to impassioned yells, and the chord changes—which Dan Carey notes as what immediately stood out to him—are often beautiful and harrowing.
Tiña's aesthetic follows suit. The band is made up of five guys who look like five guys that would be in a psych-rock band. Watch some of their gigs, however, and you'll see them drenched in a pink glow, never without the pink cowboy hat that's become their defining symbol. Loftin is often seen in pink cycling gear and their logo is a pink bird also adorned with the cowboy hat. As a band who's only album so far deals with mental health in a very honest way, is the hat a symbol of challenging closed-off masculinity? Taking the overtly masculine symbol of a cowboy and turning it pink?
"To be honest, a friend of mine just gave me the hat. We didn't choose it as the symbol," says Loftin, "but we've always tried to encourage openness and promote a sense of tenderness. We used to call ourselves 'The Love Ship.'"
Part of the fertile Brixton Windmill scene that has provided a home for bands like Black Country, New Road, PVA, and Goat Girl, Tiña essentially formed their lineup around the venue. Loftin's previous band, a raucous post-punk group named Bat-Bike, played there often alongside bands like Fat White Family and Warmduscher. Adam Cartwright, Ollie Lester, and George Davies are all members of Uncle Tesco and regulars at the Windmill, and keyboardist Calum Armstrong, who makes music as Pet Grotesque, has—you guessed it—played at the Windmill.
"There isn't just one sound there," says Armstrong. "It's lots of different visions and types of music, and they're all being encouraged to explore and do what they want to do simultaneously. If somebody comes out and does something that's really good but it's really eclectic and weird, people are still going to support them."
When you listen to Loftin's cartoon-esque high-pitched singing all across the album, it's clear that eclecticism has been welcomed into Tiña's canon. The band almost try to break down the barrier between artist and audience, with it sometimes feeling like you're in the studio alongside them. At the end of "New Boi", Loftin can be heard giggling into the microphone. On "Close Shave", the band howl into their microphones. There's a confidence that seems born out of the support which Armstrong mentions, as if 'The Love Ship' can go in any direction and be carried by the crest of love that emanates from a venue like the Windmill.
"It's definitely had an impact in terms of community," Cartwright adds, "some of the themes of the record touch on feelings of isolation and facelessness, and being in London amplifies that. You have to try and make a community otherwise you can become a ghost, and the Windmill has been that for us"
Looking at the bands of the various members, there's a real diversity between the more electronic pop sound of Pet Grotesque and the heavy-duty punk of Bat Bike. Uncle Tesco, whose logo is indeed a reworking of the Tesco logo, falls somewhere in between. "We just love listening to music together and being stupid to it and dancing to it," says Cartwright.
"As a band, it's more about replicating that feeling than trying to replicate a particular sound, and whatever kind of comes through, comes through. I think we all like classic stuff, and Josh's songwriting definitely has that classic feel."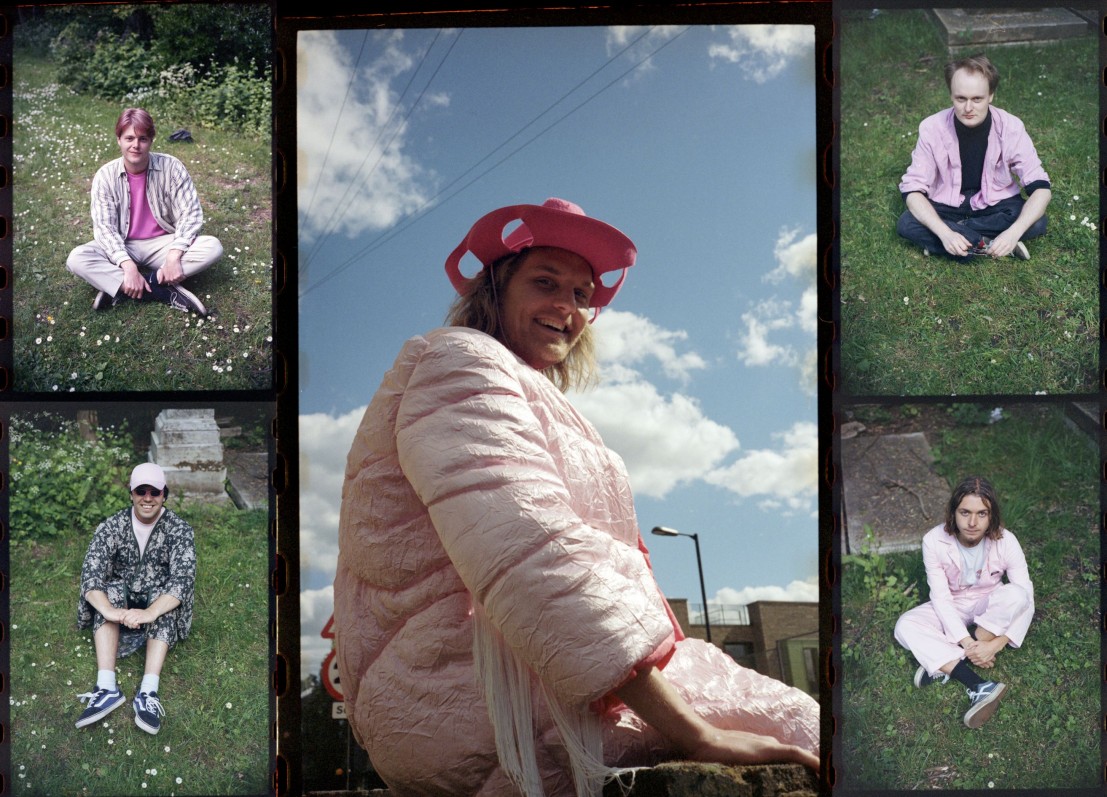 Listening through the album, there are moments that feel inspired by the angst of Kurt Cobain and Nirvana or the understated cool of Lou Reed and The Velvet Underground. As Armstrong says: "Josh's singing sounds like a mix between Kermit the Frog and Kurt Cobain", which implausibly makes complete sense.
Yet at no point does it feel like Tiña are aiming for a classic kind of sound. Nor does it feel like they're trying to emulate the sounds of any of the other Speedy Wunderground success stories. To tell you the truth, it doesn't feel like they are aiming for any sound. The music feels so authentic and unburdened by expectation. An album that deals with the darker side of mental health—depression, anxiety, isolation—the magic of Positive Mental Health Music is in the way these issues are portrayed.
There isn't a glorification of mental health, nor is there excessive grief. It's often funny and playful: skyscrapers are referred in the double entendre of "Dicks in the sky", some metaphors don't really make sense ("nervous like a big dinner plate"), and other lyrics are uncomfortably honest ("I put my wash out at 1pm / everyone I know is doing better than me"). It feels real. Mental health troubles don't always make sense and can be difficult to express. Some people are self-deprecating, others are angry. Tiña's songs so sweetly capture that real-life essence.
"I never set myself any parameters," Loftin says of the songwriting process, "so every song might come out sounding like a song that made an impression on me at some point. I'm sure you could probably take most of my songs and break them down and be like, 'This song is from The Velvet Underground, or this is Neil Young', but that doesn't really matter because I'm not setting myself any parameters. I feel free."
In comparison to Bat-Bike, Tiña is a softer brand of rock. The heaviness of the punk is replaced by psych-pop keys and brighter melodies, and the lyrics are more introspective. Find pictures of Bat-Bike playing live and you'll see Josh topless surrounded by a grungy blackness. Find pictures of Josh with Tiña and you'll see a pink psychedelic cowboy. In his own words, it's "dare I say it, more mature."
"At the beginning with Bat-Bike, the music was incredibly expressive and that was a very freeing thing. We just needed to throw ourselves around and be loud. But the band had its journey. I was really lucky to be with such a great group of songwriters, but maybe towards the end I felt like part of me was writing for that playful, pastiche kind of post-punk sound, as opposed to the other way round."
In choosing a producer to help them embrace that new-found freedom, they hit the jackpot with Dan Carey—although in truth it was he that chose them.
In another interview, Carey had said that his favourite way of choosing music to work on was via the 'impromptu gut-feeling' you get watching a band. When he saw Tiña play at the Deptford Bunker last year, he approached the band after the show and asked if he could do a single with them, to which Loftin responded: "Yeah, cool man, nice to meet you." That single became "I Feel Fine" on Speedy Wunderground's Year 4 Compilation and one of the standout tracks on Positive Mental Health Music.
"At night he gets us really, really high and then spins us down the stairs. And then we try and attack the instruments." Although (probably) not true, this response to working with Carey tells you how comfortable they are with a producer of his repute. "I think it's best when you're just playing music and not even really talking that much," says Cartwright, "and with Dan, we'll be in that flow state of making the whole time, and it all feels really easy, really fluid." Armstrong cuts in: "He's great at pinpointing what he wants to get from the music, but also allowing you to get what you want from it. He really listens to what's coming through and seems to be able to quite intuitively guide us into what it is that we're trying to make. What it is that feels right."
"Most importantly," Loftin says, "he resonates with it. In a way that feels very real. It's more than just, 'I want this to come out sounding as good as it can.'"
Although breaking new ground as the first full-length album on Speedy Wunderground, the label's methodology so far has very much been about letting bands move on; helping them find their sound and place in the musical landscape. Before their current wave of bands, they'd released music by Kae Tempest (formerly Kate Tempest), and Loyle Carner, both of whom are household names that have carved out real niches for themselves. It suggests that the future of Tiña may land up away from the label.
"With this lineup, we've locked into something that's just like a big family. It's a specific way of playing and a way of writing that feels good, and it's satisfying to be a part of. It's not good to put huge amounts of pressure on things, but I think we're on the cusp of the next level, so to speak... I think we'll almost certainly be around together for another record," says Cartwright.
Whether that's with Carey and the Speedy team, we'll just have to wait and see.
Positive Mental Health Music is out now.