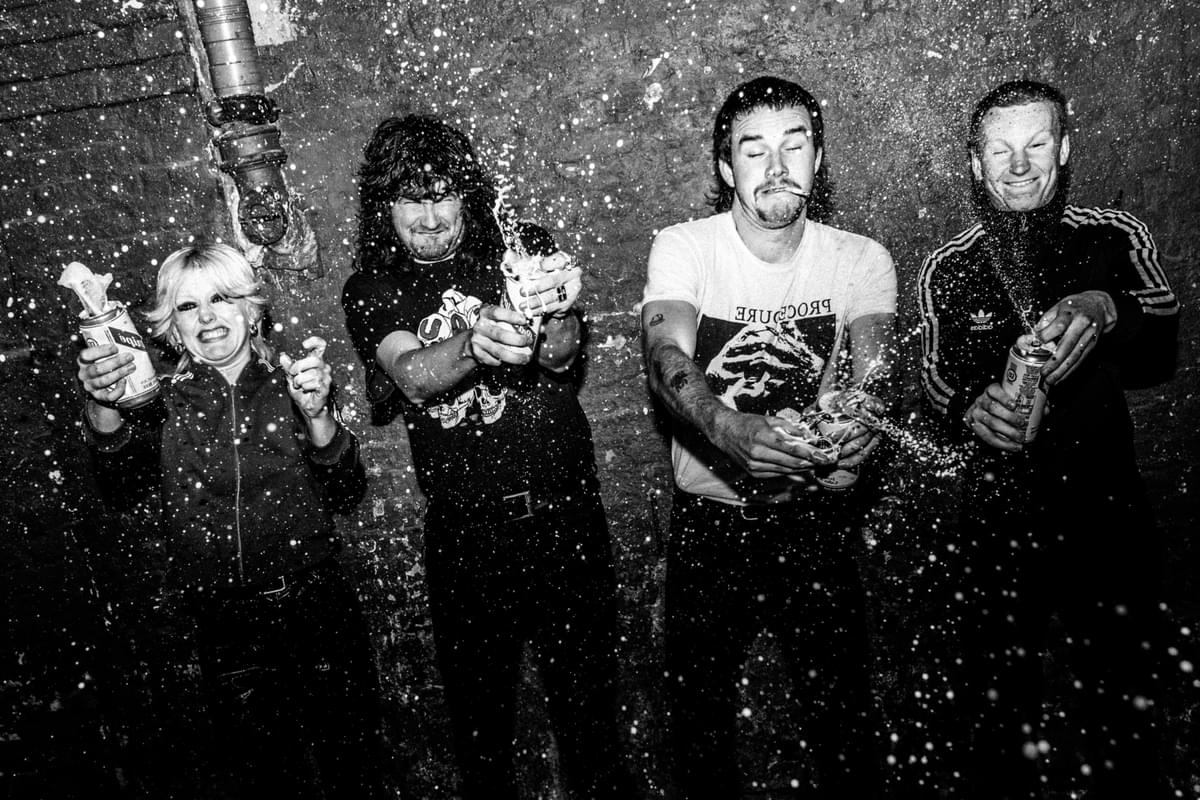 How Amyl and The Sniffers became unlikely punk icons
14 May 2019, 08:00
It's easy to believe that all bands who make it big are somehow destined for greatness from the very beginning - perhaps their parents are musicians, or they were born into a community of crazy creatives - but in the case of Amyl and the Sniffers it was all a rather beautiful accident.
Being a successful group was never part of the plan for the Melbourne four-piece They never thought they'd open for Foo Fighters, get signed to a big indie labels and have Britpop icons like Jarvis Cocker frequenting their shows. Making music was just a way for a group of punk-obsessed friends living in a suburb of Australia's secong biggest city to have a good time, have a few beers and maybe if they were lucky open for their friends' bands.
"We just always talked about like it would something fun to do, not anything serious, explains guitarist Dec Martens, as I chat with the band (minus bassist, Gus Romer), at their label offices - which they now call their London home. "I'd only been in a band for like six months before Amyl…but a big part of the Melbourne culture is like going out to gigs and stuff…so to be cool, or to fit in I wanted to be in a band.
"There was this band called Drunk Mums and when I would go their shows it would be the craziest, they had mullets and wore denim and they were really cool and listened to cool music, and when I used to go their shows I was like that energy is what I want to be part of."
Inspired by late nights out in Melbourne watching shows, and afternoons hanging out listening to the Cosmic Psychos, the foursome decided to form a band of their own, recording their debut EP in a single night-time session: "Listening to our first EP, it's so different to how we play live as it was written so quickly and spontaneously, like the first ones were fucking demos really," explains front woman Amy Taylor. "We really didn't think many people would be listening to it, so we just did it as fun, we just put it out so we could get gigs booked because we like playing live."
While some may be quick to dispute the claim that the band recorded the album in twelve hours, Taylor assures me it is no myth: "There was someone in Vancouver," she tells me with a cheeky glint in her eyes, "that was like 'that's not true you're just saying that for marketing' but it's like Bitch, have you fucking listened to it? We did not take time on that you dumbass."
Crammed with powerhouse riffs and enough unruly rebellion to rival the best punk acts from the '70s - the impromptu nature of the recording only adding more leftfield kudos to the project. Debut EP Giddy Up demonstrated the band's talent for churning out gutsy rock n roll with catchy hooks while its follow-up Big Attraction featured six more firehouse tunes. Suddenly everyone was wanting a slice of the action and the group beame something of a hype band, touring the US with King Gizzard before taking up several festival slots across Europe.
"We were stoked when we got our first gig fucking opening doing a ten-minute slot so anything above that we're just like fuck yeah, it's a blessing," Taylor tells me. "Last year was pretty gnarly as we'd never done a tour before, the longest we'd done was five days or some shit, in Australia, never been over seas and then last year it was like we were pretty much on tour for like seven months straight, it was pretty crazy, we all went crazy….'
Amongst the madness, they scored a deal with Rough Trade and at the end of last year were flown out to Sheffield to record their self-titled debut album with iconic producer and Add N to (X) drummer, Ross Orton. Demos cut with King Gizzard's Joey King notwithstanding, the band's previous releases had been all been self-recorded in their home studio. But Orton fit right in with the crew of mullet-wearing misfits, acting as their eccentric gang leader, driving them round Sheffield for nights out in his little car, wearing Adidas, calling everyone "love" and swearing all the time. As a seasoned musician and producer, he was also key in keeping up the band's morale when the intense nature of recording became too much for the young four-piece: "We have this song called 'Cup of Destiny'," Taylor tells me, laughing, "and when we were in really shit moods - ike sitting around slumping - he'd walk around the room playing it. There's one bit that's like 'duh duh duh duh', so he'd mime playing it, and we'd all be like fuck…he was funny as..."
To say Orton merely acted as some sort northern court jester is to underplay the impact he had on the album's overall sound. The record sees Amyl and The Sniffers finally step over the DIY threshold, transforming into a fully-fledged rock outfit. While still containing some of the best gnarly guitar parts around - changing effortlessly between hair metal solo and primal punchy punk - the album has a richer, more layered sound, which is one hundred per cent indebted to Orton.
"Working with Ross was really good," explains drummer Bryce Wilson. "He didn't really interfere too much but like when he needed to he stepped in and gave us good direction."
"Bryce had never had a drum lesson believe it or not' adds Martens, 'and Ross is a real good drummer so he helped out a lot. He also swore at me a lot too, pointed out flaws in my guitar playing that I didn't know, and that was pretty tough as well, but it's good, I'm a better person for it now…. On those first two E.Ps I had no clue about like gear or tone, it's like when you look back a picture of yourself from a few years ago and you see a new haircut and you're like what was I thinking?'
While Taylor's lyrics have always subverted expectations of femininity, she pushes the envelope further on Amyl and The Sniffers. Channelling pure rage on "Gacked in Anger", she targets all the injustice in the world, as if to say: "fuck it I'm a woman and I get angry, deal with it", while "Got You" sees her gazing at her new boy-thing with gooey eyed admiration. Undermining gender stereotypes is an idea that's been knocking about in Taylor's lyrics since the early recordings, such as Big Attraction's opening track "I'm Not A Loser": "People look at me like I'm a hooker / But I just wanna be a venue booker" is a lyric undermines the ingrained societal belief that women can be judged purely by their looks.
I ask Taylor if this is something she was aware during writing? "It's hard to get my words from my brain to my mouth," she tells me, "but there's this weakness in being seen as feminine, there this thing where's it's like 'she's wearing a tiny skirt she must be a weak little bitch', but it's not the same thing.
"It's a good point to prove that you can dress like a slut and be a slut and still be the toughest bitch in the room. You don't have to dress masculine to be tough - like big baggy jeans and a t-shirt and that makes you…whatever."
"There's nothing wrong with being a hooker either, I just wanna clarify that - because you can be a venue booker or a hooker, but at the time I was working as a venue booker and a lot of times you can hear the way people were talking to me…my boss was a female too and she was like the way the bands would talk to her compared to her male colleagues would be completely different, like fuckable vs buisnessable."
It's an ingrained sexism that Amy was unknowingly exposed to at an early age: as a teenager, she would go to shows and believe that she couldn't make music herself simply because she was a woman: "I didn't think chicks could be in bands until I moved to Melbourne, I never saw girls at the hardcore shows. I would go to shows and there would be like a chick selling merch and I'd be like 'Holy shit! I hope I can be a merch seller one day'… It was never like, 'oh I can play guitar….'"
Throughout our conversation, the band constantly refer to how 'blessed' or 'lucky' they feel to be in their current position: touring the world, recording with famed producers and basically just being a legit rock and roll band. For a group of people that came from such small, insignificant Australian towns, the idea of being something must have felt a million miles away from them growing up. Taylor and Wilson tell me about the small towns they lived in by the beach: "If you like, stay there you just become a doofer or whatever," says Taylor, "which is like chill too but it's pretty boring." Meanwhile guitarist Martens grew up in a Canberra and describes it as, "the most isolated capital in the world...I found like when I turned eighteen, if someone had dropped a bomb on my city and that it completely disappeared that like no one would give a shit."
"When we were growing up we didn't have a lot of money' Taylor tells me, "so it was like: make your own fun! Dad would work at the tip and then bring home the toys and we'd have to built them. He would bring home a wheely cart and we'd build it and paint it and then roll it down the hill and break it, and it was the same as like how when we lived together, we were broke so we made our own fun by like playing music and sitting in the kitchen and listening to music."
If there's anything budding musicians can take from the band's story it's that sometimes it isn't about being in the best place or being afforded the best opportunity, it's about making your own fun through art. Because when you follow the fun that makes you giddy - like a four-year-old Amy Taylor running down the hill after her wheely cart - that's when the you've found the magic. And for Amyl and The Sniffers that magic has shone in everything they do.
Amyl and The Sniffers is released on 24 May via Rough Trade Records
Get the Best Fit take on the week in music direct to your inbox every Friday