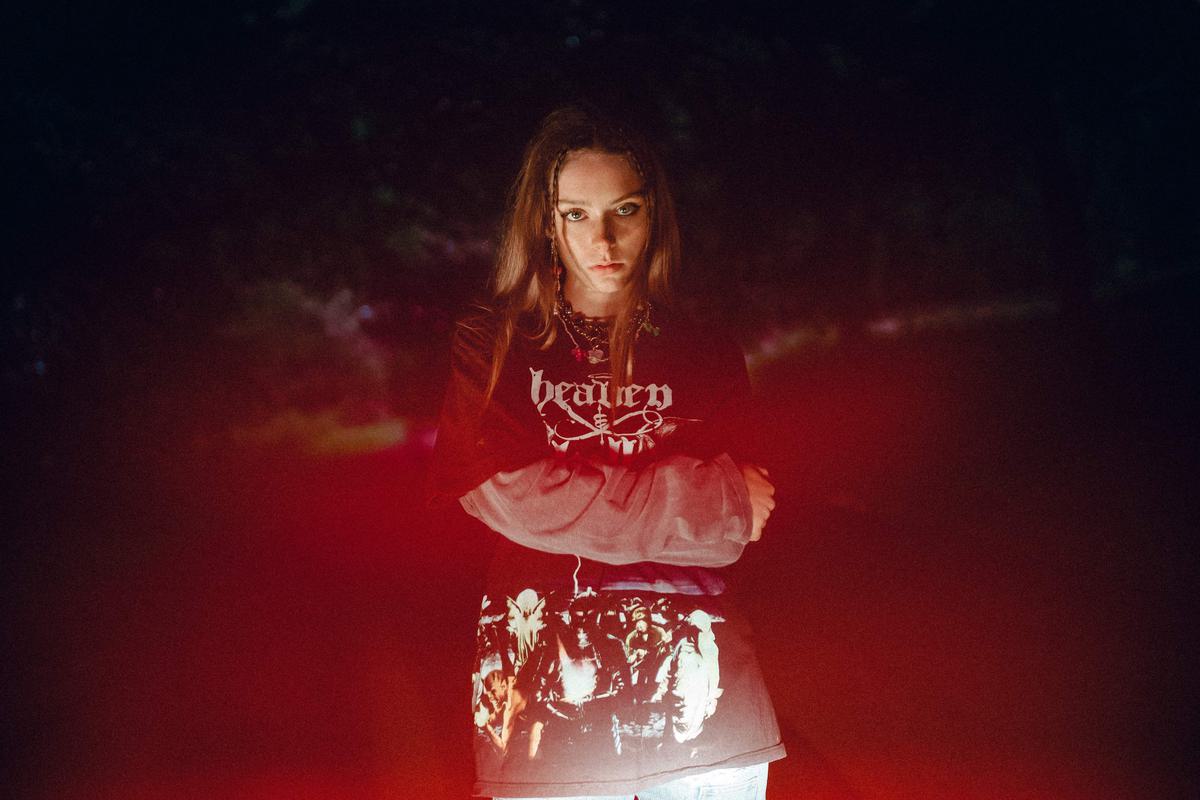 On the Rise

Holly Humberstone
18 September 2020, 09:32
In these strange, scary times which have forced us all into mandatory solitude, we have increasingly relied on music to provide us with intimacy. One only has to look at the mid-pandemic successes of hushed releases from Phoebe Bridgers, Taylor Swift and Fiona Apple to see that we are seeking out music to act as a cool compress on the nation's fevered brow: music to commiserate, to soothe, to heal.
Holly Humberstone should be available on prescription. She makes complex pop music that slips effortlessly between piano ballads, dark disco beats and shimmering indie rock guitar. It's difficult to slot Humberstone's music into one genre, but she has an instinct for combining a magpie-like musical eclecticism with sturdy, almost mathematical pop sensibilities, similar to the equally precocious Lorde and Billie Eilish.
Despite only being twenty years old, Humberstone's music is surprising in both its emotional intensity and in the musical textures she deploys. Humberstone has the sort of classically beautiful, soulful voice that could win her a spot on a John Lewis christmas advert with very little effort, but instead she swaddles her voice in skittering beats and strange fragments of processed guitar. The result is Falling Asleep At The Wheel - her debut EP, six songs which are as candid and gentle as they are sonically slippery.
Humberstone calls me from her grandmother's living room. Despite the blazing 34-degree heat, she is wearing a giant black hoodie and winged eyeliner, in an impressive display of aesthetic commitment. Humberstone grew up near Grantham, East Midlands, in a falling-down house in the middle of nowhere ("Twenty minutes to the nearest shop!"), an environment Humberstone describes as a "crazy, creative mess." As a child, Humberstone absorbed her parents eclectic music taste, consuming everything from Damien Rice to Pink Floyd: "I remember being, like, seven years old, and being in the car and listening to Damien Rice's O and feeling like, wow! This really hits, even as a seven year old."
She was brought up by creative parents - a cello-playing mother, a poetry-reading dad - and with a "girl squad" of three sisters, all of whom inherited their parent's creativity. Miles away from their friends, they made their own fun; Humberstone recounts afternoons spent making jewellery and upcycling clothes with her sisters, which resulted in the patchwork denim flares Humberstone wears in her latest video, "Drop Dead."
Humberstone has had the distinctly 2020 experience of having her career kick off during lockdown. After stints on local radio and on the BBC Introducing stage at Glastonbury, Humberstone began commuting up and down to London to launch her career, working with lots of different writers, a process which she described as "too much for me." She recounts struggling to find her own voice - unsurprising, given she was only in her teens: "When I started writing music, all I wrote was piano ballads about love and heartbreak, even though I was way too young to know about any of that."
Eventually, she met Rob Milton - a writer and producer, who lived just down the road in Nottingham. He had been a member of Dog is Dead, which Humberstone had "fangirled" over. They set up a studio in a spare room in Humberstone's family home, and the writing process finally clicked: "It instantly felt more like me when I began to write with Rob. I think maybe it had something to do with writing at home, too - the house is really characterful and old, I think you can hear some of those weird, quirky sounds within the songs."
She got her big break supporting Lewis Capaldi on his UK tour. In February, Humberstone was playing Wembley Arena. By March, she was in lockdown, back in her childhood bedroom in Grantham: "It was full on, like 100 to zero." Humberstone recounts. Like most of us, she struggled during lockdown. "I was putting loads of pressure on myself to be really creative, to write loads and be really prolific, but I just wasn't inspired by anything."
"I'm not saying my EP is going to change the world, but people need stuff to cling onto right now."
Deciding not to delay the release of "Falling Asleep At The Wheel", Humberstone has conducted the entire promotional cycle from her childhood home, even filming a moody performance for Jimmy Kimmel Live in her back garden, strumming her guitar on the bumper of a beat-up range rover.
Driving-related anxiety (or amaxophobia, as it's known clinically - fun fact) is a running theme throughout Humberstone's work. In her music videos, Humberstone chases cars down country roads, strums her guitar in the boot - crucially, she does not drive them. "I've got this huge anxiety around driving - I've failed my driving test more times than I care to admit." Humberstone says. "I don't understand why everyone is so casual about driving! To me, it's this huge responsibility."
The title track of Falling Asleep At The Wheel finds Humberstone comparing sleep-walking through a relationship to having a kip in the driver's seat of a car: "I'm falling asleep at the wheel/ Guess I forgot how to feel" Humberstone sings, over stately piano, before throbbing beats interrupt. "I think maybe, subconsciously, the chorus came from my fear of driving" Humberstone ponders. "It was one of the first songs I made for my EP, so it was really early on in the writing process. I was still trying to figure out my sound and who I was within the music I was making. I probably made it around the time I was doing all of my tests and failing miserably!"
In the video for the vitriolic "Drop Dead", Humberstone go-karts towards a car covered in L plates, and sets it ablaze. "My Dad had this old beat-up range rover he got second hand, and my manager was really obsessed with it. We thought it'd be kind of cool to incorporate it into the videos, to have a bit of a running theme." It falls into a long tradition of precocious artists appropriating markers of their own youth within their videos, a visual ancestor of Britney Spears' schoolgirl uniform. The track itself is an enjoyably emo piano ballad, with the kind of hooky chorus one can imagine doing well in club remixes - it's basically crying out for a huge drop.
Her music may tend towards the dark and stormy, but Humberstone is still a twenty year old. When she hasn't been working on her EP's promotional cycle, she's been binge-watching New Girl - "I've just really fallen in love with the characters. I love watching stuff that's minimal energy, you can just veg out and not have to think." It's a relief to hear that she's decompressing - Humberstone very much comes from the diary-entry school of songwriting, with her songs functioning as "therapy sessions": "My songwriting is just me trying to figure stuff out and work through the mess that's in my brain."
Releasing emotionally excavational music during a period of global crisis would be taxing for anyone, let alone someone so young, but Humberstone doesn't regret her decision to release her EP into the world right now: "I think people have really clung onto music that's been released during the pandemic. Like, for me, the Phoebe Bridgers album was such a saviour. And I'm not saying my EP is going to change the world, but people need stuff to cling onto right now."