It was the dead of night when Holiday Sidewinder received a text from her ex. "You up?" it read. "I was like 'oh God, he's not!'," she recalls. "Then to my delight it was a tour offer!"
I find the singer in a state of frenzy over Facetime after being pulled onto the West Coast leg of Mac Demarco's tour back in June. With 24 hours' notice which needed to account for a 14-hour flight, Sidewinder embarked on a whirlwind journey from Sydney to the West Coast of the US, landing just an hour before the first show.
"Understandably I'm a little fucked right now - I'm tired!" she reveals exasperated. Although this was a particularly extreme day in the life of Holiday Sidewinder, it's standard for nomadic musician's lifestyle - one she nods to in her recent disco-fried cover of The Beach Boy's "Kokomo". Having no fixed address for the past three years, Sidewinder opted to live out of a suitcase leaving her constantly braced to pounce on touring opportunities wherever they may be. The last time she dropped anchor was in London for a six-year period where she originally signed to a big management company and attained a publishing deal.
"I was doing writing sessions with the guys who wrote Spice Girls songs," she recalls. "It was all very exciting but my roots were in indie music, I grew up in the Nick Cave scene but I also love the bubblegum pop era. I'm trying to meld the two without bothering people too much about not fitting into their boxes."
Sidewinder's run of singles since 2016 showcases the dichotomy she describes - the songs boast a melodic flair but a dark heart thumps behind the pleasing earworms and production, often as she places the complexities of relationships and love under the microscope. One of Sidewinder's more recent singles finds her combating commitment and society's expectation to settle down with a gloriously flippant title - "Forever/Whatever" - a name she's also christened her forthcoming debut album with.
"I read a lot of Victorian novels when I was younger, Tess of the D'urbervilles, things like that and I think I did internalise a lot of that old fashioned romanticism about being 'kept' for somebody," she explains. "The idea of possession, especially as a woman was annoying me. Just because you cheat on someone doesn't mean you don't love them - love is a very abstract concept which you have no control over which is what I speak about in "Forever/Whatever". It's something that you can't possess, it's not something that comes or goes, it's not like a switch that you press, it's not a decision you make, it's something which decides to stay or leave.
"It's a shame we're so hard on ourselves - people who go through divorces feel a real sense of failure and I think that's insane. You can't be a therapist, a nurse, a lover, a mother, everything to one person - we all have to serve roles in each other's lives. I think it's a lot of pressure for two people to be everything for each other and to live in these isolated units."
Sidewinder came up in the Australian music scene in the all-girl band Bridezilla alongside the likes of Tame Impala and Jagwar Ma. "The scene's pretty small, I remember Tame Impala's first shows really well. A lot of us are from the same scene that was there in 2008 before we all branched out and did other things. There's a key bunch of us, like Jono from Jagwar Ma, we all hung out together as teenagers and are still just about surviving as musicians - we must really love it if we're still kicking on."
Her closer contemporaries also include Kirin J Callinan and Alex Cameron who have enjoyed success in more recent years with their tongue-in-cheek spin on pop; she played keys and provided backing vocals for the latter on his Forced Witness tour. "I've known Kirin the longest - he was actually at my fifteenth birthday party. He was one of the two people at my first show. I've known Alex since I was about 16 - we used to tour a lot together. I never thought we would re-enter each other's lives in such an epic way. He came along and was like 'do you want to hit the road for a couple of years?' I took a week to learn all his songs. I can only play Alex Cameron songs on keyboard, nothing else."
Despite all being on their own separate trips, humour is a thread which ties the three together besides their geographical origins. "Comedians are the most depressed people on earth," she explains. "I think you have to be acutely aware of the pain and disappointment of life to be able to laugh at it. It's a way of coping, if you can't laugh at life then you're fucked, it's gonna be a hard road."
"If people are gonna sexualise me anyway, commodify me as a sexual thing then I may as well do it myself and on my terms."
The road certainly is hard for musicians in 2019, and Sidewinder is an independent musician in the purest sense: there's no publicity agencies or labels involved. She's her own booking agent and PR representative, in terms of musical resources she relies on her laptop and a little back-scratching from other artists, and still with the lack of a traditional team behind her, she's played arena tour support slots and mastered her album at Abbey Road Studios. Sidewinder is walking proof that all you need are some killer tunes and a twist on the traditional approach to funding and marketing yourself.
"Abbey Road would be horrified to know that my used panties paid for those sessions," she quips, and no, this isn't one of the many jokes she cracks throughout our call. Whilst on tour a few years ago, the drummer in Alex Cameron's band enlightened Sidewinder about the lucrative underground economy which sees used panties being exchanged for cash in Japan. Taking inspiration, Sidewinder put her 'used' panties up for sale as merch earlier this year.
"If people are gonna sexualise me anyway, commodify me as a sexual thing then I may as well do it myself and on my terms," she smiles. "And you know what, jokes on them because I didn't really wear the panties."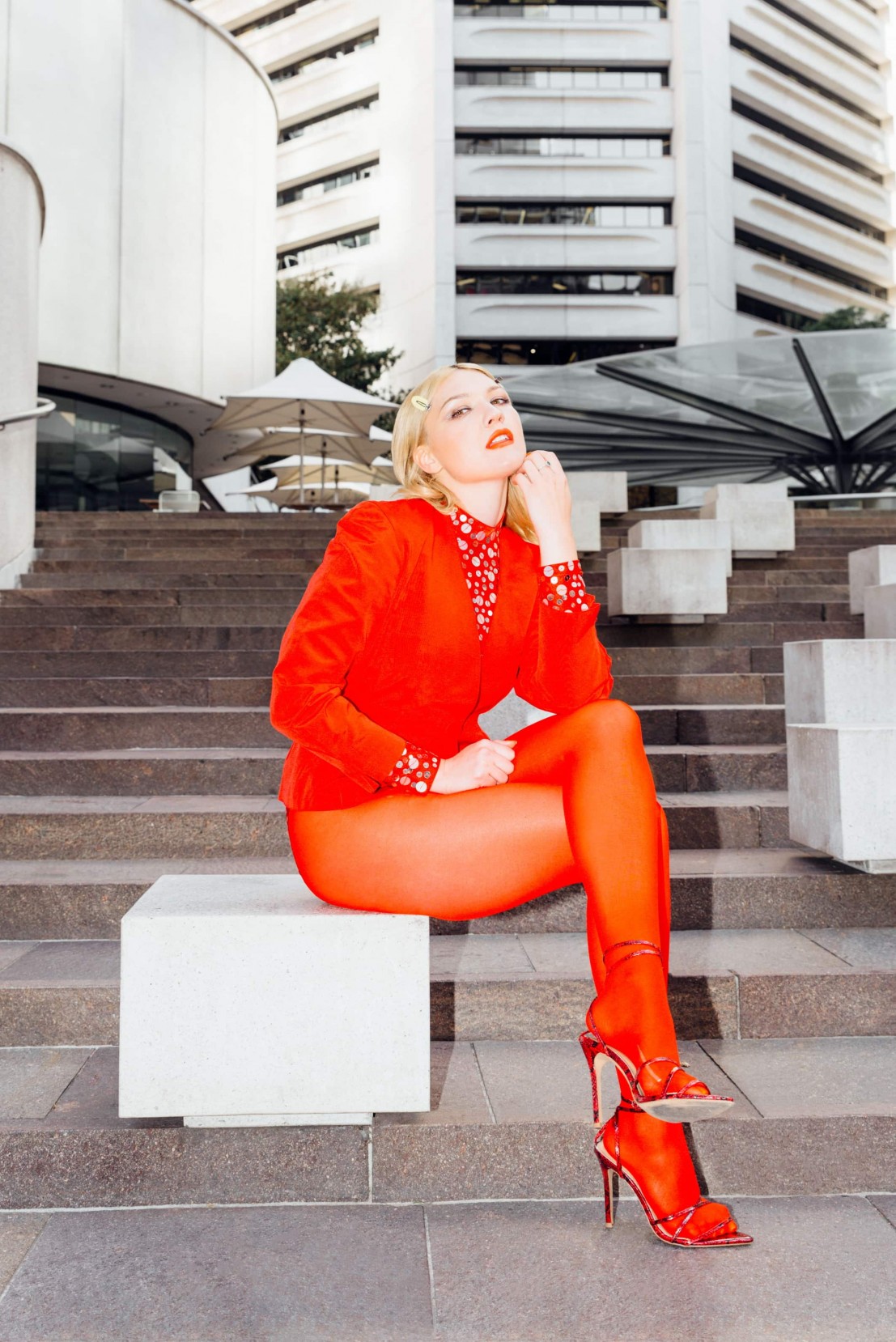 The album that the panties helped bring to fruition is a tight eight tracks; it's shimmering synth-pop steaming with sensuality in some places and soaked in sadness in others. Opener "Leo" celebrates sexual freedom in all its unabashed glory ("I don't remember his face but I remember when I came"). Later, the brooding "Seventeen" explores the psyche of teenage naivety and the conflicting contrast between freedom and vulnerability at that age ("I'd give you love with no responsibility / I'd let you lie / Never ask why").
The songs on Forever/Whatever were written and co-produced with Ben Mark who writes and plays guitar for Take That. "I kind of said no to working with him for ages because Take That are so cheesy," she sighs. "Then I went in the room with him and he was wearing a Hüsker Dü T-shirt and I was like 'man, you're cool!', we totally hit it off. He's really ADD and runs circles around me in the studio but we finish each other's musical sentences and I just looped in with him and wrote the whole thing.
"He's not a producer and neither am I, he's just a songwriter - we didn't want to work with other people and we didn't have any budgets to get in the studio so we just learnt to do it by going with what felt right. We got Ash Holme who played on Adele records to play on a track by sorta tricking him. He was doing a recording for Take That and Ben made him soundcheck to "Casino" then we stealthily put the record together around that."
Currently through the haze of jetlag, Sidewinder is looking forward to reeling in the relief of getting her first album out. "When you get the first record out, it's like - now I can do anything!" Now with a deeply attuned pop-writing proficiency, Sidewinder is looking to unlearn everything as she adjusts her sights to album two. "There's no choruses, there's no rules, there's barely even any instruments and I'm excited about how avant-garde it is, so we'll see."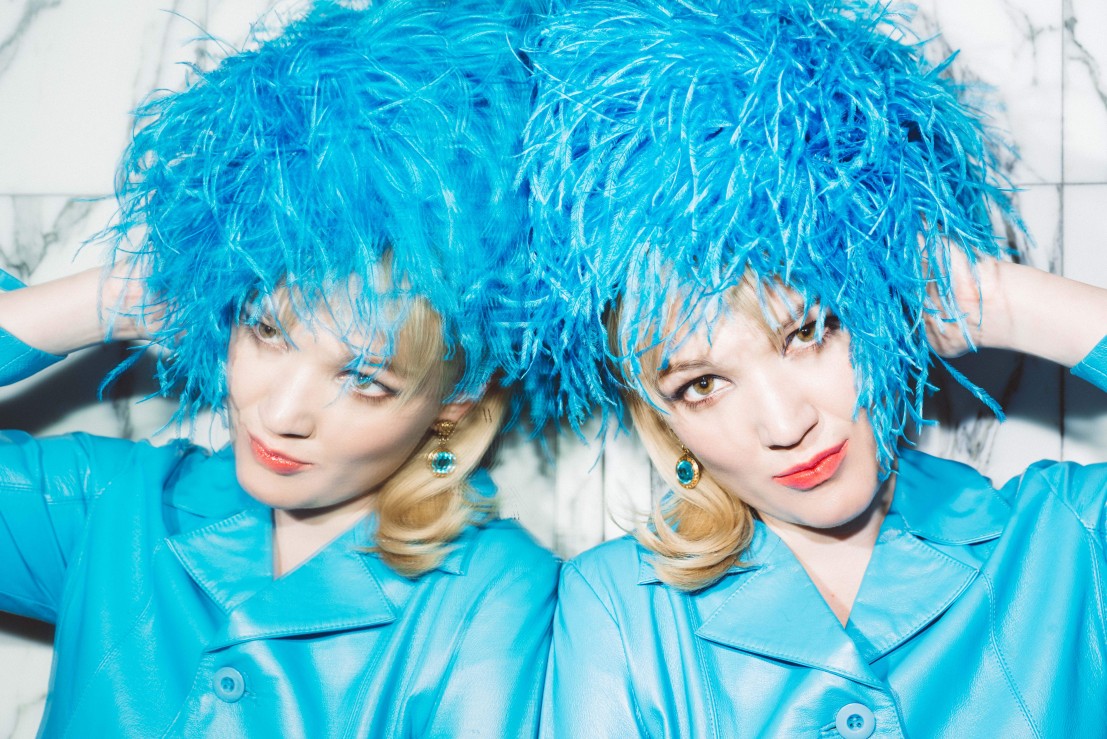 She has cultivated a faithful online following, a key tool in the independent artist's arsenal. She also knows how to draw in the eyes of followers scouting the endless feeds of social media; her highly stylised video for "Leo" features her clad in a yellow unitard surrounded by oiled-up bodybuilders flipping the norm on its head before her follower's very eyes. Sidewinder has faith in the power of online subcultures that assemble under the nose of the mainstream.
"There are still artists with enormous fanbases who have absolutely no press coverage because of the internet," she points out. "Algorithms and word-of-mouth are more important than ever. If it's good, it'll fly. It might not be the biggest thing in the world but friends will tell their friends and that's a genuine connection with a good body of work. Music has always served a role of compassion and empathy and identity. You listen to music and you're like 'that's who I am' or 'I relate to that person' or 'I like the way that they dress' or 'I like the way that they feel' and that's what creates entire subcultures so I think more than ever, the entire world that you're giving people is more important like 'welcome to my world, here's something you can identify with and be a part of'."
Whilst on tour last year in Brazil, Sidewinder met some girls at the poolside who told her that a group of goths reside in the Amazon. "I was just thinking, that's so fucking cool - the internet has allowed that and I have pockets of fans in Mexico and Brazil which is amazing to me. My top five countries of listeners is Brazil and Mexico which is wild. I've never even been to Mexico."
Aside from album two, she's also working out a way to make touring life work in tandem with her idea of living a good life. "I'd like to a holiday resort tour where I'd just go to hotels, stay there for a month, then people can stay for a week and come and see me. Make it a permanent vacation, you know, a 'holiday sidewinder'." Coming from anyone else, you might laugh this off as another passing joke but Sidewinder has a track record of seeing crazy ideas through to fruition.
"What are the holiday resorts in England called? Butlins? Come to Butlins, I'll be there for the whole month."
Forever/Whatever is released on 4 October