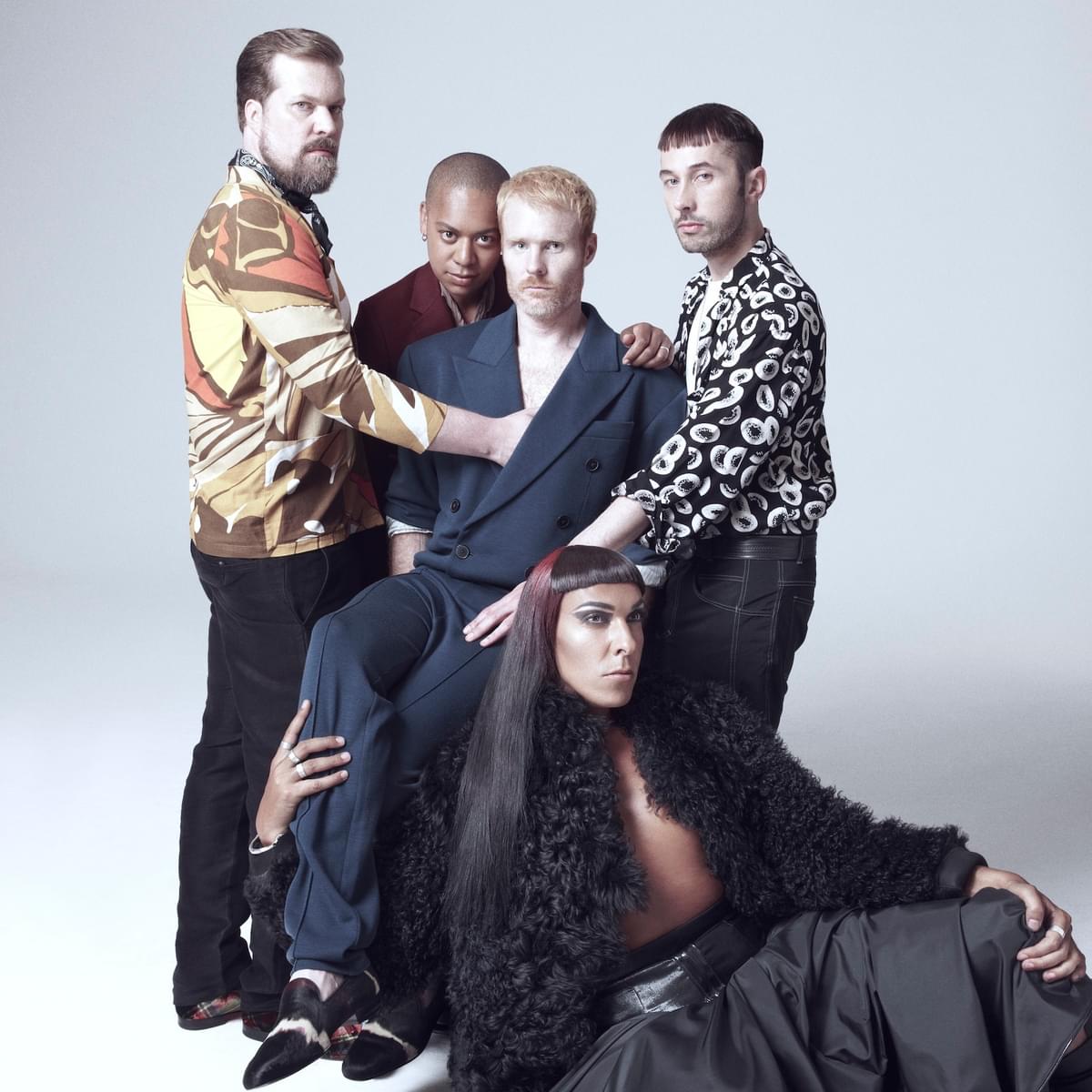 Hercules and Love Affair: "We all have regret in all of our lives, it's an inevitable human experience"
28 May 2014, 11:00
​Working with a diverse range of vocalists, Andy Butler's latest production discusses sexuality and identity with contributions from BRITS nominee John Grant, Rouge Mary, Belgian singer Gustaph and smoky voiced virtuoso Krystle Warren. With cat-calling queens, punchy house stabs and a strong undercurrent of early 80s disco, The Feast Of The Broken Heart sees another musical re-invention from Butler.
Ahead of the launch of his latest album at their headline show at this year's Farr Festival, we sat down with the man himself to talk Ancient Greece, emotional dance music and secret Friday night parties in Colorado.​
What does the name Hercules & Love Affair mean?​
It started as a childhood love of Greek legends which grew into an adult appreciation of the mythology. I started studying it formally at university, analysing the homoerotic nature of a lot of the myths, several of which focused specifically around Hercules and his love affairs. One of them in particular sort of becomes the love of his life – it's a really beautiful story – which eventually develops into more of a tragic flaw. I liked the feeling of contradiction, you know growing up it was like ... the strongest man on earth could not be in love with a man. That was totally alien to what I'd learnt. I found it really interesting that relative values were so different in Ancient Greece.​
Do you think that vulnerability is reflected in you music? ​
Yeah, I think that vulnerability is key. I try to maintain sensitivity as a person as I get older and I definitely end up imparting that emotion into the music I make. I prefer listening to emotional music. ​
This album feels like quite a confident projection. Do you think people normally associate emotional music with sad music?​
I think it depends on the way you tell a story. Sad music or emotional music doesn't have to exist underneath 100 BPM. It doesn't have to be played by acoustic music instruments or to have a male singer with a certain kind of voice. Emotion can be conveyed in a lot of different ways. Sometimes it's more about the lyrics. I ask people to draw their lyrics from somewhere that has substance – I want the story to be heartfelt. Saying that it's not an entirely a broken hearted record. "My Offence", for instance is more powerful than sad, it's about re-claiming language, it's about an assertion of identity and being proud of that identity. There are a lot of moments on the record that are about self-acceptance, freedom, self-expression and pride. There's a lot of flamboyance on the record too. There's a real a range of emotion. ​
"I Try To Talk To You" explicitly engages with HIV. How do you think the record engages with AIDS and sexuality?​
When John came into the studio I asked him to go deep, to go to a place that might feel uncomfortable and that's the first thing he came back with. I was like, wow, I didn't expect him to come out with that so readily, but I think he universalised the experience. He turned it into an emotional story that all of us can relate to. We all have regret in all of our lives, it's an inevitable human experience, we all engage in self-destructive behaviour. The track is about taking a moment to look at a situation differently, to look at ourselves and other people with more compassion. I think that's why the song works because it's not disease specific or sexuality specific.​
The record has a lot of different elements to it – jazz, funk, disco. Did you choose disco specifically because of its gay heritage?​
Absolutely, the record is kind of an unashamed moment of queer. It definitely speaks to the tradition of gender bending, freedom of sexuality, and the freedom of gender identity that nightclubs offer. There's this this vocal banter on a song called "5.43 To Freedom" which is just basically two queens speaking a kind of gay language, chatting to each other or calling names out – it's this sort of playful gay banter. That sample came into my life first though another house song, "Glamour Girl", which is by a 90s gay house DJ called Danny Tenaglia. I was 15 when I heard it and had this amazing realisation that I could be myself in a nightclub, I could dance how I wanted, I could look how I wanted. It was a huge deal for me. It was like a safe space – somewhere you could express who you were in a way that you couldn't do in daylight, you know.​
Do you remember any clubs or nights specifically that you used to go to? ​
Sure, sure, in Colorado there was this secret party every Friday called Fab Fridays. You'd find out where it was on the day, show up and do your thing. That was like my musical education. When I got to New York, the scene wasn't quite what I thought it would be. I was trying to find the New York of the 80s or 90s, but by the late 90s things were different. You'd still be able to find stuff most Sunday afternoons, Body and Soul was one I used to go to regularly.​
How do you work with your network of collaborators? Where did you find everyone? ​
John came into my life in a very, kind of formal way. In the middle of an interview a journalist asked me if I knew him, said we should work together then a year later, after a lot of exchanges, he came from Vienna and he came into the studio. Krystle Warren came into my life after John asked me if I wanted to watch one of the best singers in the world. We watched one of her YouTube videos and by the end of it I was crying. We emailed and 8 months later I was in the studio with her. The others were more organic – after one of the shows I was doing I ran into this ominous dark looking character in the back stage and we started having some crazy conversation about church music and singing for Jesus and all kinds if crazy stuff, that was Rouge Mary. Gustaph I remember I met at a concert in Belgium. He came up to me before I started playing to tell me he was a fan of my music, so after I was done I decided to stay for a bit. He sang the shit out of a couple of classic house songs then when he was done I went up to the side of that stage and said, so you know, I'm a fan of yours as well, and we started working together right after that.​
What's the process like? Do you work on tracks collaboratively? Does it vary from track to track?​
That's the thing, this process, this record, was done differently. In the past I've been very like, these are my lyrics, these are my melodies, this time around I encountered artists whose skills were so homed, their voices are so developed – they were just such talented song writers it would have been silly for me to impose my melodies on to it. I'd suggest concepts or topics and they would start writing in a very unstructured way. Collaboration is like a dance you know, if someone wants to take lead, the less you resist, the more juices get flowing, the more true creativity can happen. ​
Do you have a favourite track from the album?​
Yeah, it's changed in the past three weeks though, "Do You Feel The Same" was my favourite for a while, but now I think "My Offence". ​
Any reason?​
It's badass. ​
Hercules and Love Affair headline this year's Farr Festival. Tickets still available here.
Get the Best Fit take on the week in music direct to your inbox every Friday