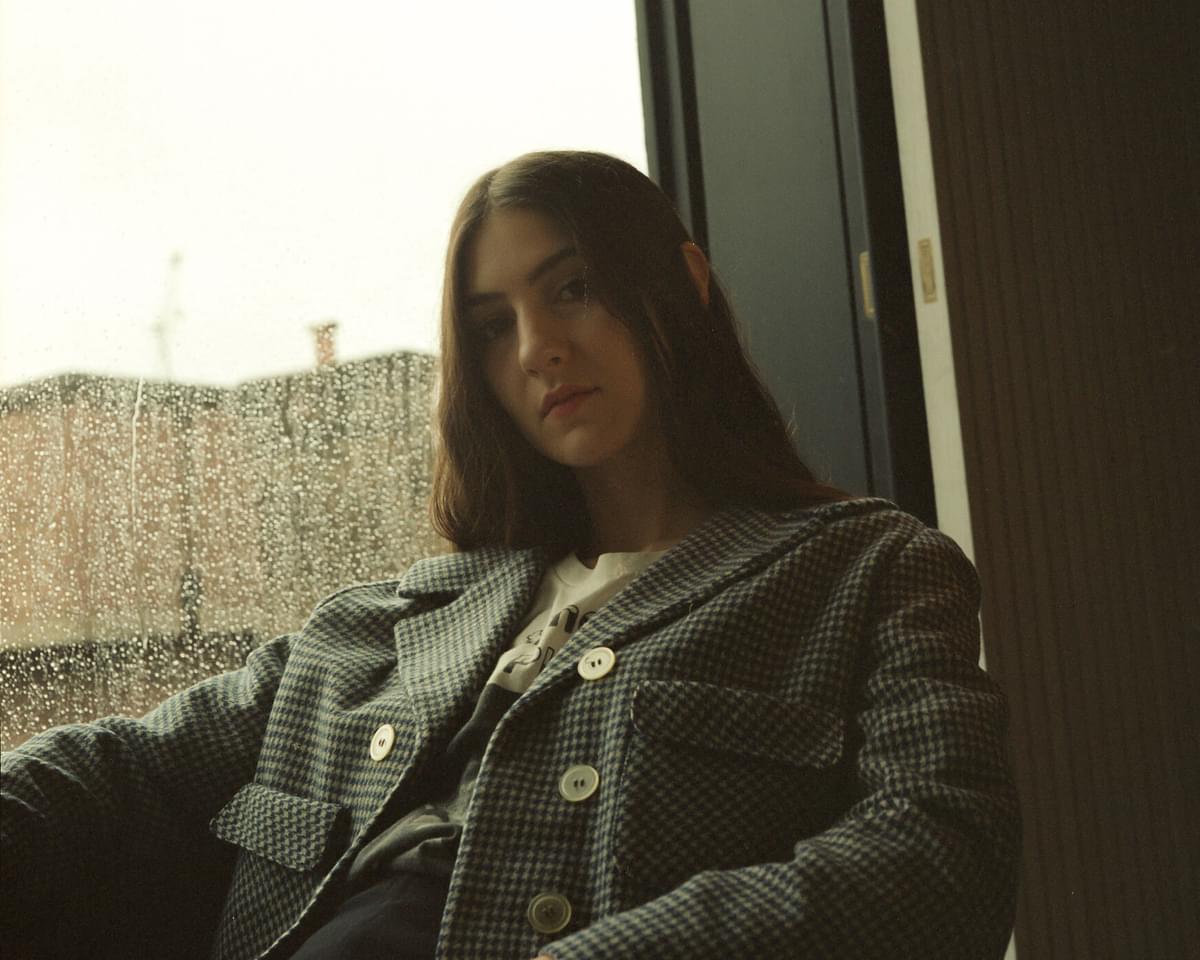 How helplessness and powerlessness fuelled Weyes Blood's best record to date
05 April 2019, 10:00
Natalie Mering thinks change is happening faster than ever: baby boomers and millennials aren't just two generations apart, they're worlds apart, says the artist behind Weyes Blood.
"Our childhoods and adulthoods have been so inconceivably different from their's. We're just completely different people with different thoughts and beliefs. I think it's hard to tell because they're such a big generation, they crush us and outweigh us and a lot of their ideas and archetypes of experiencing reality are still the ones that are in play, but the millennials are obviously very different and I have hope for them."
It's over two years now since Mering released Weyes Blood's momentous second album A Front Row Seat To Earth. It's a sparse, genre-blurring album that has grown riper with time, a rarity in today's world where new albums and playlists seem to be coming at us out of every orifice. In the press rounds for that record Mering remarked that the album was about "changes in America." In the intervening period between that record and her imminent new album Titanic Rising, the baby boomers have had a pretty major hand in irredeemable changes inside and outside of America.
Mering thinks the power of the millennials to reverse the baby boomers' decisions has been blunted by the duopoly of smart phones and social media, which have tricked millennials into believing that power is at the end of our fingertips: "The smart phones have been around for a decade plus and I feel like people's minds are fried because we're in an echo chamber politically with social media and it's a lot of people's outlets for political engagement and sometimes that can be disappointing, you want it do more than it does and you think you're doing something by sending out some posts but in reality nothing actually compares to people to people contact and social activism."
This disastrous combination of helplessness and powerlessness is turned into picture form on the Titanic Rising album cover. Here Mering finds herself in a bedroom that's submerged underwater - this isn't photoshop, they genuinely drowned a bedroom. For her this is how millennials feel right now: "it's this sense of the deepest despair, we're submerged in things that are completely outside of our control."
The changes haven't all been external though, Mering has also gone through a whole load of changes herself since she last released music under her pseudonym: "I've been a slow learner, a late bloomer, I didn't come out of the gate with the best skills. I think I came out of the gate with a raw talent, I was a strange amorphous lump of clay that I knew could be turned into something good and I've kind of just been working at it for many years." This increased inner confidence can be heard in every corner of Titanic Rising, it's cinematic in scale and much bolder than anything she's done previously; in her own words it's 'larger than life.'
It hasn't been an easy road for Mering to find a place in the music industry that she's happy with, in fact, many obstacles have been laid in her path. "I don't know how many women in music you've talked to but it's an adverse environment, navigating the type of energy a woman will experience in this industry is very complicated. There's a lot of people coming forward now especially with the Ryan Adams stuff, and there was definitely a learning cure for me where I was kind of like nobody is going to do this for me, no famous male musician is going to take me under his wing and give me career opportunities.
"I think that's been a strange battle, knowing I could wield my sexuality for my career. I've always opted to try and keep it based just on the music and it's confusing."
Mering isn't afraid to recount her own personal experiences: "When I was younger I would get guys that would tease me with career opportunities if I would be with them physically and those temptations were really confusing and ultimately, who knows if it would have helped my career? I think there was a lot of subtle manipulation, I didn't choose that path so it's not easy for me to say, but I've never been able to take my sexuality out of the context of a one and one interaction, I couldn't be like, 'OK right time to get sexy for my career' [laughs] that's just not my personality."
This behaviour caused Mering to question if a change in identity might help her forge a more secure place within the industry: "It's tricky because as a woman you don't want to have to dampen your femininity to blend in more in order to gain respect. There were years were I was dampening my femininity in order to be taken seriously and seen as a peer with other male musicians. There's a ditch on either side, it's tricky when your a woman in a male dominated industry."
While there's a long, long way to go Mering does see a change in the landscape, with more and more women now getting the recognition they deserve: "I've never seen so many powerful women in music, that's very encouraging and we all share a similar collections of disappointments whether it's men trying to change our opinion or lump us all in one category, there's a lot of stuff you need to sift through and deal with. There's more women in between now, more women managers, more engineers, those little things make a massive difference."
On the album she also tries to makes sense of other world changes that have happened since her last record. The digitalisation of dating zooms into focus on "Everyday", the second single from Titanic Rising. While the music that anchors the song is extremely uplifting, the lyrical content sees Mering explore the downfalls that await people on the look out for love in today's modern dating landscape; on this score at least, she thinks baby boomers had a much better way of meeting lovers than millennials: "This is where I get a little old fashioned. We're making these personal advertisements and putting our lifestyles out there to attract people, and in the end it attracts a certain kind of person and a certain kind of relationship.
"The hook up culture really exploded with Tinder because it was so easy and Instagram stories has led to the culture of sliding into DMs, it's all kind of non-committal stuff and it's less grounded in reality and person to person contact. Where I come from I prefer to meet people face to face, there's a little bit more a reality to that than 'wow this person looks really good in their picture, I'm going to DM them and then obsessively reload the page to see if they've responded.' I think the most rewarding relationships are the ones that are pretty deep. I can't really get satisfaction from short time fleeting relationships based on imaginary concepts of people."
While the primary themes on Titanic Rising may seem ridden with doom, it remains a very hopeful sounding record as is the woman behind it. Mering concedes that things have got gloomier since Front Row Seat to Earth but thinks that millennials are fighting back and she is leading from the front: "It's kind of taken people a minute to wake up but we're coming out of that sleep in a really big way and becoming infuriated in a deeper way and that's really important in figuring out the first step of what we actually have to do.
"I think people have realised how bad things can get and how bad someone can be, like the amount of shit Donald Trump gets away with is mind-boggling to someone like me, and it's made us smarter, stronger, more alert and just, ready to pounce."
Titanic Rising is out now via Sub Pop
Get the Best Fit take on the week in music direct to your inbox every Friday