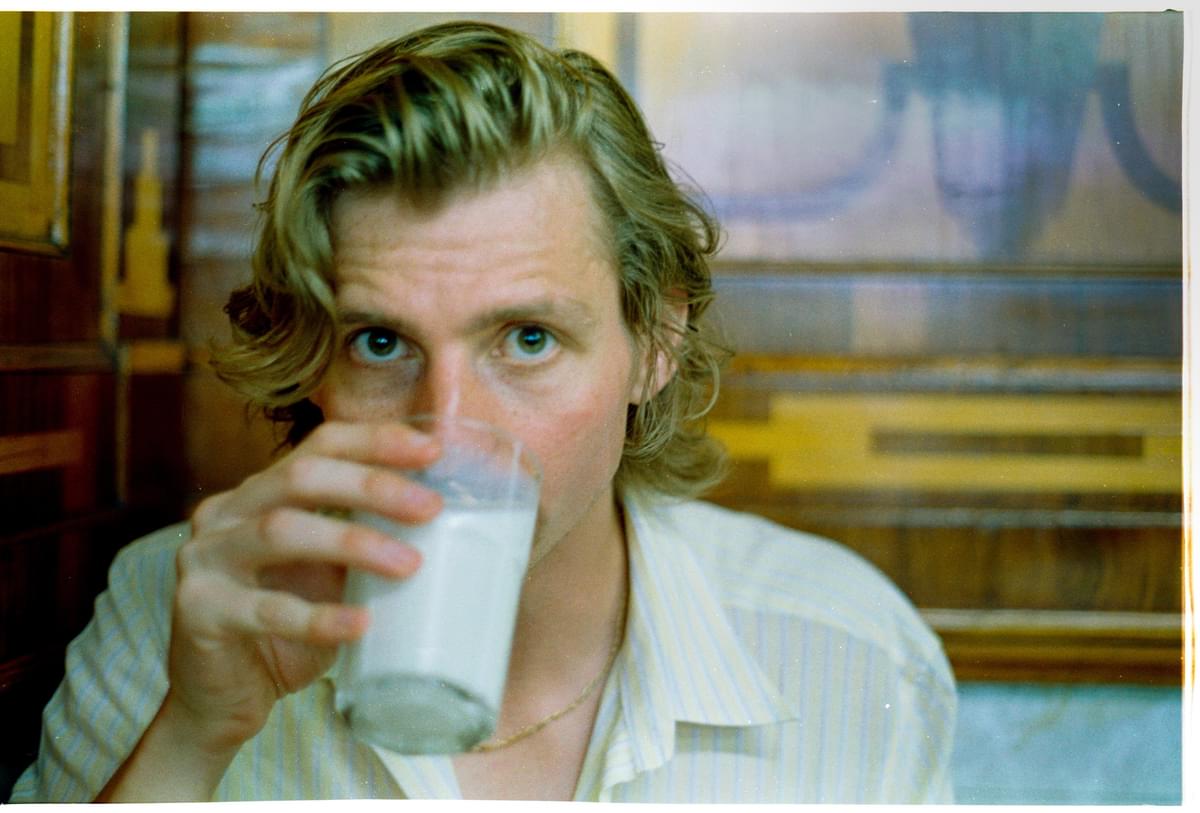 Harpo Milk is the self-confessed sad person swapping stadium anthems for the art of shoegaze
16 September 2020, 10:51
With an influx of lockdown-inspired projects, you wouldn't be blamed for assuming this is one of them. The truth is, when Joe Falconer's debut EP comes out, it will have spent over seven years on the back burner.
"I recorded everything before Christmas. You need to have some confidence in coming out with it, and the lockdown gave me this perfect break to finally go for it," Falconer says in his first solo interview.
Despite a career in a successful band, it can be strange to suddenly find yourself in the spotlight as a solo artist. As such, Falconer discreetly premiered the singles "Glue" and "Swim Again" on SoundCloud, and modestly announced the project in an Instagram post. Some of his friends and colleagues didn't even know it was coming.
"I wanted to be quite lowkey. I don't want people to listen to my music just because I'm in another band. I wanted it to just sort of... appear. So I did get texts from a few people saying they were surprised. I didn't want to draw too much attention to myself, which is ironic now that I'm doing this interview. But, at the end of the day, I'm making music, and I need to release it, and all this stuff just comes with it. I'm lucky that I've done interviews before and I know how it all works. But nobody has asked me about myself before, it's always been about the band. So I hope that people don't hate my own music," he says, reflecting on Harpo Milk's launch.
Though Falconer makes it clear that Harpo Milk is an entity independent from Circa Waves, he admits that being in the band helped him a lot. "If it wasn't for Circa Waves, I wouldn't have finished anything. It got me excited about putting music out. Kieran [Shudall] is an amazing songwriter, and the rate at which he turns around amazing songs is terrifying. I think he taught me that I just need to get it all out. If not for Circa Waves, I would have sat on these songs for another four years."
To avoid piggybacking off the band's fame, the guitarist opted for going solo under a stage name — another reason is that he thinks the name Joe Falconer sounds bland.
"I like the idea of someone stumbling upon a name and not being sure if it's a person or a band. This is a nickname I've had for a while. A girl in school used to follow me around calling me Harpo Marx, and I've still got a milk tooth. I wanted it to be a first name and a surname, but something that a person would never have. Naming a band is so weird; it doesn't make any sense anymore. You name it and you're stuck with it. In a few years, somebody asks what the name of your band is, you have to say it, and you think 'I should have named it something else.' I wanted a name that I can regret later."
In terms of sound, Harpo Milk's dreamy shoegaze EP has little in common with Circa Waves' explosive stadium anthems. It might resemble the band's slower and sadder tracks, but should an algorithm suggest a Harpo Milk song to a Circa Waves fan, the latter is unlikely to draw any parallels. "If you asked me to write a Circa Waves song, I don't think I can do it. I also don't think I can write a pop song. I only have one mode, and it's whatever these new songs are," says Falconer.
The four melancholia-laced tracks reflect on lost connections, parties that could have gone better, and vulnerability suppressed by the masculine culture. Like most songwriters, Falconer doesn't reveal the actual stories behind his songs but he lets me in on some of his philosophy.
"I've always liked music that's quite textural; the music that can make you feel something without the lyrical content touching on it. The first time I heard Sigur Rós, I didn't understand a word he was saying but I understood exactly what he was saying. Textures, sounds, and emotional connotations are so important to me. I'm a lowkey sad person, I enjoy being sad. I feel like time goes slower when you're sad, and I think that's a good thing. Time moving too quickly is terrifying. I want my music to feel angsty because that's just my natural state of mind. I thought I'd have burnt out of teenage angst by now but it's still there. Everything I write is quite personal but I try to keep it vague."
Falconer stresses the importance of emotional music but points out that there's a difference between releasing emotional tracks and being open about your emotions. "It's very difficult to express. I feel like people don't open up enough," he says.
"It took me so long to get to the point where I wanted to release this EP because I didn't feel comfortable putting out something personal. It's so strange to have feelings, write them down and go 'hey everyone, check out my feelings! You can get my feelings online on Spotify, here they are.' It feels weird to share a song with everyone, especially when you're a closed-off person. And when I listen back, I always wonder if the lyrics are too obvious. But if I don't release it, I feel like I won't draw a line on the experience, and I won't be able to write about new things.
"That's why I'm releasing these songs now. I've got new things to write about, and old things need to go out. But it's very odd. I've got a newfound respect for songwriters who can turn around experiences so quickly. It took me a long time to turn some feelings into songs. Sometimes I wonder why I'm still thinking about the times when I was 22 years old. But maybe I can stop now," Falconer explains.
In 2015, during an interview with the Australian publication Howl and Echoes, Falconer said: "I don't really like sitting still... There's so many places I want to go to and play. But if I'm sat at home not doing that I feel like I'm wasting time." Five years and one worldwide lockdown later, I was curious about his thoughts on the matter.
"I still feel that way," he replies without hesitation. "I've always felt like I'm wasting time, even when I'm not. I wake up and think: 'I'm wasting my life'. In quarantine, you know that you can't do anything, can't go anywhere, so it doesn't really count as wasting time. Time slips away when you have endless possibilities, and you choose not to do anything with them. I felt like I was allowed to take the foot off the gas a little bit. I get up, walk my dog, eat three meals a day. I thought I'd hate not touring but actually, it's quite nice to have a routine. It's one of the reasons I managed to get this new music out. I have this day-to-day life to grip onto. I got a record player and [have] been listening to my favourite albums on vinyl. Putting on a record felt like such a momentous occasion. I sat down and actually listened to music instead of just having it play in the background while I'm doing something else."
As someone who is used to playing the UK's biggest venues; Falconer gets a sense of nostalgia when contemplating his debut live shows as Harpo Milk. "I think it's going to be strange being behind the microphone," he says anxiously, but with a smile. "It will be more nerve-wracking than the big shows you mentioned but I'm really excited. I'm looking forward to going back to small gigs."
Falconer has sung in many bands over the years, so this won't be completely unfamiliar to him, but it will take some getting used to. "As a teenager, you have all this confidence, but as you get older, you realise how the world works. But I think it will be interesting doing this again for the first time. It feels so new to be singing the songs I've written."
Before Falconer gets behind the microphone or records more music for Harpo Milk, he is looking for different people to collaborate with and broaden his horizons. What could those collaborations be? "I'd just like to work with people who make my favourite records," he says. "My favourite album of all time is You Forgot It in People by Broken Social Scene. They've got this amazing thing where it's only two guys who write everything, but the band itself is like forty people. It's a constantly revolving cast. I love this idea, because I'm not doing this on my own, the EP was made with some help from my friends. I can't play drums, so I called someone to do it. Every time I couldn't do something, I called someone in. If I could work with anyone, I would like to join that band," he says cheerfully.
The upcoming Harpo Milk EP is just the beginning of Falconer's solo work. "It was recorded in between other things, but now I have time to properly focus on what I want to do," he says. "It feels so cathartic to get this music out after sitting on it for so long. I want to feel like I've explored the options, didn't waste time, released some music and wrote new things. And if people want to listen to it, I'll make more. If they don't want to listen to it, I'll make more!"
Always A Party is out now.
Get the Best Fit take on the week in music direct to your inbox every Friday