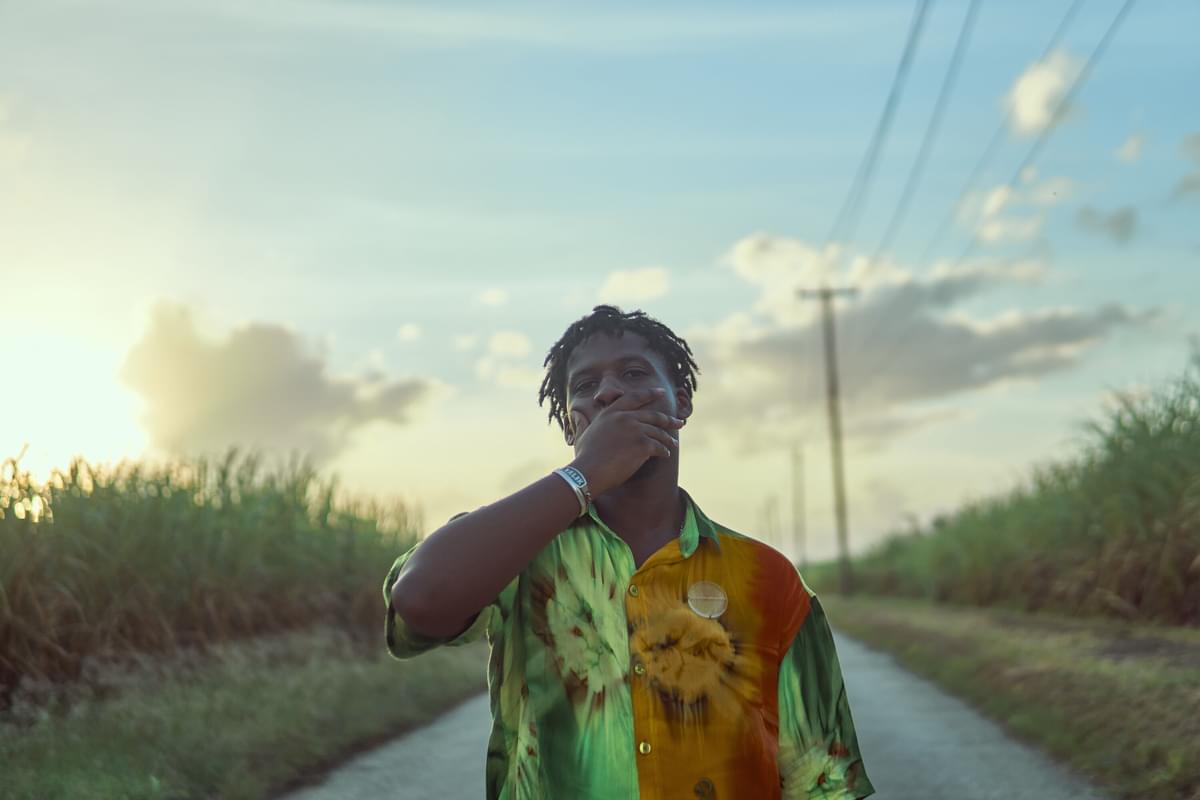 Haleek Maul embraces his homeland's blue skies and family ties on debut Errol
26 February 2020, 13:54
Haleek Maul's debut album Errol keeps the rawness of his early material without perhaps its sledgehammer violence. After years psyching up for his big return, the rapper talks Errol's familial roots, swerving obscurity, and his grand designs for his live shows.
Haleek Maul is looking at the sky, his chin and sprouting goatee tilted, and a smile quickly developing upon his face. "Sorry, someone's flying a kite within the sky," he comments, "And that's just like so nostalgic."
He's surrounded by the things that once coloured the scenes of his childhood, with the Barbadian blue sky his backdrop on Skype and a beach situated right next to the highway, just a few feet away from his home. It was here in Barbados that his rap career started, here when his debut EP Oxyconteen blew up and earned him the title of 'the newest king of the horror-core genre'; and even here, when he decided to go to school for a degree in accounting.
Though, memories and this brief moment of nostalgia aside, Maul is eager to change just a few things about the past, or at least, "reimburse them more with the truth" he tells me, as questions I prepared about his younger years are all met with a fervent headshake.
So, where should we begin?
"I hated all of my old names," he says, reflecting on the flutter of monikers he adopted and tossed within the earlier portion of his career, including ones like Kidgns and FancyPantFresh (at least on his Tumblr). "With Haleek Maul, I liked the way it sounded… but who knows? I might change it again, too."
Born Malik Hall, he believed his surname was given to too many Arab and Black men living in the States. So, he changed it. And then changed it again – although such efforts were still not enough to shake away the label critics kept pinning him under.
"I never saw myself as horror-core. I mean yeah, I did say a lot of fucked up shit like [Kill him/ Kill him/ Slit his throat] but I was really young and I was taking in a lot of really dark stuff, and I was personally going through a lot of shit, too."
It was a chance at a school talent show that his rap career first bloomed, with the wide-eyed amateur noticing of how all the rap performers were accruing girl after girl after girl. After enough watching then, Maul got on stage and gave it a shot, before going home to tinker with beats and then a few lyrics, eventually earning a slew of producer credits over the years until the category was then matched with a set of his own personal songs. Perhaps the most popular of his then discography, track "Prince Midas", is a thumping, hollow-sounding record that fills its spaces with lyrics like 'Groupies in the kitchen sink' and 'Bleeding out of every orifice.' That naturally, rattled the critics into talking and replaying the rest of his debut EP Oxyconteen, until the radio time was then cut short.
No older than sixteen then, he took a break from music to finish school, substituting trap beats and press interviews for balance sheets and bonds. When that got old, the rapper took up a gap year almost two-thousand miles away, in New York, conjuring up his old music self and the old reveries he'd had of finally "making it big." But the critical appraisal never seemed to rekindle its old volume.
"I was grinding so hard out there," he reflects. "I was never home. Every single day I was going to a different studio recording, recording, recording and making all this dope music… But then, I didn't get anything I wanted out of it, and I was just like fuck! Like, I just put all these fucking eggs in a basket and it didn't even pan out…"
On this, I ask him if that sort of anonymity bothered him – if he ever worried that music would end up being less of a career and more of a hobby. "I mean, I didn't worry about music not being for me. I just worried that my music wouldn't be for other people…But it was fine. Like, I always knew I was special in that way. I always knew I had like a really good, clear, curatorial eye. And like Picasso, one of my favorite paintings by him, it was like in the later part of his career. So I just needed to learn to have some patience."
And, after a few years, it seems Maul finally learned what that word really means.
Completing another EP that was successive to the aggressively-charged Oxyconteen, during his time out of school the rapper spent the next two years grappling and taking a inner-study of himself. Really reflecting, as well as introspectively looking at all the things he's done and who he really is, before it was finally time to hit the 'power' button on his computer and create what he and every other artist have been dreaming of since day one: a debut album.
Titled Errol, the fourteen-track record is a sonically scrutinised work of growth, one that though shakes off more of its younger macabre tendencies, manages to swiftly carry on under the direction of its curly-headed maestro. Its duration no longer than an hour, Maul spends the time rhyming with cautionary tales of getting too high, of being ignored throughout most of his career, of love and lucid dreams – and even loss, with the album's labeling and moody artwork dedicated to the artist's late grandfather who passed in 2016.
"It was going to be a completely different album, something that was going to be really grandiose with lots of strings and stuff,"' he tells. "I had a lot of crazy things planned for that, but this album is crazy too, just in a different way. The content is different and it had to be in a way – you can even see it with the black-and-white color schemes on the artwork, it's like for mourning."
"He was the one who taught me how to swim. He took me to school everyday, even brought me food every Friday from this fast food restaurant we have in Barbados, called Chefettes. My actual father lived in New York at that time so I didn't see him that much except in the summer, and so after he passed it was only right for me to name the project after him."
With Errol planned to be the opener of a debut album set into three encores ("or a trilogy", he emphasizes) over the upcoming year, Maul is also working through plans of eventually leaving his Barbados cocoon for stages all around the world. Although, it doesn't sound too much like these performances are your typical booking-to-queuing to requesting that the performer spits in your mouth kind of ordeal.
"I have these fantasies of like…putting people in a box," he says.
A box?
"Yeah, like I think the whole thing of, 'Oh you have a concert and everyone shows up to the venue and shit,' like that's cool, right? But I want to put people in an immersive experience inside a box with all these lights and visuals and shit, you know? Like I want to put people in different spaces to feel the art and music in a different way. And obviously like, you have to have a certain amount of fans or people you can get outside, but I always fantasise about these imaginary spaces that I'll be having within my brain."
His current number of social media followers akin to most underground artists utilising services like Bandcamp and Soundcloud, the twenty-four year old desires to appeal to fans on a much wider scale. But he isn't too stressed, or even considering mellowing things down to comfort the usual topics popular music has instilled.
He wants to remain as real as possible, continuing to rap about taboo subjects – although he would like to experience one thing it seems all the radio generated rappers have these days.
"I feel kind of left out 'cause I don't really have any earrings yet," he says, tugging at one of his hole-less ears. "But that's something for the future. Not now. It can wait 'til then."
Errol is out 28 February.
Get the Best Fit take on the week in music direct to your inbox every Friday