GoldLink is an artist immersed in culture – since day one, as a young boy living in the DMV district in the USA and now, as a travelling global hip-hop/R&B artist. He's paid special attention to the geography around him: what the streets are saying and what they sound like, what his neighbours are listening to and who sounds good on record and off. "I live here. I live in culture so I know what's working and I know what we need. I feel like, as American artists, we don't do enough to set ourselves apart from each other because our perspective is so small, on who we are or what the world really is."
A deep love for the District he grew up in runs strong through GoldLink's veins, and gives him a perspective the rap game has never really seen before. Not only is he an artist that's always had his ear to the ground – scouting the best new music from his friends, family and in his neighbourhood – he's also used his heritage in the DMV to his advantage. "I think it's just an simple as my perspective is different from the next man," he says.
The acronym, DMV, which stands for "DC, Maryland and Virginia", suggests a geographical region spliced between multiple states and cities. In reality, most DMV locals will tell you that it's made up of DC and its surrounding areas – but it's not just a place of suits, of Trump and big, drab office buildings. The DMV refers to a shared culture; one that is the beating heart of the outskirting regions of the three cities, perhaps most identifiable in its localised slang language and its shared appreciation for neighbourhood music, otherwise known as go-go. "It is like our native music." I can hear GoldLink smiling through the phone, describing the musical sub-genre inspired by a blend of funk, rhythm and blues and old school hip-hop.
That romanticism, or nostalgia, for the collective culture of go-go in the DMV has been present in every record GoldLink has put out to date, from his earliest work on The God Complex in 2014 to his most recent album Diaspora, released in June this year. It's subtle, hidden in the lo-fi percussion and syncopated, dotted rhythms, but it's there, much like the influence from the sounds of his parents. "I never grew up listening to one thing," he muses fondly. "My dad listened to R&B and jazz, and Black soul music. Then my mum listened to gospel and she really liked Kirk Franklin." Since his early twenties when he really broke onto the scene, GoldLink's been toying with those genres, sourcing strength from Black choral voices in "Pray Everyday (Survivor's Guilt)" taken from his 2017 record At What Cost. Back in 2015, he collaborated with jazz-trap artist Masego on "Late Night" which swirls in a tie-dye pool of jazz, Kenny G-era saxophones, and electronica. "My parents have an outstanding music taste. Like, outstanding! It's not like they'll listen to whatever, they're cool as fuck. So I thought, what would they listen to?"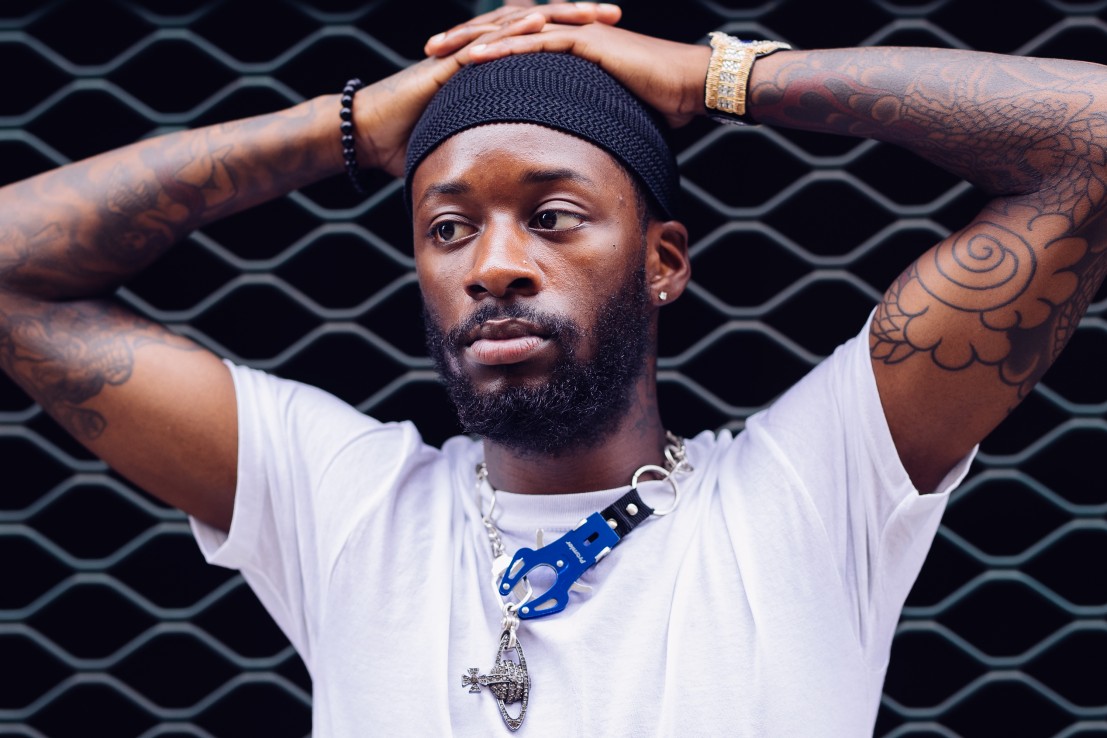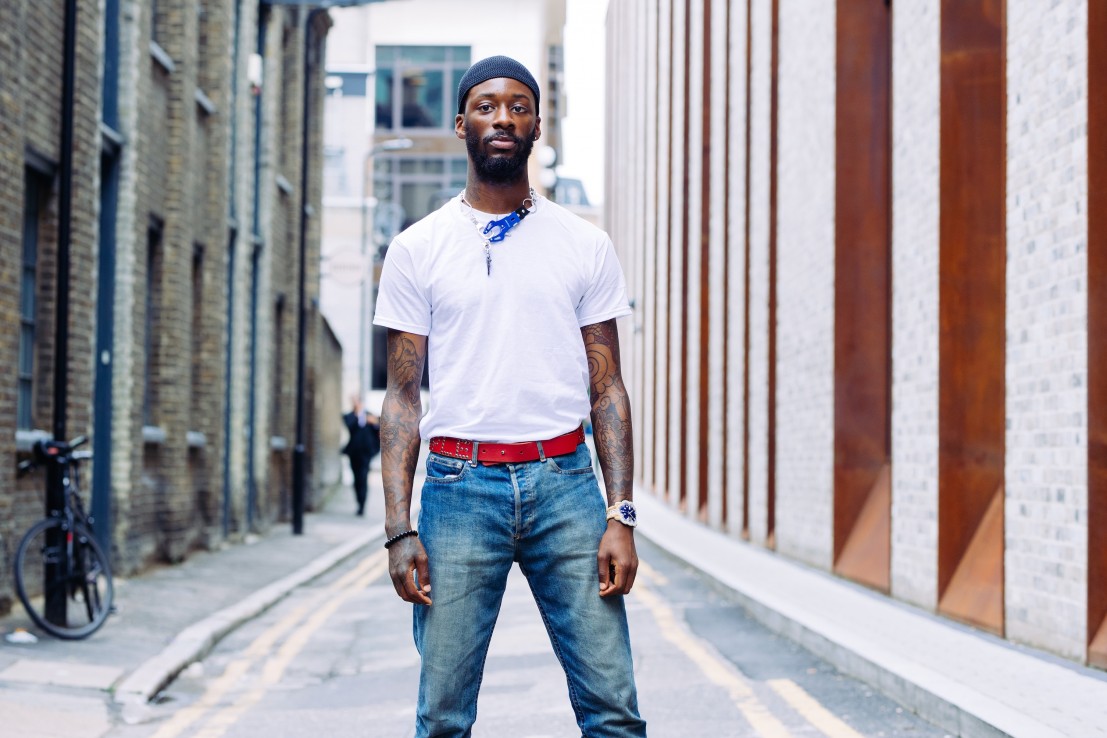 "My brother used to listen to hip-hop, but like real old school, well not old school, but deep trap. Dirty ass South rap that wasn't even cool... but it was cool if you were from a hood." I only have to point you in the direction of "Maniac", "Cokewhite" (featuring Pusha T) and, to an extent, "Zulu Screams" (featuring Bibi Bourelly and Maleek Berry) from new album Disapora to see how those days listening to Southern rap shaped GoldLink's slick, proficient flow.
GoldLink is animated when talking about his folks, who met while his father was serving time in jail. "They wrote love letters to each other which I still have in the house somewhere…and then I was born!" he chuckles. Despite splitting up when he was 19, they both played a big part in his life and even more so his career. "I started making music when I was 20, so for me, my parents were my everything."
Aside from that rock-bed of support, GoldLink describes his current stratospheric success as the product of mostly serendipity. "I met a dude who was like, 'Hey, I'll let you use my studio for this period of time and then, whatever nigga, you figure it out from there'," he laughs. "And I was like, cool whatever." Instead of having to sell his belongings for studio time, the young artist landed on his feet. He admits that he "never grew up wanting to be a musician. It was never a dream. It was just something I was doing, I was going through the motions." When I ask if it might have been shyness that propelled him to release his first project The God Complex, with his identity concealed, he is fittingly coy, reiterating how much he wanted to keep it just "about the product" at the early stage.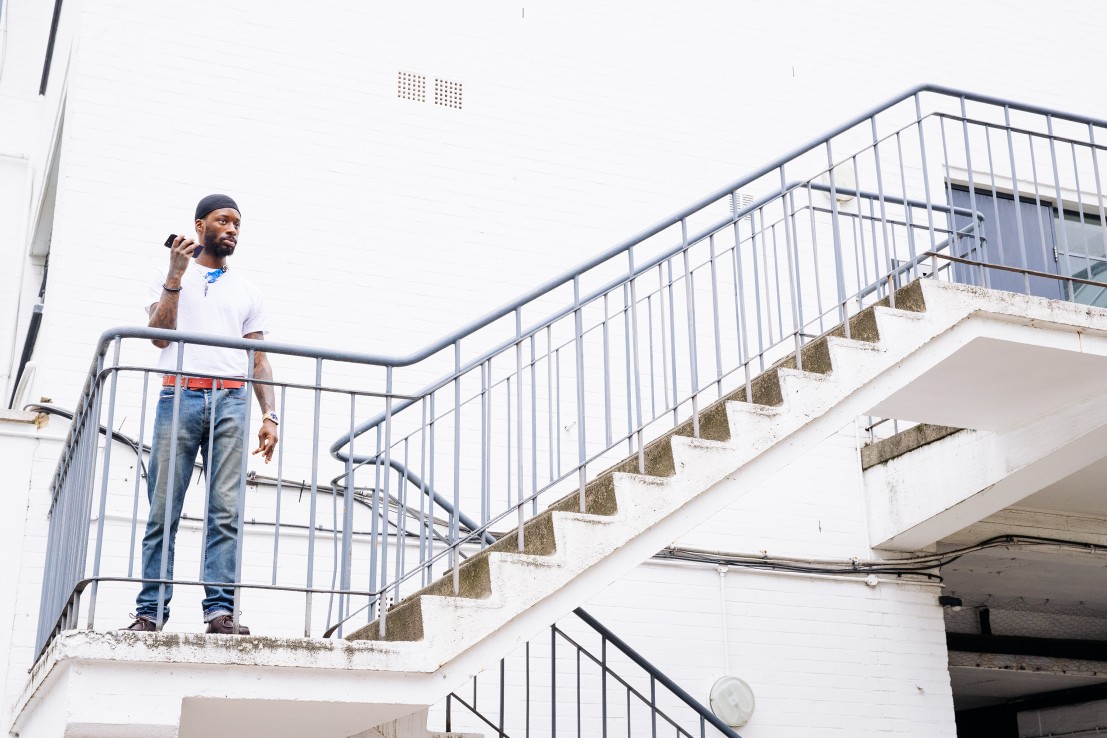 But GoldLink does acknowledge that, when single "Crew" dropped – the two minutes and fifty six seconds that shot him from boy on the block to global rap star – he was still finding his feet. "I don't think I was ready but I wasn't nervous. I wasn't ready…but I wasn't nervous either. You know?" he laughs. There was no planning how important "Crew" would become for his community, but also for other young Black rappers growing up and navigating what it is to be an artist in suburban America: it inspired the likes of Maryland's Rico Nasty, a quick-witted rapper who dresses like an edgy club kid. Her self-titled album Nasty was eaten up by the rap community, who are seemingly begging for more idiosyncratic DMV-based artists.
You can tell, from speaking to GoldLink, that the space between "Crew" and now is vast, and that perhaps, his embrace of his art is a little tighter than before. "When I made "Crew" I was in a completely different space in my life," he reflects, with a marked pause in our conversation. "I'm not gonna sit here and lie to you and say I don't calculate every single thing I do... but some things you just can't plan." With his name now shot to the highest heights, and every radio station, broadsheet and online publication wanted a say on Disapora, we circle back to his parents – the only nod of approval he needs. "They like it," he smiles. "They think I'm sick."
Diasphora is out now via Squaaash Club/RCA Records/Black Butter Records