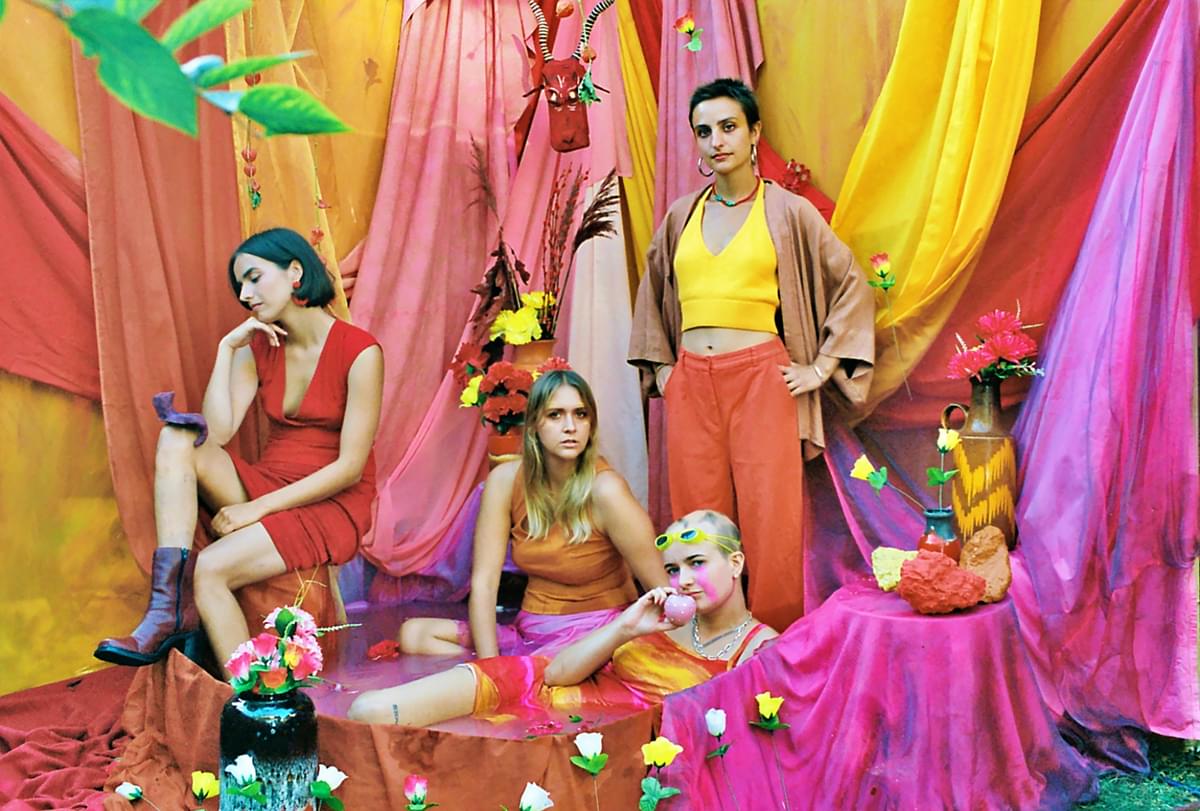 Goat Girl are pressing on with cautious optimism
19 January 2021, 14:31
"It was basically the best two weeks of my life, ever..." reminisces Ellie Davies, Goat Girl's guitarist. Davies is talking about the time she spent recording On All Fours, the South London band's second album back in October 2019. Since then, the pandemic has put a stop to live music, so her memories of being in the studio with her bandmates feel more significant than ever.
"Recording is one of my favourite things to do," drummer Rosy Jones adds. "I like having that time where all we have to do is think about the album and be as creative as we want to be. I have such fond, warm memories of being at Dan Carey's studio." For bassist Holly Mullineaux, who joined the band in 2019 replacing Naima Redina-Bock, recording was also a special experience. "I'd never done an album before, so it was quite a milestone for me. Luckily, I already knew Dan as we were friends separate from Goat Girl, so I felt quite comfortable. We tracked all of the songs in one day, so we had the rest of the time to mess around with synths and sounds."
This freedom to experiment and "mess around" with the aid of producer Carey galvanized the sound of On All Fours. Through home demos, phone recordings, a new interchangeable approach to instrumentation and multiple jamming sessions, the four piece have put together a record that bristles with their trademark sardonic attitude, but - as Jones puts it - is also a "natural evolution" for Goat Girl into a more electronic world. Jones promises that people are "definitely going to dance" to this record, which as we enter into another seemingly gig-less, mosh-pitless year, should bring their fans some light relief.
For lead vocalist and guitarist Lottie Pendlebury, the general processes involved in recording On All Fours paved the way for some true musical "nerding out". "There's the initial process of getting everything ready in a pre-production," she explains, "working out what amp would be most suitable for each guitar, what FX we were going to use, the positioning of equipment so that we could all see each other and react off each other. Then there's the physical recording of us all playing together, and then there's the process of playing around with things; using pedals that excite you, using weird exaggerated sounds and discovering and learning a lot about the instruments you're using." One of these musical discoveries takes place on "Badibaba", recorded during a jam session in Davies' mum's garage. Davies switched to playing bass on this track, whilst Mullineaux took on the drums and Pendlebury and Jones took on guitar duties.
Pendlebury's "nerd outs" were most appreciated by Jones, who gently laughs at the memory of being in the studio with her. "One of my favourite things was watching you, Lottie. Dan wanted to add some heavy guitar through a really loud distorted amp which you can't really hear much on the record, but it adds an important layer. So as we were playing all of these nice songs, we'd be watching Lottie playing the harshest fucking guitar riff and it was so jokes."
Nerding out and jokes aside, Goat Girl remains focused on dismantling the injustices they've observed through their fuzzy guitar twangs and sardonic lyricism. On their self-titled debut, they tackled misogyny, environmentalism and unfair politics. On All Fours sees them widened the narrative lens, but also take their lived experiences and explore them further by changing up song structures and as Jones explains, introducing electronics into the mix
"I think our first album was kind of slap-dash," Davies reflects. "We didn't fully know how to play our instruments, but we kind of liked that in a way. We didn't want to play into the whole 'being really good' or 'having a middle eight' or anything like that, but on this album, that stuff came naturally because we'd already done that kind of raw, simplistic energy on the first album." The band have developed both a "dense and melodic" sound for On All Fours, as Mullineaux explains: "We've all got fairly different taste in music, so it kind of sounds like what all of us individually listen to, but all together. It's still a pop record in the sense that there's catchy melodies, but there's just a lot of extra layers and lots of different influences that shine through. Even within one song, you can hear us touching on different genres."
Pendlebury opens up the discussion about lyrical themes and what's influenced them on the new record. "We are socialists and left-thinkers, so we're always going to have this outlook on society. I think we're also moving along with the ever-evolving happenings of the world and environmentalism is definitely one of the most pressing issues at the moment. Climate justice, seeking justice for refugees and just commenting on the injustices that exist - that's always going to be in our agendas." The album's opening track "Pest From The West" and recent single "The Crack" are two different observations on how humanity is damaging the planet. "Lyrically, it's us having these mindsets but in a more developed way," Pendlebury continues. "The first album was more focused on the things we were physically seeing in front of us, whereas now we have a broader, wider sense of everything that's happening, in an almost apocalyptic way."
"I feel like the first album definitely had that kind of doomy feel," Davies agrees. "We are definitely able to see the flaws of humanity, and that's an underlying theme from the last album that we've touched on in a more nuanced way with On All Fours." It's not just this dystopian dread that fuels Goat Girls' new record though, the lifeblood of the album is about unfiltered human emotion, as Davies eloquently explains. "It's not just about party politics, it's also just about human feelings - about how something makes you feel. There's nothing more important to me in a song than expressing a feeling, because that's sharing love and emotion into the world. That's how we connect and when there's a lack of that feeling, that's when things can start to go wrong. That's when people stop opening up, and they stop noticing that things in the world are wrong. That's when you run into issues." On "Anxiety Feels", Davies has opened up about her own issues with panic attacks, while Pendlebury examines her experience of depression on "Closing In" too. Collectively, Goat Girl practices what they preach, choosing not to ignore the difficulties that come with confronting the personal and the political.
"P.T.S. TEA" in particular epitomises the band's ability to take a singular event and flesh it out into a buoyant anthem that tackles male privilege and accountability. The track documents Jones' experience of being badly scalded by boiling tea by a random man on a ferry from Ireland to Wales during a tour. The incident left Jones out of action for a few weeks and the band had to postpone the rest of their tour dates. "The track was inspired by that event, but it trails off into other issues I've had in the past with obnoxious men who don't really take accountability," Jones explains. "It started off as that, and that inspired me to talk about my experience with my own gender identity too. It's a very specific personal song to me, but it's talking about people's behaviours, how people react to them and how that can have lasting effects." "I feel like that song is a wakeup call to men in general," Pendlebury adds. "To men who assert their privilege to acknowledge it. It can have a greater effect on people than they think."
After reflecting on how their song-writing has developed on their new record, it feels like a good time to ask the band what they're most proud of with their first record. "To me, I feel like it came out at a time where there weren't many non-men creating that kind of music," Davies explains. "It was refreshing to have a non-male guitar sound, with the kind of vocals we have. The album was obviously influenced by post-punk and it sits within that world, but beneath the surface there's so much more. On the interludes, Rosy's drum beats are almost a bit trip-hoppy. So from the beginning I think there's always been a kind of merging and blurring of genre borders."
Pendlebury expresses a similar sentiment. "It's kind of crazy that we got to release an album and signed to a record label. At the time, we always thought of music as a hobby and we weren't really looking for a career in it, but it all fell into place. I'm proud of that time, of the work we put into it, and that we played the way we wanted to, which did justice to the album."
Before the latest lockdown hit the UK, 2021 seemed like a brighter time. The band had a cautious optimism when it came to talking about their hopes for the year ahead. "We don't want to go ahead and say we're playing so-and-so shows because there's such uncertainty, but we've booked in slots so that if it is safe to gig again, we can do so," Pendlebury explains. "The main thing for us is that it has to be safe for everyone. We don't want to put anyone at risk, and that comes first. We're still going to be busy promoting the album and we've got a lot planned that doesn't have to be about physically seeing us live in a venue."
Jones' sentiments about gigging strike a more anxious chord. "I'm quite scared, because even if things go back to normal, it's not going to be how it was. One of our favourite venues hasn't really survived the crisis. Some venues were already in precarious situations before Covid-19 and I'm worried about whether they'll survive, and if they do, if they'll still remain underground places for bands to play."
Mullineaux shares some of Jones' fears too. "What I would like to do is play The Windmill in Brixton with all of our friends and have a great time, but even beyond that being safe, I think the pandemic has been quite a traumatic experience for everyone. I feel like the trauma that's come with social distancing will last. Even seeing people on TV hugging each other and walking into each other's houses, there's something in your brain that's like 'what? that's not okay?!' so I wonder how long it will be for people to feel comfortable again, and if these venues will exist when that time comes. I hope they will. I have massively missed playing live, seeing people's reactions and seeing them enjoying the music. It would be fun to have that life back again. It's why musicians do what they do."
Davies sees the pandemic and its effect on live music as a bit of a personal wake-up call. "One thing that I've felt, before Covid, was that I'd become complacent and a bit lazy about going to as many gigs as I could have. Now that's been taken away, I think one positive is that when we do finally get back to some version of normality, I feel like the energy from the audience and from the bands will be quite special."
On All Fours is released on 29 January via Rough Trade
Get the Best Fit take on the week in music direct to your inbox every Friday