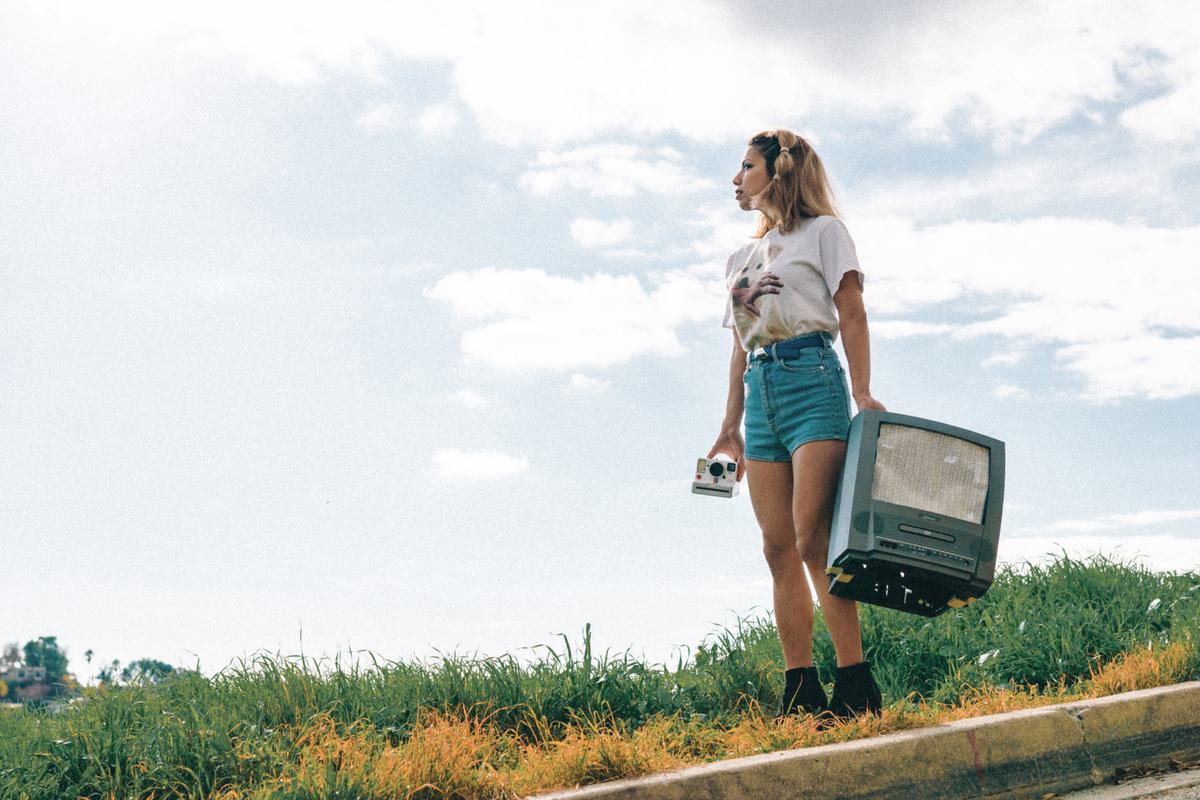 Lost and found
28 May 2020, 11:06
An artist used to doing it all herself, Genevieve Artadi's first outing on Brainfeeder charts a period of personal and creative growth – from rigid rehearsal, to reckless abandon and recovery.
In the Dizzy Strange Summer her new album chronicles, Genevieve Artadi got lost – in big feelings, bad relationships … and occasionally, just in her apartment.
"When I first started writing the record, I was almost in a self-destructive place. I was like, 'what if I let myself get wasted in the living room, stay up all night 'til 6am and watch the sun come up?' Not in a negative way... but I was just trying to be as free as I possibly could". Collaborator and confidante Louis Cole – who was living with her at the time – was a little worried. "He was like 'Are you OK?'. I was like, 'Don't worry about me, it's just a phase'," she laughs.
And so her new LP, released 17 July on Brainfeeder, embraces disorder. It pings from droll existentialism to wide-eyed hope; it talks frankly of going mad and trying to stay sane. Musically, it's unanchored, Artadi's dusty falsetto joining the dots between jazz, dream pop and dancehall. Artadi knows it's a lot, but after years of creating to a schedule as part of KNOWER, she wanted to shake herself loose.
"Louis has the most intense work ethic ever. And I go with it because I believe in the vision and it's... the only way it's gonna work," she smiles. "For three years it was just like – discipline. We disciplined everything. We disciplined eating, scheduling. The process [of making a record] was very confined to the two of us, locking ourselves in a room and working non-stop."
"And then around the time [KNOWER'S Life] came out, for some reason it was just like ... we had crazy friends over to our house all the time. I went through all this crazy love stuff and was trying to open my mind about that. And sometimes it wasn't good... I think there were some painful things I was going through with relationships – romantically and with friends. Things I didn't know exactly how to deal with, but I was very open to just talking about it. I knew I was going to figure it out eventually."
"I'm not a rigid person, but I always wanna know how far I can stretch my brain and my heart. How can I see outside my current perspective? And [at that time] I met people that pulled me in lots of different directions."
It took some time to get here, but right now Artadi feels pretty good. Meditating has helped (she describes Buddhist monk Thich Nhat Hanh as "her dude") and she's concreted her support network. "I'm just trying to be a bit more harmonious with my environment and within myself," she says.
"Just like anybody I guess, I have some things I … I don't wanna explode in anger once in a while, I want to understand myself. I had some relationships which I feel weren't so healthy for me, and I was thankfully able to let go of those."
The record's arrangements are diverse to say the least – from uber-trad jazz ensembles and electronic 4-pieces to one-woman bands. This approach to composition seems to stem from how Artadi positions herself amongst her musicians – more as a collaborator than a frontwoman. Perhaps spending almost a decade working alongside the aforementioned Cole has entrenched this: a man who knows how to use a skeleton onesie or a 180bpm drum solo to steal a scene.
In contrast, Artadi seems to almost denigrate the spotlight. "Sometimes I read YouTube comments about myself because it's interesting to me, to know what people think. And one person said that I 'disappear into the song'. I very much agree with that. I don't sing in a way that's show-offy or anything," she says. "I never try and bring myself to that place, because I'm more focused on the songwriting aspect. Maybe that fits my personality. I'm just not a 'look at me' kinda person. And even with my own music – sometimes I like to forget it's my project."
This sort of ego-death meant the album was very much shaped by the people who breezed in and out of Artadi's life – and home. "I live in a house full of musicians and I have to put myself wherever there is free space, to be honest. Sometimes [composition] was really planned out, and sometimes it was a spontaneous as my friend coming over and me being like 'Do you have a guitar with you?'. To me, the album sounds like it all works together and makes total sense, but then I play it to someone else and they're like 'Woah... these are really different'. I think I'm always gonna be all over the place in that way, because I'm just trying to express whatever it is that I'm going through. And – I don't know if it's my age or whatever I'm exposed to – but I don't need this album to be 'this type of album'."
Despite having been a fan of hers for a long time, I realise I don't know anything about Artadi's personal history. She tells me she grew up in LA in the early 80s, with parents who were in their own way quite unanchored. "I moved every two to three years as a kid," she explains. "My parents were really spontaneous... really impulsive sometimes. They worked really hard, and they wanted to build a life for us. They had these businesses, but sometimes the businesses wouldn't work out and so my mom and dad would have to find a job for a bit. Sometimes moving to a different city was just so we could survive as a family … It was a lot."
Her parents were also in a band together, channelling The Police and Pat Benatar. This is still a point of pride for Artadi, so much so that she posted a few of their songs to her YouTube channel recently. "And when my sister was a teenager – she was nine years older than me – I'd sneak into her room and listen to Bobby Brown and Janet Jackson. Pop music was all around me."
I'd assumed that the classical flourishes and polyrhythms of Artadi's work were products of formal musical training (she took classical piano at school, and studied jazz at California State University). But it turns out she got a less academic introduction to the art of syncopation. "I did Polynesian dancing as a kid, which involved a lot of heavy drumming and ukuleles and stuff. My sister made friends with a Samoan girls, and she was like 'Hey, do you wanna dance in this group?' So mom allowed us to go to hula practise and do shows at people's birthday parties and weddings." Time signatures in these troupes could get a little squiffy, but as a teen, Artadi absorbed them pretty well. "There would be a line of drummers, five or six, and they would all have a different drum, and the patterns would be so intricate. They were great at breaking it down for the kids – and of course, when you're a kid, you're just like 'OK sure – 12345, 123, 1234, 123456'. No problem!" she laughs.
When Artadi did finally start college, she was conscious of her relative inexperience. As she explains, jazz is a perilously competitive arena – where kids aged 18 are already note-perfect. "I had such a huge love for jazz," she sighs. "But I was so late in the game coming to it. I was just learning the language when I got to college and even though I was a quick learner, and I took to the style well, it was still really hard for me – especially improvising." Now Artadi's voice has become a coveted instrument, and she's shared stages with Snarky Puppy, the Norrbotten Big Band and Thundercat. Does she ever succumb to that same self-consciousness? "If I had to be on stage scatting and stuff... I would fall apart. But with my job, my role in the picture is songwriting and I feel like I've worked so hard on that. And the parts I have to sing, I feel I can handle that stuff, even though it's challenging."
I'm loath to bring up gender, but the scene – at least the more left-of-centre one Artadi finds herself in – does seem to have a lot of dicks on the dancefloor. Artadi, in contrast, is pointedly feminine: you can find in net skirts and neon, voguing at shows, as much as you can find her casually ripping up a solo. Does she think about the significance of being a 'woman in jazz'?
"I do... as much as I don't want to," she says with a wince. "I don't think about it so much when I'm writing – like, 'I'm a girl, I'm gonna show the world that I'm a badass'. I'm just doing my thing, making my art, expressing myself. But then when it comes to getting out there, and how I'm going to do my band... I've done a lot of gigs with dudes, but there's something kinda cool about doing an all-female band of total shredders. The songs on this album have such a feminine energy to them, I think that would makes sense."
I ask how the gendered dynamics play out back stage – and whether she's ever sensed any hostility. "Well..." she starts. "I've been through a situation where guys have treated me like a dumb-ass, like 'you're just a girl, you're just a singer'. But I also learned that people can change those views the more they get to know you. The jazz world is a very small world, in that you keep running into the same people, and a lot of times they've ended up changing their view of me – because I just stick to it and I'm not trying to prove anything."
"And I am so lucky to get to work with people who are respectful. Because they're so kind and open-minded and they play their asses off, it actually makes it even more comfortable for me to be free to be just like... in this session, I'm just going to dance and I don't care what the audience might think or say. I know I do what I do."
As we wrap up I mention Artadi's signing to Brainfeeder. The label seems the ideal home for her new LP: in April, Thundercat's It Is What It Is ran a similar gamut of jazz-orientated pop, intimate storytelling and bright flashes of weirdness. The pair have been friends since KNOWER supported him on tour, and Louis later worked on Thundercat's Drunk, leading to his own solo signing. "I was gonna release the new album on my own," says Artadi. "And Louis was like 'Hey Gen, do you want me to pass your album to Brainfeeder?'. I said 'Sure, if you want, but I don't expect anything y'know?' So he did – he was like, 'I don't usually do this but I really believe in this record' and the next day they said yes," she beams. "It was pretty damn cool to wake up to that news. Like, 'Yeah we like it, let's do it.'"
I wonder if it's a bit strange to be promoting a record which so intensely captures states of anxiety and aimlessness she's perhaps left behind. We talk a little about the album's incredible opener – "I Hate When I Can't Feel My Heart" – which is formed entirely of vocal samples, Artadi mimicking drums, horns and bass over super-crunchy harmonies. She notes that it's an angry song, it's just now her perspective has shifted.
"I feel that a lot of problems between people are often the result of us not listening to each other and instead talking at each other. And at that particular time I was angry about it, because I was feeling like that was happening to me."
"Now I try not to be so angry. Thich Nhat Hanh was saying when somebody is unskillful, they're usually the ones that are suffering the most from it. So often times, when people treat each other badly, it's because they themselves are suffering. And so, I meditate so that I can become strong so that I can be there for that person and also for myself." I josh that Artadi's Zen is almost intimidating. She grins, and replies that she's still not as healthy as she'd like to be – "I still eat pizza," she jokes. There's hope for the rest of us after all.
Dizzy Strange Summer is out 17 July on Brainfeeder.