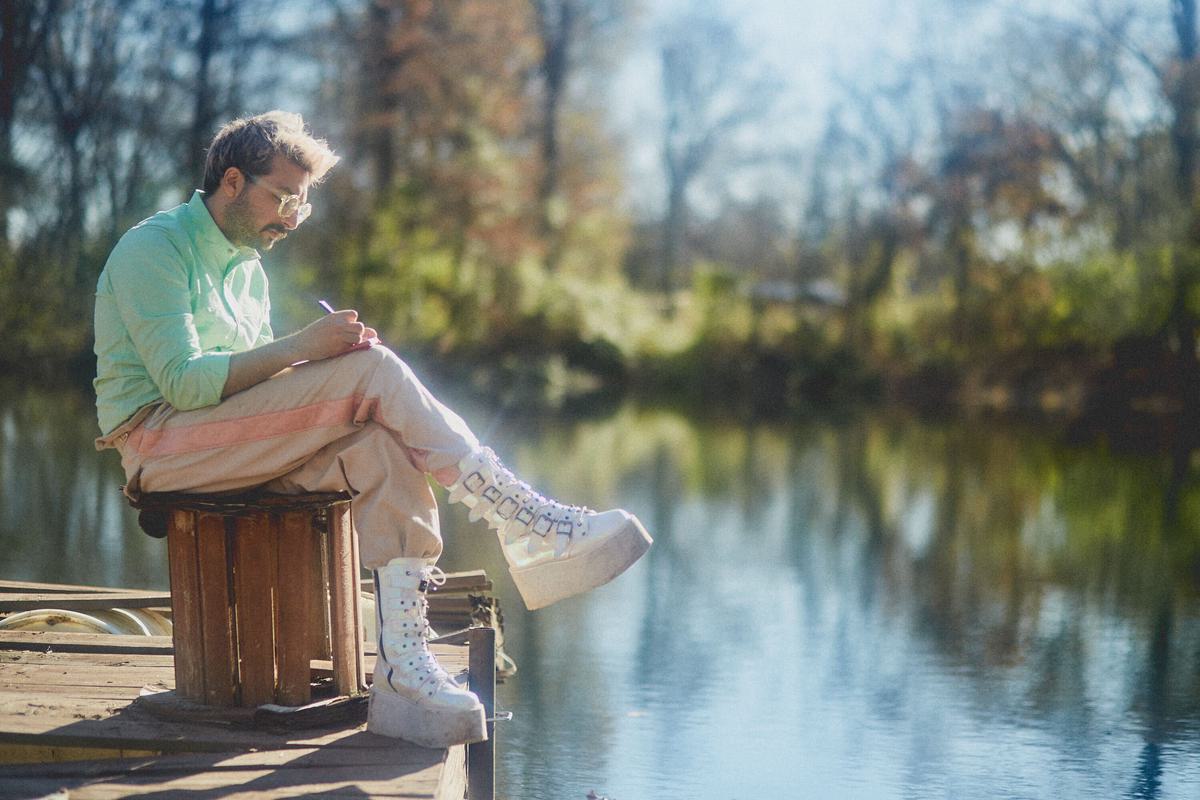 Foxing, cult heroism and cosmic insignificance
09 August 2021, 09:00
While making Foxing's fourth album Draw Down The Moon, vocalist/songwriter Conor Murphy was inspired by Stephen Hawking cheating on his wife. No, really.
Let's backtrack. Murphy, who has fronted the experimental rock band since 2011, was searching for inspiration for the band's new album when he watched comedian Joe Pera's animated short, Joe Pera Talks You to Sleep. In it, Pera muses on Stephen Hawking's affair with his nurse. As Murphy explains: "He says think of it from Stephen Hawking's perspective. He looks up into the stars all day and ponders how, in the grand scheme of the universe, could one man cheating on his wife matter? And then he says, following that same train of thought, if the universe is so expansive and so giant, and you found one person that loved you, that you love and you trust, why would you ever wanna hurt that person?"
It struck a chord with Murphy; whilst the pandemic was robbing human connection and community, it emphasised the importance of his own relationships. Immediately, he called Foxing's guitarist Eric Hudson and told him he knew what the album was going to be about. "It just started snowballing in my head. Taking on that idea, by saying we are so insignificant in the grand scheme of things, but also our connection to other people is itself the significant thing. Because once you start bridging the connection between yourself and other people, it ends up making up the entire universe, once you expand it enough."
For this three-piece indie band from St Louis (Murphy, Hudson and drummer Jon Hellwig) to take on such an enormous, contradictory, perhaps even impossible concept in the span of a 40-minute album is bold. But Foxing are nothing if not fearless.
For starters, they were born out of a life-or-death situation. Former bassist Josh Coll — who left in 2017 — was in the military in Afghanistan when he decided that if he made it home alive, he would devote his life to music. He messaged Murphy via Facebook (the pair met while playing in their previous bands — Coll the post-rock Hunter Gatherer and Murphy the emo Family Might) about starting a new project while he was still out there.
Murphy agreed, although he hadn't intended on singing; he showed up to the first practise with his bass. To his horror, Coll wanted him to front. "I was so, so self-conscious," says Murphy. "I really hated my voice more than anything in the world, which is partly why I smoked, and I screamed a lot more early on. Even when we were recording, I would just hit a bong or something right before, 'cause I wanted it to sound nothing like my own voice." He struggled with anxiety and stage fright, too: "Our first couple shows, I would hold a bass in front of me, even though I wasn't playing. I was just so terrified of it." He credits an unusual source with giving him the confidence to embrace his role as frontman. "The second I [was old enough], I started doing karaoke, and it was a total shift. You feel more comfortable with people looking at you, and not worry about messing stuff up." His go-to songs? "Kiss From A Rose" by Seal, and "Believe" by Cher.
Foxing had seen so many great bands from St Louis die in obscurity, never having made it out on the road. Their goal before anything else was to transcend that. They toured heavily over the following years, and after their 2013 debut album The Albatross they became one of the foremost bands of the emo revival scene (despite being much more indebted to experimental bands such as Radiohead, Sigur Ros and The Mars Volta — "All of those bands were like a world opening of experimental music," says Murphy). They became more and more impressive as a live band too, and soon their goals were nothing short of world domination. "People would tell us after the show, 'I can't believe I saw you in a basement, because you're gonna be in a stadium someday'. And it was this thing of when enough people tell you that, it's kinda like if your parent tells you [that] you're gonna be the president one day over and over and over again. So it kinda became a thorn in our side. The feeling was if it's not a stadium, we're failing."
Murphy feels their second album, 2015's Dealer, was a victim of that populist instinct, calling it a "half measure". It wasn't until their third, 2018's expansive and astonishing Nearer My God, that they realised their calling was more esoteric. "We really started to sink into the idea [that] we will always just be a small group of people's favourite band. That was the first time we really said we're gonna go full force into what we wanna make, and try to make the most exciting thing [possible]. And that was so rewarding. It gave us permission to [go] the craziest we can go with every album, [and] know that the fans want to follow us on that path."
As part of that experience, Murphy wants to experiment with as many different genres with Foxing as he can. Nearer My God could be described as arena rock, while Draw Down The Moon leans into pop and electronic sounds. He's toying with trying out metal or folk in future. "With every record we try to wipe the slate completely clean and say, essentially, this is a new band entirely," he says. The important thing is that no matter what sounds they explore, it's with the same inquisitive and subversive approach. "Any amount of gatekeeping to any genre is so insane to me," says Murphy. "The attempt for us is always that it's hard to describe our music. The most exciting bands to me are the ones that can completely traverse the plains of genres, and take little things from each one and create something that is entirely its own."
In 2018, Murphy came out as bisexual. "Beacons" from Draw Down The Moon is about him finding his place in the queer community. Growing up in a Catholic school, Murphy says he was "very afraid of my own identity, my own sexuality. Even outside of sexuality, it's like, I'm shoving down a part of myself as it relates to just treating other people, because of this religion." All throughout Foxing's career, Murphy has been unpacking the vestiges of Catholicism in his lyrics, like on Dealer highlight "The Magdalene" in which he reflects on the guilt of losing his virginity. This time, he says, he felt he had finally worked through all he needed to in that regard. Instead, he looked for a new belief system to explore; something that might make more sense to him.
A self-described fantasy nerd, obsessed with Dungeons & Dragons and Lord of the Rings, he dove into the pagan folklore at the root of the genre. "I'm not necessarily a practicing Wiccan or Neopagan, but it is an exploration of what do I like, rather than what do I know I hate?" he says. It was a new lens through which to explore connection; for example, on closing track "Speak With The Dead", he describes communicating with a dead loved one through Wiccan ritual. "Losing people over the last 5 or 6 years has been something that I've felt like Catholicism really doesn't do well. Thinking about the way magic and ritual applies to death and grief is to me a much more open-ended idea.
"It's not like if you do this spell or ritual then X will happen, as much as the intentionality creates a result that in some way is positive for you. A seance or a spell most likely will not commune directly with someone that you miss and love. But at the same time, doing it and then going to sleep and dreaming of that person is a result in and of itself, where you actually do talk to that person."
The album's strongest presence is love, but there are no simple love songs; instead Murphy is constantly striving for deeper connection with those he loves, even — and especially — in the face of challenges. "If I Believed In Love" approaches romantic love as the terrifying beast it is, claiming: "If I believed in love, I wouldn't tell a soul / I'd put my head in the sand until I'm left alone". Meanwhile, the title track sees Murphy believe himself a disappointment in relationships. But on both tracks he ultimately affirms his commitment — on the latter, he sings, "I want to draw down the moon for nothing but to deserve you".
"The thing I come back to the most in our music is not being enough in relationships," he says. "Being gone on tour all the time or being emotionally distant. I wanted to really make commitments to being a better person for the people I love." On "Bialystok", he describes watching television and arguing with a partner, proclaiming mundanity a "miracle", and offering what he calls the "thesis" of the album: "Sacred insignificance, steeped in cosmic bliss". "Those insignificant moments are actually so significant," he says. "Rather than talking about these huge concepts in a really vague, general way, we try to think of them in mundane moments that mean so much. It's a repeating moment, it happens every few days or something, but at the same time it is that moment, and the fact that it repeats, that is so significant."
All this existential pondering came with the background of not just the pandemic, but the impending doom of the climate crisis too. Murphy had explored the fear of apocalypse with Nearer My God, but in embracing the things that matter to him on Draw Down The Moon, he was somewhat soothed. "While the world burns around you, looking up into the sky and recognising your significance and your connection to all other things is kind of a form of meditation during an apocalypse."
One could say that Draw Down The Moon is something of a ritual itself. All art is. The artist calls on their elements of choice, arranges them just so, and offers them in exchange for a result that transcends physical logic. In performing that ritual, Foxing may not have found answers to all of the universe's contradictions, or made peace with the terrifying enormity of it all. But simply by being fearless enough to try, they've created one more way for human beings to connect with each other. Maybe, whether they knew it or not, that was the point all along.
Draw Down The Moon is out now.