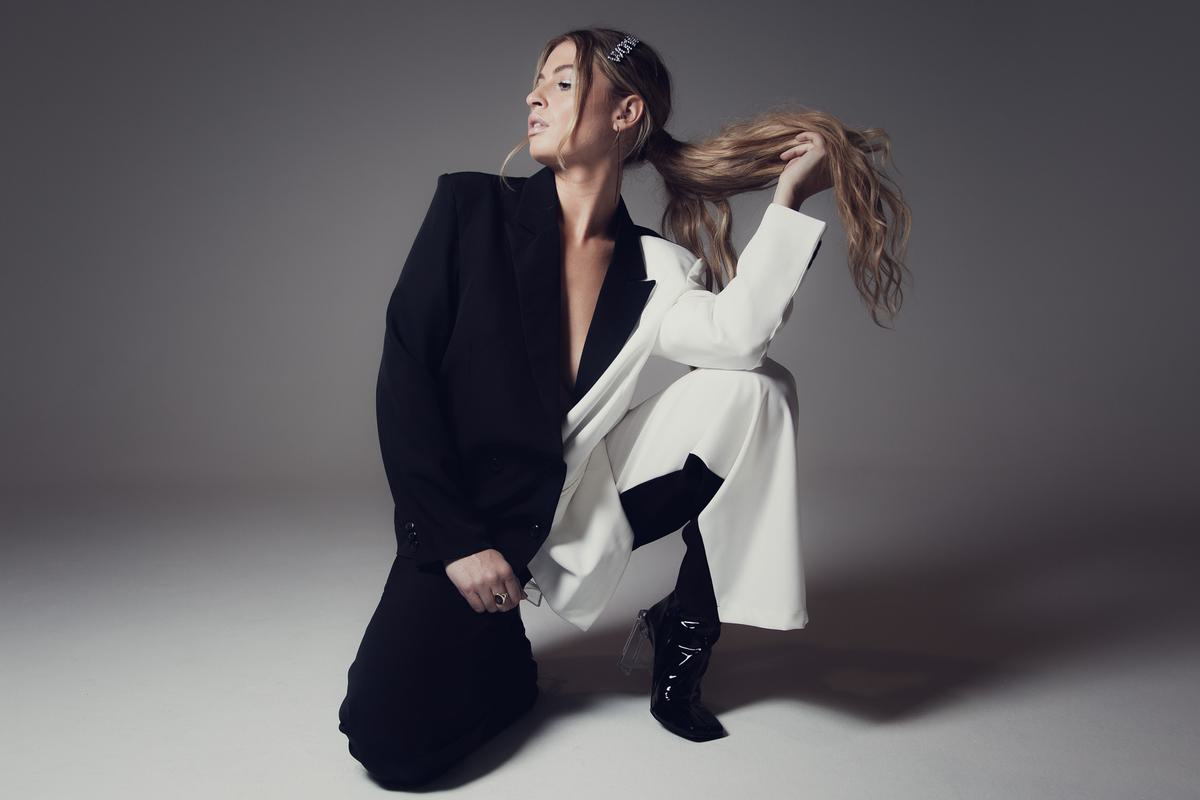 On the Rise

Fletcher
18 April 2019, 09:00
Fletcher is bringing honesty and integrity to her empowering pop music
Finding yourself is an ongoing process and if you think you've figured it out then you've definitely done something wrong.
The concept of self-growth is difficult to grasp at the best of times, but even more difficult if you're trying to be a role model for your fans and facing some of the bigger, more existential questions: Who am I? What do I stand for? How can I be the person my younger self needed to see and hear when I was growing up? For rising New Jersey born-and-raised pop star Cari Fletcher - known mononymously as Fletcher - these questions have never had as clearer answers as they do now. Building a life as an artist has seemed impossible at times, but the singer/songwriter rolled with the punches and has come out as a formidable talent who is unapologetically herself.
She's openly queer and for that she thanks "all the people who have blazed a trail before me and have been outspoken in times when it was really threatening to their careers, their lives and their families." A big part of music, writing songs and putting out her feelings and emotions in this way is the desire to live up to the queer woman that her younger self needed to see growing up. It's a privilege, she tells me: "I feel lucky to be able to speak my truth and talk about my experiences in way a that a lot of the rest of the world isn't able to. I think Halsey does that, Hayley Kiyoko does that and Kehlani too: there are definitely women who are being that representation and I just think we need more of it.".
"It started with classical vocal training when I was five year old" Fletcher explains, "[but] my parents aren't musical people at all, they never really listened to a lot of music, weirdly and they had two albums growing up: Bob Marley and Celine Dion." While not necessarily the most creative of influences, it's their support that spurred a young Cari on to pursue her talent and love of singing. Growing up in Asbury Park, the home of Bruce Springsteen "was such a part of my childhood" she explains. "He's one of the greatest storytellers of all time in terms of artistry and the fact I got to play some of the same venues as him is crazy."
From high school plays to a job as a children's entertainer - where Fletcher would become a Disney princess, Taylor Swift or Hannah Montana - performing has always been part of her life and while she admits "I've definitely had to grow up since those days", she's always had a nuanced understanding of the world that she's been able to translate with her lyrics.
Seventh-grade Fletcher "knew what was coming." The first song she ever wrote saw her and best friend Nicole musing about having their hearts broken despite never having dated anyone at the tender ages of 12 and 13. The lyrics ran through what a new teenager would imagine from the clichés of breaking up: consuming a pint of ice cream, sobbing into a pillow at night, the "I can't take it" mantra of being able to face your feelings and emotions without your former significant other by your side. And yet Fletcher admits "it's pretty spot on" in terms of the actual heartbreaks she's experienced and written about since, but concedes "it was a terrible song." A couple of years later though and she was playing the songs she'd been writing at shows in her hometown, albeit sometimes to less than five people - but that's all part of the journey.
"I was told I was boring and not confident enough to be a solo artist"
Her first break in 2011 was a stint on the first season of The X Factor USA, as part of country-pop vocal group Lakoda Rayne. It wasn't all stardust and smiles performing for Cowell and crew; the four-piece ultimately finished in ninth place and were the final remaining group. Fletcher's heart wasn't in it though: having auditioned as a solo artist and not advancing further than the boot camp stage the production team had a some harsh words for the young singer. "I was told I was boring and not confident enough to be a solo artist" Fletcher tells me, adding they thought she couldn't even be a lead singer of the group. It was a hard truth for someone who describes music as "the only consistent thing in my life, [the only thing] that I ever loved and felt made sense."
"That messed with my head for a long time" she explains, "I questioned whether I was good enough to do any of this."
She hit back, winning a place at the Clive Davis Institute of Recorded Music at NYU in Manhattan. Taking classes in music business, branding, marketing, performing and songwriting, she began to develop not only her career but her own identity "New York has such a way of breaking you down to absolutely nothing so you have to really find out who you are there and rebuild."
In New York, she fell in love for the first time and subsequently had her heartbroken for the first time too. These experiences shaped the songs she made and shared as part of her debut EP in 2016. The six-track collection includes empowerment anthems like "Princess" and the emotional battle cry "War Paint" alongside carpe-diem odes such as "Live Young, Die Free". It's title Finding Fletcher also touches on Cari's road to discovery up unto this point, something which she still very much connects to New York. "Everytime I go back there, I'm trying to rewrite history in a way with new people and new experiences," she explains. "Taking back those moments and taking back the city to make it a place of excitement and love again."
She admits "New York fucked me up a little bit."
Her time on The X Factor and that harrowing break-up helped to forge Fletcher's persona as an artist. It also revealed to her the power of that persona: what may have been a coping mechanism or a shield of armour to hide behind or to deflect blows has become "the superhero, that I always needed when I was a little girl."
"It's a larger than life version of me," she says. "I think finding yourself and figuring out how you are is a lifetime journey."
It's a journey she's going to embark on with her forthcoming second EP, her album, mixtapes, future singles and with everything she releases. Barriers between herself will be broken: "I'm closer to it with every experience I have" she explains, "but by no means have I found Fletcher yet. I think if you ever get to the point where you're totally satisfied and feel like you're the best version of yourself, there's always more to discover, there's always more work to be done.
"If you're the most successful person in the room then you shouldn't be in that room. Go find the people that are inspiring and doing more than you and working harder than you, that's what I find inspiring."
Last year, she released a song called "I Believe You" - written right before the #MeToo movement broke, released at the perfect moment to stand as an anthem of solidarity. "I felt a responsibility to use my voice and the small platform that I have to speak about things that matter" she explains of the song. "I am fortunate to work with so many women and to hear their stories about what they've been through and what they've got to through to get where there are."
Of course, the #MeToo movement is deeper than just the past 18 months or so of people in the creative industries and elsewhere sharing their experiences of abuse. "It's something that's been going on for years and years and years and honestly, for all of time" Fletcher tells me. "The fact that I live in a generation where women are finally being heard and having the bravery and confidence to come forward about their experiences in hopes of changing the way the world has been forever is extremely emotional, but also feels the most fucking empowering.
"I've spent my whole life caring so much about what other people think of me. I'm really on this sort of self-love journey right now that I feel will be a lifetime process. We grow up as little kids and your parents and everyone around you tells you to share, be nice to everybody and love everybody, but I don't ever remember anyone saying to me 'love yourself', that's not something that we're just taught. To be unapologetically yourself you've got to turn inwards first and be able to say I love you, even if there's fear about what other people think about you.
"I think the more that you can say I love you to yourself, the smaller that fear of being yourself becomes." Love yourself, be unapologetically yourself and you can can be one of the people who are moving the world step by step closer to being a better place."
"To be unapologetically yourself you've got to turn inwards first and be able to say I love you, even if there's fear about what other people think about you"
Empowerment is key: changing the narrative and changing the conversation. Taking back power is something Fletcher has first hand experience with throughout her career. Her latest release "Undrunk" is a song about regret and ultimately realising there are somethings you can't undo. Part of her next body of work and while Finding Fletcher saw her tackle the trials and tribulations of falling in love, being who you want to be with and holding your head high, despite what the world and other people are throwing at you. The next one is about breaking up with that very person. "It's the end of that story" she explains. "The final closing chapter is putting it out, giving it to the world to be someone else's story now. I think it will be the closure I never got from that person and that situation. I've had to formulate my own closure from all of this, so I think this will be my final goodbye to it."
Fletcher's plan for what's next isn't straightforward but she's done with the archaic concept of EPs and albums: "I look to people like Ariana Grande and Billie Eilish the way they just drop content, when and how they feel like it" she explains, "I want to put out music and songs as they're done." With the next set ready to go, there's more in the works and whatever form it takes it's sure to see Fletcher battle through to her next self-awakening. But right now, she's excited to tour and to find out exactly where her music can take her, specifically "to go to the places people have been commenting on my Instagram for years to come visit. I can't wait to take the "come to Brazil" really seriously and be like I'm finally fucking coming Brazil."
Expect her honesty to continue as she dives deeper and explores further, what's perhaps most important to Fletcher is being herself. She knows this better than anyone: "I would be doing a disservice to everyone if I wasn't being honest about who I am."
Make up by Rhea Le Riche / Hair by Sharon Robinson / Styling by Chloe & Chenelle