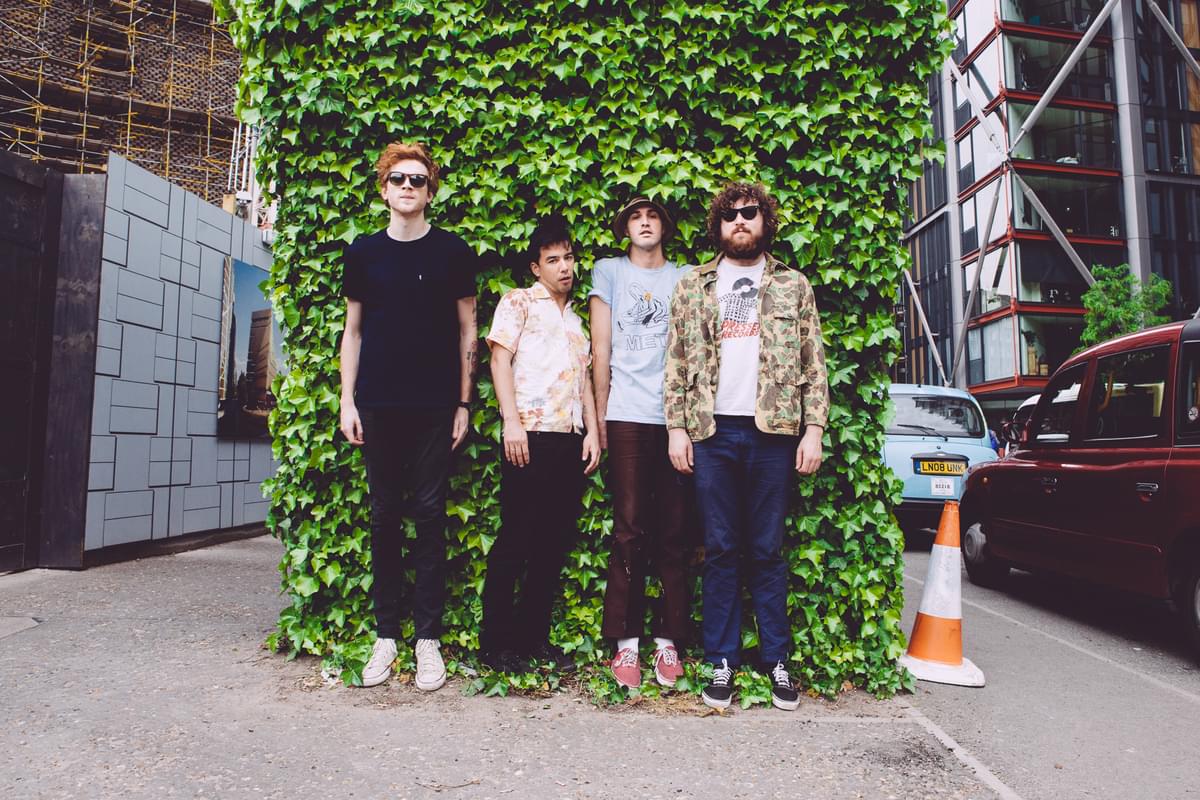 FIDLAR: Change is the Theme
23 June 2015, 09:30
It's been two and a half years since FIDLAR put out their debut album, cementing them in the hearts and minds of misfits worldwide. Thirty months and twelve new tracks later and the LA quartet are back to doing what they do best: blasting the blues away as they let loose in front of packed-out audiences.
"We're really good at the energy thing, because that's just kind of what we grew up listening to," frontman Zach Carper explains. "Energetic music, rock and roll music… It's kind of what we've all based our careers off of. And it's always gonna be energetic."
"I think it comes through as the live show," guitarist Elvis Kuehn expands. "If you have an energetic live show, and the audience is feeding off that, it's gonna be fun, regardless of what you're singing about."
Honing their rambunctious energy, FIDLAR have built up a repertoire of songs that are just as rousing on record as they are on stage. "Our live show is a very energetic, party atmosphere," Zach explains, "but the lyrics are kinda depressing actually, to tell you the truth. It's like just owning up to it" 'yeah, I'm broke, Fuck it. Whatever.' Especially on this new record coming out - it's different. It's just like living life, y'know?"
"We were really inspired by our band - we inspire ourselves," bassist Brandon Schwartzel states matter of factly. "Everything that you like, you put your heart in a blender and see what comes out."
Whilst the wait for the second album might have felt like a long one, the four-piece have certainly been keeping themselves busy. "Brandon got out of jail. That was a big one," Zach tells us. "Then Elvis took a year vow of silence. Max started his acting career again, and he's getting that going - hasn't got a call back yet, we're still working on that. I'm trying to pursue my surfing career. It's kind of hard to do that in London."
"But fingers crossed, 2015 there's gonna be a major surf competition on the Thames," Brandon chimes. "It's the fifty year storm, it's coming."
With their heads in the clouds and their feet firmly skating on the ground, through their music FIDLAR craft the perfect way to let loose from all your troubles. "I don't know if it's ever been a conscious thing of like, "y'know, we should do something light-hearted," Brandon discloses. "I think that part of being in our band is we like to have fun, and we like to do fun, dumb stuff sometimes. Not take ourselves too seriously."
"This is also hilarious that all this is gonna be being taken sarcastically," drummer Max Kuehn asserts, "because it'll be almost true."
Indeed, in conversation with the LA four-piece there's no shortage of levity. "Bunch of goofballs!" Zach exclaims. Between playing live and re-enacting their favourite films for their #MatineeMonday trend, FIDLAR are doing whatever makes them feel good – and their enthusiasm is infectious. Take one look at their new music video, in which the band tear through homages of fifteen different music videos. Brandon's trousers are still splattered with paint from the set. "This one's Weezer, this one's Jamiroquai…"
"That was my brother in law, Ryan Baxley, it was his idea," Zach divulges. "He's just one of those guys. He does most of our videos, and he's just been able to come up with these crazy ideas, and we'll just be like "...what?" And he'll make them work somehow!" The idea of acting out Eminem, Oasis, and Britney Spears videos against flimsy stage backdrops might not seem like the most cohesive idea spelled out, but the result is one of the best music promos you're likely to see this year. "We hadn't made a video in a while - hadn't done anything in a while," Zach explains. "So it was our version of making fifteen music videos into one, y'know? Can't keep still."
"40oz On Repeat" features on FIDLAR's second album, imaginatively titled Too, which is released in September. Recorded in just two weeks, the 12-song release sees the band harness their raw prowess to an expert degree, condensing their energy into a dozen potent garage-punk anthems. "Most of the basic tracks were done live," Elvis describes. "We'd rehearse the song a bunch before going in to record, and we'd all set up, and we'd be able to see each other and play through the song, and then get a take that we liked and use that as the foundation."
"It's a lot different than the first record," Zach expands. "I wish we could actually just go back and record the first record now. I bet it would sound way better." Celebrated though it may be, the group are in a different place to when they recorded their self-titled debut. "It's weird to hear the recorded versions of a lot of the songs - the different tempos and the different things about it," Brandon ponders. "We've played those songs live so much. Hopefully the new record's a progression..."
"It was just a different process," Zach states. "We did the record in Nashville instead of Los Angeles. We went with a producer this time - that's a big change. I've always really liked bands that were able to go into a recording studio and use the recording studio as an instrument. Create something that's not just their live things, it's also something more. I think that's a very fun part about making a record."
It's evident from the way they talk that FIDLAR have grown a lot in the two and a half years since they unleashed their first album. Throwing themselves outside of their comfort zones, the four-piece have crafted a release that whilst progressive, is still definitively who they are. "We just kinda did something different," Zach explains. "There's not much stuff about getting fucked up, as opposed to our first record."
"Everyone went through changes, so maybe it's about change," Brandon reflects. "Change is the theme," Max adds, trailing into a short rendition of the celebrated Bowie track. "This is gonna look so stupid written up."
There's an intense excitement surrounding the forthcoming release. "40oz On Repeat" was met with unanimous praise and it seems like the band are just as thrilled as their fans. "We just haven't put out anything for a while, so it's exciting to have something new for people to be excited about, 'cause it makes us more excited." "It's exciting to have, like, new videos to work on, new artwork," Brandon enthuses. "It's like you get to do it all over again in a different way, which is cool."
"Wait until our next record," Zach interjects. "It's gonna be a hip hop record. And that's a real reinvention."
"We collectively designed a computer, and based on the algorithm that we thought of it selected the songs," Brandon explains of the tracklisting. "It was the same algorithm used by the British to decode the Nazis - the imitation game thing," Zach adds.
"It was also the same as the Willy Wonka computer that can find the golden tickets," Brandon concludes, deadpan.
If conviction is half the battle, FIDLAR have already won. Aiming high, the four-piece are sure to achieve. Sat on a London side-street, they contemplate their future plans here. "Just the Heaven show for now, but we'll be back," Zach hints.
"Probably not for three or four years…" Brandon suggests.
"We'd need to get paid hundreds of millions of dollars," Elvis adds, "and who knows even then?"
"Next stop Wembley Stadium!" Zach cheers.
Inciting their own rumours, it's impossible to really know where the band will find themselves next. "Yeah, we don't really plan things out," Zach offers as explanation. "Whatever happens, happens."
Reminiscing to the last time they played in the UK at 2013's Reading & Leeds Festivals – "that Reading & Leeds show was the reason why we got the Pixies tour!" – the LA outfit might be far from home, but they've got the world at their feet. "World domination," Zach states of the group's goals. "I just want to lease the world - just for like, a couple of years."
"I wish that Zac was saying that as a lie, but he's not," Elvis conveys.
As for their currently scheduled shows, the group have big plans. "Pyrotechnics," Elvis exclaims. "Lots of celebrity guests…" Brandon teases. "They wouldn't be secret guests if I told you about it!"
"We've got Meryl Streep coming down to do freeform dance," Max discloses.
"Hugh Grant is gonna do a scene from Notting Hill with Max as Julia Roberts," Brandon counters. "The real sexy scene. Really intimate stuff."
"Supposedly he's into that kind of stuff," Zach proclaims. "It was like a whole thing! I kinda like that about him. He's such a pretty boy, like, posh, English… But he just gets fucking wild on crack and hooks up with hookers."
"We just crushed every 32 year old girls dream," Brandon notes.
Drifting back to their usual pastimes – "we try to preach the word of God, evangelise. Try to save a few souls, if we can" – FIDLAR's future looks bright. Their new album seems set to seal them amongst the ranks of the garage punk greats, and the four-piece are taking it all in their stride.
And why shouldn't they? This success has been a long time coming.
Too is released on 4 September via Wichita Recordings
Get the Best Fit take on the week in music direct to your inbox every Friday