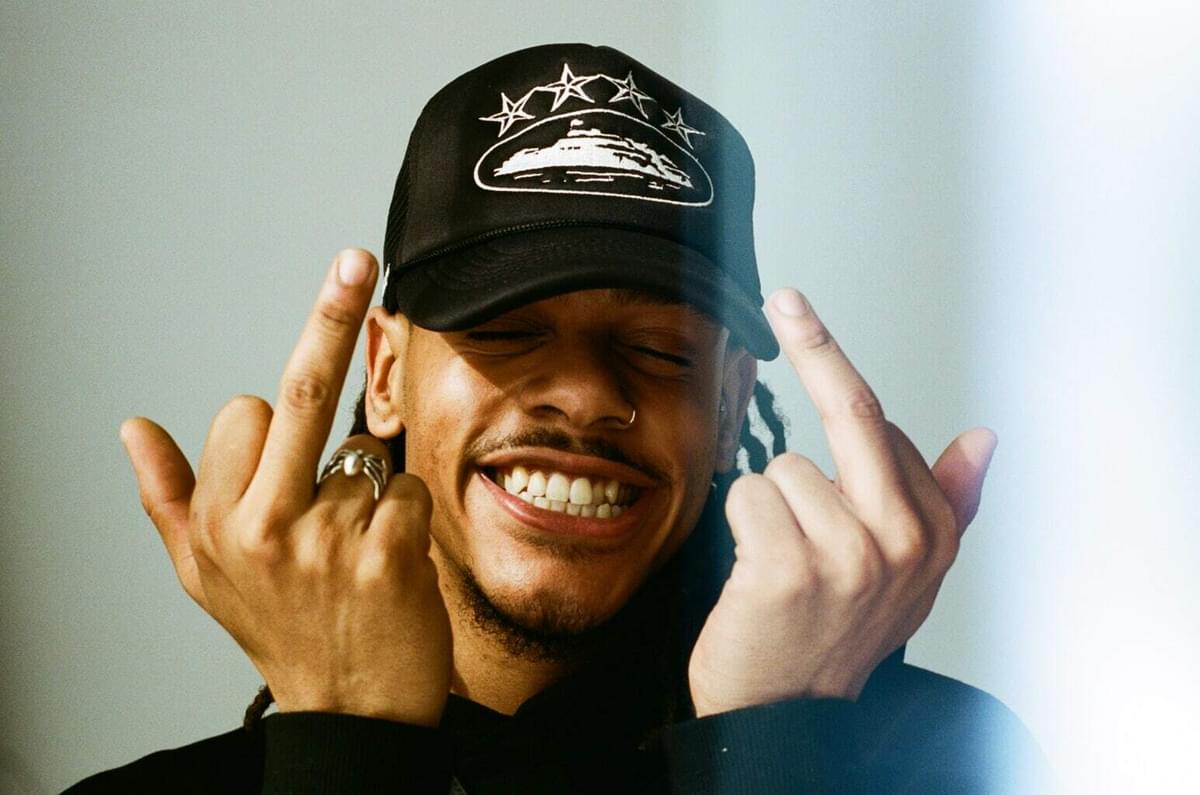 On the Rise

FelixThe1st
22 July 2022, 07:00
Freestyle overlord and musical chameleon FelixThe1st guides Sophie Walker through his ever-expanding universe.
The camera is raised and there is a subtle, yet unmistakable shift: 21-year-old Che Jones seems to recede and FelixThe1st, the freestyle overlord of West London, assumes the throne.​
To perform is his royal prerogative and his greatest delight. The streets become his playground: he jumps, with feline ease, onto a lamppost, whirling around it and flashing a wide, manic grin. He froths with energy, making everything seem easy like an invitation, and yet unsettling and unpredictable like a dare.
Unpredictable is exactly it – you'll never catch the same shade of FelixThe1st twice. There is the Felix of "PSL (Please Say Less"), his debut single last year. Awash in "vigilante punk" visual extremes, he invites havoc as he tears through the heart of London, primed to curb-stomp the camera with his Nikes. Then, there is the Felix you may have met before: the architect of "Own Brand Freestyle", an experiment with fellow rapper, dancer and close friend Dreya Mac. With a criminally infectious beat served up by Finch Fetti paired with off-the-cuff bars fuelled by a bottle of Sainsbury's brand rum, the track shone through the TikTok algorithm to sweep almost 80 million Spotify streams. Bathed in a garish violet light, he brandishes a water gun, his entire hand sheathed in a silver bracelet that that mimics an exoskeleton, as he and Mac vie for the lens' sweet spot.
But some things never change. When Jones steps into the world of Felix, his face is always inked in warpaint, with sharp swirls of black lending a sinister air of theatre to his unhinged performances. And another thing: with his background as an Urdang-trained dancer who has executed choreography for the likes of Stormzy, Years & Years and the Spice Girls, his command of rhythm is as good as god-given. A beat, for FelixThe1st, is an irresistible game to be played; bars come tumbling out of his mind equal in energy to his movements. He fires on all cylinders with razor-sharp wordplay, wit and intertextual comedy, and never misses.
With a viral hit under his belt and an escalating community of followers hungry for his next move, until now, Jones has been willing to let them wait. But the release of his third single, "2WARDROBES", marks the introduction of a long-awaited new flavour. The visuals, inspired by cheesy American sitcoms, sees Jones storming around the TV set, throwing himself in and out of character with whiplash-inducing speed, batting away makeup brushes before losing his temper, booting a crewmember in the face to the live audience's horror. As he walks away from the studio, it signifies the end of Jones serving another's vision as he finally takes command of his own.
While Jones can already boast an illustrious career in dance which allowed him to tour the world before he could legally drink, it was only ever an incidental expression for his love of music. "[As a dancer], you're basically the physical embodiment of the lyrics," he explains. "I am the representation of what's going on and what you can hear. We are the picture. Whereas with music, you paint the picture – you're in charge of what it looks like. I feel like that's something I've always wanted to do: I've always wanted to be in charge of what it looks like and create my own energy that people can fuck with." Because Jones is something of a chameleon, having blended into the scenery of multiple disciplines, the people who excite him are world-builders, artists of immersion. He's just as quick to cite Tyler, The Creator and the wider Odd Future universe as an influence as he is Jim Carrey in his embodiment of the comedian Andy Kaufman in the documentary, Jim & Andy: The Great Beyond. In the same vein as Carey's portrayal, an almost eerie adoption of persona where he stayed in character for the entire shoot, the lines similarly blur between Che Jones and FelixThe1st.
"It's weird," Jones shakes his head. "I don't feel like two different characters, or two different people. FelixThe1st is who I am at home, it's just now, I'm doing that all the time because I'm not scared that I'm going to get fired from a dance job. Now, I can get away with being loud on set, taking the piss… Do you know Moon Knight?" He refers to the Marvel comic superhero who lives through a series of alters, unaware of when he slips into each identity. "I feel like that happens with me, sometimes," Jones tells me. "It's sort of scary, but I end up being more Felix than Che. The lines start blurring, but I think that's something great artists are capable of – they don't just want other people to believe it, but they want to believe it themselves."
The distinctive face paint so intrinsic to his image is actually drawn from the world of wrestling, he shares. "There are some wrestlers in their fifties who can still do that job because they changed their character every few years – they reinvent themselves," he muses. "And people are like, 'How the fuck are they keeping up with everyone?'" Well, for Jones, it comes down to mapping out his trajectory across the next five years, calculating every step in the wider performance of his career. In fact, long before he even released his first track, "PSL (Please Say Less)", he'd already paid for the artwork for "2WARDROBES", so confident was he that this was a destination he would eventually reach. His rapidly growing audience, he hopes, will remain loyal to his vision, even though it is ever-evolving. "I feel like one day, I want to be one of those artists where I'm not afraid to mature in front of my audience – and I hope my audience isn't afraid to mature with me," Jones says.
Reflective of the all-you-can-eat appetite his generation have for pop culture, he has always been a ravenous consumer of art. "I really love weird shit," Jones admits. He reels off a list of far-flung media, from anime to the disconcerting claymation Adult Swim cartoon, The Shivering Truth, right down to curveballs like Karl Pilkington's podcast and Jerry Springer. To be still, to be silent, simply isn't within his remit. His attention span won't allow it.
He shares the same energy for his music: while he has made a natural alliance with hip-hop, he almost fizzes with the thought of conquering fresh territory, from hyperpop to pluggnb, all under a swiss-army knife of aliases. "I'm drawn to individuality," Jones says. He recalls how he spent a year listening to Rex Orange County purely because it felt so refreshing, even though it sounds worlds apart from his own musical intentions. But his exposure to a spectrum of music as a dancer has meant that Jones can always spot what he calls "the bag". "I can find the bag in any style of music," he explains. "To me, the bag is when someone's talking their shit, when they're feeling themselves, believe what they're doing. It's King Krule. FKA Twigs. Playboi Carti. Lancey Foux. PinkPantheress. They're in their bag."
But what Jones hungers for above all else is legacy. Alongside his solo career, he is also a member of the creative collective, We Ain't Regular (WAR), founded by his friend and choreographer, Nathaniel Williams. Together, they create slick, seamless dance routines, filmed to an almost cinematic quality backed with city-defining anthems. Many of the members being musicians, producers and DJs in their own right, draw on a wealth of talent and experience. The collective, on the strength of their work, performed with Stormzy for his Glastonbury set in 2019. "We have this vision," Jones tells me, "I see our collective being in the same conversations as Odd Future or A$AP Mob." It's all within reach, he feels: the the festivals, the cartoon specials, the toothbrush holders, albums under different names, Netflix documentaries, the socks… "I can't put it into words now," he says, "but I see a lot of art, at the end of the day. I want to create this world where everyone's waiting to see what we do next. But there's no point getting to the top by yourself – I want to bring the mandem."
Sometimes, it can seem that UK hip-hop culture is forced to shrink into the shadow of its American counterpart. The widely accepted landmark moments of the genre have a rich and lengthy history in the US, but the UK has struggled to compete for the same acknowledgement despite its bounty of talent. "I feel like we need to showcase all the stuff that's going on here," Jones believes. "When I saw Skepta first go to the US, that was mad for me; when I saw Drake come here to do a show with Section Boyz and that… I'm trying to have a big UK moment – and not just by myself. I'm trying to have one so that we all have one."
Almost every FelixThe1st song starts with a freestyle. Already, he has 70 rough sketches on his hard drive to be developed into future drops. His words lean on each other like Jenga blocks, a tower of babble and wit, here for the sound rather than sense. "I'm not always going to be the most profound lyricist, but I can make someone feel something," he says.
It was this sense of irreverence in his bars, this gift for thinking on his feet, that had an effect on Dreya Mac. In tandem, they've been nurturing their ambition for music after pivoting away from dance during the pandemic. She'd known Jones since they were children in the same dance troupe. He was something of a little brother to her, but as they grew older, their friendship became tighter, both of them sharply aware of the other's talent. When Jones recorded "2WARDROBES", she was among the first to hear it, encouraging him as equally as he encouraged her to commit their talents to record. "It's crazy we want the same thing, and we're doing it together," he smiles. "We both know just how badly the other wants it."
The recording of "Own Brand Freestyle" was never intended to be a viral TikTok hit, let alone remotely serious. It was an impromptu get-together in the studio, a good vibe, a good beat and the dizzying adrenalin rush of the pair going back and forth, back and forth with verses. Jones is all too aware that TikTok is perceived as a poisoned chalice for many artists who taste success through its algorithm, raising questions of intention, legitimacy and, in many cases, genuine talent. "TikTok, to me, is like the MTV of when I was younger," he says. "I watched MTV to find new artists. TikTok is a new tool that helps people get the exposure they probably never would have got in their career because of how the industry is set up, you know what I mean? You can never really hate on something that's given opportunity to people that deserve it."
He feels that social media success will only be a fleeting topic of conversation in the long arc of his career, the same way that it is only a footnote in the story of Doja Cat and Lil Nas X who are now fully-fledged, respected artists. When it comes to making assumptions, Jones shrugs: "Let them talk. I love a good chat, anyway." But, I point out, meteoric success like his can sometimes come at the cost of longevity. "I always love an underdog story, but at the end of the day, I feel like I'm still there," he says. "I don't feel like this has really changed anything. I'm so grateful for everything that happened because of the song, the energy and love that has come with it, but now, it's my time to prove to people that I'm more than just a song."
If you're used to the scarcity of FelixThe1st so far, that's all about to change. "People need to keep their eyes open, because I'm releasing very often… when I want," he smirks. "What I've been trying to do after 'Own Brand [Freestyle]' is re-centre myself, know what I'm doing and what I'm trying to achieve. Now, I feel like I'm at that place, and I'm comfortable. But never expect me to rush, because we've got time. I've been saying this at the shows: 'Everyone's just in time. No one's late. We're just in time…'"
When it comes to his intent, he is decisive: "My end goal isn't to become a superstar of be famous or do any of that shit. My goal is to be undeniable." The money has never been the drive behind his art. Even as a child, he remembers dancing at a wedding afterparty to Justin Timberlake, and people would throw money into a hat as they passed by. "After I got the money, I was like, 'Fuck, I didn't even want the money'. I did something dumb, like literally just gave it to the bar – but I didn't care, I was just dancing to the music. At the end of the day, you don't die with your money, you die with your legacy," he says – and that, for FelixThe1st, starts right here.
Get the Best Fit take on the week in music direct to your inbox every Friday