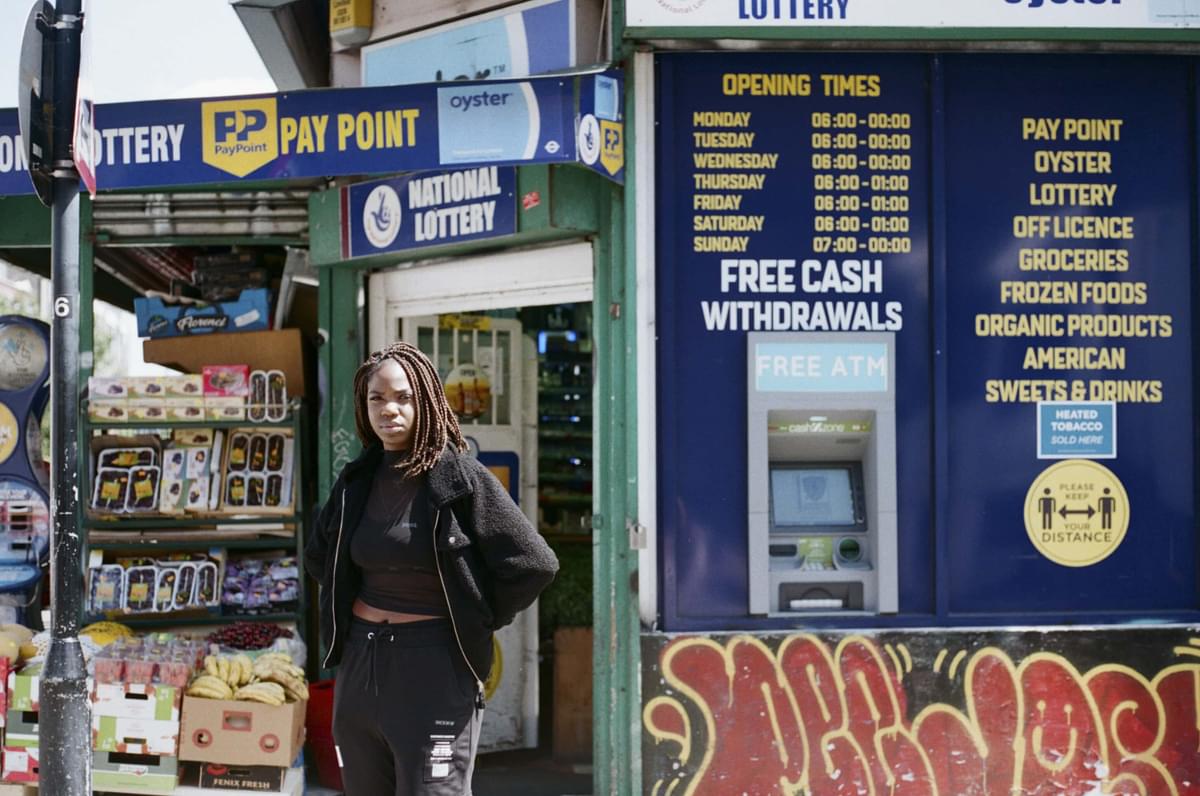 On the Rise

Enny
04 January 2021, 11:41
South-East London rapper Enny found breakout success with "Peng Black Girls", but it's the single's sentiment she's holding true to as she charts her future.
2020 happened at breakneck speed, it felt as though the whole year was in fast-forward. For Thamesmead rapper Enny, it was more surreal than most. She dropped her debut single in April, following with the striking track "Peng Black Girls", a viral video, and Jorja Smith featuring remix, all in the space of six short months.
Growing up in Thamesmead, South-East London, Enny's first musical memories are of listening to gospel music in her mum's car as she was driven around. "Anytime you'd go to church, anytime you'd go to do shopping, or anytime I was just in her car it would just be that gospel music, gospel music, gospel music," she smiles. "So that was a very fond memory."
Around the age of seven she joined a local street dance group. The youngest one there, she began dancing to American hip hop, Missy Elliot a particularly prominent feature. "I wanted to be a rapper since I was a kid in primary school. It was always something I wanted to do, it was always in my head," she says. "I think I've always been exposed to music as well, just through family and everywhere. I think that's one of the most key things I can remember, just listening to music."
She recounts that a lot of her friendships always grew from a shared love of music. J. Cole was her favourite artist growing up. "I remember trying to tell my friends to listen and then slowly by slowly they all caught on," she laughs. "It's very precious that moment, especially as a teenager."
With her friends at school she formed a group called A8, named after their music room. However, when she left to study film at Canterbury Christchurch, music fell to the wayside. "Musically during uni I wasn't really like outside, because I'm an introvert so I really just kept to myself and my housemates," she explains. "I had my production stuff in my room but I never really tried to make music. I think that's the period in my life where I didn't really make music or meet other artists or look at the music scene."
Upon leaving uni she tried to get into the film industry, but found it difficult to catch a break. "I was just getting older and after graduating things weren't picking up and I just got a normal job," Enny says. "I'd been there for two years and I started to realise that I wasn't happy, and then you just start realising that you only have one life and you have a desire to chase it."
This was a pivotal moment quitting her job and throwing everything back into music. "I was just constantly writing music," she smiles. "So I would always make music but I wouldn't release it. So there was a lot of time of me just growing internally and artistically but not putting anything out."
She released a freestyle of future single "He's Not Into You" which started to pick up traction, getting plays on local radio stations, helping to find her now manager who in turn introduced her to the Hackney-based collective Route 73. "The risk taking is what allowed me to meet Route 73," she smiles. "I'd already made up my mind by the time I met them that I was leaving my job so it was kind of like we'd all crossed paths at the right moment, as I was leaving to jump off a plane with no exact idea where I was going, I crashed into them."
Route 73 offered Enny a space to make music free of charge, introduced her to a community of like-minded people and helped expose her to a network of producers and artists. "They offered me a place where I could now properly get into a studio and just start working on the music," she explains. "It's mostly about community and last year was one of the most progressive moments artistically I've ever had so that was really a nice experience."
In April she released "He's Not Into You", a slick, tongue-in-cheek slice of 90s inflected hip-hop, it picked up instant attention for it's simple hooks and impactful charm. "For South" followed, a soulful collaboration with Nix Northwest through Route 73's The Silhouette Project, and then in October came "Peng Black Girls", three minutes of direct lyricism and strident sentiment.
Released via Jorja Smith's label Famm and featuring the vocals of Amia Brave, the track garnered instant acclaim for its sharp insight and effortless groove. Two months later a remix followed, featuring Smith on a new verse. Enny is quick to explain that Smith's involvement was not reactionary, but instead part of a long planned collaboration. "When I released "He's Not Into You" there had been some interest and the song got passed on to her manager and then they wanted to hear more," she explains. "Everyone thinks she heard the original and was like, let's make a remix, but it was just they both came from these really natural places where she heard the song and the artist in her did whatever she felt she needed to do."
Now being mentioned amongst a rising tide of black, female, UK rappers, Enny is aware of her position but feels that with opportunity doesn't necessarily come the responsibility to represent an often homogenised group of people. "I feel like black women always have to be the black woman in these spaces, they can just never be the woman," she says.
The message of "Peng Black Girls" is proudly clear, celebrating the difference and diversity in black community and culture, and it's one that she also applies to her art. "I think the music scene in the UK, especially with black artists, is very young and in a very important moment where there's a shift taking place where the music is getting stronger and there's so much more than just one sound, more than just grime or hip hop, there's an array of sounds," she explains. "Bree Runway's sound is so eclectic and so different, you can't compare it to anything else. So I just think we're building these spaces and even if it's not amazing and gonna blow up for anyone like us now, it definitely helps someone going forward in the future. And I think that's what it's all about."
Get the Best Fit take on the week in music direct to your inbox every Friday