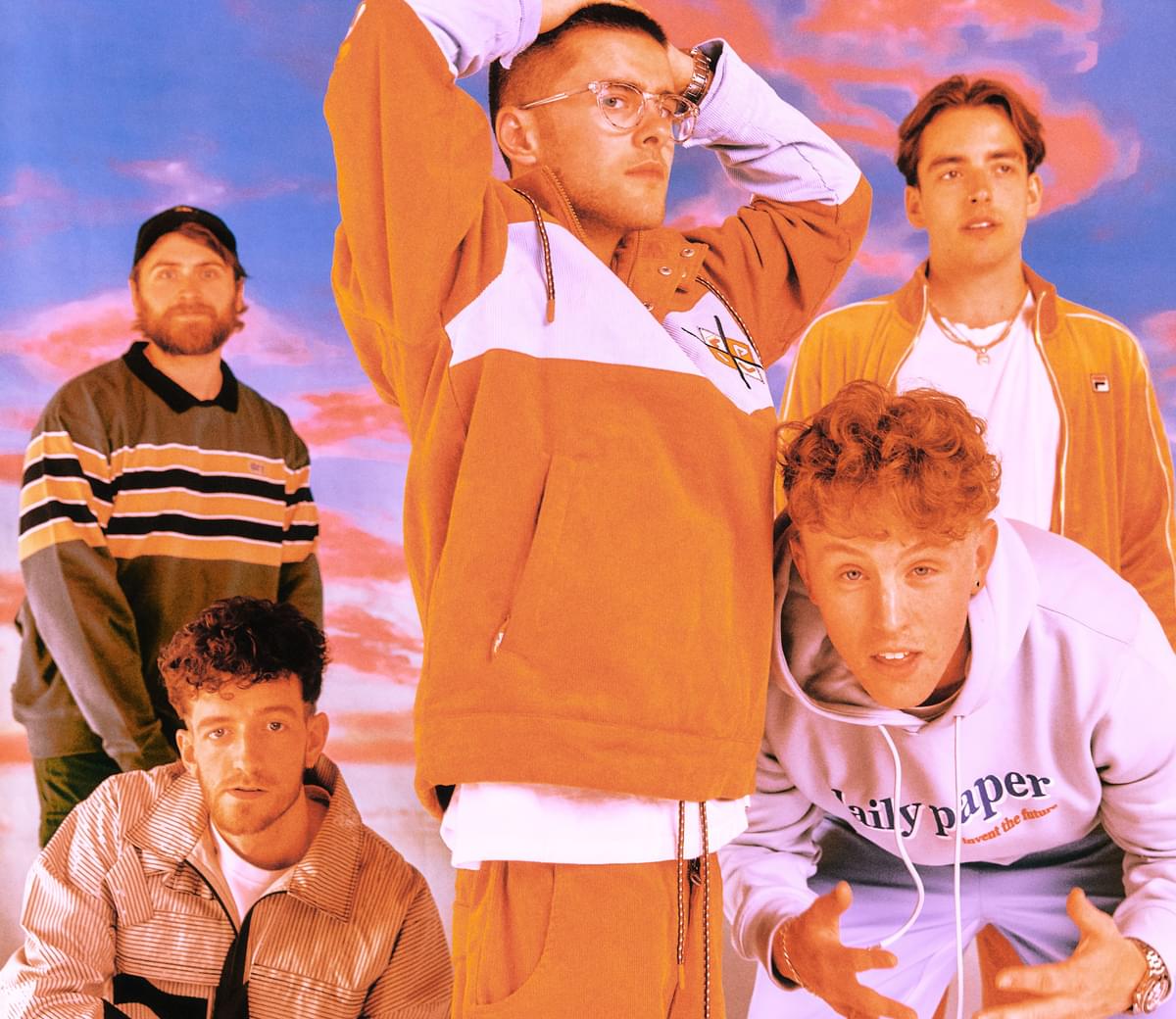 Escape the mundane
30 October 2019, 08:32
From the quiet streets of Leicester, to recording their debut album in the Big Apple, Easy Life's Murray Matravers tells Maria Saskia Bocci about the band's escapist manifesto.
It's a gloomy day in Glasgow as Easy Life prepare for their show at Saint Luke's. The rain is coming down hard outside of the old church-turned-music venue's stained glass windows, but the anticipation is palpable inside.
A gleaming pipe organ serves as the backdrop of the stage, and a massive disco ball hangs in the center of the room. It is empty and cavernous for now, but it in a few hours, the space will be brought to life.
"Imagine your local church and then it's an Easy Life show rather than a sermon," says frontman Murray Matravers.
Easy Life has released a slew of eclectic singles and mixtapes since their start in 2017. Their sound? Your parents' jazz records, your older brother's R&B, and your younger sister's favorite emotional pop ballad, marinated in electronica. The multi-instrumentalists play with mixing sounds of all kinds, from warm funky horns and saxophone, to moody, brooding, synthesizers. One of their latest creations is the funk-inspired single "Earth," an intergalactic eulogy for our struggling home planet. The track was played as Annie Mac's Hottest Record in The World on BBC Radio 1 earlier this month.
Matravers grew up on an organic cattle and sheep farm in Leicester. The farm was in the country, but close enough to Nottingham that he grew up with a taste of the city as well. "We've been organic for 28 years. My mum and dad are super pioneering in the organic sector, man," says Matravers. "I attribute all my creativity to just forever eating clean organic foods. There's no chemicals in our writing, man. It's all just straight from mother Earth."
Matravers had an early exposure to the importance of taking care of both the self and our planet. "I think 10 years ago people didn't give a fuck where their food came from but now I speak to my friends and new people from all over the world and stuff and everybody cares, especially my generation because the world's fucked up and we've got to do our best to try and look after it. Otherwise it's gonna be pretty shit isn't it?"
The music video for "Earth" takes place in a junkyard full of plastic waste and gives a grim glimpse of what our future could look like. Plastic bottle caps rain down from the sky, the band members wear masks of plastic, and even the clouds in the sky begin to take on the appearance of plastic water bottles. Easy Life are showing us that if we keep doing what we're doing, we really won't "feel at home on this planet."
The five-piece has gravitated toward an outer space vibe before "Earth." Their most recent EP Spaceships also plays with intergalactic existentialism. As young children, we all fantasize about outer space: Matravers' astrologist granddad took this fascination a step further and taught him all about the stars. "It's something that's definitely bigger than ourselves, you know what I mean?" says Matravers. "I love talking about like the minutiae of life, of like making a cup of tea and waiting at the bus stop and all that kind of stuff that we're all doomed to do forever. I love mentioning that in songs as well, but I also like the idea that there's something else much bigger out there that makes everything that we do seem pretty pointless. This is like a form of escapism isn't it? Talking about the stars, because it's like, 'oh, there is something else and everything I do doesn't really matter.'"
At the same time, Matravers cherishes his life and every change that comes his way. "Life is the strangest gift of all man, like it's freaky," he says. "I'm terribly insecure and depressed all the time but also simultaneously so thankful and grateful and happy. Life is incredible isn't it? Like you can just feel everything at once. All the songs I write, the lyrics come straight from a real place. I've lived most of my lyrics for sure."
Matravers met bassist and saxophonist Sam Hewitt in school, so they are long-time friends. Guitarist Lewis Berry and drummer Oliver Cassidy (known by his bandmates as Cass), used to play in a band together when they were in school, too. Keyboardist, percussionist, and saxophonist Jordan Birtles was friends with Cassidy and was also in a band previously. "Basically, we all lived close to each other and that's how we knew each other really," explains Matravers.
The five-piece have some highly eclectic record collections. Matravers grew up listening to his parent's jazz LPs, including Ella Fitzgerald, Miles Davis, and John Coltrane. Later he discovered 90s rap and added A Tribe Called Quest, Dr. Dre, Tupac, and Biggie Smalls to his playlists. Hewitt listens to jazz as well, including new experimental jazz artists like Kamasi Washington and Yussef Kamaal. Birtles brings the reggae and Afrobeat sounds, Berry listens to mostly trap and American rap, while Cassidy listens to American rap with more of a soul sound.
"We have different tastes but I guess it's all kind of rooted in a similar place," says Matravers. "When we're on the bus and someone puts some music on, God knows what it's gonna be … It's fucking great, man. I love hanging out with these people because I get to listen to incredible music. That's the best thing about being surrounded by these people is that when they have the aux cable they're going to blow my mind every time."
For Matravers, exposure to music is particularly important, as he is the primary songwriter in the band. The rest often share songwriting credits and provide inspiration, but mostly, all five of them seek the same thing: an escape.
"When we write the music it's just kind of a means of escape from reality, you know? For three and a half minutes nothing really matters. So let's do that and then we'll worry about the day to day issues of mundane life when we finish," says Mutravers.
These day-to-day issues are largely what inspired the name Easy Life. "It was a friend of mine who came up with the name [Easy Life] who isn't even in the band anymore… He's a genius, bro. He's going to Cambridge University and doing some mad stuff. Part of his genius was coming up with the name," explains Matravers. "It's like a philosophy. Everyone's searching for an easy life and no one ever finds it. What is an easy life? Is an easy life earning loads of money? And having loads of money, that has problems of its own because you have to work hard. And everyone that I know with loads of money isn't really happy either, but then it's like ah fuck, is it having no money? But if you've got no money then that's stressful, too. Or is it being middle of the road but then you're forever middle of the road? And it's not even just about money it's like happiness and what you're doing with your life and all this shit. I just think it's in interesting thing to dwell on, you know? What is an easy life and what makes life good and what makes life bad and what brings you happiness?"
The project became serious when the band released their first song, "Pockets" in November 2017. Shortly after, they dropped EP Creature Habits and since then, the band have released several singles and mixtapes, releasing each of these bodies of work almost immediately upon completion. "Everything is always written a month or so before it's released. As soon as we write and record something, it's like 'right, let's release it' basically. Maybe not a month, however long it takes to get the labels to get the wheels in motion really, maybe two months?" says Matravers. "I don't know but it feels quick for us, we basically write it and then release it before we have the time to sort of hate it or scrutinise it too much."
Most of their songs, including "Earth," were written in a single day and Matravers says the good songs often appear out of nowhere and write themselves. But now in their early to mid twenties, the group are working hard to stretch out this process and complete their first full length album.
Matravers has gone straight from writing music in LA to a tour in the UK – and the hectic travel schedules and lack of sleep have caught up with him. He's very sick, and has lost his voice at the last couple shows, but the crowd sang for when his voice gave out. He hopes to keep his voice tonight, with the help of his big pink bag full of remedies. "Do I have any remedies? I'm the king of remedies, bro," he proclaims, stifling a cough. "I've got like a steamer, I've got some old school remedies, I've got some herbal shit. I have everything man… The shit thing is, it doesn't fucking work because I'm always ill. I don't drink and smoke and shit. I'll have a few drinks, but I don't do any of that rockstar stuff. I just always happen to be really ill."
Ill or not, though, the show must go on. Easy Life plan to cross the pond for a US tour early next year. After playing Coachella, SXSW, The Governors Ball, and their first US headline at the Mercury Lounge in New York, the band are excited to return.
The Mercury Lounge is a small bar and music venue nestled in New York City's Lower East Side, but their debut show there may have been their most important yet. "It was almost sold out," recalls Matravers. "It wasn't quite sold out but it was rammed and there were people singing our lyrics."
The group celebrated their live US debut across the street at the famous Katz's Delicatessen, where they drank many beers with their deli sandwiches. They spent the rest of the night at a quintessentially grimey, Lower East Side dive bar. That was their first night in New York City, and it was one to remember. "It was mad because we'd traveled like halfway across the world and people could still respond to the music that was written in a gloomy basement in Nottingham," Matravers grins. "It was all of a sudden something way bigger than what we realised."
The band stayed in New York for nearly three weeks to work on recording the album. They stayed in Bushwick, Brooklyn and recorded at Good Child studios, a nondescript building just opposite Kellogg's Diner and just above the Lorimer Street subway station for the L train.
Matravers welcomed the change in scenery, and fell in love with NY. "I'd always gone to the same places to record music and I'd kind of always liked it that way," he says. "When I'm in a certain environment I feel free to create and it was like that kind of ethos, but all of a sudden New York really changed it. All of a sudden I was totally in a different country and a different city. I was in a completely different environment and I was still able to write some really good stuff. All of a sudden I feel way freer to work anywhere."
Matravers recalls waiting in the Atlanta airport. His flight was delayed when one of his songwriting colleagues sent him a set of chords. "I didn't have any way of recording things except through my headphones," laughs Matravers. "I stuck my headphones in my laptop and I was just recording in this packed-out waiting room with Americans everywhere and things coming over on the tannoy and you can hear on the recording just like the airport, like everyone talking in the airport and I'm just whispering into the headphones." The writing continued when he boarded his plane and he eventually re-recorded the vocal later on. Strangely enough, they ended up using most of the stuff that Matravers recorded in the airport, background noise and all.
The airport track will hopefully earn a spot on Easy Life's upcoming debut album, which will probably be released sometime next summer if everything goes according to plan.
At this point, some songs are completed while others are mere titles, melodies, or sets of progressions. But planning the central theme has been a committed effort. "We all chose a concept which kind of defines what Easy Life is about, and then put that in the middle of a spider diagram so to speak, and then from there wrote all the songs around that," explains Matravers. "So every time I go into the studio now, I think 'well, this is the central concept, what stems from this central concept?" Matravers doesn't want to reveal the concept just yet, but says, "It's something I've always written about to be honest with you, but I probably haven't addressed it from the same angle as I am on this debut record."
Matravers has also teased an upcoming collaboration that will be released this year. "It's [with] somebody that I really, really love. I find it amazing. It's a girl. That's how much I can tell you. I love her music so much. I happened to be in the same studio complex as her and I came out for a cigarette. I've stopped smoking now but at the time I did smoke – and she was there and I was like 'no way, I love your music man' and she goes, 'oh shit, I like your music too' and I was like 'well let's just get in the studio and do some shit.' I sent her some songs and the rest is history as they say. And now we're like the best of friends. I'm seeing her tomorrow which is really exciting. That's what I'm saying about music. It's such an incredible gift and an incredible way to bring people together."
All five members of Easy Life have come a long way since 2017, now working as full-time musicians. Matravers says, "It seems like it's even more than full-time. It's fucking 24/7 at the minute. It's great man, it's crazy. I used to work on markets so it's a bit of an upgrade from that. I used to sell jacket potatoes."
The band has a lot to look forward to next year with their album release, but also next summer, as they long for sunny festival season throughout their stay in dark, damp Glasgow. They played at a plethora of festivals throughout the UK last summer, including Glastonbury. "Obviously we're on tour now where everyone has paid money to come see us in particular, but at a festival, you might get two or three hundred people that don't even know who you are and have just stumbled into the tent because they're looking for something new. At that point you've got to convince them what you're about and showcase the music and the ethos and everything behind the project," explains Matravers. "And obviously it's always sunny isn't it? Well, in England it can sometimes be rainy, which is shit, but I'd say 75% of the time you play a festival it's in some good weather and that is always very nice because I'm sat in Glasgow right now and it's absolutely pissing it down and it's really miserable."
As Easy Life prepare for their show tonight, they ready themselves for a brief hour and a half where the struggles of everyday life don't matter. It won't matter that it's raining outside or that there's so much work to be done. On stage at Saint Luke's, they will just be five guys from Leicester, coming together, making music, and captivating a growing audience on this small rock in space that we call home.
Easy Life's new single "Nice Guys" is out now.
Get the Best Fit take on the week in music direct to your inbox every Friday