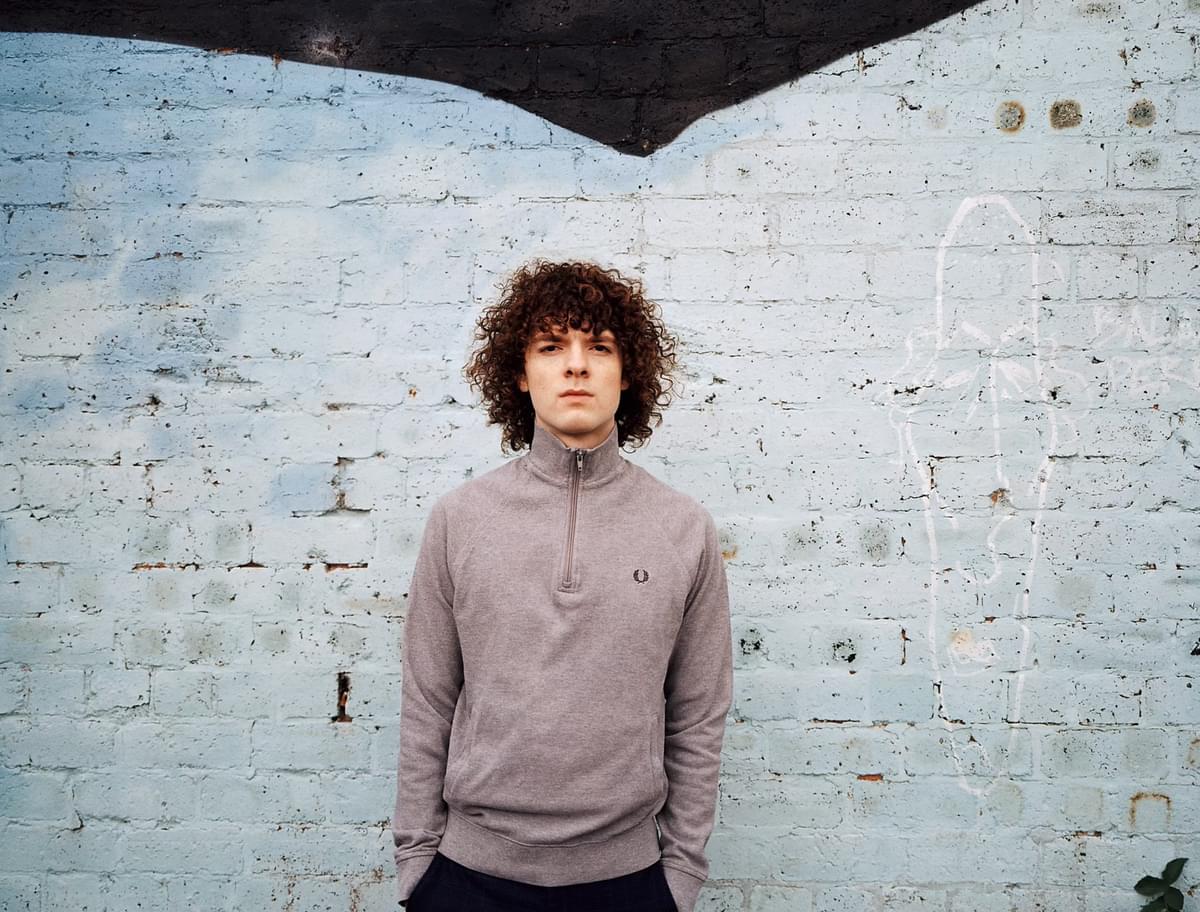 On the Rise

Dylan John Thomas
06 July 2022, 11:00
Inspired by Tony Hawk and mentored by Gerry Cinnamon, Dylan John Thomas is navigating his own path to popularity.
Johnny Cash's "Ring of Fire" has been a constant in Glaswegian singer-songwriter Dylan John Thomas' arsenal since the very start. Growing up in Glasgow's care system, it was a daily soundtrack as his foster-siblings played Tony Hawk's Pro Skater on the Playstation. Fast-forward to support slots with the likes of Sam Fender and Liam Gallagher, and his cover of the classic never fails to get an outing. "We'd all just be jumping around, listening to the soundtrack, singing "Ring of Fire"," he laughs, thinking back to the times he never had a turn on the console's controller.
When Thomas was given a guitar one Christmas, "Ring of Fire" was the first song he learnt. "It must have been an Argos guitar or something. It had nylon strings and I probably snapped it with one finger, but I played it til my fingers bled," he grins.
Through his early love of Cash, Thomas discovered artists like Simon and Garfunkel, Bob Dylan and Leonard Cohen. He'd watch documentaries and take notes, each new discovery taking him a little deeper into a world of inspiration. "I then got obsessed with a finger-picking style where you're using your thumb as the rhythm, and you're picking out the melodies," he explains. "That opened up the full spectrum of the guitar, rather than being confined with just a plectrum, strumming."
It was only a matter of time before Thomas began to write his own songs, cherry-picking from the greats. "I was listening to a lot of Mark Knopfler and Paul Simon, but when I started writing songs I had that amalgamation of those different styles," he says. "A lot of Johnny Cash basslines, and then you've got the Paul Simon high finger-picking melodies."
Thomas took up busking around Glasgow, treating the practice as an apprenticeship of sorts, growing in confidence and showmanship with every outing. "I knew if I got into busking, I'd be able to play every day," he smiles.
While he was still at school, Thomas was living with a carer who ran an arts centre. They convinced him to play a few songs one evening at an open mic. It set off a chain of events and recommendations for gigs which led Thomas to an open mic night organised by local hero Gerry Cinnamon. One night after school, Thomas picked up his guitar and, very much underage, snuck into Cinnamon's pub. "He became a big brother to me, and the rest is history," he says.
For over half a decade, Cinnamon acted as a mentor to Thomas, helping him with his musicianship, support slots and taking him out on tour. "Gerry was always doing big gigs in Glasgow, but then when the album came out it just went nuts and spread like wildfire," he says. "It's been a mental rollercoaster, and to be part of that journey was amazing, going on the tours, that was something else."
It all culminated in the release of Thomas' debut single "Nobody Else" in 2019, and an instantly sold out show at the legendary King Tut's Wah Wah Hut in Glasgow. "It's a milestone, innit, when you sell out King Tut's," he laughs.
With plenty of experience supporting the likes of Cinnamon and the Gallagher brothers, for Thomas, there's a fine art to switching between a headline and a support slot. "It's a balance," he explains. "When you support somebody, you understand that it's not your gig. It's not your show. I think covers are very important when you're supporting somebody. It's not just a case of turning up and thinking it's your crowd or your stage, because it isn't."
Things were starting to fly for Thomas when the pandemic hit in March 2020. But while it interrupted a burgeoning touring schedule, it also afforded him the time for introspection and space to develop his writing. "There's two sides I take from it," he explains. "Yes, we lost a bit of momentum, but everything was a whirlwind, everything was going so fast. It was all about having the vocabulary and maturity to tackle the subjects of growing up, and I think that lockdown was the first time where I really had that time for hindsight to understand and process the issues."
During the lockdown period he wrote his debut self-titled EP, which later got a release on Ignition Records. "That was the first time I really felt I was forming something, some sort of sonic thread," he says. "Where I grew up, you don't want to come across as 'poor me', do you know what I mean? It's not just about talking about issues, it's about doing it in a way where you can talk about what happened poetically and in a way where it doesn't come across as 'poor me', and that was important to me."
Thomas masterfully turns past trauma into rousing hits of direct melody and sing-along sentiment. Returning earlier this year with the single "Fever", it was a fist to the sky of strident chorus. Gearing up towards a follow up EP, second single "If I Didn't Laugh," out today, offers a unique juxtaposition of heartfelt lyricism, affirming optimism, and a driving energy. Even the song's origins have a heartwarming tale.
Thomas had been supporting Ocean Colour Scene at Glasgow's Barrowlands, when guitarist Steve Craddock sparked up a conversation with him backstage about his playing style. "It was funny, because he was talking about the way I play guitar," he explains. "I actually don't know what I'm doing, it's just like my brain knows. It's in my subconscious now, when you do something that much."
The two had had a jam, and Thomas thought nothing more of it, until a parcel arrived just before Christmas. "Low and behold it was a twelve string Takamine acoustic guitar that was used on the old Ocean Colour Scene albums," he smiles. "I was just sitting with this, like gold dust, like no way man. So I was playing that guitar twenty-four-seven, and I ended up writing that tune on it."
Taking to heart the teachings of Simon, Lennon and Knopfler, Thomas focuses his talent on creating something accessible and upbeat, no matter what the style or sentiment. "I get that there's great musicians out there, and my mates will show me some guy soloing on the guitar for fifteen minutes. I understand that's good, but can they put it in a twenty-second part in a three-minute pop tune? That's more interesting to me," he smiles.
"If I Didn't Laugh" is out now
Get the Best Fit take on the week in music direct to your inbox every Friday