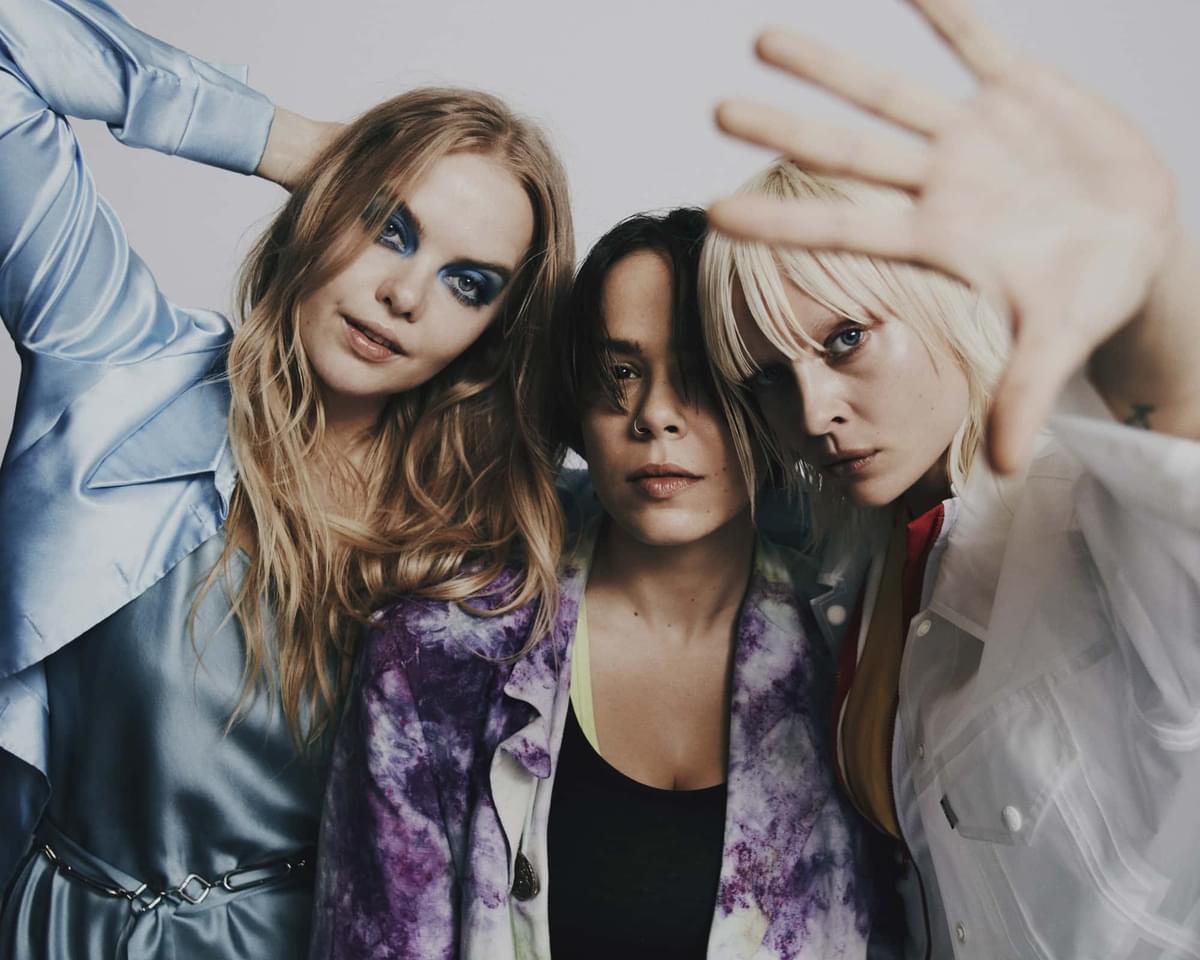 Dream Wife are bonded by friendship and telling their own empowering truths
29 June 2020, 07:30
In January 2018, Dream Wife played a sweaty London show to celebrate the release of their debut self-titled album.
The vibe was euphoric - more rally than gig. As the band handed out glasses of champagne and pom poms to a packed room of beaming faces, they delivered unapologetic punk anthems that aimed to shatter gender norms, unglue the patriarchy and fire imagination. It felt like the kind of moment that could change the world.
Immediately after, they boarded a flight to Australia, the furthest their music had ever taken them from home. They found that, despite the vast distance, their message had resonated. Days later, they played their defiant anthem, "Somebody", which rails against sexual assault and the objectification of women and includes the line, "I am not my body / I am somebody", to a mostly female audience in a rammed-room in Sydney. It's a moment that Rakel Mjöll, the band's assertive, friendly singer, cites as one of the pinch-me highlights of the band's rise so far.
"Being on the other side of the world and having a big audience of women screaming the words was incredible," she says, from her family home in Reykjavík. "People were crying, they were hugging each other, they were giving their all to us. After that song, they wouldn't stop clapping and we all just broke down. I could feel the strength and solidarity in the room." She laughs. "Also, there were a lot of bras thrown on stage that night."
Evoking Karen O's effervescent cool and the snotty, hedonistic punk of L7 and Bikini Kill, Dream Wife's snarling furore was tapping into something bigger. Their self-titled debut had dropped in the midst of #metoo and #timesup and while millions marched for women's rights on the streets, at their gigs, the band championed safe spaces for female and non-binary fans with their "bad bitches to the front" live policy. Their 2018 was a blurry, twelve-month head spin of shows – 150 to be exact – and momentum-building. The band that began as an art project for univesity credit - when trio, Icelandic-born Mjöll, guitarist Alice Go and bassist Bella Podpadec, met at Brighton University, had become a real driver for change.
That year, they announced an open call for female-identifying and non-binary-artists to support them on sixty of their US, UK and European dates. "We wanted to use our platform to encourage other femme and non-binary musicians to take up space," Mjöll explains. They received more than 450 responses, some inspiring, some infuriating. "In some smaller communities, there was such a boy's club going on, it was so difficult to get your foot in the door, to even play a show." In March 2018, the band played their second London show at the 1,600-capacity Heaven nightclub, a significant jump up from their first gig at Hackney's snug-by-comparison Moth Club. In front of their biggest home crowd yet, they were supported by riot grrls Pussy Liquor and indie-poppers Whenyoung. Later, in October 2019, they released their Tour Support Reimagined LP, a mixtape of live recordings produced by Go of acts who had joined them on tour.
Dream Wife were shaking things up, but giving artists a stage was only part of their mission. Recognising there was a wider issue of gender inequality across all aspects of the music industry, each night of the tour they arranged pre-gig talks, inviting femme and non-binary creatives, from radio programmers, to tour managers and booking agents, to come along, share experiences and career advice. It was a process Mjöll describes as inspirational. "It was so interesting hearing those conversations happening on the spot," she elaborates. "We were just there to curate it. That was the best part of that tour and just gave us way more fire to do what we're doing."
"It's not just talking about there being a lack of women on festival bills or a lack of opportunities for women to work behind the scenes. It's doing it. Putting your money literally where your mouth is. Hiring women." - Rakel Mjöll
It had a transformative effect on the band too, who wanted to go further. For their second album, So When You Gonna…, they worked with Marta Salogni ("she produces, engineers and mixes - she is like an octopus of talent!") who helped them put together an all-female recording and engineering team.
"We learned that three percent of albums last year were released by women producers. That blew our minds," says Mjöll. "It's not just talking about there being a lack of women on festival bills or a lack of opportunities for women to work behind the scenes. It's doing it. Putting your money literally where your mouth is. Hiring women. We tried a few producers out and they were all great, but as soon as we did a session with Marta she just got it, we clicked instantly."
After writing sessions, at Bella's home studio in Somerset, in February 2019, the band headed into Pony studios in London Fields where the recording sessions came together easily. "There were no egos, they were left at the doorstep. We walked into the studio every day feeling incredible, and we left feeling at ease and even more excited. Getting that vibe was special to us."
What did Salogni bring to the recording sessions? "She has that ear," Mjöll enthuses. "She knew when a take was there – often the second or third take. She's be like, 'Alright you got it. If you want to do another one you can do another one but I'm happy.' You need that trust in your team too, to be able to do the songs justice."
The band released the album's blazing first single, "Sports", in early March, but just three days later, COVID-19 began to bite in Europe. Like every other band on the planet, Dream Wife's momentum was yanked from underneath them. Mjöll watched worriedly as countries closed their borders one by one, concerned that unless she made a move soon, she'd be unable to get back to her family in Iceland. Days later, the UK Government made her mind up for her.
"At the beginning of March when they told senior citizens not to go on cruise ships, I was like, 'Errr what?' she explains quietly. "Also that's when they announced the plan for herd immunity. When that was announced, my family called me and said, you got to come home." She left for Iceland the following day and has remained there since. "It sucked because you don't necessarily think you're going to have to leave the country you live in because of how the Government is treating a pandemic."
During lockdown, she's kept in regular touch with bandmates, Podpadec and Go, who have been confined to their home in South London. "They have a garden so their mental health is good and they're growing vegetables. They've had a little DJ set in their garden and the neighbours' kids are jumping on the trampoline on the other side of the fence while they're playing music."
A series of podcasts, which the band recorded in February and which are slowly trickling online, are also taking on a new significance in a world of isolation. Inspired by the conversations they were having with Salogni in the studio about her own career, the band recorded 11 deep dive episodes, eight of which have been released so far. They include chats with Girli, about the highs and lows of her career, booking agent Adele Slater and non-binary witch Ayesha Tan-Jones, providing a platform for female voices across the music industry. "These are conversations I would have liked to hear when I was a teenager!" says Mjöll. "To hear someone's creative journey in a real way, rather than just glamourising it."
As the pandemic took hold and bands cancelled gigs and releases, the girls toyed with the idea of postponing their album release, ultimately deciding to plough ahead as planned. "We want people to hear it!" Mjöll insists. "I feel like music is more prominent in my life than it was before."
And thank God. So When You Gonna… is exactly the kind of tonic we need right now. The album was recorded over six months, a luxury compared to the band's debut, which was rushed out over six days, with two gigs in between.
"We were exhausted," remembers Mjöll. "Bella's fingers were bleeding from playing the bass way too many times." Then she starts laughing. "We also realised afterwards that the drumbeat, in every single song is exactly same. It's like 120."
This time around, the band had time to sink their teeth properly into the songwriting. More importantly, they were able to do so while living a semblance of regular life, spending time with family, reconnecting with friends – "we could own plants … and water them!" – and sleeping in their own beds at the end of every day. Listening to the album, you can clearly hear the benefit of that space. So When You Gonna… maintains the fire and serrated adrenaline of the band's debut, but branches out in new, multi-faceted directions… and the tempos are definitely not all 120.
"The first album was songs from different time, put together in an introduction. This one was, 'What do I want to write about what do I want to say?" Mjöll says. "We also made sure the songs were 90% finished, to have that 10% play in the studio. We wanted to have a bit of wiggle room for the magic to happen. And test out different instruments. There's an oboe on it. Alice was really excited. She was like, 'Oh my god, don't tell anyone … actually yes, tell EVERYONE'."
Of course, the album offers plenty of classic Dream Wife fare. On "Hasta La Vista", spidery guitars infect a jittery, infectious groove. "Homesick" sees Mjöll unleash her feral howl and the title track itself is a coiled spring of fearless, flirty energy. It doesn't take a genius to predict how these are going to go down live. "Sports", with its eighties-arcade feel, spiky noodling and triumphant spoken-word introduction - "Fuck sorry / Fuck please / Will you so kindly start again" - will inspire clenched fists and moshpits of joy.
"'Sports' is just us high on adrenaline and missing the live show," reveals Mjöll. "We were used to being on stage and jumping around, we weren't used to playing sat down. 'Sports' came from us having to change up how we were writing by going outside and playing badminton."
Oh, so you were actually playing sports? "Haha, our version of badminton," she replies. "We only had one rule in our so called badminton game: that you weren't allowed to say sorry. So if you dropped the ball you couldn't say, oh sorry. You lost a point. That's what the opening line is. We wrote 'Sports' in one afternoon. It's silly, strong and exhilarating. I cannot wait to play that one live, it's going to be a workout."
Elsewhere the album takes unexpected sonic turns – lyrically it's a much more personal body of work, tackling issues that, Mjöll notes, are rare even amongst female artists. "Temporary" wafts like feather-lite whipped cream atop sugar-sweet hooks, but delves below the surface to consider loss and hope, based on a close friend of the band who had experienced multiple miscarriages. "That song is a prayer," Mjöll explains. "It's about being knocked down again and again and somehow having hope. I don't think I would… She's due next week though."
"After The Rain", the closing song on the record, is the band's biggest musical departure so far – just Mjöll's voice exposed amid minimal instrumentation. Written last year as Alabama enacted the controversial Human Life Protection Act, which looked to make abortion illegal at any stage of a pregnancy, (a federal judge has since blocked it's implementation) it's a fiercely personal track that Mjöll penned out of anger at what she saw as state intervention to control women's bodies, and love. "I wrote the lyrics to that song in one go after a conversation with my sister," she starts. "She has allowed me to speak about it publicly. She was going through the process of abortion herself and I was her confidant. That song is written to her, it's her voice."
Will they play it live? "Yes I look forward to that. When you make something that is true, that is your truth, that's how you can connect other people to the music."
When you boil it all down, Dream Wife are all about that connection: the connection to their audience and their connection to each other. Friendship, and in particular friendships between women, is the golden thread that weaves around the sharp edges of their gutsy romp.
We venture a somewhat clichéd theory that album number two is a much more rounded summation of what it means to be a woman. "That's exactly how I feel about the album too," Mjöll says, her voice full of pride with a record that's at once strong, silly, furious and vulnerable. "We have created an album we all love. I'll be an old lady and I'll be like … 'That was a damn good album.'"
So When You Gonna... is released on 3 July via Lucky Number Music
Get the Best Fit take on the week in music direct to your inbox every Friday