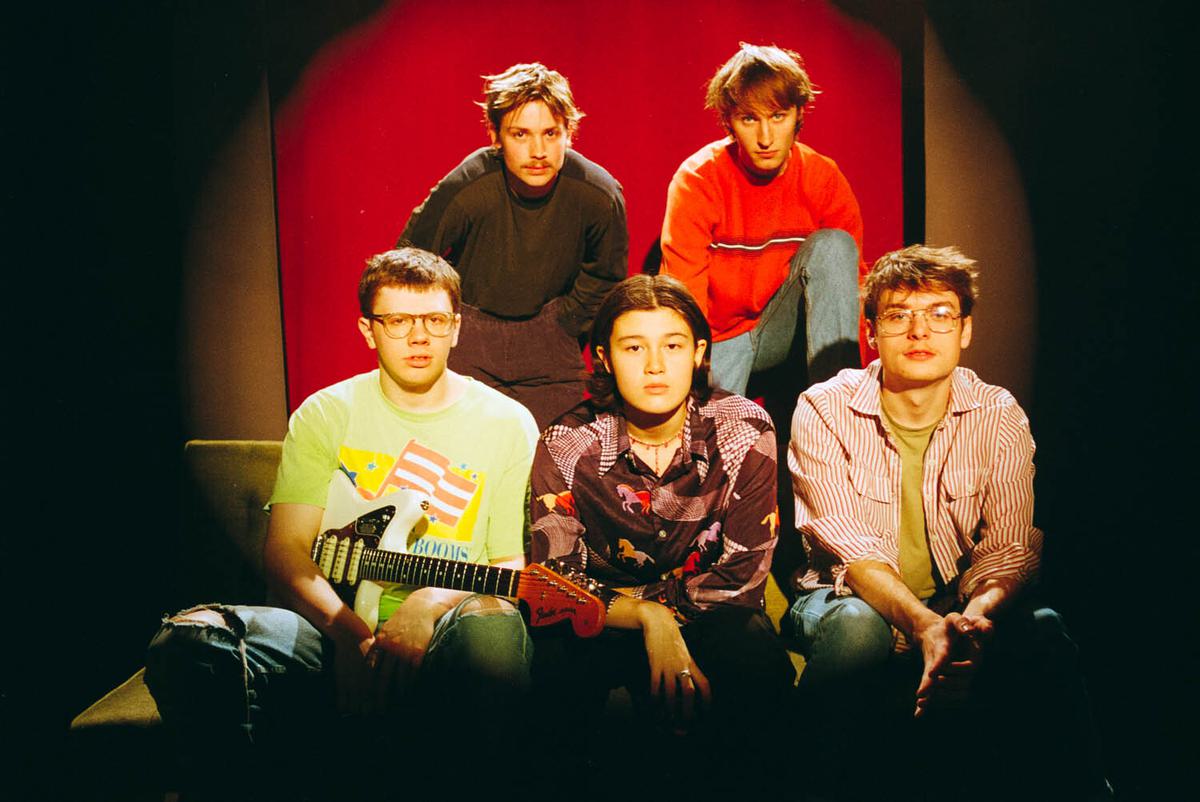 On the Rise

Disq
10 March 2020, 07:00
Saddle Creek-signed Madison, Wisconsin five piece Disq are an amalgamation of teenage angst and outright passion - young adults talking about young adult things with the finesse of musicians years ahead of them
Disq's music represents each members' individual struggles and personal anxieties,dealt with in a way that doesn't seem overplayed or over-exaggerated. It's blatant but powerful – young adults talking about young adult things with the finesse of musicians years ahead of them. As we chat over the phone, frontman Isaac deBroux-Slone tells me more about the band's origin, starting simply with the context behind the band name: "Everybody thinks there is more meaning behind it, but it's from a poster"- a poster that hung in the bedroom of childhood friend and bassist Raina Bock,
All equally as adventurous and living within the same area code, Isaac and Raina - the founding members of Disq (pictured below) - met and befriended Brendan Manley (drums), Shannon Connor (guitars/keys) and Logan Severson (guitar/backing vocals) two years ago, to form the ultimate Madison musical export.
DeBroux-Slone describes the promise that Madison's close-knit music community has given them: "There is a really good, kinda little indie music scene. There's a lot of venues. In the last five years or so, there's been a lot of bands playing around here together. There's a nice bit of comradery between people because everyone knows each other - it's a small town so everyone's friends. There's a lot of encouragement".
Has growing in a "small yet large city" allowed their creativity and individuality to shine through? "Certain cities have a certain sound where a lot of the bands kind of fall into that category," DeBroux-Slone replies, " but it's nice [in Madison] the sense where there's not a unified sound so everybody has their own kind of special thing,
"We're not as influenced by having a scene where everybody is making a certain kind of music, so it really allows us to just do what we feel like we want to do with our music".
Yet on the other side of the pond, Disq have already collected a number of accolades, including a place on many prestigious 2020 Ones To Watch lists. For many bands and artists so fresh onto the scene, this can be a daunting prospect, but is something that Disq have taken firmly into their stride. "I think it's mostly just exciting for us to know that people are excited about our music," comments deBroux-Slone. "I don't think we take it too much as pressure. What keeps the music good in our situation is not working with that external pressure with what other people think about it".
Their relaxed approach to music making is the basis of their appeal. Their debut album, Collector, released through the legendary label Saddle Creek last week, does exactly what it says on the tin. "It's definitely just a collection of moments in our lives and different times for all of us. It's all the best songs that we had written at the time. They weren't really written to head in any sort of direction," Isaac explains. Most of the songs for the album were recorded in Madison, but halfway through the process, Saddle Creek and Rob Schnapf (the co-producer of Elliott Smith's albums Either/Or, XO, Figure 8 and From a Basement on the Hill) approached with a new vision. "Instead of scrapping everything that we had and redoing it, we basically took what recordings we had out there to him, [Schnapf] finished them, and put finishing touches and vocals. We also recorded two songs out there with him".
Personified as "melodic, louder pop music," with tinges of post-punk and gnarled power pop, Collector showcases the bands' intelligence when it comes to pop and rock sensibilities; as well as the power they possess to manipulate and distort them. Opener "Daily Routine" with its intense groan, mangles hectic guitars to describe the modern fatigue of being bored with your life and comparing it to others. Its fast and erratic tempo gives the perfect crashing introduction to the album. Meanwhile, "Gentle" is warped guitar pop at its finest. Penned by guitarist Severson, it describes the correlation between the downfall of both physical and mental health. Some songs linger there for fun, epitomised by "Fun Song 4", which resembles a colourful, psychotic earthquake, and acts as the perfect make-shift interlude. The key factor for Disq is that their music does not sit within any particular lane, which is fittingly achieved on this album. "I think that as long as we're making good music and we all agree on what we're doing, then everyone is fine to go in whatever direction we end up going," deBroux-Slone explains. But there is one core element of the band that they are not letting go of: "I think we'll always be a rock band at the core".
deBroux-Slone turns talk to the band's unique social media strategy and for a band as young as Disq, the likes of Twitter and Instagram can seem like more a common part of everyday life than just another part of the job. With their ever so wholesome Twitter handle '@NewPhoneWhoDisq', the band aim to alleviate the pressures that come with social media by just being themselves. "There's different modes that we get into because there's stuff that we are proud about and happy to share," deBroux-Slone explains. "We all use social media personally, so it ties in with the way that we do that. There's also a big part of it that feels more like a responsibility. For people to stay interested, you have to be consistently posting things. I think we do a good job of putting out the image of who we really are through our social media and it's fun to be able to do that".
His humility is alluring, and despite Disq's music carrying the driving force of kids desperate to escape their hometown, Madison is where they shall stay, for now. "I think we'll probably just go with it," deBroux-Slone says. "It's cheap to live in Madison right now and we record our stuff at my house so that's a convenient situation".
Collector is out now via Saddle Creek