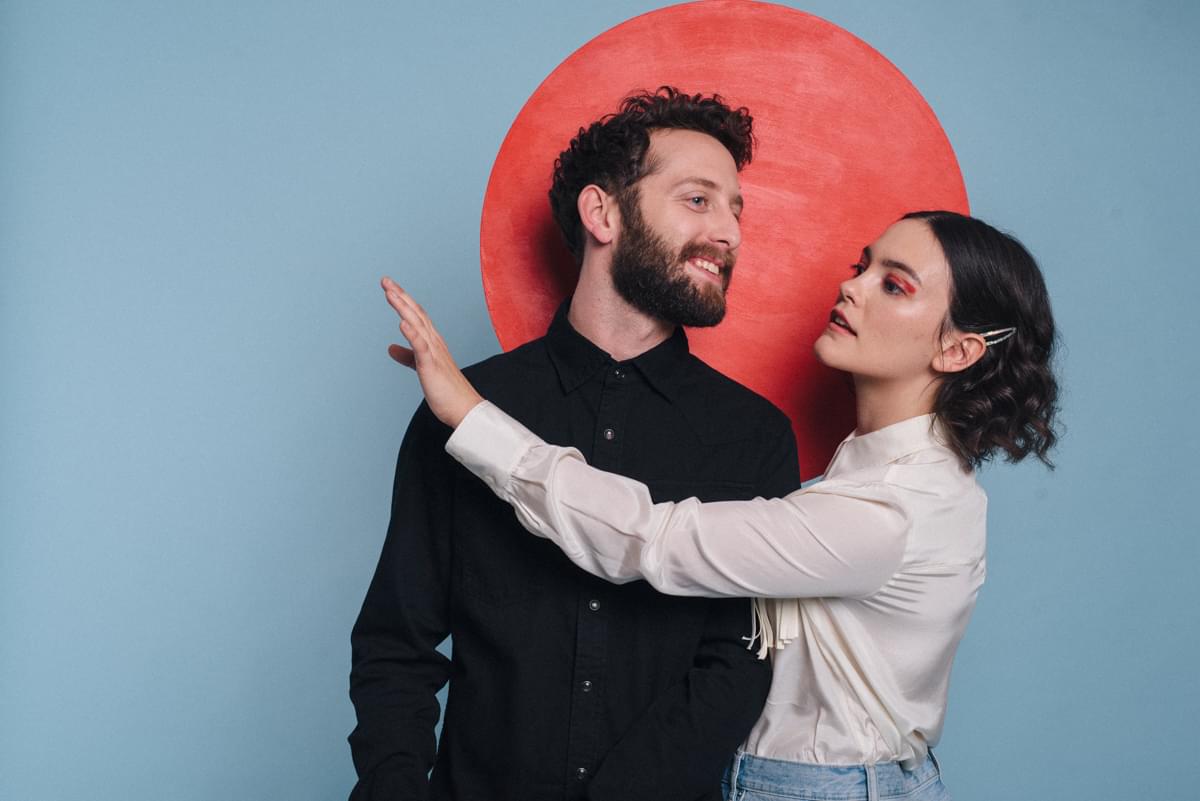 Diet Cig are finding ways to adapt to life in lockdown whilst thriving amidst the chaos
23 April 2020, 09:00
After recently shedding the imposter syndrome that came with the release of their debut album, which catapulted them to cult status on the indie scene, Diet Cig further cement their place at the top with the release of Do You Wonder About Me? and it's safe to say that this time around, their confidence is unparalleled
What is it like to release a record just as the world has seemingly stopped revolving on its axis? That's what indie-pop band Diet Cig are about to find out.
"There's so many emotions to it. It feels [like] everything is just being ripped apart," says Diet Cig guitarist, lyricist and vocalist Alex Luciano.
"It's weird trying to balance the gravity of the Coronavirus situation, but also having your record coming out that you've worked so hard on. You care about it, but you also don't want to undermine the situation with the virus. We just want to think about everyone's well being."
Diet Cig have been preparing to release their sophomore record Do You Wonder About Me? which is the follow-up to acclaimed 2017 debut Swear I'm Good At This. The pair, who met after attending a DIY home show together in New Paltz, New York, make upbeat, ramshackle lo-fi pop that tackles love, heartbreak and the messiness in between.
With Do You Wonder About Me? scheduled for 1 May 2020, Diet Cig had been planning the perfect spring release—a collection of 10 sanguine lo-fi pop numbers to soundtrack the slow-moving shift of winter to spring, and spring to summer, cherry blossoms traded in for dewy sweat and sunshine. They were going to tour. The band was ready.
But as COVID-19 continued to devastate the world, it became clear that no tour would be happening. As social distancing guidelines were implemented worldwide, independent venues shuttered their doors and musicians cancelled tours in an attempt to slow further spread of the virus. Music may just be the most important of the world's non-important things.
Though the possibilities of touring and producing music videos faded, Diet Cig stayed strong and decided to leave their release date as is. "I want our fans to have this record when we said we were going to have it," continues Luciano.
"Since we're all stuck in this hell world right now, I think it would be nice to share this art that we made with people even though we're not going to be able to promote it or tour the way we were hoping."
The musicians' response to the virus, despite finding themselves severely financially affected as COVID-19 rears its ugly head, has been a positive ray of light throughout all the devastation even though their main source of income is through performing and touring.
Waxahatchee and Kevin Morby do regular livestreams from their Instagram feed where they perform together for their fans. Others, such as Camp Cope and Courtney Barnett, have organised global, digital music festivals that people can enjoy from their home.
"I do think that tragic situations can build community," says Luciano. "There's been a lot of great initiatives with musicians and DIY bands supporting each other. It's a weird result of this weird situation. It's nice to feel that we're a part of something and not feel so alone. I have mad respect for the artists doing internet concerts right off the bat. Performing and giving people that release so quickly is incredible."
It's one thing to release an album amid a global pandemic. But how does it feel to release a piece of art after the world has changed so drastically?
"To be honest, I haven't listened to our record since this came down," says drummer Noah Bowman, as Luciano chuckles.
Do You Wonder About Me? showcases Diet Cig at their best—high-charged, self-aware emotional pop where Luciano sings with her heart on her sleeve. It is the band at their most personal.
The record has its fair share of diss tracks; "I'm thriving, THANKS FOR ASKING!" Luciano yells at an unnamed paramour on memorable opener "Thriving", but it also explores Luciano's various states of mind, detailing her emotions as she struggles to deal with her night terrors—or the mental frame she had to use after she had ACL reconstruction surgery.
In "Broken Body" Luciano laments: "I can't even walk one fucking block from my house / I'm missing all the things that made me feel alive / I wanna die, I've been cooped up inside / I can't remember the last time I felt the sun on my head."
Sound familiar?
You'd think these lyrics were written as the band were on lockdown during COVID-19 but they were actually written when Luciano was recovering from her surgery, unable to leave her house. "It's really interesting to see how a lot of the feelings I was having before this all happened are relatable. Now that's made me depressed!" Luciano laughs.
The raw relatability of Luciano's lyrics are perhaps a major reason why Diet Cig are so cherished among fans.
"I hope our lyrics give meaning in our songs and can be comforting to people," she states before continuing, "I hope they can make our fans feel a little seen and heard even in these wild times. Especially now, it's so easy to feel alone. Being able to emotionally connect through art now feels extra special."
Even now, after Luciano's recovery, the song has taken on a whole new meaning during the Coronavirus pandemic. She managed to get through the pain, and perhaps we can, too.
"I'm the person emotionally reacting to shit that going wrong," Luciano says. "I've been here before—but maybe just with different shit going wrong."
Among the crucial themes across Do You Wonder About Me? one of the main ones is finding the ability to accept yourself at your absolute worst, no matter how painful it might be.
On album highlight "Night Terrors", Luciano describes the terrifying experiences she has while asleep: "I'm doing my best to keep it in check but it's out of my control / there's a man at the end of my bed and he wants my soul / I know that you feel it too / I just wanna protect you."
"It's not even just specifically night terrors. I've been having them since I was a kid," recalls Luciano.
"I have wild hallucinations when I'm in between wakefulness and sleep."
The song expresses Luciano's worries about how her night terrors will affect those she loves—describing her anxieties about if the person sharing her bed will no longer want to, either because of, or perhaps, despite the fact that she is suffering: "Want you to wake up next to me / sorry when I dream I scream."
Even when you've created your own persona, the fears remain about how people will accept you when all the layers have been stripped back and you're forced to reckon with your most vulnerable self. "Embarrassing parts of yourself are always going to come out to the people closest to you, no matter how hard you try to project a certain version of myself," she says about the song.
"I'm going to end up doing something weird in my sleep and I can't control that. You can't really hide these less cool or less desirable parts of yourself. It's about hoping that when those parts inevitably jump out, those people will still want to wake up next to you and be your friend, or go on tour with you."
Luciano still has night terrors, and unfortunately, they've gotten worse as the Coronavirus situation has exacerbated. "The stress that is induced from all of this COVID-19 situation is making me have a lot more vivid dreams," she recounts.
"Sometimes they're absolutely terrifying, and I'll go through a stint where I'm waking up screaming."
Observing something so destructive and desolating like Coronavirus often makes it feel impossible to have any sort of optimism, but to Diet Cig, they're looking forward to when they can take to the stage again—hopefully in November, once the worst of this crisis has come and gone.
"I think the shows after all of this are going to be so celebratory," says Luciano. "We made it through this thing together, and now we're here. At least that's my dream. I hope everyone will realise how precious making arts is."
Do You Wonder About Me? is out on 1 May via Frenchkiss Records
Get the Best Fit take on the week in music direct to your inbox every Friday