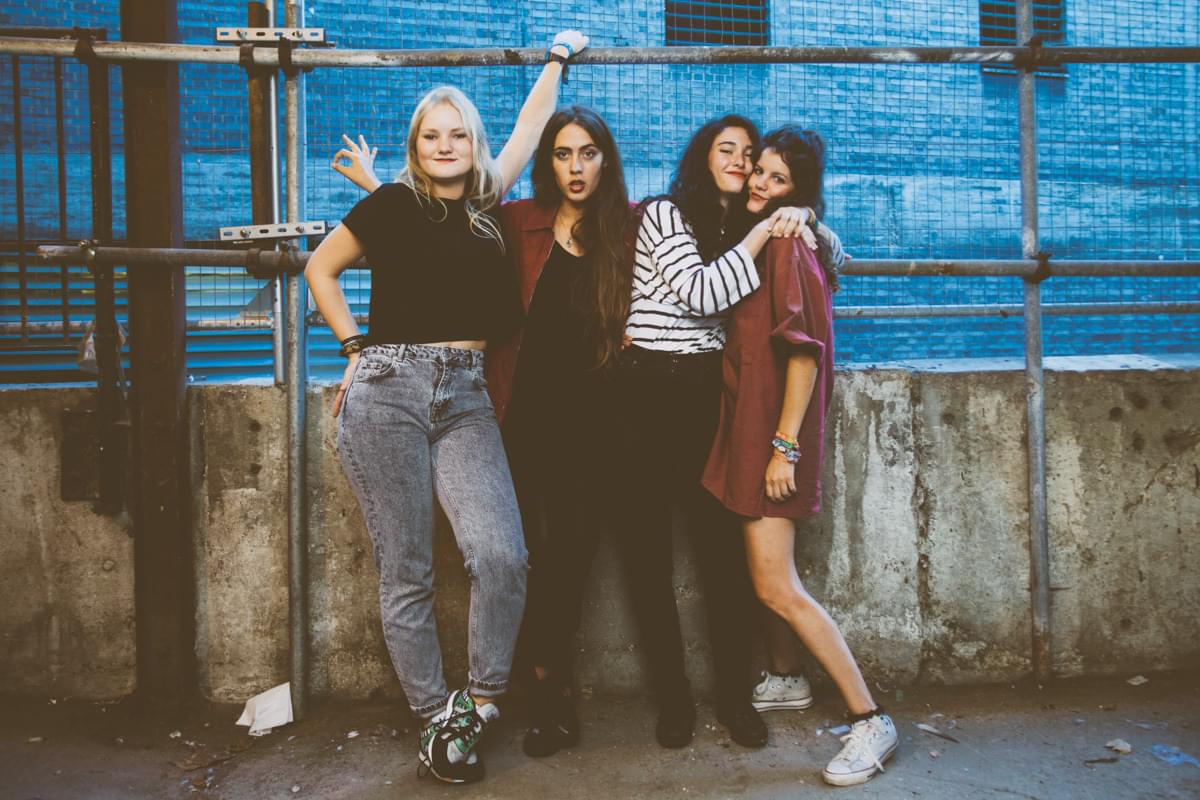 Hinds are the breakout success of the Madrid garage rock scene
24 November 2014, 09:30
There is a moment at the beginning of every Hinds show where the four Madrileñas find each others' eye line and share a communal, assertive, smiling nod. A split-second later, we're blasted by some of the most energised, fun and inventive rock n roll this side of White Light / White Heat or Raw Power.
Yes, Hinds are that good - but you have to push beyond the few brilliantly raucous snatches of sound they've dropped to date. The immediacy and fun times of songs like "Bamboo", "Trippy Gum" or "Castigadas En El Granero" is only a blueprint for the finer qualities of these four friends and their intoxicating, limitless potential for musical salvation. Even conversations with them are like a smooth, elegant serious of synchronicities and upbeat, no-nonsense sentimentality.
"We know we aren't big musicians. We know that," explains Carlotta Cosials - all smiles - and without apology, "so we do this music with what we have - and that's love. We are friends and we have smiles and we try to share a good time with each other."
"We're transparent on the stage..." adds Ana Perrote.
"If we makes any mistakes out there, we just laugh. That's it," concludes bassist Ade Martin.
The four piece began as a duo, with founding members Cosials and the half-French Perrote (vocals and guitars) meeting through each other's boyfriends. A trip to the coast with a pair of six-strings in tow a few years back led to a cover of Dylan's "It Ain't Me Babe" and the embryonic Hinds dynamic began to take shape, still under the band's original name of Deers. Bassist Ade Martin came on next and Holland-born drummer Amber Grimbergen - the youngest Deer - completed the line-up.
"I was in my house with a friend when they called me about the band," says Martin. "I heard 'Trippy Gum' ["the first person who heard it," interrupts Cosials] and I was so impressed."
Carlotta Cosials by Ana Perrote
Hinds' first show - as Deers - followed two months of non-stop rehearsal - "no sleep, nine hours a day of playing," says Perrote. Some of the band's early tracks were cut by Diego Garcia, frontman of The Parrots, a band that are inextricably part of the HInds story. "They are a big, big influence on us," explains Perrote.
"Alex, the bass player, he bought me my guitar," says Cosials.
"…And he chose my bass too," adds Martin. "He just called me up one day and says 'okay, I found your bass, come here and buy it!'. We're so connected to them."
"We still see them play live and we realise we have so much work to do," gushes Cosials. "We supported them in Cadiz this year and, you know, it was not a good show, not a bad show [but] then they came on stage and we looked at the audience's reaction and realised we were shit!"
The foursome grew up on the same music; behind the beautifully scuzzy reverb lie tastes that jut from Kendrick Lamar to Matt DeMarco to Dinah Washington. As teenagers they went to shows with the same friends who would later become part of the Madrid garage rock scene.
So why has taken so long for someone to break out of the Spanish capital's vibrant musical bubble?
"I think it's how people see Spain," offers Martin. "I think English people can't imagine something is happening there. Our influences come mostly from North America too so it's very different from classic Spanish music."
"Maybe our sound would be the same even if we were living in Vietnam," laughs Cosials. "Maybe it's not the Spanish music sound that influences us but the country itself. We played Spanish nylon guitar early on in our songs, you know."
"I think the little scene in Madrid doesn't exist elsewhere. In Catalonia it's more noisy. The little garage scene in Madrid...it's become the garage city of Spain and Barcelona has become the electronic one. I don't know why."
Perrote is quick to stress the band's connection to their home: "We do listen to music that's coming out of Spain though," she nods.
Ade Martin by Carlotta Cosials
How has Madrid and the rest of Spain taken to the attention you've gotten from the UK and American press?
"They don't care so much," shrugs Martin, "they're not looking at what we're doing as much as England. It's a pecera (a fishbowl)... like a bubble, you know what I mean. Everyone talks about the same thing, it's all the same bands. No-one takes risks."
"We don't trust the press in Spain, we don't trust the writers," says Cosials, matter-of-factly. "Bands don't play outside of Spain very much, they're in that bubble. One of the questions we get in Spain is why we sing in English. It wasn't really a decision. English words just came out when we started writing songs. It's the langauge of the music we listen to."
Martin laughs: "We get people asking 'how is your little group coming along?', 'Are you playing concerts?', 'Do you have your own songs?'"
Ana Perrote by Amber Grimbergen
The band's landmark show - at London's Corsica Studios - was an industry-heavy affair that saw competing labels, pluggers and promoters eyeball-to-eyeball. So far, they've stuck with quality indies Lucky Number (UK) and Mom + Pop (US) for their sole two single releases. When I speak to Lucky Number's Nathan Roberts, he's quick to pin down what it was that led the label to work with the girls: "I was struck by the easy-going immediacy...of both 'Bamboo' and 'Trippy Gum'. Michael and Steve (label bosses) felt the energy too, and once we'd all spoken on Skype the girls' energy came out of the screen even more; you just want to meet them!"
"We flew out to Madrid shortly after to see the debut four-piece show, and these strong feelings were both confirmed and embellished. The show had so much positive attitude."
Cosials and Martin laugh at the praise heaped on the band after the Corsica show. "Nice people smiling," says Cosials. "That's what playing to people in London is like."
No-one dances from Monday to Friday, I joke.
"We're getting our minds ready for the album now," laughs Cosials. "We're gonna have to do a lot of things at the same time. We want to have eleven songs. We like that number [laughs] but we're gonna have to tour and write at the same time. You can't imagine how much work we do for this band!"
Amber Grimbergen by Ade Martin
When we meet again to talk more, it's late one Saturday night. The band serenade the East London streets with a medley of Disney numbers and a perfect rendition of the Jurassic Park theme before staying up until sunrise to pore through the far-flung corners of Spotify and YouTube, devouring tune after tune - everything from Deptford Goth to Kurt Elling.
They are, definitively, a group of friends united by a love for music - all music - and herein lies the secret to why they're better placed than most to be the saviours of guitar music in 2015.
Without a shred of fakery or inauthenticity, Hinds are the real deal.
Hinds play a sold-out show at The Lexington in London tonight (24 November) and return to the capital on 21 January 2015 for another at The Boston Arms. The Barn 7" is out now via Lucky Number. Lead photograph by Jason Williamson.
Get the Best Fit take on the week in music direct to your inbox every Friday