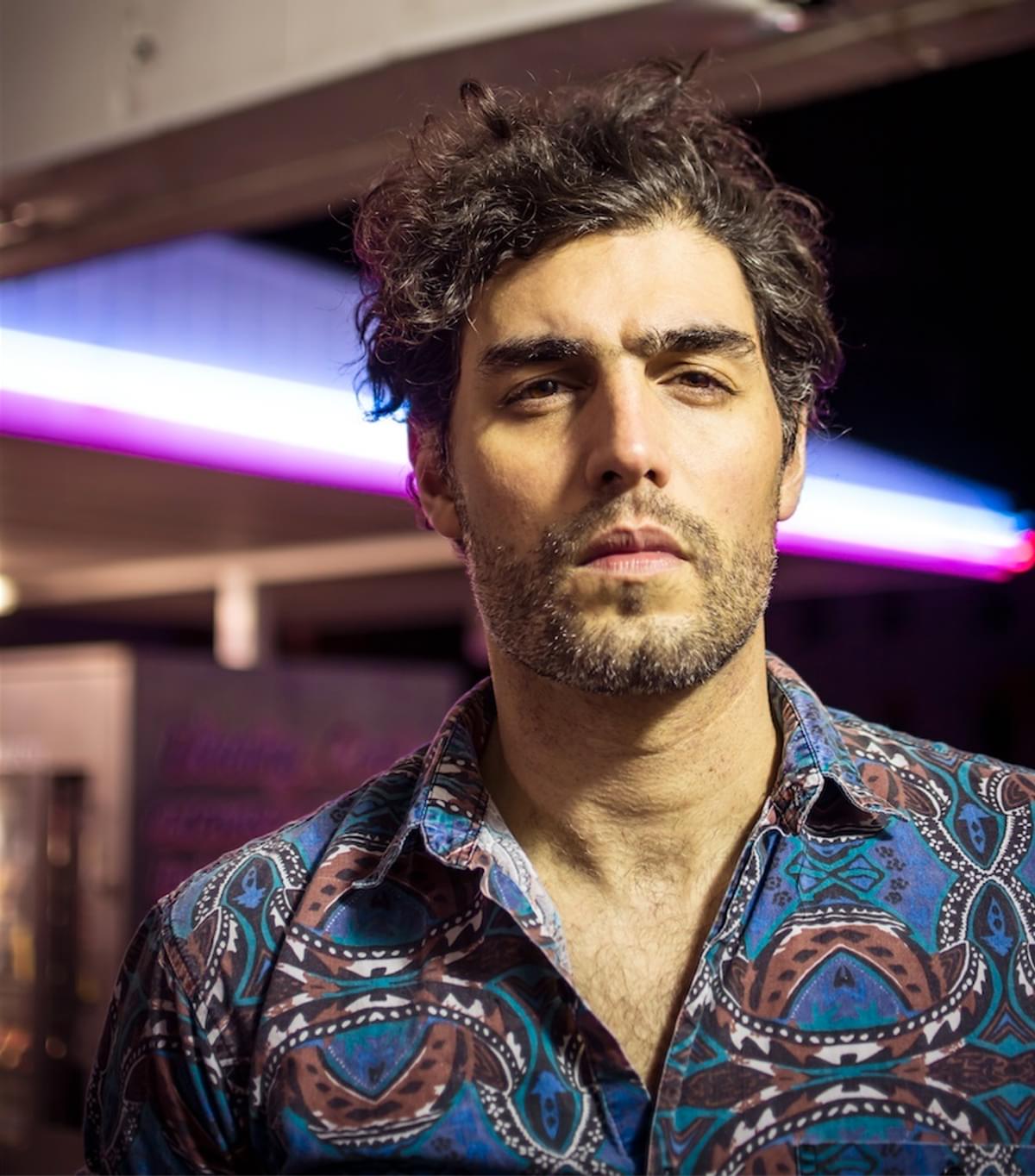 Daughn Gibson: "I'm no cowboy, but I fucking love the music and have done for a long time"
01 June 2015, 15:00
From the sweet, to the tough, to the juicy and luxuriant.
That's the path Daughn Gibson has taken on his albums; All Hell was indulgent and nourish, sample-heavy but with a country feel, his deep voice coating everything in whisky and chocolate. Record number two, Me Moan, was the risk-taker, a record seemingly made with the express intention of combining electronic music and country, yet made with a proper band and pulsing basslines more suited to dub music than anything else.
Two years down the line from that record, Carlisle, PA's Gibson is back with Carnation; an album that sees the singer drifting loose from the tag of country, it's eleven songs of textures and layers and ambience. A bluesy, sensual record that simmers and broods through Gibson's intimate and rugged baritone, it's his most cohesive work to date: from the twinkling and twanging of "Shatter You Through" through Springsteen-meets-Neu! road rock of "Shine of the Night" to the spooky goth of "It Wants Everything", Gibson never seems to put a foot wrong. So it's with great pleasure that Best Fit gives you the UK premiere of Carnation, alongside a chat with the man himself about short stories, Tim Burton and how difficult it is to escape the draw of country music.
Speaking to Gibson a week ahead of the release of Carnation, he reveals a mix of emotions: "It's exciting, but kinda weird," he admits. "I finished it late December so it's nearly six months it's been sitting around. It gets a little crazy with that stuff. I would have put it out when I was done!" Does Gibson feel that the timing is all wrong now, that he's not in the same place he was six months ago when the record was done? "I dunno; it does irk me I think because I put a lot of effort into these records," says the Pennsylvanian. "People say 'oh if it doesn't come out in the next six months it'll be dated' but I don't feel like that at all. I think more broadly speaking I just want this thing out so I can move on with my life – either continue working or do something else. But it feels like I just have to sit there until someone else figures this [the release dates] out…it drives me nuts that way."
Despite the apparent delays, Carnation is even worth the wait from the end of the Me Moan release cycle. It's a darker, sultrier, more layered, even sexier record than the previous; if it was a colour it'd be a deep red or a rich purple – opulent, but with a wrong-side-of-the-tracks feel. "It definitely feels a little bit like it came out of my insides," agrees Gibson. "It's a little more intimate, and that's not to say Me Moan wasn't - I mean all records are – but with this I was able to do things exactly how I wanted them done." While Gibson described the album as "intimate", personal details are kept to a bare minimum – at least on the surface. Songs are told through characters, whether it's the person desperate for a sexual encounter following release from an institution on "Daddy I Cut My Hair", the people at the heart of Iraq war casualty song "Shine of the Night" or the person coping with mundane reality on "Shatter You Through", and Gibson explains that "I prefer keeping things oblique; I'm not really into hearing lyrics with too much exposition, if that makes sense?" The singer uses the less-is-more approach, revealing that he tires of too much information: "I don't want to hear every dumb detail of someone's meaningless day, but I do want to fill in the blanks of someone's observations, or my observations" he asserts. "For me, I just like to hover around the outside of this scene, and give a little stream of consciousness, or ponder what would I actually think if I was in this scene? If I was watching something happen I wouldn't tell the person next to me 'and then, and then, and then...' I'd just be thinking 'what's going on here?' and that's what I'm trying to convey in the song… more a painting of the scene rather than an 'and then so-and-so dies' or whatever."
This method of songwriting shares a lot with certain masters of the short story. While the name of Raymond Carver has been mentioned as an influence on Carnation – and he's very much a writer who appears on the edge of events, an amused or bemused observer of things who's scant on detail – I say that George Saunders is another writer who came to mind while listening to the album, in so much as his stories offer no clear "in", no obvious starting point, but things become clear in time: "Yeah! George Saunders especially!" agrees Gibson, enthusiastically. "He has this way of writing a short story where he leaves you totally fucking baffled, going into it. And sorting out that confusion is the joy of reading. To me, that's it! That's why I continue to read – just to sort out what's going on. Some people don't deliver; William Vollman doesn't deliver until he's 250 pages in – and we're not even talking about [Thomas] Pynchon or [David Foster] Wallace! These are three minute songs, so I can only do so much – but I'm definitely inspired by that approach". As much as there's a lot of self-contained stories or songs here, Gibson doesn't make them feel small – and that's down to the film makers who influenced this very cinematic record. In discussing the names of Tim Burton, Pier Paulo Pasolini and John Waters, Gibson explains that "I'm not necessarily a huge Tim Burton fan, but in making this record I kept thinking about building this Tim Burton house – and a lot of the songs feel like a Beetlejuice mansion! Within that house there are these things that happen which are a bit of a contrast. I mean, I'm not writing fantasy stories about guys with weed whackers for arms… they're all real, but they certainly feel a lot more colourful than maybe the last record."
The influence of Pasolini and Waters comes in the sexual frankness of Carnation. Whether it's the "keep me in your mouth forever/I don't care if you can't take it/I don't care if you're tired of eating" on "For Every Bite" or "young shitty people say they wanna text and touch/and the bodies that never come my way are invisible" on "Daddy I Cut My Hair", there's a certain sexual honesty or openness in these sensual lyrics – Gibson provides qualified agreement: "Yeah, there are different points of view on it," he begins. "There's certainly some lusty business going on and I don't want to limit that to gender or sexual preferences… I like to take these voices, but honestly I feel all these things myself and I'm pretending when I use someone else." Gibson does see some honesty trying to find its way through the characters living in these vignettes: "I guess it would be cathartic to be totally honest, to know that all of the narratives [are true] – it makes it a little easier when you're showing the world everyone, it makes it easier to say 'that's his or her problem, not mine' or 'that's their sexual hang-up, not mine'. That is kind of the point of some of the songs on the record."
The co-creator of the rich, deep sound of Carnation is producer Randall Dunn, of Earth and Sunn O))) fame. Some of the darkness begins to make sense when you know Dunn has his name on credits, and Gibson explains it was an easy choice to make: "Oh, well I'm a huge Earth fan and I'm a huge fan of a lot of other records he's worked on," he admits. "Sabbath Assembly, Marissa Nadler, the Burning Witch record. He always puts together these 3D mixes, usually with heavier bands which can be really hard to do. I would just have died to work with this dude, and he was really receptive – and I was kinda shocked." It appears that Dunn's decision to come aboard helped guide the tone of Carnation – even if the co-producer didn't know much about it: "I didn't know the direction of the record and as soon as he signed on I changed my approach a little bit," explains Gibson. "I can't imagine giving Randall Dunn anything I've done previously, it just wouldn't have worked. On this, I subconsciously compromised and was working with him without him knowing it – it was really fun."
Above all else, Carnation is a record that should put to bed any mutterings that Daughn Gibson is simply a country musician; although, it's still a genre that's close to the singer's complex heart: "I dunno; you just work in conduits I guess," ponders Gibson. "Sometimes country music, to me, is the easiest conduit to use to get my real point across. At times I like the idea that I can make this comic book through country music. I can pretend to be Luke Bryan [the terrible, middle-of-the-road, country singer] dropping acid and melting! But ultimately it's not about being something… it's not about 'I'm just a shit-kicking country guy', that's fucking horseshit! I love it… I'm no cowboy but I fucking love the music and have done for a long time. But it's just a conduit to bigger ideas that I can't get to through alternative R&B or something like that."
Stream Carnation in full below. It's released on 8 June via Sub Pop.
Get the Best Fit take on the week in music direct to your inbox every Friday