On the Rise

Cumgirl8
29 August 2023, 10:46
"Music started first and then the universe created itself around that," explain the members of Cumgirl8 across a faltering phone line. Thankfully they're not calling in from another universe today, just a studio space in Berlin.
The four members of the 4AD-signed band met in a sex chat forum, in another metaverse, eight-thousand years ago. Verse-jumping to New York City in 2019 as Cumgirl8, they are Lida Fox (bass), Veronika Vilim (guitar), Chase Lombardo (drums), and Avishag Rodrigues (guitar).
While Cumgirl8 formed with a view to create music, over time they became embedded in New York's performance scene, their holistic approach taking in art, fashion, politics and embracing internet cultures. "It started with the music and then we had so many other things to share. It really came to a head in Corona in 2020 because we couldn't play shows," they explain.
Similarly, their music is a broad church of influence, at times at odds with the provocative and liberal leanings embraced in their image and social presence. On new EP Phantasea Pharm there are hints of ESG, Fever Ray, Cocteau Twins, Suicide and Fannypack. In short, they're impossible to pigeonhole with a single genre.
Their live show may embody aspects of punk's freedom, but their messaging is a progression of riot grrrl's ideology. While in the 90s, owning your body as a woman felt radical, today so does the notion of owning your own sexuality with unabashed confidence. "Riot grrrl's been done and it was amazing. New wave riot grrrl, I like that but it's not the only thing we are," they explain. "We have personal relationships with our instruments and I think we branch out, sonically. It sounds a lot different."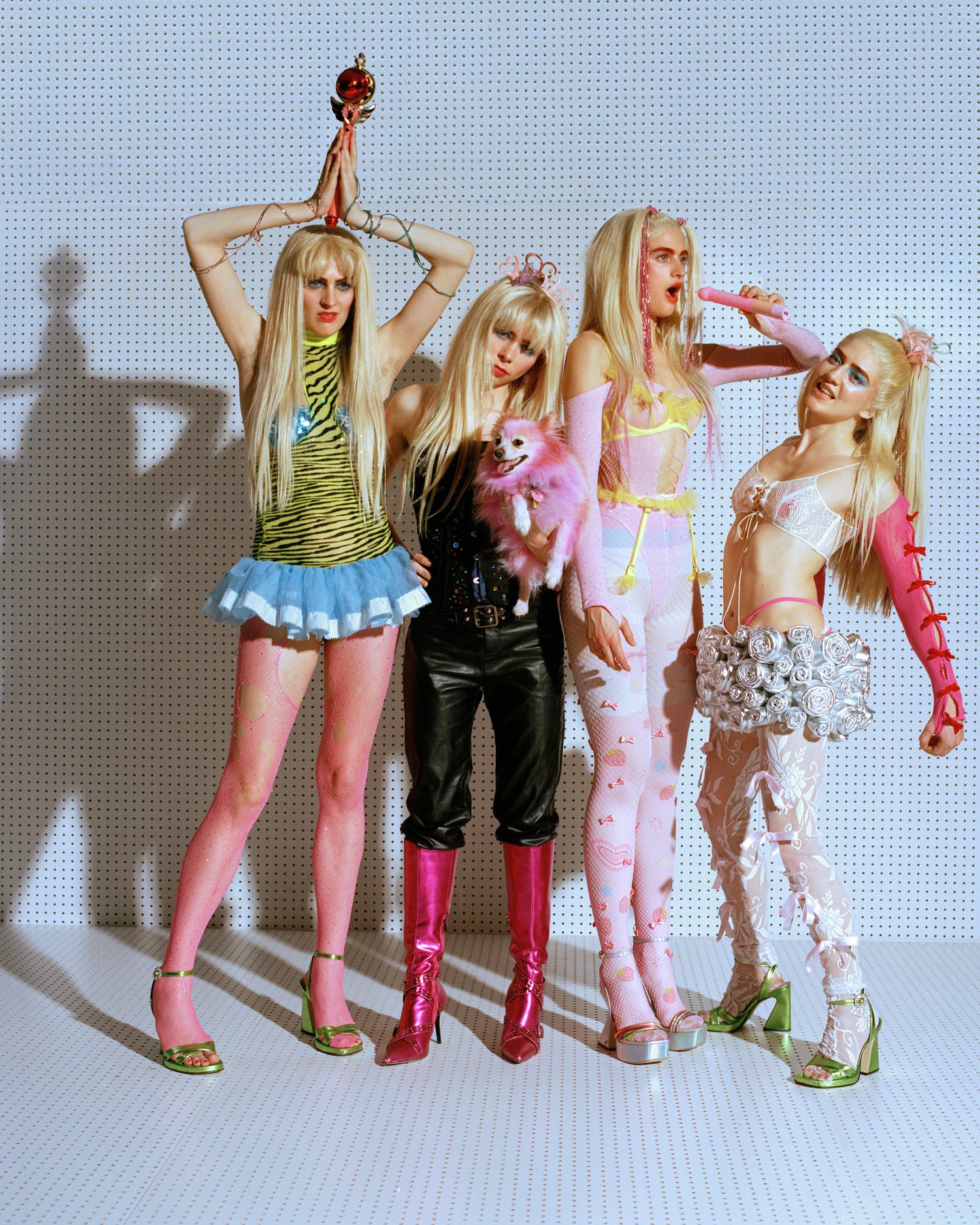 Cumgirl8 formed as an art collective out of necessity. "We started playing shows really quickly so it was always performance art before it was anything else," they explain. "We never said no. We were playing everything that anyone ever asked us to do, it was crazy. One show that was really fun that we played was this boat show where we were hanging off the rafters. They had free pizza and as the sun was setting we were passing the Statue of Liberty. It was a very dramatic day."
Alongside official shows, pre-pandemic the group also engaged in some guerilla activities. "We did one outside of the Hollywood Palladium in Los Angeles and we did one in the subway on 14th Street Union Square," they laugh. "You have to sign up with the city to get a licence and we didn't do that so there was another person playing in there and we just started playing together, but he didn't want to play with us. We did our whole set with this angry man playing the didgeridoo. We had our dancer Bobbie there and she was licking the platform."

Cumgirl8 satirises themes of feminine objectification, online sensationalism and capitalism, amongst others. Creating memes and discomfort, they use their platform to progress conversation, particularly around female-identifying sexuality. "In the 90s there was this collective, the VNS Matrix," they explain. "It's really funny because I don't think we were aware of it when we started this but they made their cyber-art hyper sexual too. It was a part of third wave feminism in the 90s and it kinda got cast aside. I feel like we're picking that up. There's definitely some puritanical values that we're all shaking off as a society around women being naked and that's changing one day at a time for sure."
Even so, they still encounter a lot of kickback, especially online. Signing with their dream label, 4AD, a bigger platform means even more heads to turn. "It's funny, there are some die hard legacy fans that are like, what are you doing 4AD? Cumgirl8?" they laugh. "But then the people who really get it are like, wait a second. 4AD had The Birthday Party, are you kidding? They're doing exactly what these bands have always done, which is push the envelope and 4AD's been a safe place for that. They really support every weird idea we have, so we're blessed."
On Phantasea Pharm, their debut release for 4AD, the group draws narratives from the personal and political. On "cicciolina" they take cues from the story of Hungarian-Italian porn-star turned politician Ilona Staller who advocated for human rights and the eradication of nuclear weapons, the grating bass notes and punchy chorus levelling the grit of Yeah Yeah Yeahs and fire of Le Tigre. While on 'picture party' which features fellow New York performance artist Christeene, they meditate on the overuse of phones at shows with sharp candour across an oozing synth line.
In contrast to their high level of online creativity, it was important for the band to keep the recording of the EP as analogue and organic as possible. Self-producing with the help of engineer Paul Millar, they recorded straight to tape. "The way he dances with this tape, there's no other way to explain it. Moving as much as we're moving when we make the music," they laugh. "There's another crazy guy named Paul Gold, who does the same thing but with mastering. So he turned the tape into an acrylic plate and that plate was sent to the record company and they pressed it, so the whole thing was touched by people and danced with and it never went through the 1s and 0s."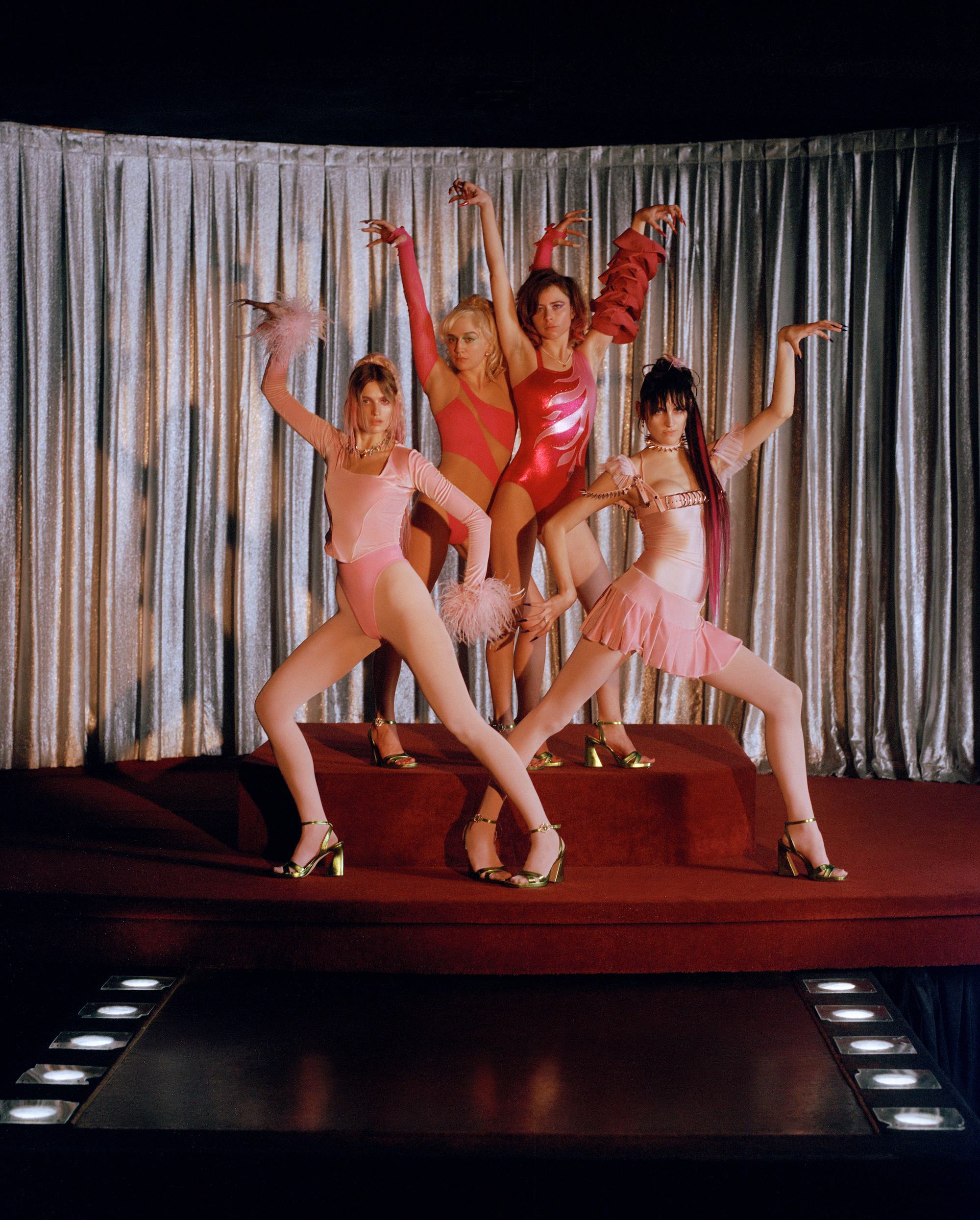 Taking their new songs out, the band are just wrapping up a short stint in Europe with a performance at Berlin's Pop-Kultur Festival. Having already spent time in the city, they describe it as an affordable version of their hometown. "You can live in Berlin without starving," they half-joke. "Berlin reminds me of New York because there is a bit of a rock n roll scene, but the techno scene and the queer scene is really popular. Everyone's fun and open."
A boundary-pushing event of music and arts, it's not just their own performance that has Cumgirl8 excited. "Drag Syndrome is the thing we're the most excited to see," they smile. "We've been talking about wanting to see them for months. We've been convinced that they're playing every festival, but this is the last show of our tour and they're definitely playing this one, finally."
And from their own set, what will they bring to the stage? "Every show is different but what you can expect is to either be turned on or scared," they say. "And you can always expect chaos. A delightful chaos."

Cumgirl8 appear at Pop-Kultur Festival which runs from 30 August to 1 September. Find out more at pop-kultur.berlin.