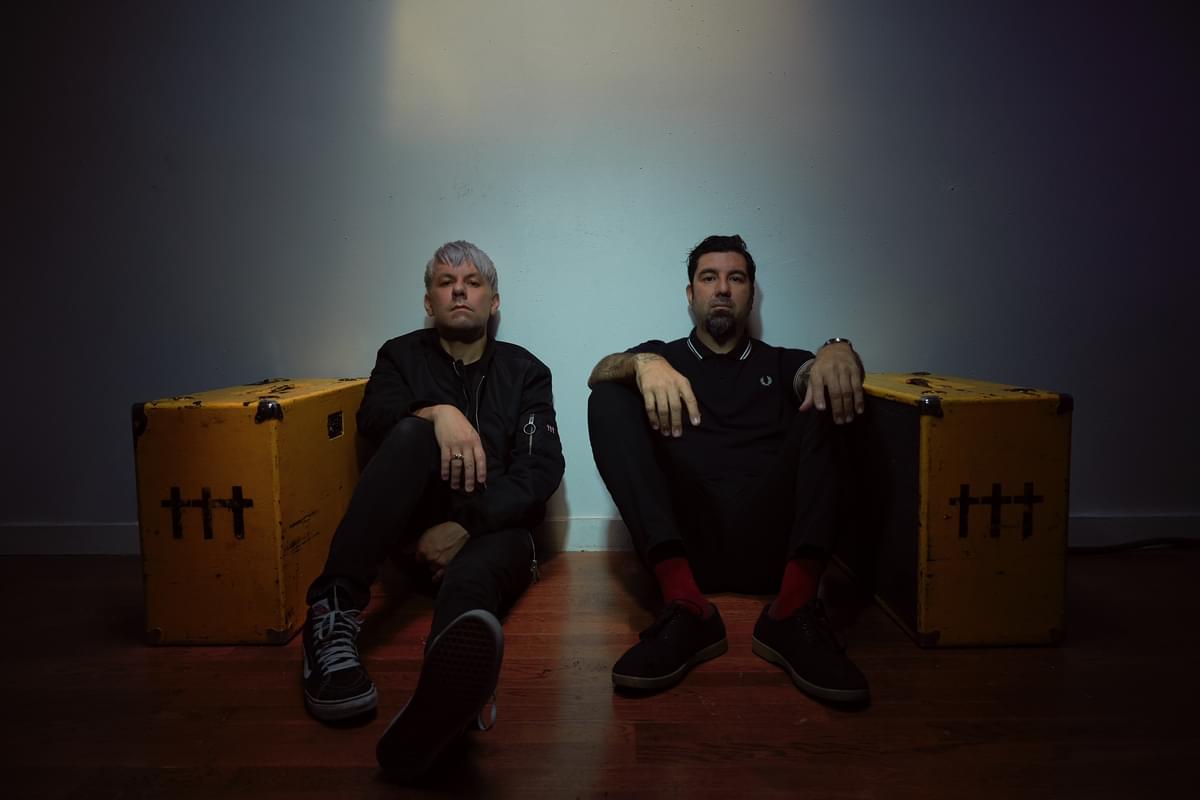 The permanent radiance of Crosses
12 January 2023, 13:30
Deftones singer Chino Moreno and Far guitarist Shaun Lopez tells Steven Loftin about the romance of collaboration as they reunite side-project Crosses for their first collection of new music in almost a decade.
It's just past six am when Chino Moreno and Shaun Lopez appear on my screen.
The pair – known as Crosses in this instance – are on separate sides of the globe. Moreno is currently down in Australia on duty with his day job in alt-icons Deftones, while Lopez is at his home studio in LA, lit up as if he's commanding a spaceship with consoles of synths and wires. Opposing this, Moreno is currently submerged in brilliant sunlight, with shades and a fluorescent yellow beanie. This is all to say, they are incidentally currently embodying the physical form of their latest EP PERMANENT.RADIANT.

At once holding an oceanic crushing weight, while equally offering up rising hopefulness, it opposes their 2014 self-titled debut album which relished in its darkness. But these ebbing tides are what we've come to expect from this alt melting of the minds.
First coming to be in the late '90s when its respective members were in their formative bands (Lopez is guitarist in rockers Far), Crosses is emblematic of bottled lightning. With sporadic sessions here and there and studio visitations, between the two of them, a kinship soon formed while bonding over a shared love of '80s indie gloom. Eventually forming as a trio with producer Chuck Doom, the Crosses way of working is one of lucidity. "I feel like it's pretty open. There's never that worry of, oh, is this you know, is this too pop or is this too heavy for Crosses, or is this too experimental?" Lopez explains. "You know, I think it's just if we're in the room together, and what we're doing feels good to me, then it is good."

Across Crosses' output is a rich exploration of this love and adoration. Brooding, electronic-based music that fits into the darkest of goth clubs or the most industrial of warehouses, it has no qualms in soaring to pop highs ("Procession") or even Calypso-style rhythms ("Day One"), and on PERMANENT.RADIANT's explicitly disjointed offering Moreno says, "we didn't want the whole EP to be super slow and sad sounding or super hyped up…we just wanted to show our different sides". Simply, Crosses is a project that refuses to bow to expectations, not even their own.

But as quickly as they appeared within our midst and manifested their debut, they disappeared. Until this year. The loss of founding member Doom put Crosses in an awkward position. Due to a major vibe shift between Doom and Lopez, with bad feelings brewing like a summer storm – and Moreno in the middle – but everything happens for a reason.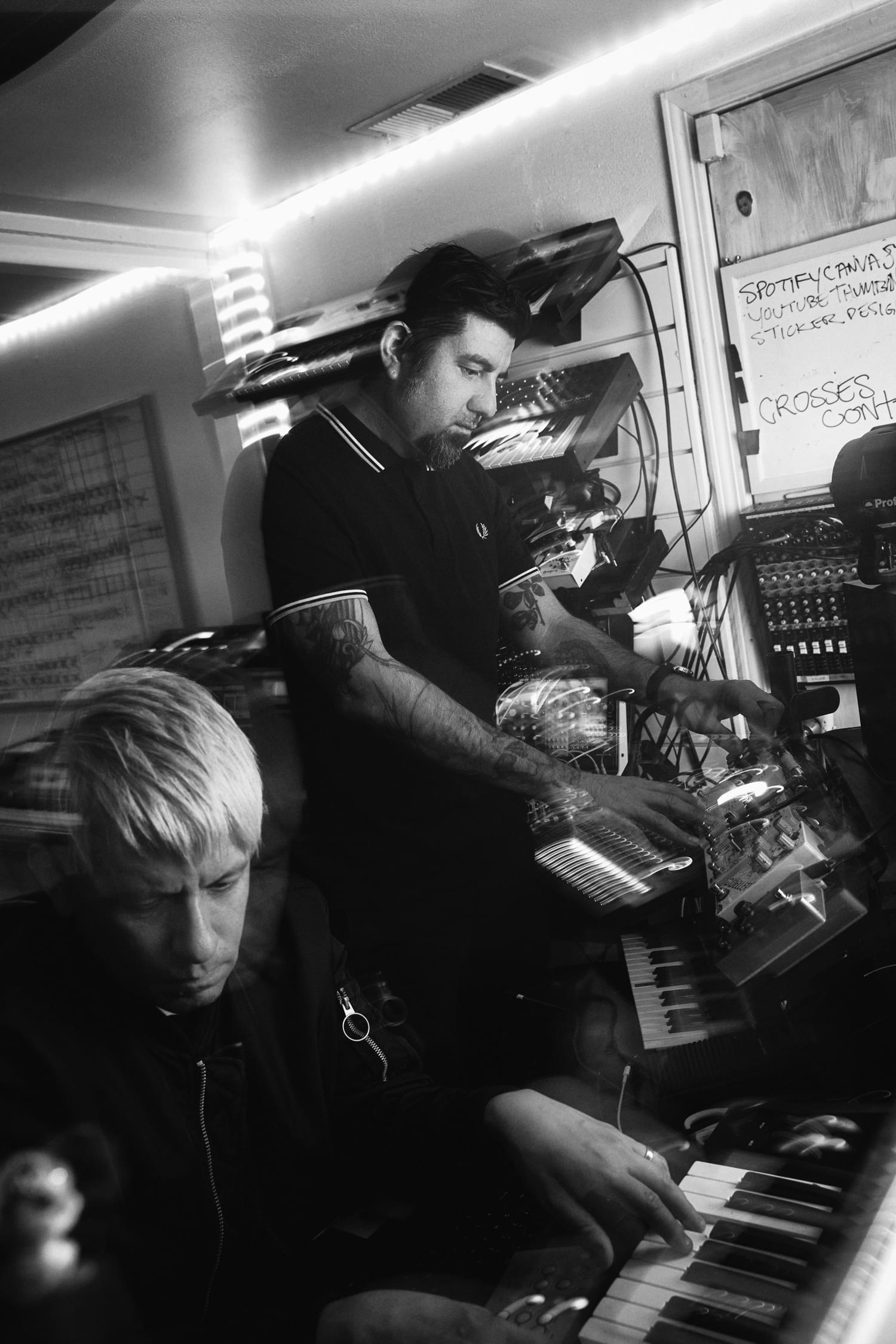 With online sessions becoming the go-to tool in 2020 for creatives, Crosses found its next chapter being made in folders and files. While they both mention studio working is where the instantaneous nature of their relationship flourishes, being able to get to grips with their newfound roles in Crosses separately, allowed them space to breathe and to embrace the loss of Doom. However, the most integral aspect is the interpersonal relationship between Moreno and Lopez. Given they've known each other for decades now, when I ask how their relationship has evolved over the years, Lopez is the first to break the silence.

"That's a tough one," he starts. "I mean, we've gotten to know each other a lot better, especially over the pandemic we've become closer and we've been I think we've become better friends. You know, and to me, at the end of the day that's the most important thing." Moreno silently nods in the background. "You know, you know, I mean, us making music together and you know being so proud of this EP – that's great and everything – but the fact that we're good friends, is another thing that I think is just as important."
A bond formed by music – often the purest, most classic of sparks – it's this naturalness that breathes openly throughout Crosses. From its sounds to its motives, Moreno's gushing on this – in a stoic way only he can – is a testament to how dear the project is to his heart. "It's pretty romantic," he reasons. "I don't want to say between us romantic," a giggle quickly breaking out in the chat. "[But] it is a romantic thing to think that things just happen – people come together." It taking nigh on a decade for them to do so means these were ships in the night. "It's crazy that after a lot of years, it happened in a very organic way. I definitely even want to say that word [fate] is tossed around a little bit in the lyrics from time to time as well."

Fate is a big word to bandy around, and not an idea they lean into lightly. But there are still echoes of it as Moreno reminisces on those carefree days. "There's definitely a few things that we have in the arsenal where, like, I think back to myself like man, what if I didn't come over to your house that night," he muses to Lopez. "Or I'd be doing something else it'd be whether it be somewhere in LA doing something…going back to Shaun being a night owl, I'd hit him up later in the evening and I'd be like, 'Yo, you up, What are you doing? I'm just in a studio I'm gonna come through." "Some of my favourite stuff was done then", Lopez adds.

"In that visit, we didn't have any plans but we're gonna make music and then we'll sit back and so my favourite cuts that we have in the arsenal as I said, I think to myself, well if I wouldn't have just randomly went over your house, this will not exist, you know?" Moreno continues. "That kind of shit is like…it's the essence of this whole thing."
Growing together as a project, while they are in the strongest position they've been to date, it took some work to get there. Fortifying themselves so Crosses can exist in 2023, between the two of them they had moments of being completely straight with each other, and stripping back any airs and graces. "Earlier on, we definitely had to have a couple of sit downs and be honest with each other as far as like, you know, just little small things like hey, you know, when this happens, this bums me out," Moreno says.

Having been around for a fair while (both of their respective bands have decades under their belts), theirs is a wisdom that only time can provide. One of the insights they offer is, "I think the comfort zone of most bands or projects is to not say anything if something's bothering you," reckons Moreno. "And then you just slowly become very resentful and the resentment just grows and grows and grows and then eventually you have, you know, an explosion." It's why the unexpected hiatus which led to Doom's departure was perhaps the healthiest thing that could've happened to Crosses. "I think the both of us have just been way better about owning up to shit."

This bleeds into the studio element of the project. Making it to a place where they're able to openly admit issues to each other: "We'll be in the studio sometimes and you know, just be like, 'Hey man, you know, did I say something that pissed you off', and I'll be like, You know what, yeah, you did, man," Moreno explains. "You know, when you did this, it was like, you know, you said something that kind of bummed me out and I'm not feeling good about it, and then you know, and then we just own up to it. And you know, vice versa. He might say, 'Hey, man, when you do this, I didn't really like that', and I think that it's important to not just push it under the rug, you know?"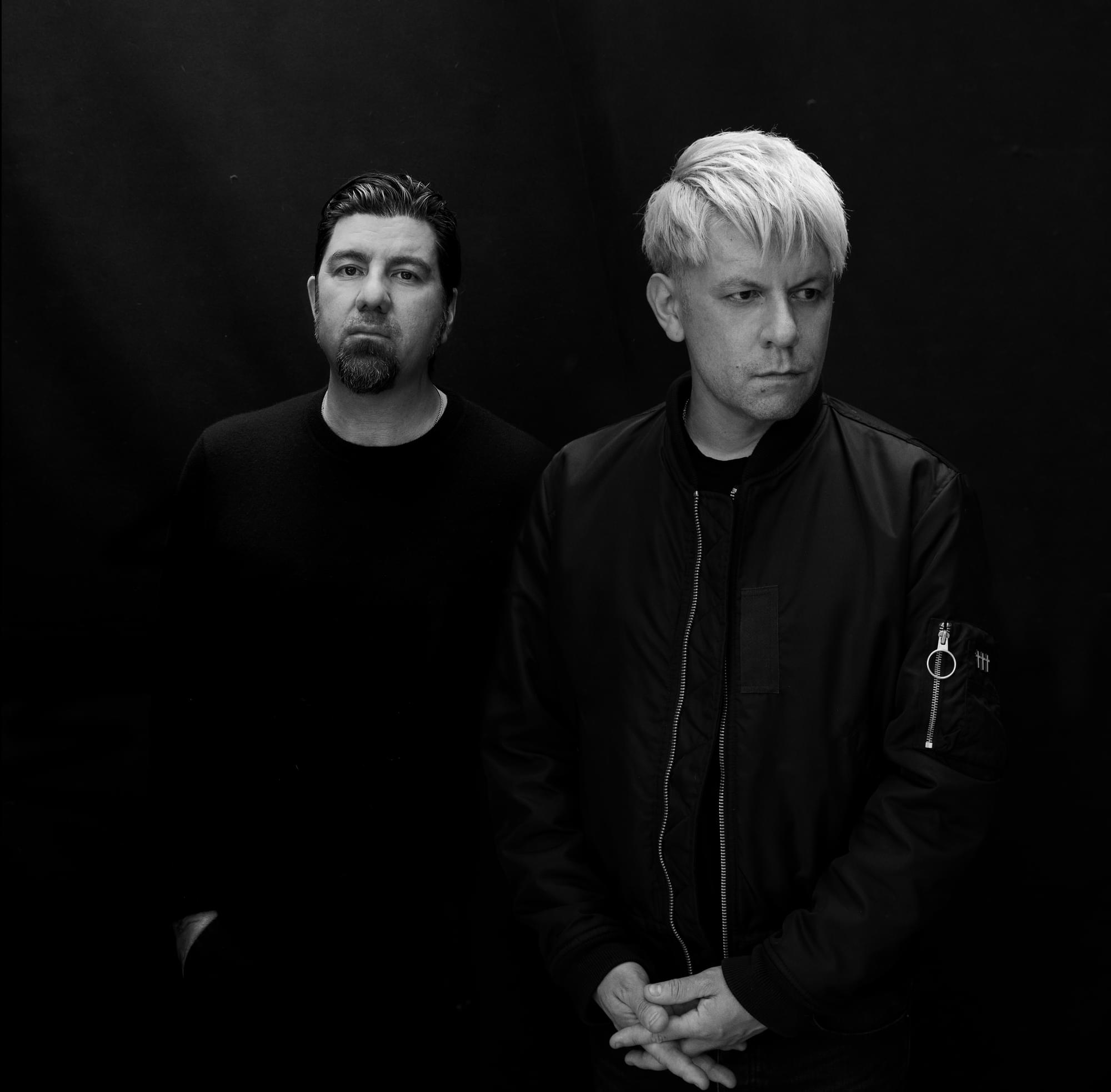 "[It was] definitely a learning curve," Moreno admits of this growth. "I mean, I think that happens in almost every relationship, not even just band stuff obviously, I've been playing music with different individuals for the majority of my life and every relationship always flourishes when communication is there. A lot of times if you're not saying anything all you're doing is putting yourself in a predicament you want to be in. The best part about this thing is the fun that we have when we create, so if it's not fun, or there are weird feelings or something like that…I'm not gonna show up, you know what I mean?"
The steadfast, no-nonsense approach from both parties is born out of those carefree feelings, and opening themselves up to whatever may arrive. It's also why Crosses often just appear. No drawn-out album launches or rollouts, just music arriving when the duo see fit, something that's tracked even since their early days when they released their debut EP (EP1) for free back in 2011. "What made it fun in the very beginning for me especially, was that this is not something that we have to do, where we had to do or our careers and we have to invent something new or reinvent ourselves. Like literally, we just did for fun," Moreno explains.

Living a few blocks apart in Los Angeles, he'd bike or skateboard over to Lopez's house just to see what he was working on. Those days of "going into the studio and working on music and just hanging out, listen to music," were the organic vines entwining these two alt artists together for decades. "It was all about us putting stuff out and without expectations from people that made it so much more fun," Moreno continues. "And even when we came back to do it now, it's like, we didn't promise people that, 'Oh, we're making a record that comes out this day, or this day'…I guess the people that pay attention sort of caught wind that eventually there will be a record but it's not like we're making all these promises that we're doing this…we're very lucky that we're able to do this at our leisure and enjoy it."

"The comfort zone of most bands or projects is to not say anything if something's bothering you... and then you just slowly become very resentful and the resentment just grows and grows and grows and then eventually you have an explosion."
(C.M.)
Backing this claim up, on the Friday before Christmas Crosses released an oddly befitting and true-to-form cover of George Michael's "One More Try". Simply, this entire journey for them is an appreciation of music in all its forms.
Similarly, one of the integral aspects of Crosses is the pair's thirst for new music – or music of any nature. "I could nerd out about this shit all day. I love finding music," Lopez gushes when we begin on the subject of his never-ending quest for the creative spark.

"I think it's the only thing that keeps me inspired honestly," he opines. "And I could probably say the same for Chino because if you stop looking for music and you stop listening to music and you just listen to the same things that you listened to for the last twenty years, I don't know how you're gonna grow from that because you might miss out on some sixteen-year-old kid in some random town or something that's making the craziest shit."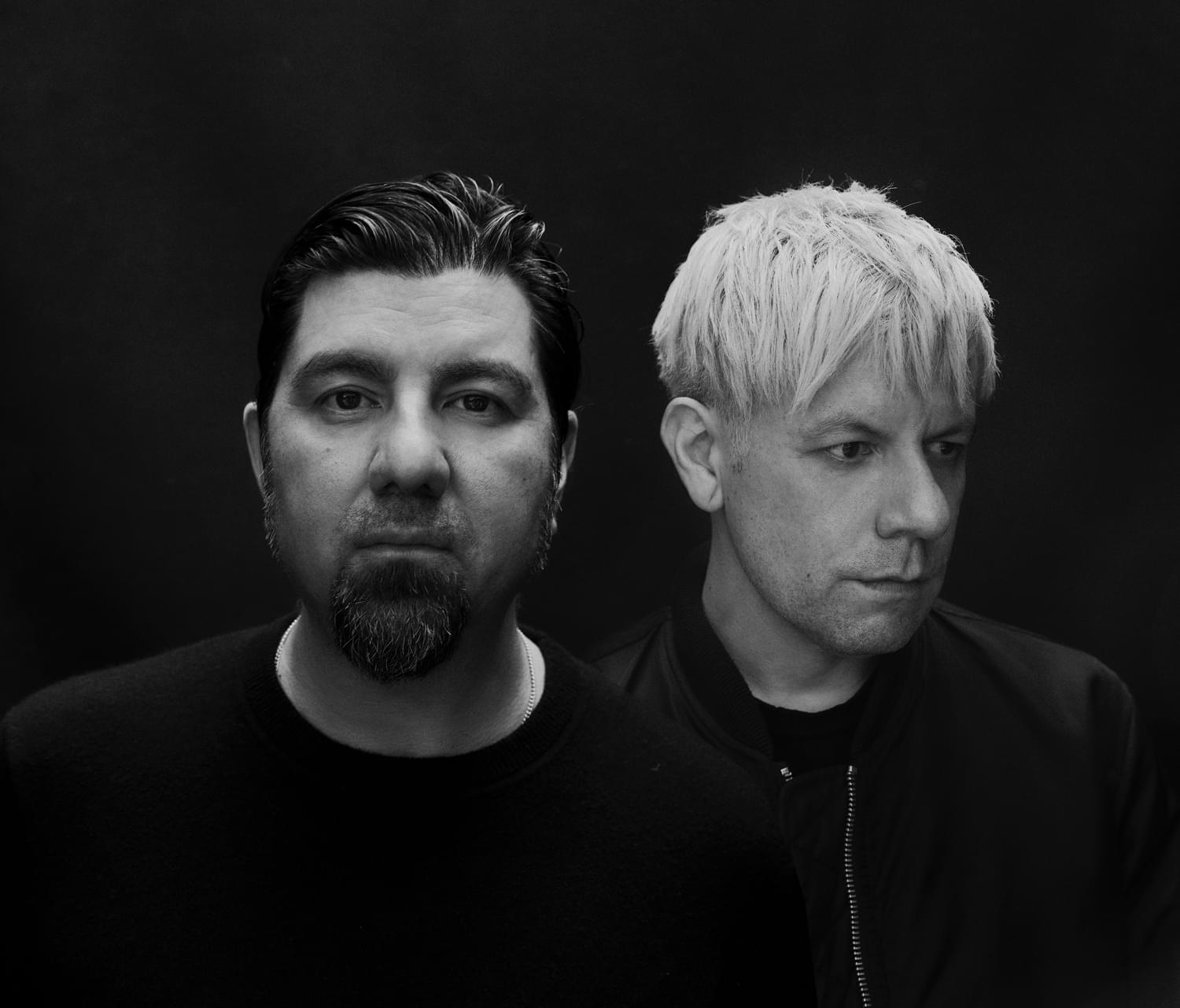 For all the future-facing and digital digging Lopez and Moreno do, it comes with its own cross to bear. Crosses' publicist interjects with a telling comment about the future: "My friend worked at YouTube and she ran all the rock and in the playlisting at YouTube," she mentions. "And they just made them all redundant, and it's all going to AI. So, it's going to be really weird."

The sullen mood in reflection of this price of modernity is broken by Lopez's optimistic glimmer of hope. The organic playlists created by "the kids in their bedrooms" are where he finds his fresh picks, and they're the ones who truly lead the deepest sense of finding the truth in what music lays out there. It's all rooted in the same purity that courses through Moreno and Lopez's endeavour as Crosses. A light that always finds its way through the darkness, even when things seem hopelessly different. A permanent radiance indeed.
Get the Best Fit take on the week in music direct to your inbox every Friday