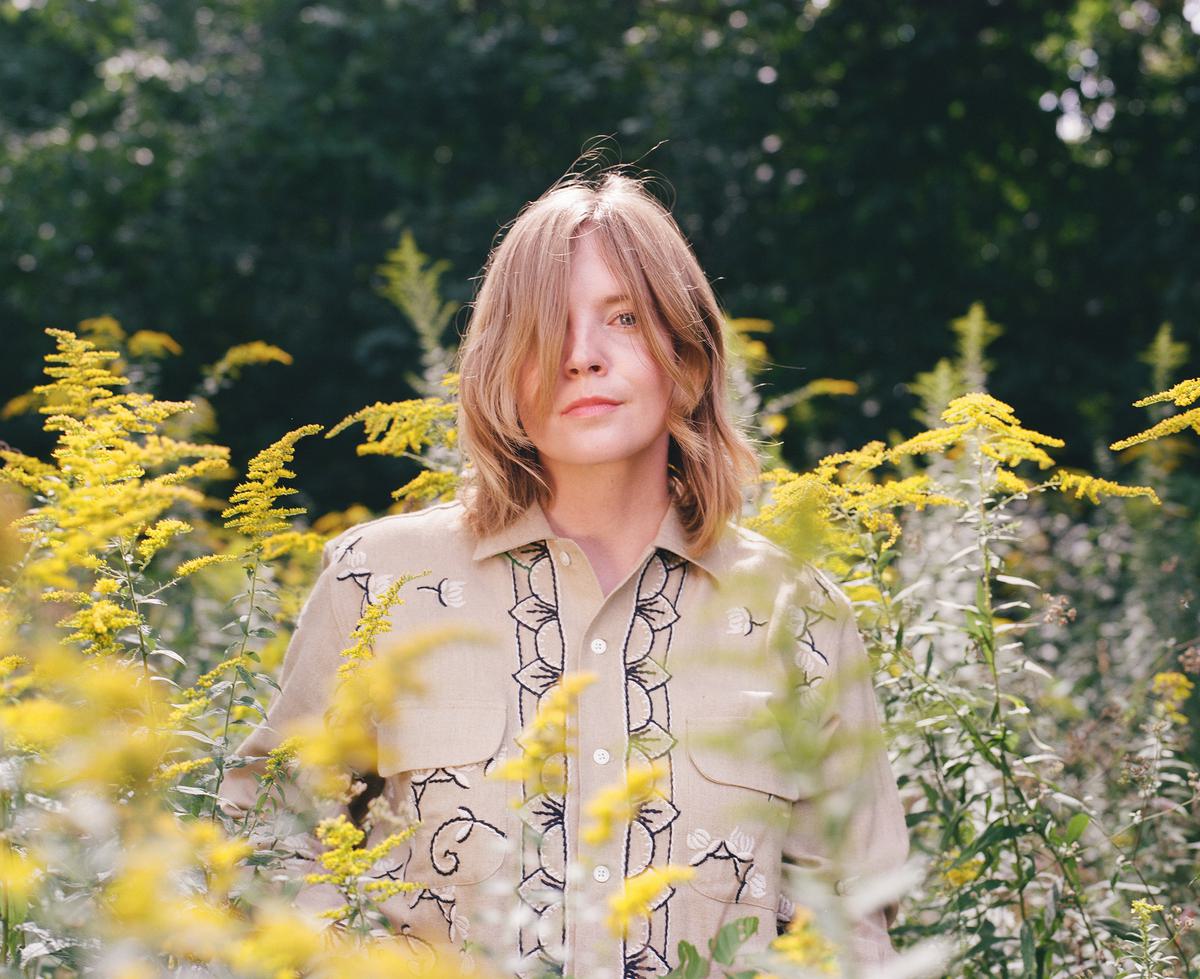 Walking on sunshine with Courtney Marie Andrews
30 September 2022, 08:00
With Loose Future, Courtney Marie Andrews channels her pop influences to make her brightest, freest songs to date. She talks to Alan Pedder about letting the light in.
Courtney Marie Andrews has been to the future. In her book of poetry, at least.
Writing from the perspective of a wise old woman, Andrews imagined herself as a faded monarch butterfly coming to rest in a garden, arriving at last to a place of self-love and acceptance and finally seeing "the swinging pendulum of living" for the rollercoaster rhapsody it is and always will be.
With her new album Loose Future comes the good news that such a place is not so far off as old age. At 31, Andrews has already got there. Gone are the gathered clouds of 2020's solacing Old Flowers, ushered out of the picture to reveal a much brighter outlook. Andrews jokes that after more than a decade of winter, she's finally embracing its opposite.
When we speak over Zoom from her current home in Nashville, she seems entirely without tension. Wearing an oversized red striped shirt and tying her damp hair up on-camera, as though she's just rolled in from a relaxing morning swim, she's as casual as can be. It's a fitting start for a chat about Loose Future, which represents something of a sea change in her music, now 15 years in the making.
The songs still feel conversational, but the backdrop to those conversations has a more liberated, more colourful intention. "I wanted to make a record that would surprise me and push my own boundaries," she tells me. "At the end of the day, as an artist, I don't want to make the same record twice. No offence to Starbucks, but I'm not here to be a Starbucks where you know what you're going to get every time. I always want to explore and see what happens, and just hope that people are along for the journey, you know?"
Where Old Flowers and its predecessor May Your Kindness Remain were albums about coming to terms – with the end of love and the black dog of depression, respectively – Loose Future finds Andrews in the mood to set the terms herself. "I think that something changes in you when you've experienced a love that you thought would be a forever thing, but it doesn't work out," she says.
"It's very comfortable living in illusions of certainty. It feels very safe. But when that's taken away you feel shaken and confused and sad. Loose Future is my way of saying 'Hey, I know pain is here, I've lived it. Pain will always be there. Your past does not escape you, it's in the everyday. But the future isn't certain; anything can happen.' And – not to be too woo-woo about it – but I've come to feel a lot more contentment in the 'now' than I used to."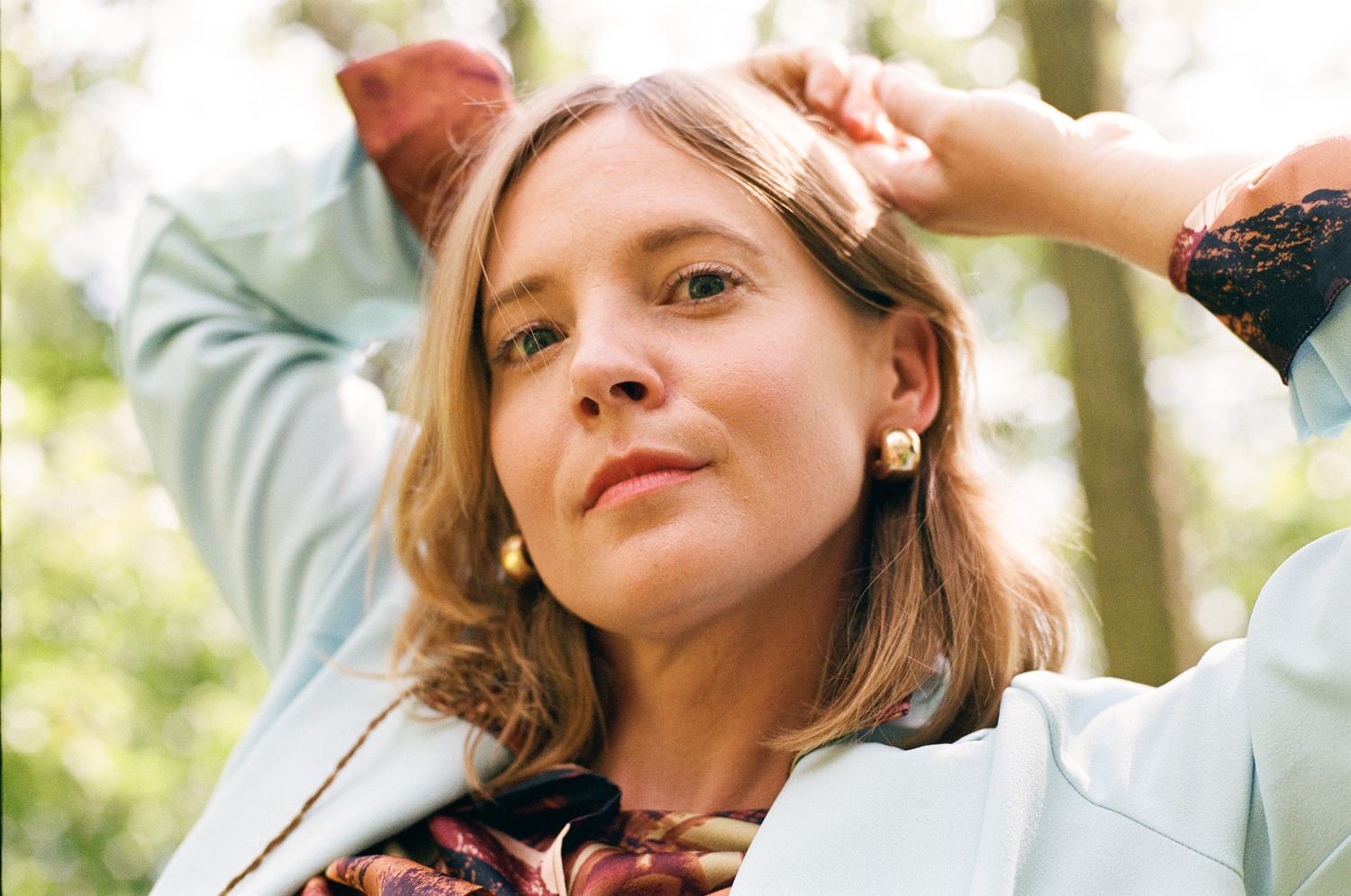 Growing up as a latchkey kid in Arizona, Andrews says she got used to spending a lot of time alone. With her mother working nights at Walmart, she was often passed around between family members and friends who helped to raise her: her cowboy grandpa, who had a ranch out in the Tonopah desert; her godfather, who's an art teacher; and her mother's best friend, who's a Buddhist. "Yeah, I was raised by a lot of characters," she says with a laugh. "I'd say it wasn't a bad childhood, just a childhood that required a lot of perseverance and a sense of centered belonging, since I was constantly being moved around a bunch."
The poems in Old Monarch, published last year, hint at tragedy, hardship, and problematic family dynamics, suggesting there's more to the story than we have time for today. Andrews does let on that her upbringing has made it hard for her to trust when life is going in her favour. "My disposition, internally, tends to always lean a little darker," she says. "I've often felt like I'm not deserving of good things."
That feeling of unworthiness has been a hallmark of Andrews' songs from the start. It's been a habit of hers to wield choruses and bridges like pins, ready to pop the party balloons when things edge towards joy. Caveats have been a form of armour, keeping expectations in check. On Loose Future, she sheds some of that hindering baggage. Enough for it to feel like a reinvention, but not so much that she loses what has made her so compelling.
"I kind of wanted Loose Future to be a pop record," she says. "I've never felt a desire to make an album like that until recently, it never felt natural to me. But I feel that after the few dark years we've had, the world deserved a pop record."
When the pandemic hit in early 2020, Andrews was still grappling with the end of the relationship she'd been in since the age of 19. Her entire adult life had been framed through her ex-boyfriend. Letting go of that perspective while allowing herself to stay vulnerable and open to new experiences took a lot of work.
With Old Flowers scheduled for a summer release, Andrews took her healing process out on the road with The Tallest Man on Earth, aka Kristian Matsson. Their national tour lasted only two dates before being postponed on account of the rising Covid cases, leaving them in limbo. Rather than go back to their homes and binge-watch Netflix shows in sweatpants, they thought why not make a record?
"We thought it was only going to be for two weeks," she said, rolling her eyes slightly. "Kristian was living in New York at the time and wanted to be closer to home, and I didn't really care where I was, so we ended up looking for a studio upstate that we knew could be available."
The place they ended up in was Flying Cloud Recordings, a residential studio in the Catskills mountains belonging to Sam Evian, his partner Hannah Cohen, and their music-loving rescue dog Jan. Although the planned duets album was shelved in the end – Andrews says they couldn't really focus on the task with the world outside gone mad – Evian's calm presence in those sessions made him first-choice pick for Andrews when it came to recording Loose Future.
First, though, she returned home to Nashville where she spent some months alone in quarantine. At the same time, she says, one of her best friends was living alone as well, out on Cape Cod. "Long story short, I decided to go visit her so that we could isolate together," she says. "I drove up there, camping in my car along the way and peeing on the side of the road, that sort of thing. I ended up staying there for months because I was just so inspired. Honestly, it was the most reassuringly beautiful and rounded time in my life, and it made me a little wiser, I think."
Andrews has often described being in nature as something like a church for her; it's where she finds the clarity and space to dig into her thoughts and let them blossom. Many of her songs and poems have come from taking long walks in open spaces, away from the clutter and commotion of the cities she's called home. "I find that even if I start a song in a city, I need the space of nature to allow me to fully realise that work," she says.
A beach shack on the Cape is a far cry from the heart of Music City, and Andrews says the change in scenery worked wonders: "I walked for hours every morning and just really pondered over everything that's happened in my life. I was able to finish my poetry book, which I had been wanting to finish for many years."
It's also where she started to write the songs for Loose Future. Committing to a month of writing one song per day, Andrews poured her heightened sense of summer into a new set of songs that spoke of possibility – caveats be damned. She had never tried to write that way before and had her doubts that it would work. "When you've written songs for long enough you can kind of tense up and get in your own way," she says. "I thought writing a song a day would be terrible for me, because I can be overly critical of myself and halt ideas before they've even really started. But it was actually really amazing."
She describes the process as entering a flow state in which ego, criticism and self-awareness just seemed to melt away. Leaving the Cape in the autumn, she came away with a batch of around 30 songs that were more upbeat than ever before. Rather than the fingerpicked ballad style she considers her default, most were built on strumming chords she'd played around with on the beach.
"As an artist, I don't want to make the same record twice. I'm not here to be a Starbucks where you know what you're going to get every time."
(C.M.A.)
Recent single "These Are The Good Old Days" was one song that came from the Cape Cod sessions. "My Uncle Paul, with Martini in hand, always used to say that phrase," says Andrews. "I loved that so much I wanted to write a summery song, kind of in a Jimmy Buffett style, which is not something I have ever tried before. This song kind of reminds me that the now is something that's worth holding on to."
Not quite satisfied with all the songs she had to choose from, Andrews did another, shorter round of song-a-day in the early spring of last year. She'd spent some of the winter out west in the town of Bisbee, Arizona – her favourite high desert haven – with the aim of finishing the songs she already had. Instead, she hit a second flow state, writing several new ones.
Two more songs came later, when visiting her friend Kate York. Together they wrote both "Change My Mind" and the shimmering "Loose Future", which Andrews describes as a love song "for when you're self-aware enough to know what love can become." Exploring what it means to fall in love in a world that's running off the rails, the song lands somewhere in the middle of hesitance and hope.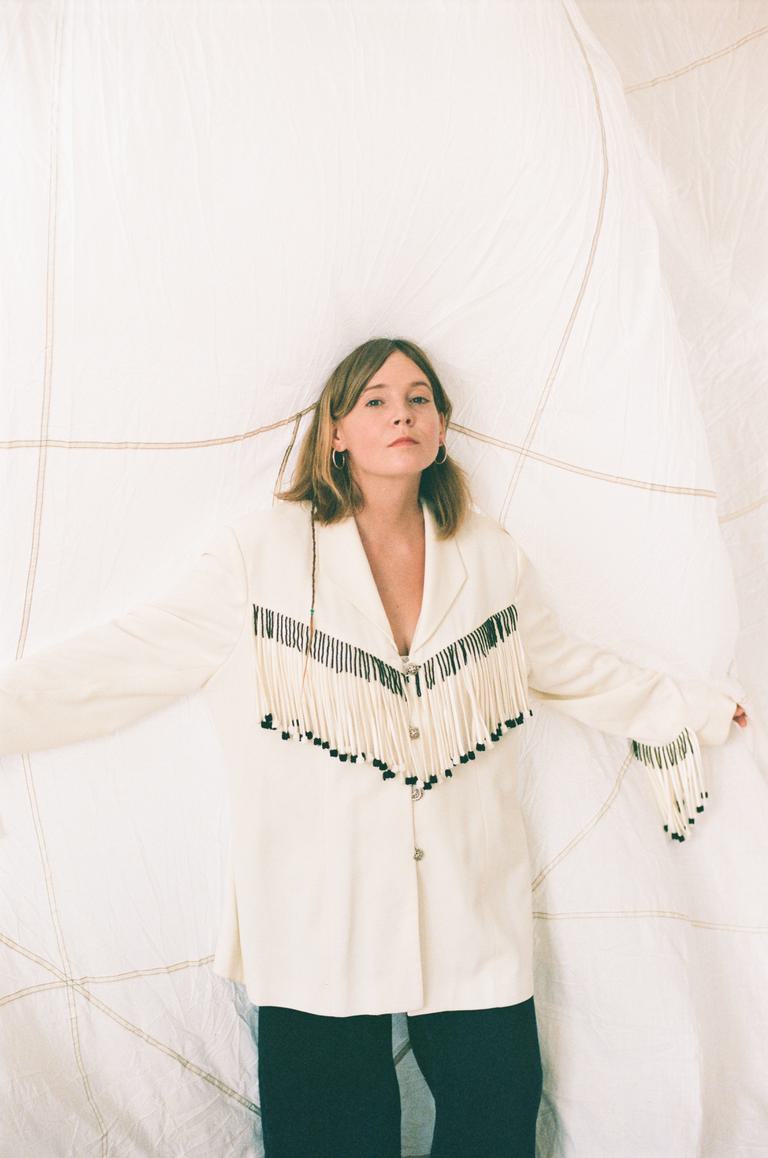 Written in just ten minutes, "Loose Future" was one of those songs that seem to pop out of nowhere, though less frequently than they used to. These days, Andrews says, most songs take more effort – not that she minds. "For most of my career I've kind of bought into the notion that songs come like lightning bolts to strike you when you're busy," she says. "I think it's really easy to romanticise the songwriting process in your 20s, but I'm in my 30s now and I've started to realise, okay, this is my job."
She recalls reading an interview with Randy Newman in which he emphasised that writing songs is actually hard work. "It doesn't mean it's not inspired, but it's still work," she says. "I realised I could reframe my process that way. That I could still romanticise songwriting – I could still light some candles and have it be a sort of ceremonial thing – but not be so precious about waiting for them to fall out of the sky. The ones that do happen like that still feel magical, but in between is the work part."
Another song that came out fully formed was "On The Line", the first song she wrote for the album, even before she went to Cape Cod. Andrews describes it as "sort of like a residue" from Old Flowers, and you can hear that in its weary acquiescence. "Why do I give you the satisfaction of knowing I still care?" she sings, her voice full of smoke, "You only call when it's your love on the line."

Returning to Sam Evian's studio in the summer of 2021, Andrews had nearly 50 songs to choose from, so for the first day or two they just sat and listened. "We chose our absolutes and our maybes and started from there," she says. "It's funny, when we really pared them down and separated them, it was clear that the songs belonged to two very different albums. I'm not sure what's going to become of the ones that are left over, but I do know that there's another group of songs that all belong together already."
Taking their time, Andrews and Evian spent two months working on the record, pulling in other musicians when needed, notably Grizzly Bear's Chris Bear and Josh Kaufman of Bonny Light Horseman. "I wanted to make a record that was percussive, but in a very soothing way," she says. "I'd been listening to a lot of Paul Simon's Graceland and wanted to bring in alternative percussion, which I just love so much. I've always been cymbal averse; sonically, I find them very grating. Sam had the great idea of bringing in Chris Bear, who is such an incredible percussionist. He added so much to the record."
If there was a golden rule at Flying Cloud, it was that no sounds were off limits. "I've always been doing some kind of cut-and-dried band sound, which I love, but it was time to shake it up a bit," she says. "This time everything was up for experimentation."
The backbeat in "Older Now"? Yeah, that's a bag of rocks that Bear dropped on the porch outside. The "boinging" sound that starts off "Loose Future"? That's Andrews' voice processed through an effects pedal. "We had so much fun just being like, whoa, what kind of sounds can we get today?" she says. "To be playful, to be experimental and surprise ourselves? I think that's one of the most exciting things about being an artist. It was more like painting, in a way."
Growing up, Andrews was surrounded by art. Her mother was "really into crafts" and would sometimes involve her in that. An incarcerated uncle of hers sends her some of his paintings from prison, one of which stands on the piano to the left of where she sits. "My godfather who was an art teacher was always urging me to do more, but I think I was just rebelling a bit against that," she says. "If I was going to make art it had to be of my own accord."
In the end, it was the pandemic that pushed her to dig out a box of paints and canvas. "I'd had some really intense and vivid dreams, for the first time in my life," she says. "Such wild dreams that I felt were almost stalking me somehow, and I started to paint them."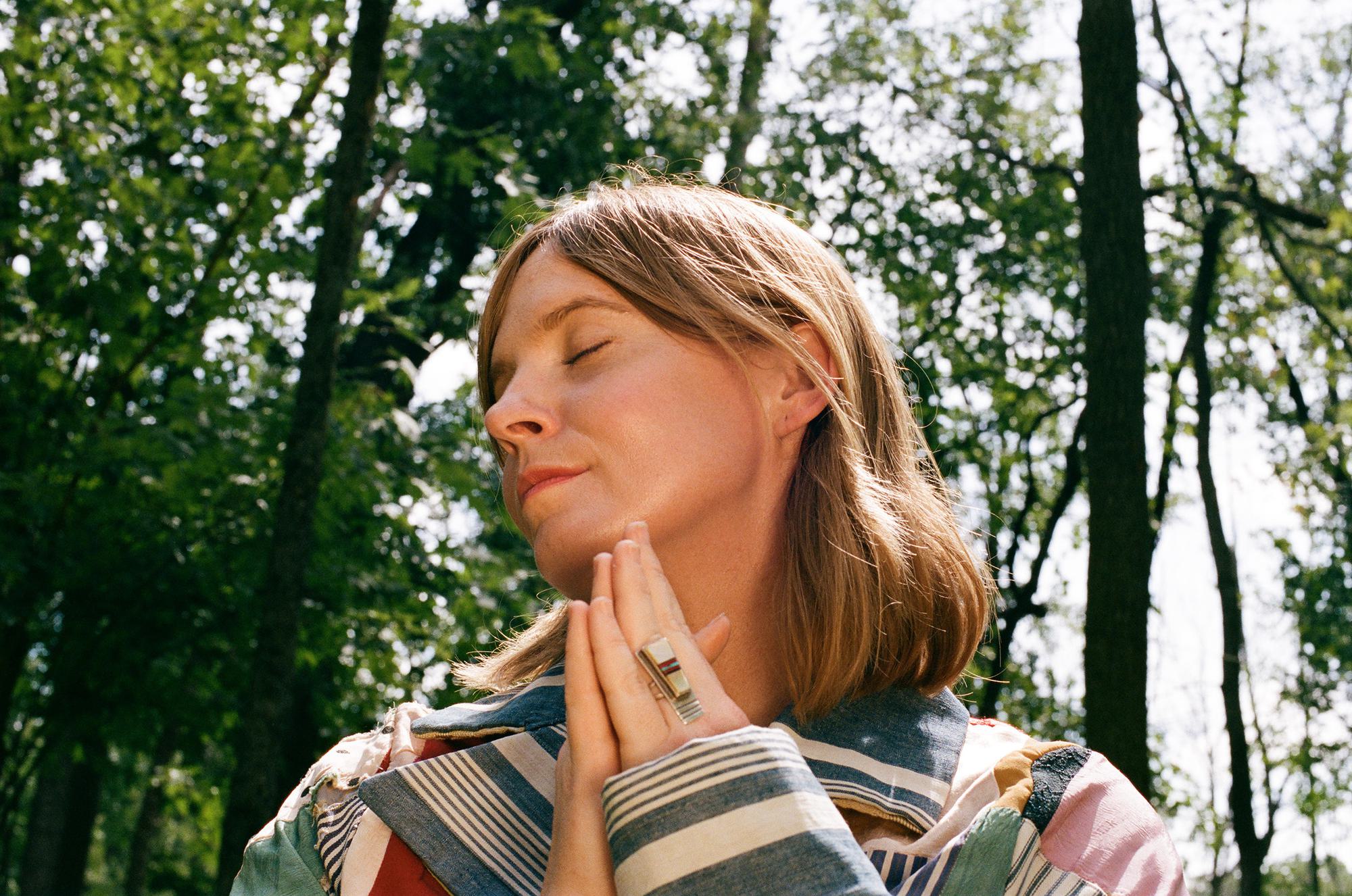 Unlike her songs, which she says are "very real life and concrete conversation,", Andrews' visual art lives in "a sort of dreamspace, kind of mythical." The flow state she described earlier with songwriting is something she feels even more strongly with painting. "Not to say that one or the other is better, it's just that painting can be so meditative. It can sometimes feel like you go to sleep and dream while painting, and then suddenly six hours have passed and you're like, oh shit, it's time to make dinner."
With a friend's encouragement, Andrews painted the cover of Loose Future herself. Each element of the painting is symbolic of something related to the songs and their creation, from the Bisbee town stairs to the triangles that represent the Catskill mountains and the window in the top left as an emblem of the future. You can almost read clockwise from the bottom right, tracing Andrews' journey from a melancholy space, up the stairs to a bright yellow future. "I love that," she says with a grin. "I love that everybody has their own interpretation of it. That's not too far off, actually."
It strikes me later that the green square in the top right corner of the painting might represent the garden she's been tending in her Nashville yard over the past few years. If one were to read it clockwise as I first thought, the garden is where you end up, just like the old monarch of the poems arriving to rest.
Perhaps that's not what Andrews intended – she says her songs, her paintings and her poems all hold different spaces – but one key thread stands out. Like maintaining a garden, being true to one's art requires patience and attention. Just as plants don't thrive just to satisfy ambitions or in debt to good intentions, art thrives through work and the time and space to grow. And, in the case of Loose Future, a little bit of sunshine can go a long way, too.