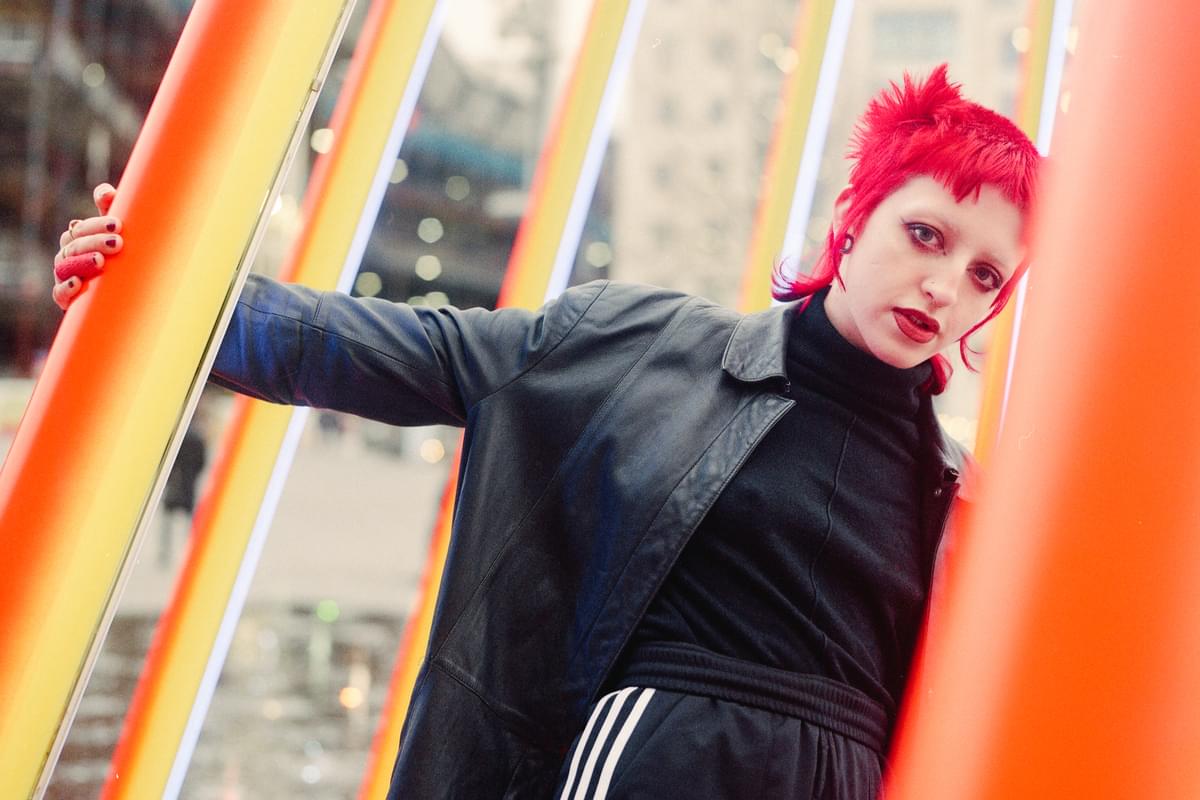 On the Rise

Cody Frost
16 February 2022, 15:00
Cody Frost has been singing for as long as she can remember. "My mum is a singer, so it was just encouraged in the household and my whole personality is just based on the fact that I sing and draw," she smiles from her home in Burnley, just outside Manchester.
Now in her early-twenties and working towards the release of her second EP later this year, her journey has been anything but straightforward, taking in tattoo apprenticeships, televised singing competitions, and make-up tutorials. But with her vitriolic new single "DWYSSWM", out today, Frost finally feels like she's on the right path.
A self-confessed child of the internet, Frost got into YouTube around the age of thirteen, uploading covers, often filmed by her best friend who "always had a decent iPhone." Although most of her videos have now been hidden to private, there are still a few takes on My Chemical Romance and Enter Shikari that showcase her impactful ability with a charmingly naïve ease. "I think the start of Gen Z are the most fucked up when it comes to what the internet did to us, becuase we were the first ones on it from a really young age and it was also very unfiltered at the time," she shrugs.
Frost taught herself piano and guitar, both as vehicles for her voice. "I would have had a band from day one if I could have, but I really struggle with organising things," she explains. Instead, she spent a lot of time in practice rooms, alone. "It was the only place where I was definitely on my own, and I could do whatever I wanted. And I was loud. I was very loud. I wanted anybody who could hear me, to hear me," she laughs.
Eventually her enthusiasm spilled onto the streets and she began busking in nearby Manchester, playing to a target of earning thirty-pounds. "I thought it was a good way to get myself out there, because I don't have tons of opportunities where I'm from so I was just trying my hardest to scream at anybody that'll have me," she says. "I didn't have a microphone or an amp, so I just used to be shouting at people."
​
A run on The Voice helped amplify her talent further, something she describes as "a very dramatic part of my life." Frost, who is open about her struggles with ADHD, found taking directions from the show's production team difficult. "I did have plenty of arguments about what I wanted to wear and what I wanted it to look like," she explains. "I learnt how to trust my own gut."
She used the show as a platform into the music industry, meeting her manager and beginning to build a team. After making it through to the show's final, her return to normal life was a shock. "Just in general, the rise to fame is so fast and then all of a sudden, you've got to go back to your day job," she says. "I don't know a person that's not struggled with that. I wish there was more aftercare."
Frost turned eighteen during the filming of the programme, and when it came to an end, she decided to take some time out to continue growing. Although she'd picked up a notable audience from the competition, she found new followers online through make-up tutorials and her artwork, moving away from cover versions. "I was tired of conveying my emotions through other people's words. I wanted to take a moment to really learn how to write music first," she explains.
Alongside learning the craft of songwriting, Frost trained as a tattoo artist and has just completed an apprenticeship after years of practising on her friends. "My friends knew what they were getting themselves into, and they were all down for it," she laughs. "It's so good, being able to go from music which is so go go go to just sitting down and tattooing."
After six years spent writing and amassing a huge collection of material, Frost released her debut EP IT'S NOT REAL last year. Produced by Dan Weller, long-term Enter Shikari collaborator and formerly of the band Sikth, his influence on Frost's creativity has been paramount. "Me and Dan are such a solid team and he really gets me and he's super patient with me," she smiles. "Oftentimes when I'm writing about something, it's frustrating for me because I'm writing about something which is weighing on my mind and he's always got time for it."
For Frost, who cites the Shikari boys and Gerard Way as pillars of influence, working with Weller has been akin to realising a childhood dream. "I probably had a poster of him on my bedroom wall," she admits. "He's worked with Enter Shikari and they're my biggest inspirations when it comes to songwriting. He must hate it. I just geek out about them all the time. But he's really good for points of reference and just in general, he's such a music explorer. Before we start we listen to loads of music and show each other the weirdest song we can find. It's good brain food working with Dan."
The songs on IT'S NOT REAL have a confessionality to them. Playing on pop tropes with a diarised vulnerability, it's the kind of tenderly engulfing stream-of-facetiousness you might get from Matty Healy. But with Frost's new material, something has changed.
Returning last year with "Berlin", her sound grew fangs, while on new cut "DWYSSWM", expansive synths and a crushing bassline meet a middle-eight that just hits. It's thrash-pop, melting sickly-sweet refrains with guttural haunts. "I've been wanting to write heavy music my whole life," she smiles. "That breakdown, I lived for it. Dan started playing it and I literally nerded out so hard. It trashes my voice because it's pure rage."
For Frost, not only does the new direction feel right, it feels necessary. "It was tough to write and it was very much me getting something off my mind. I needed to write it and it was a form of therapy. I just wanted to explore this rage I had inside me, and that's basically what we did," she smiles.
Get the Best Fit take on the week in music direct to your inbox every Friday