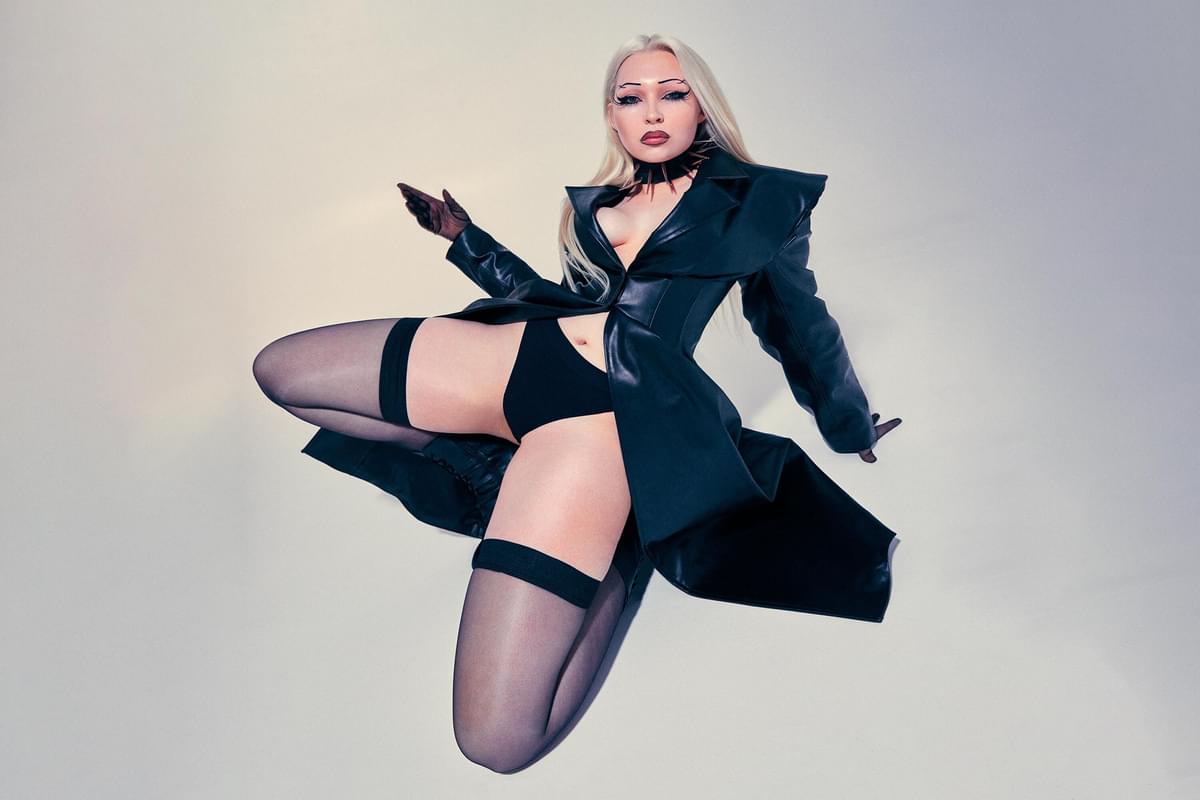 On the Rise

COBRAH
21 December 2021, 10:00
Sweden's COBRAH is bringing the disco and the dungeon together for her own particular brand of BDSM pop.
COBRAH sounds like blindfolds, the lingering gaze of strangers and the anonymity of dark, underground rooms. COBRAH sounds like skin on skin, sweat on sweat, latex on latex. COBRAH sounds like a wipe-down polythene future of alien sound design, where self-expression is the mission, sex is the language and fetish is the flavour. Every one of the Swedish artist's tracks is cut for the Stockholm dungeon, the Berlin discotheque or the NYC ballroom. With COBRAH, you like what you like, you are who you are – so let's experiment.
Her 2019 debut EP ICON was a disruptor: a vision of an unclassifiable pop future with fetish at its nucleus. Lead single "IDFKA", a sticky, oil-slicked demonstration of teeth-chattering trance-pop, was freefalling through the same oblivion as SOPHIE and PC Music, pushing for a vision most couldn't even conceive of. The beat fizzes, squeaks and pops – literally – in your ears, and COBRAH's voice is vocoder-sweet, distorted into a whole new identity. The video, of gleaming edges, mountains of animated, plastic gimps and abstract scenes of birth, won a Swedish Grammy, and her style won the admiration of pop tour-de-force Charli XCX, who performed with her in Stockholm that same year.
But now, two years down the line, with the release of her second, self-titled EP, COBRAH is shifting into a whole new year. With infectious club bangers like "GOOD PUSS", the cyberpunk futurism of "DIP N DRIP" and the sapphic anthem "GOOEY FLUID GIRLS", the EP is her most realised yet. "I think both of my EPs have been very much about exploring, and now, I feel like I've finally found the thing that I really like," she tells me. "It's all about minimalistic beats, repetitive vocals and texture." Comparing ICON with COBRAH, she feels they're not so much separate entities, as they are a continuation of each other. The difference, she tells me, is that with COBRAH, she has put so much more of herself in it: whether that be doing more in front of the mic, or the fact that, for the first time, she appeared in her own music video.
Why has it taken this long for COBRAH to put her face to the sound? "I was on a very, very low budget," she admits. Animation and digitalisation were skills she commanded that required far less money, while still exacting the subversive impact she desired. Almost everything, as an independent artist, has been sourced or managed herself. For the past three years, she could not be more hands on. She'd even self-released both EPs via her imprint, GAGBALL.
I ask her how much work has gone into spinning COBRAH's universe. She laughs, shaking her head, "Like, I can't… I can't possibly tell you, because it's a crazy amount of work. It's really hard, because not only do you have to do the music, but you also have to figure out the whole concept behind it - not to mention the visuals that go with the music you're currently writing. And then you have to execute it and find the people who can help you go that. All on a budget. It takes away a lot of energy and focus away from the music, so it's hard to go into the studio because you can never fully be present in it."
But now, as COBRAH shifts into a different realm of success for 2022, with her tracks consistently worming into the ears of hundreds of thousands every month, she has brought on a manager and booking agency, which has allowed her to streamline her vision to the music alone. "I'm excited because I possibly will have more of a budget to do things when I partner up with a label, instead of scraping my bank account, seeing what we can manage and asking people to do things for free."
But surely, this resourcefulness is a kind of creativity in itself? As much as it comes with its limitations, she agrees that thinking outside of the box is where the fun begins – but it would be even more fun to top the charts, with a mansion in LA and a few world tours under her belt, no? "I've tried this indie thing," she tells me, "and I really enjoyed it, but then I know I'd enjoy doing bigger things too. I'm intrigued by it. I'm trying to find a space where I can still be very authentic in the music and top over to some mainstream platforms as well. I mean, why not?"
The second part of stepping forward into the light with COBRAH, she says, was self-confidence. To see COBRAH's work as nothing more than club anthems would be a disservice – not to mention, missing almost the entire point. "I write for people – or, for me – to feel themselves and enjoy themselves. It's not very literal, but the way I write is that I'm trying to draw a picture of having very good self-esteem, having fun, partying and being outgoing." Through her music which is built on that foundation of self-belief, COBRAH is more than a mythology, but a state of being.
It's this self-invention as a way of fostering confidence that her involvement in the fetish scene in her native Stockholm has taught her. When she discovered that dimension of her identity, she tells me, "I was in the process of finding a space, a scene, a kind of community – finding culture, basically." At this stage, she was attending a music school in northern Sweden, which placed emphasis on pop music in a major label lens, leaving her cold with its strictly commercial interests. But when she met a photographer, who was entrenched in the fetish scene, that COBRAH found the culture and medium of self-expression she had been searching for.
She remembers: "I'd brought some clothing with me to the shoot, but it was just a PVC jacket, or something. She had a bunch of latex in her house, a stripping pole in the kitchen and a swing in the living room, so I got to try a bunch of stuff and I just really enjoy it. I felt like, 'Oh, this is something, very, very fun and exciting.'" The photographer told her about a fetish club in Stockholm. "I emailed the club saying, 'Hey, I make music. Can I come and perform?' And then, when I got there, it was very much a big revelation."
The world she immersed herself in was entirely different to the live she had led as a part-time primary school teacher by day. "People were so different to what I'd experienced before," COBRAH explains. "It was so playful it was so visual. It was beautiful." She likens the passion and self-expression rivalled only by the cosplayers at Comic-Con. "People would spend months just planning their outfits, and it's stunning when you see it. The first time, I was shocked. There's a really cool picture on my phone that someone took of me from behind, and then in front of me, there's this girl who's just naked in a full hardness with a strap-on in the audience. I fell a bit in love with the whole thing, and that kind of started my inspiration and journey in that community."
The spirit of the BDSM community is at the core of her music, even if the genre isn't a conventional choice in the clubs. "I'd say the connection between them is in the sounds of rubber and chains. It's not so much about the genre, but the soundscape," she explains. "But the essence is very much connected, and that's what I like to write about: the feeling you get is one of the most liberating feelings you can have. I found it very, very difficult when I grew up, so coming to that point where you can just relax within yourself and enjoy yourself with others is just very, very special."
"I've always felt like the odd one out in the Swedish music community... my feeling was just that people thought of me as being a bit strange."
Being Swedish, a nationality which, from the outside looking in, practises a great deal of self-restraint and modesty, it's almost oxymoronic to imagine the fetish world – and the world of COBRAH's music – operating parallel to it. We talk about the Law of Jante, the unwritten Swedish social contract which dictates the humble, self-deprecating manner with which its people hold themselves. "From a very, very early age, in kindergarten, I'd always felt something was wrong with me," COBRAH shares. "Now I want to apply for a bank loan, I have to draw my eyebrows back on and put on my glasses, to look like a proper adult. I know people would think differently of me if I wore full COBRAH drag every day. I don't have the privilege of being famous, just yet, to dress up how I want. But I'm toning it down less and less." It's no surprises that here, there are no alter egos, no personas: she's COBRAH, through and through.
She notices that shift when she leaves Sweden: at home, she can pass through parties unrecognised; in London, she is stopped in the streets. "I've always felt like the odd one out in the Swedish music community," says COBRAH. "People didn't really get it. I don't know, it felt like people didn't really believe that I did something good. My feeling was just that people thought of me as being a bit strange. But it's a fun trigger for me, in a good way, because if people think I'm weird, I want to get weirder. I really want to show them, like, 'Oh, you think this is weird? Well, watch this!' It's a good trigger not to be accepted – because if I'm accepted, I'd be just fitting in again."
It would be easy to believe that COBRAH's music is about sex, but that would be an underestimation. "People think too literally about my music," she says. "What you have to think about is 'How does she write about sex? What's the overall angle on this? How did it fit with the music?', rather than thinking, like with "GOOD PUSS", 'Okay, she likes pussy.' You don't have to be so literal about it, and people who look at it that way are missing out on the bigger picture." So, what's the intention that people overlook? "I speak about sex from a perspective of: 'I want this. I got this. I like you.' It's very dominant. There's nothing about, 'Do you really want me?' or, 'Can we do that?' It's more of an ownership of myself and the situations I'm in. People miss, very much, the dominant part of it. It's not just me being sexy from a male gaze perspective. It's me, being in my own body, and owning that image of it."
To regard her music as 'queer' is a facet of it, of course, but ultimately, COBRAH feels that to use it as a descriptor for her sound is reductive. "I think it's downsizing what it is," she tells me. "I don't like it. I think it's used too much. I think it's used by magazines that want to diversify their articles or get points for interviewing someone who identifies as queer. Some people like to talk about that, as something they feel is right for them to do, but for me personally, it's not a focus point. It's the same thing as when there's a rock band of women only, but people call them a female rock band. Like, okay, that's not the point and that doesn't matter. I think people think that they'd be less than a rock band – like, not as good, just because they're female. It's kind of the same thing. When you talk about sex or relationships, your sexuality is always going to be a part of it, but it's not the point."
"I've always raised the bar on what I've wanted to do. The fun thing is I don't really see a limit."
Perhaps the most fitting term to apply to COBRAH's music, out of all the different shapes and sizes she has been forced to try on, is 'punk'. It's something she immediately warms to. "People might disagree, but I enjoy thinking of it like that, for sure. A lot of the artists that I listened to growing up were very punk in spirit, and I hope that has reflected in me, too." She mentions Dresden Dolls, a punk cabaret band, Nina Hagen, electropunk artist Peaches – and even Kate Bush – as artists who she felt have embodied the punk spirit.
Right now, COBRAH is setting her sights on amplifying her vision. Her next project, something she promises is a "big body of work", will pivot away from her independent roots. Now, she can finally follow her music to the furthest extreme: what would COBRAH be, what can COBRAH do, now she's a bigger artist? "I want to show off, I guess," she laughs. "I've always raised the bar on what I've wanted to do. The fun thing is I don't really see a limit." What does success look like? "A world tour, hanging from the ceiling kinda thing," she smiles.
Get the Best Fit take on the week in music direct to your inbox every Friday