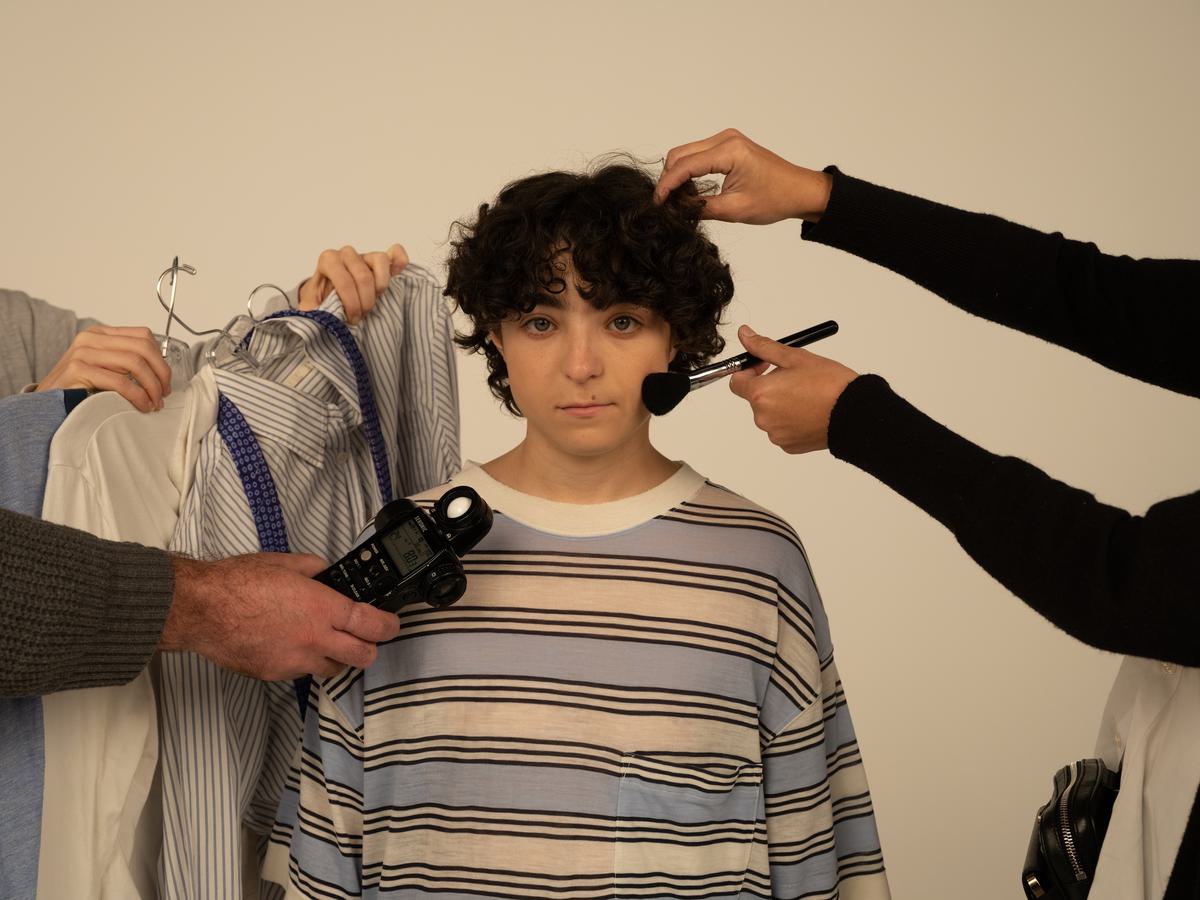 Claud opens up the pages of their diary
25 July 2023, 08:30
Growing up seldom goes smoothly, as Claud explores on their flourishing new album Supermodels. Maria Graham finds out how it all took shape.
On the day of our interview, Claud posts a smiling photo of themself on Sunset Boulevard, posing with a billboard advertising the imminent release of their second album, Supermodels.
It's a big moment for a record that zooms in on the smaller things in life, all the awkward moments and in-betweens that find their way into their diary, decorated with stickers of ladybirds and polaroids of friends dancing in their bedrooms.
"It's more like journal entries than it is like a cohesive story," says the 24-year-old of the album, which was written over a period of significant change. Life and relationships in your early twenties are confusing enough to navigate without the added complication of months spent touring around North America in a minivan, and Claud has been working it all out in words. Each song on Supermodels sounds like a conversation between close friends discussing their love life and attachments gone awry.
Spending most of their time bouncing between Los Angeles and their tiny apartment in Brooklyn, Claud draws inspiration from the fast-paced atmosphere of city streets and the interesting strangers among them. Raised in a northern suburb of Chicago, on the shore of Lake Michigan, Claud didn't grow up in a musical family. Their love for music only really began with the Jonas Brothers and the stan Twitter account they started in their teens. In 2010, along with their mother, their mother's best friend and her daughter, Claud attended their first show: a dazzling, sequin-lined Hillary Duff concert that was symbolic of the time.
A self-proclaimed "fanboy", the non-binary artist says that closely following other artists in their careers was the inspiration for their own. "I would be so moved by concerts and artists and I just naturally got into it that way," they explain.

Claud's first album Super Monster was released in early 2021 through Phoebe Bridgers' Saddest Factory Records. At the time, they were the first artist to sign to the Dead Oceans imprint, which now includes MUNA, Sloppy Jane and Charlie Hickey, and Claud remembers it being a "very serendipitous" time. Bridgers turned up to a performance in Chicago one night, and things moved fast from there. "I just felt like nobody was as tapped in and understanding as she was," says Claud.
The separation between Super Monster and Supermodels is "more like a confidence thing," they explain. Graduating to 'apartment pop', Claud has left the days of recording in their childhood bedroom behind, creating Supermodels in their own space with a vintage acoustic guitar and a wonky secondhand piano. They've also been learning the dark arts of production as well as opening up their creative process to new people, most notably Semisonic's Dan Wilson. Claud has been a huge fan of Wilson's band since high school and spent hours of their time together asking him questions. "He's like an encylopaedia of information," they say. "It was an honour to be able to work with people that I had been wanting to work with for a long time."

As it happens, Claud started writing Supermodels before they even knew they were writing an album. First came "Every Fucking Time", written two summers back and released as the lead single in May. Featuring Claud's pillowy voice over plain acoustic guitar, lyrics like "I can't believe it / when you say you love me" and "I can't believe it / but I believe it every fucking time" attempt to untangle a tricky situation. Next came album closer "Screwdriver", which Claud says was the song that made a new album feel possible. "I loved it so much, I was so proud of it, and it felt like such a step in a different direction," they say, explaining how they hadn't wanted their new songs to be restricted to any one sound. "I don't really know [how to describe it]. It's hard to say."
"Screwdriver" is a romantic ballad, something Claud isn't used to writing. The album is titled from a uniquely beautiful lyric in the song ("You caught me looking at photos of supermodels / Trying not to cry when I look back at myself") that seems to sum up the body of work as a whole. "So much of the album is about comparing yourself to other people and being insecure," says Claud, who isn't shy to admit their battles with self-doubt.

On the shimmering "Paul Rudd", they go so far as to imagine themselves as someone more like the kind of confident, happy-go-lucky characters that the actor tends to play. The kind of person who goes to parties alone and keeps their cool around an ex. After writing the song, Claud met Rudd himself by chance at a show on Taylor Swift's Eras tour and took the chance to approach him and explain about the song. Ever the nice guy, Rudd asked to hear the album and loved it, agreeing to cameo in the music video for recent single "A Good Thing", where he stars as a quirky, ferret-owning mailman. "I feel really lucky," Claud says with a smile.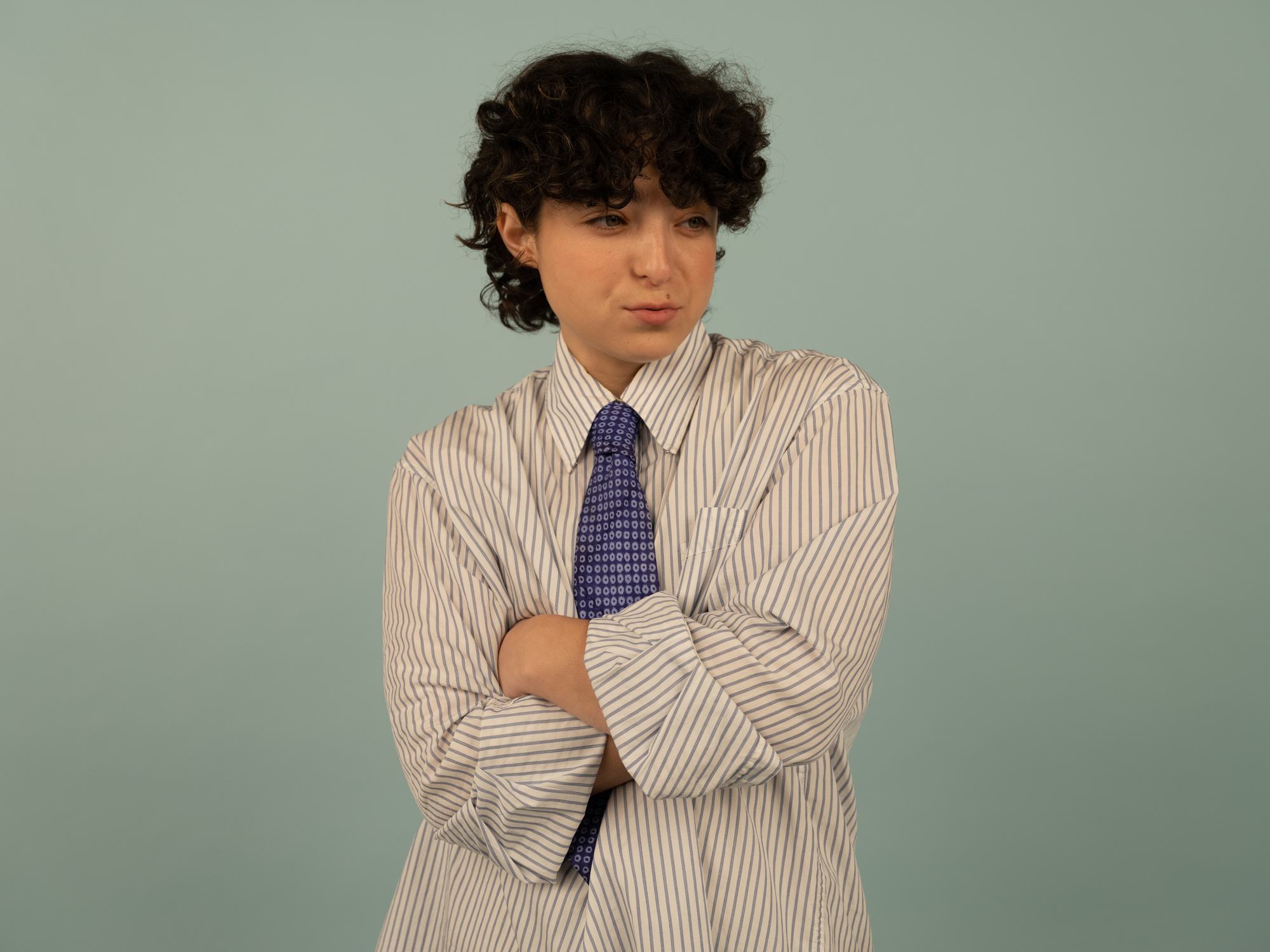 The more we talk, the clearer it becomes that Supermodels means a lot to them. Despite all the sometimes painful change it documents, the growth seems to have been worth it. "The little things are adding up," they sing on the honest and intimate "Crumbs", a strummed two-minute story about a snowed-in morning spent with a lover. "Laid out on the stairs / You're sleeping in the bedroom in my underwear," they sing warmly, letting down their guard. Elsewhere, boundaries are redrawn on "Spare Time", which reads like a confessional of sorts. "I could spare some time for my mother / I could spare my covers when it's cold for you," they sing in the chorus. "But that's as far as I'll go for you."
The bare acoustic setting of "Spare Time" allows Claud's voice to echo, giving it a hazy, intimate feel that segues nicely into "All Over", which resembles a Phoebe Bridgers song complete with more drawn-out vocals and moody strings. "Sometimes I think it's all over / When it's not," they sing in the chorus as bells softly chime in the mix, repeating the same lines as the song builds to an emphatic close. "Traumatised at 22 / I love you but I'm leaving soon / I've never been this tired in my whole life," Claud writes in their song journal, almost like something we aren't supposed to read.