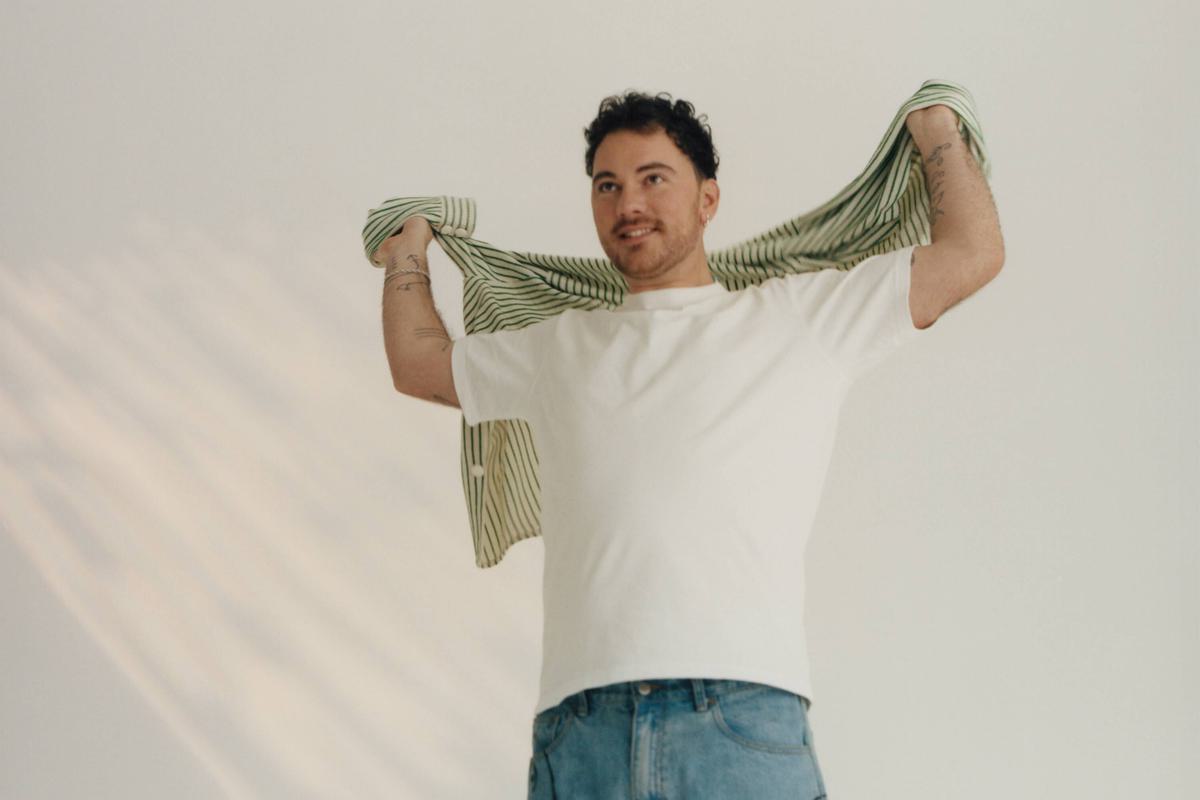 How Cian Ducrot shaped his own success
02 August 2023, 07:50
From purposefully penning a breakthrough hit to conceptualising a series of TikToks that changed his life, Cork-born singer/songwriter Cian Ducrot has been the master of his own success. Jen Long hears his story.
From the outside, Cian Ducrot's ascent may look lightning speed, but the Irish musician and songwriter's journey up has been long and self-driven. Now releasing debut album Victory, he's reaping the hard won rewards.
"To be honest, if I'd put out another song or two and it hadn't done well, that was it. I was getting dropped," Ducrot tells me from the bedroom floor of his apartment. "That's just how it works. It would have been a big goodbye from the record label and everyone around. I knew that pressure was on. It's hard to be in that situation and very scary, but also it lights a fire under you. Like, I'm gonna prove I was worth signing and I believe in myself."
Speaking via Zoom, his phone propped up in front of him as he lies back against his bed, Ducrot is both relaxed and primed. It's a week before he'll release his debut album Victory and a day before he'll set off on a rescheduled Irish tour. "I'm playing the old tour setlist and it's really weird, it just feels so strange but it's almost a nice goodbye to a lot of the stuff that I probably won't play ever again and to rooms that I won't play ever again," he smiles.
Across the duration of our call he says the word "insane" every few minutes. Whether it's in reference to the crowds he played in front of opening for Ed Sheeran, the success of his breakthrough single "All For You" or the viral TikTok choir clips that followed, it's obvious that Ducrot is still processing the last couple of years.
Born and bred in Cork, Ducrot's upbringing was deeply musical. His mother was French, a classically trained flautist who studied at the world renown Paris Conservatoire. "It's probably the most prestigious music school in the world," he explains. "It was the most incredible thing if you had a first prize. My mum has two of those. I think she's the only person in the world to have two of those in a first instrument."

As well as playing professionally, she also taught at music schools and universities. So while music was a constant practice in the house, it wasn't so much a pastime. "Obviously my mum was doing music all day, so the last thing she wanted to do when she was at home was listen to more music other than the fact she had to practise and play herself," Ducrot explains. "The moments you had away from music, you almost wanted no music.

Ducrot's father was a much darker presence in his life. Discussing his upbringing in a recent Instagram post, he wrote, "My dad was very abusive growing up both physically and sexually, my mother fought extremely hard to protect my brother and I, and to get us away from him. It wasn't easy, it seemed like everything required years of fighting and perseverance. I have my mom to thank for the person I am today."
Together with his brother, Ducrot began to gradually discover his own taste in music, from Michael Jackson to Eminem. "We started doing long road trips in France and we would listen to a lot of that music in the car with my mum," he says. "My brother would bring his guitar and we'd sit in the back and we'd sing Tenacious D songs and Metallica and random stuff. We'd always stop on the motorway and buy a new CD in the petrol station along the way and put those in and listen to those songs. It was quite random things we would listen to and discover in all different ways. A bit of a melting pot."
Alongside his burgeoning tastes, Ducrot was constantly trying his hand at different instruments, one of the benefits of having a teacher for a mum. "It's almost like finding your identity," he says.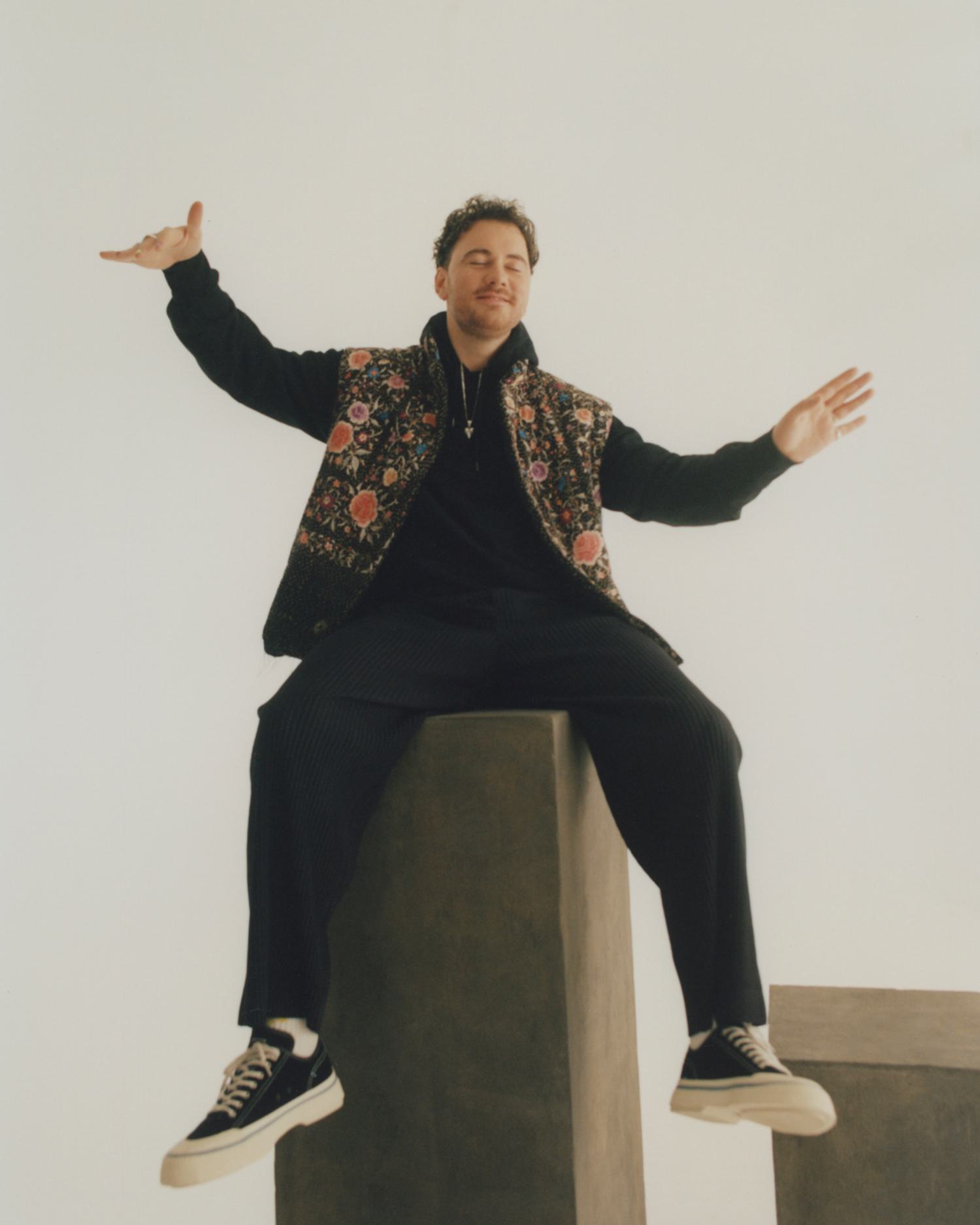 Over the years he tried the cello, violin, saxophone, classical guitar, drums and percussion amongst others. But it wasn't until he laid his hands on a spare flute at home that things clicked. "I was following my mum around the house blowing into this flute and it's very rare to be able to make a sound out of a flute, it's pretty difficult," he says. "So my mum was just like, now I have to teach him. She felt this responsibility."
Ducrot studied flute from the age of nine. At the same time he was taking vocal lessons, uploading videos of himself singing to YouTube and busking around Cork. "It's a nice easy way to make money and have fun and do something you love," he smiles. "Sometimes it was tough because your voice was wrecked from singing or you were tired or it was raining or you weren't making any money but I think it was a cool culture and I made loads of friends through it. All of my friends busked, so we just busked together."
At eighteen he left Cork to study A Levels at the Wells Cathedral School in Somerset. Two years later, he went to the Royal Academy of Music in London, but things didn't feel right. For a while, Ducrot struggled with the academic focus of the course. "You have to write essays and dissertations and all this crap that means absolutely nothing to music," he says. "At that point it's like, I might as well go to Oxford and study music. I'm here to be a flute player yet I'm being told I have to do all these essays. It's not what I signed up for."
Ducrot was also still holding on to his dream of being a pop star. "I always had that desire. I think everyone knew better than me what I was going to end up doing," he explains. "It took me time to come to terms with leaving the flute behind, in a way. It made sense to everybody - I was always juggling both things."
In the middle of 2019, Ducrot was contacted by his former vocal teacher, Gemma Sugrue. She was spending the summer in LA, coaching at an artist-intensive camp. She offered Ducrot a spot as her guest. "In a way, it was this thing for rich kids to get to spend the summer and pay a load of money to hang out with famous producers and songwriters," he laughs. "I was lucky that I got to go and basically didn't have to pay anything. Immediately I loved the vibe, I loved the energy, I loved the positivity."
The time away, working and collaborating with other like-minded musicians gave Ducrot the impetus he needed to leave school. "It was really hard because I knew how good I was and how much work I'd put in, and I knew that so many people had invested so much in me to become the next greatest flute player, he explains. "I went to LA and I had this really fun, chill time with a bunch of people who were just being creative and having a laugh. I was like, this is way more fun than I've had for the last two years. This is what I want to do even if it's going to be a much harder road. It just solidified that for me."
Ducrot left the Royal Academy and moved back to Cork. His original plan was to base himself in LA, but securing the right paperwork proved difficult. Instead he made another trip over before moving back to London just as 2020's initial lockdown set in. "That was the real beginning of the journey of being all in," he smiles.
Alongside posting videos of himself singing and sharing music, Ducrot documented his life in lockdown with his two flatmates, both of whom were also songwriters. "It was very early on in TikTok. It wasn't a thing everyone had on their phones, and people were discovering it as there was nothing else to do," he explains. "Then they discovered me."
As his following grew, so did the attention he was getting from the industry. He self-released his first mixtape, 2020's started in college, working with the distributor Believe and forming a management partnership with one of his contacts there. Ducrot eventually signed with Interscope and shared his debut EP Make Believe a year later, in 2021.
Despite his following online, the EP failed to generate the momentum he'd hoped for. Ducrot knew he needed to pull something special out of the bag. "You always know that it's just going to be one song that changes everything, and that song for me was 'All For You,'" he explains. "That started that moment where everyone started to turn their head."
A tender piano ballad, its strength comes from its confessional intimacy. Reaching the UK Top 20, the single went on to generate millions of streams and spawned a duet with Ella Henderson. It was like Ducrot had manifested his own jumpstart. "I was just so motivated when I was going to write 'All For You,'" he says. "I was like, I know it takes one song so I'm not gonna wait for that song to show up. I'm gonna write that song and I'm gonna do everything I can to make this the song that begins the change, and then it worked. It was all at the right time."
In the same fortnight, Ducrot had a session with his friend and songwriter Lauren Frawley. Driving to the gym that morning, he came up with the chorus for "I'll Be Waiting". "I'm not really a big fan of sessions and it was over Zoom, so I was keen to already bring in an idea," he explains. "So I came in with that chorus and then we wrote the first verse, pre-chorus and the chorus and I took that away and then just finished the song by myself."
The single became a global hit, surpassing the success of its predecessor. "It was insane," he laughs. "That was the moment that pushed the snowball down the hill."
However, much of the track's attention was down to an ingenious idea of Ducrot's. "I hated the trend of people on TikTok being like, 'This is a song I wrote about something,' and they would say what they wrote a song about in three seconds and then they would sing it," he explains. "It's not me or how I want to introduce my music and I think it's lame. I was like, 'I don't want to whittle my music down to all it means is one sentence.'"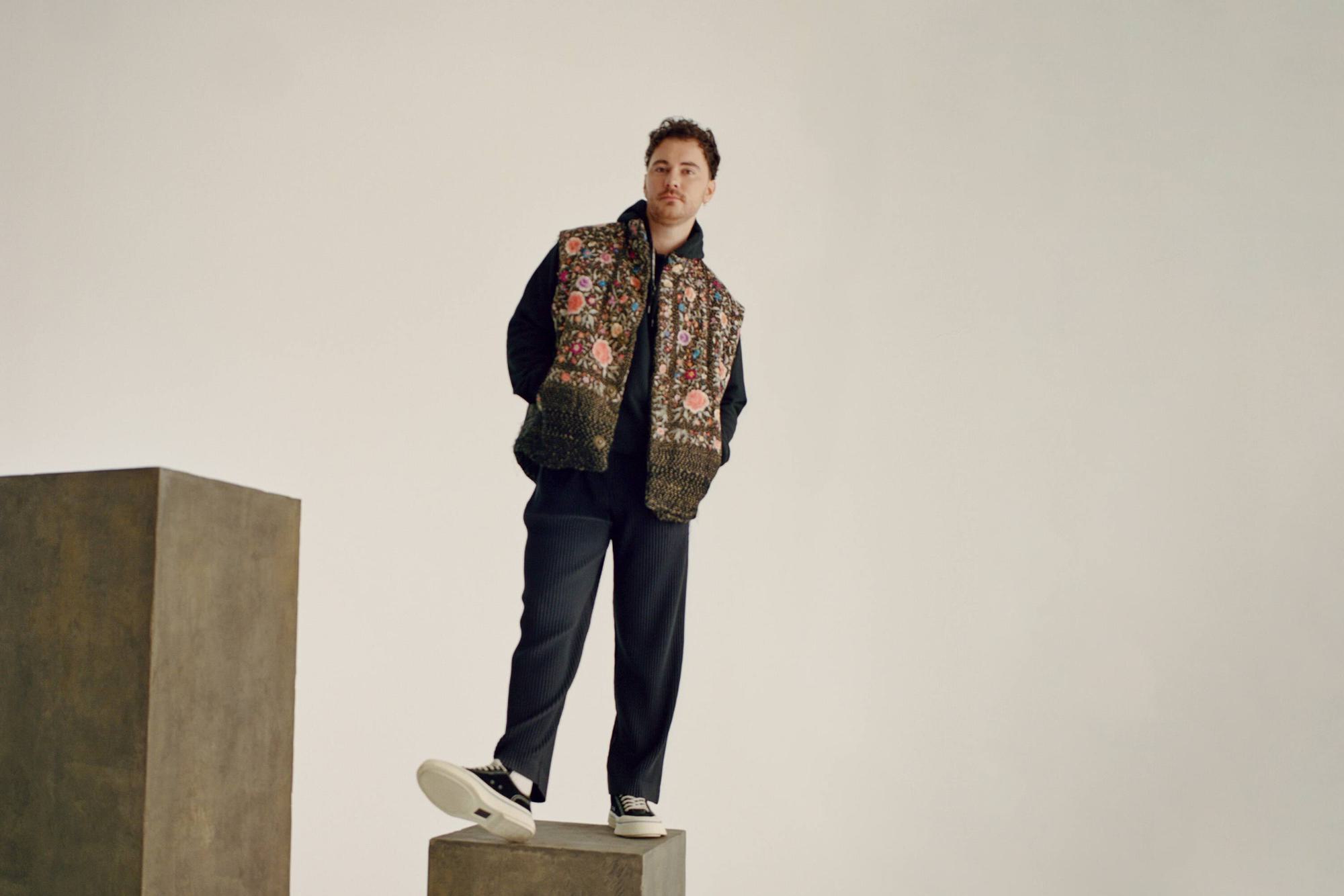 Instead, Ducrot came up with a way of promoting the single that appealed to and complemented his charismatic performance style. Having spent time recording with a choir for YouTube videos, he decided to take that moment outside of the studio. "I'd always dreamt for a long time of doing these flashmobs. It was something I'd always wanted to do and the two things came into my mind and I just had this eureka moment," he laughs. "I'm so lucky that we did, it changed my life."
Across a series of videos, Ducrot starts singing in a public space, joined by a hidden choir as the chorus comes in. They're sweet, charming and uplifting and they resonated with people in the right moment and the right way. Some of the videos have since amassed over one-hundred-million views. "I'm pretty sure we had over a billion views on all of those choir videos, it's insane," he laughs.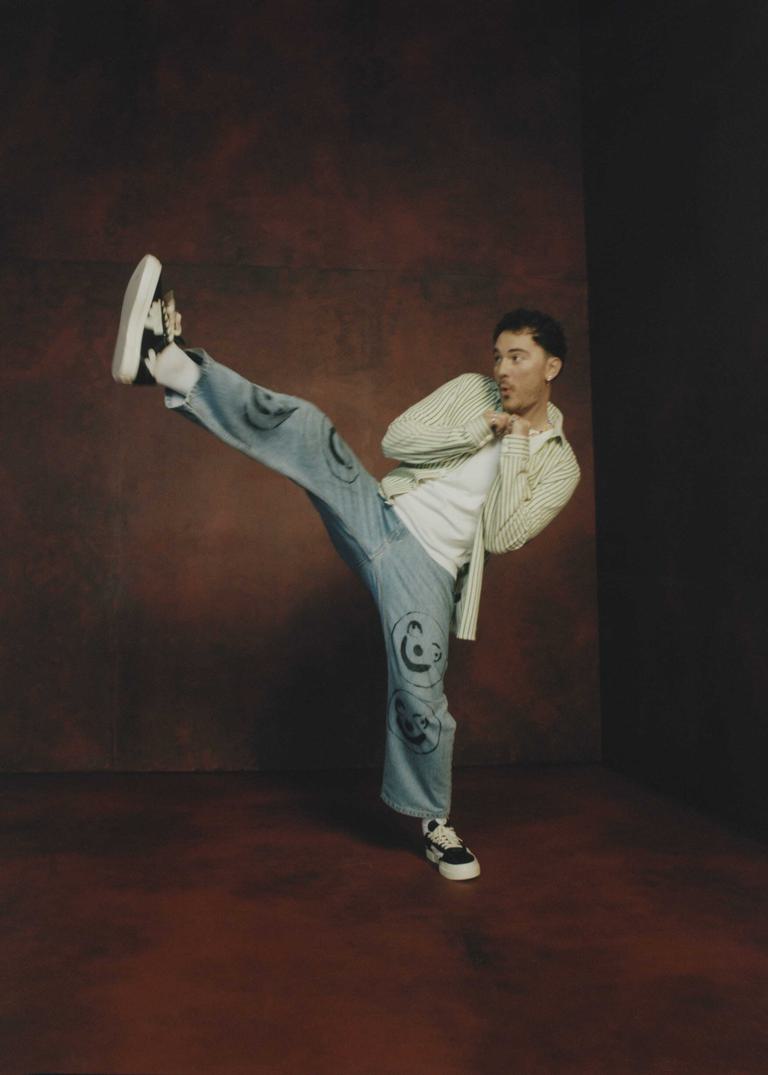 The majority of the videos were filmed on the same day across a short window in time that would propel Ducrot's career to giddy new heights. "Little did we know that those six hours would change my entire life," he says. "The very first one was actually me going up to people and asking if I can sing for them and they're all saying no. That was the very first moment that we tried to do it and that was so tough because everyone was saying no. So then I was like, I'm just not gonna ask people anymore. I'm just gonna walk up to someone and start singing or get on an escalator. That was it, the rest was history."
From that moment, Ducrot's career escalated with speed. "My first tour began last September and it's not even September again," he says, shaking his head. "It hasn't even been a year and I'm already going on my third headline tour. It's actually insane. It feels like it's been five years since I started touring, but it's been like ten months."
Adding to the momentum is his debut record, Victory, out this Friday. A culmination of everything he's worked towards and everything he's been through, many of the songs are based around personal experiences. Under the moments of bombastic balladry, his words are tender and diaristic. Consistently pairing retrospectivity with hope, across the record his storytelling and vocals are placed at the forefront of the songs and central to the production.
While Ducrot's songwriting is traditional radio-pleasing pop, it's his personal narratives that give the album a unique and arresting grip. "I've got so much to say," he states on opener and title-track "Victory", and it's a promise he sees through.
Recent single "Heaven" is a rush of instant piano hooks and explosive melody. Dedicated to his brother, it juxtaposes the darker side of Ducrot's life experiences with uplifting sentiment, while "Hurt When You Hurt Me" is all raw emotion, giving Ducrot a platform for his eloquent lyricism and elegantly rich toplines. At times there are moments of Lewis Capaldi's stadium belters, at others there's echoes of Ed Sheeran's candid delivery.
Despite the personal nature and often heavy subject matter that's addressed across Victory, Ducrot is careful in how he shares his stories. "It's something I consider, especially with my family," he says. "But it's a conversation that I had a long time ago and they're pretty open and I think my mum is like, if you can take our story and turn it into music that helps other people, that's the best outcome that could come from what we went through."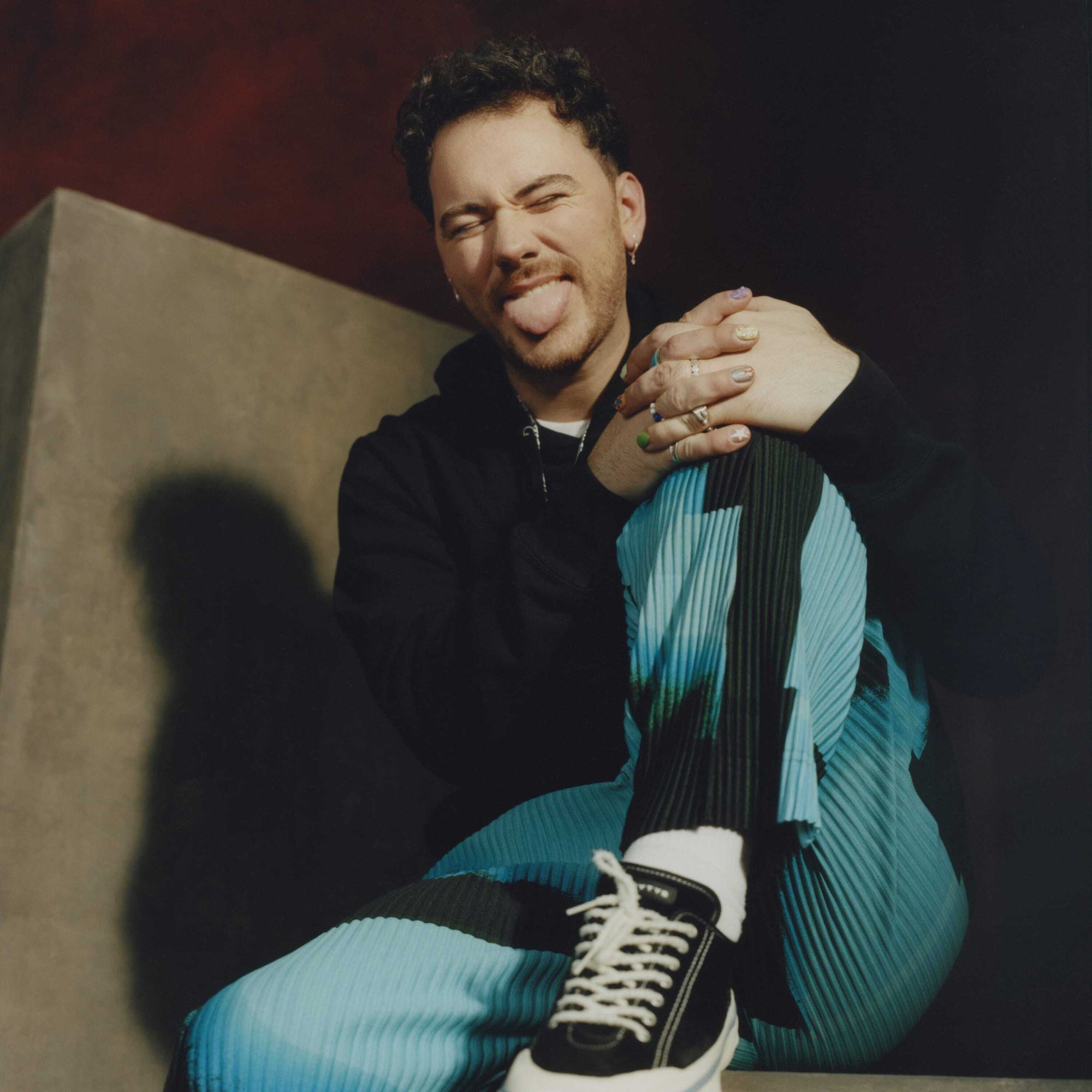 In opening up with an ever-growing fanbase, Ducrot is aware of the responses he can generate from those who relate to his stories. While he appreciates the connection, he's also mindful of how much he can take on. "There's a limit on how much you should read your DMs, it can be pretty tough," he explains. "I'm so grateful that people feel they can open up and tell me their stories, but I can't really take them on and I can't really reply. If I reply to someone, I feel bad I'm not replying to everyone else. I think the best thing is being at a show and someone hands me a letter that I can read afterwards, backstage, and it really moves me and they know I got it and they know I'm gonna read it. I think that's the most important thing."
Having been on the road for the past ten months, he still has a huge run of dates lined up before the end of the year. Ducrot recently supported both Ed Sheeran and Dermot Kennedy, and he's now gearing up to play shows of his own. "I think I'm still trying to figure out how to take it in," he says. "You don't really feel like those people are really there. It's so hard to comprehend. It's the most amazing thing to be backstage and walk out to a room and be like, all these people are here because they like my music. That is insane. You have to take that in, you have to convince yourself."
Not only is it the size of crowds that has Ducrot struck, it's the speed with which everything keeps growing. "It's so exponential, it's so fast. It doesn't even make sense," he says. "When things start to double, it doubles really fast. It's so special though. Those are the moments that you do it all for, but god is it hard and exhausting. You've gotta take care of yourself."
Thankfully, his years of training in classical performance have set him up for the growing crowds he finds himself playing in front of. "I don't get anxious or nervous before I go on stage. For me, it's like walking into my living room and just chilling. I'm so relaxed it's almost bad," he laughs. "I've performed my whole life so it just doesn't bother me. One thing I always remember, my mum said to me long ago, was it's not heart surgery so it doesn't matter if you mess up. It's so true, it just doesn't matter if you mess up. If your performance is really good, it doesn't matter if you make a mistake. It's human and everyone's there to support you."
Playing a run of shows around the UK and Ireland, including a headline date at the Eventim Apollo in Hammersmith, he's excited to perform for fans who've had time with his debut record and gotten to know the songs. "People get really emotionally attached to the ones that aren't out because they're so meaningful," he explains. "It's gonna be so amazing to play those songs when they're all out and everyone on the tour has listened to the album and knows all the songs. It's gonna be a whole different experience. It'll be the first time that I've ever played only songs that basically everyone in the room should kind of know all of them. Everything from 'All For You' onwards. It's gonna be really special, I think."
Given his track record, if Ducrot thinks something should happen, you can bet that it will. Victory should be his middle name.