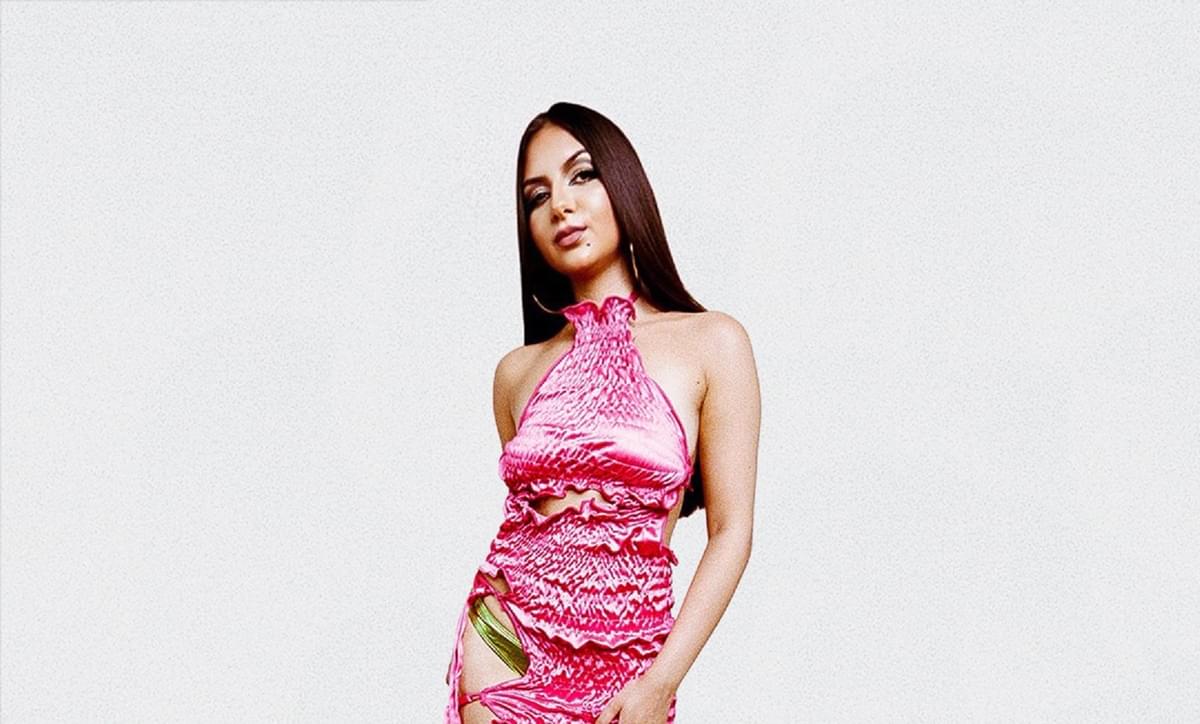 On the Rise: Chloe Bodur
01 December 2021, 11:53
Chloe Bodur bagged a Jamz Supernova endorsement in early 2021, wrote her best project yet, and still managed to flog ice creams over the summer. In 2022, the North Londoner looks set to truly ascend.
Chloe Bodur has just returned from a driving lesson. The 23-year-old's long-awaited test is looming, six days from our chat, to be exact. "It's stressful at the minute," she tells me. "Because of all the Covid backlog, I've waited a year to do it, and if I fail this one I'm gonna have to wait for ages to do another one."
If that wasn't enough, the test lands the day before the singer, songwriter, and producer's return to headline performing after a pandemic-induced two-year break. A Brighton show is the first of two this week, culminating in her set at West London's Laylow on 2 December. They mark the live debut of her November EP MAVI, the latest of her luxurious cocktail of jazz and hip-hop inflected psychedelic soul. Typified by sophisticated lyricism her sound draws on everything from The Neptunes, to Anita Barker, The Internet and bossa nova great Astrud Gilberto.
The plus-side of squeezing both milestones into the same week is that, all going well, she could drive herself to said gigs. "Well, I might drive to the London one," she smiles. "Not the Brighton one yet just because that's a bit intense." Passing would also maximise her contributions to her dad's ice-cream van business. Bodur has her own van, which someone drives to and from her spots each day in the summer months, where she works shifts on it to help her dad out. "It's quite fun," she says. "You can just put the radio on, you're in a park, the sun's out. It's nice vibes."
Her dad pivots to selling roasted chestnuts in the winter. "He's outside in the cold," she explains. "I've always wanted to get to a place in my career where he doesn't need to do that anymore." Her dad's unwavering work ethic and the financial struggles the family experienced during periods of her childhood have been formative for Bodur's wider outlook. "It instilled a real working spirit in me from a young age. I think if I'd have come from a different background I might not have worked so hard at music. I would love to live a life of leisure really, but that's not [an option]."
Bodur's family are "probably the closest I've ever come across in my life so far," she says. Growing up "on top of each other" in her tight Cricklewood home meant there was "no space not to be close. I keep trying to move out and I'll get a flat and put an offer in but then when it falls through I'm kind of relieved because I really do like being at home still."
Her dad is Turkish Cypriot, and her mum, half Irish, half Sri Lankan. However, Bodur's diverse cultural roots were under-explored in her childhood. "I guess it's kind of easier to survive in this country if you don't really talk about [your heritage] and try to fly under the radar. Both of my parents changed their names - like deed polled their names to more English ones - so that was kind of the vibe in our house. We were shying away from it, trying to immerse ourselves in British culture more."
Her dad played Turkish music sometimes at home, but Bodur's musical diet was heavier on the Chaka Khan, Quincy Jones, and Stevie Wonder enjoyed by her "old soul and disco girl" mum. This was complemented by her older cousin, producer JD. Reid (Ray Blk, Slowthai, Biig Piig, Skepta), a "big hip hop head" who introduced her to the likes of N.E.R.D and The Neptunes. "They still massively influence my production style," she says. By aged 21, however, she began to acquaint herself with the sounds and aesthetics of her heritage, including traditional Bollywood make-up and jewellery. "I started seeing the beauty in it and wanting to explore it more."
Musical palette aside, Bodur's parents' unconditional nurturing of her endeavours has been vital in her odyssey up to now. "If I've got a release they'll be like 'Oh can we hear it? I wanna listen to it,' and they'll listen to it on repeat when it comes out. If I'm ever on the radio they'll be like 'Oh, Chloe's gonna be on the radio at 9 pm, we have to listen to it, and they'll put me on in the living room and everyone will sit around." She says her mum posts more on Facebook about Bodur's work than she does. "And whenever I feel disheartened they're like 'no, you have to keep going, you're so close to where you want to be,' and they just really believe in me, which I'm really lucky to have."
School holds fewer fond memories for Bodur than home. "People weren't very nice to me about my appearance sometimes," she says. She went to a predominantly white school and realises now the role race played in their teasing. "At the time, I didn't have enough awareness and I was kind of in denial, so I didn't really understand why I was getting this stuff."
"When I was 14, I thought I was just really ugly," she recalls, a feeling that lingers in some form today. On her first three singles Bodur refrained from featuring her face on the artwork, and by the fourth, 2019's "Talking to the Walls", it was featured deliberately out of focus.
Music videos are most torturous for Bodur these days. Prior to shooting the visuals for August single "Watch Me", she vomited and throughout the day prior "was literally just having a breakdown. I was like, 'Oh my god, I'm gonna hate the footage of my face, and I'm not gonna want to put it out and it would've been a total waste of money." She got drunk to mitigate her nerves, as she did for recent single "Static Flow", a video she co-directed and edited. The latter marked a turning point, however, "I was much happier with that shoot. It's definitely getting easier," she says. She hopes next time she'll just need a couple of drinks - "and eventually it will be none!"
Bodur learned to lean on humour as a child to compensate for a dearth of self-esteem. "I still carry that with me now," she says. It's a coping mechanism not without its benefits, however. "I'm quite lippy," she explains, which translates into her lyrics. Bodur takes inspiration from the mordant tongue Amy Winehouse paired with her similarly elegant soundscape. "I am quite an outspoken person, so I think that comes through in my writing and it's how I deal with stuff. Anything that's on my mind I have to get out through music."
Bodur's university years at the British and Irish Modern Music Institute in Brighton, in contrast to her school ones, afforded her a milieu characterised by camaraderie. This allowed her to hone her live performance without fear, even if the benevolence proved an adjustment at first for Bodur. "I've been to some gigs where the band are just terrible," she explains. "And in London, people would be laughing, and I'm obviously London born and raised, so [in Brighton] I would be like giving side-eye in the crowd, like, 'is there anyone else I can give side-eye with?'. And then no one else would be giving it back to me, and I'm like, 'Am I the drama? Am I the bitch? I am being the bitch in the room.' So over time, I stopped doing that and I was like, 'it's actually really nice that everyone's just supporting this band.'"
"And that's what people did for me there as well. I was pretty rubbish at the start I would imagine." She chose to study songwriting, despite also being accepted onto the singing degree. "I just love the art of songwriting, and I really wanted to dedicate three years to that more than I did learning about vocals."
Bodur writes and produces for other artists, a branch she wants to pursue further due to the possibility it offers her to stray from her comfort zone. "I love pop music as well, but it's not something I would do [as an artist]. So, I would love to write for like the pop divas," she says. Rina Sawayama, Charli XCX, and even Dua Lipa would be top of her list.
For her own studio sessions, she's been joined primarily, of late, by her cousin JD. Reid, who produced the entirety of EP MAVI. Reid embodies an older brother figure for Bodur, which she says, can at times be tricky. "Sometimes I think he's a bit like 'I know best, let's do it this way, and I'm like 'oh I don't know, I want to try it this way. But I can never really argue with him because it always turns out so well, so I'm like 'maybe you do know best.'"
He's certainly very qualified, with a catalogue of illustrious collaborators under his belt. So much so, Bodur at one point struggled to gain access to Reid herself. "It actually took years before I got to the point where I sent him stuff and he was like 'Oh, this is sick let me produce this.' At first, he was very much like 'I'm busy, I've got all these big paying jobs.' I used to send him stuff and he would be like 'yeah it's good, but keep writing, keep writing.'"
She's happy her bloodline didn't give her a leg up though. "I'm glad that he did that because it pushed me, it really pushed me." On the other hand, the familial bond they share has assisted the creative process for MAVI. Growing up so close means he absorbs her musical references seamlessly. Additionally, "I was just crying in the bloody studio for 90% of making MAVI," she admits. The session for "Away", the first track they made for the project, was almost cut short after Bodur arrived at Reid's to record vocals for a separate upbeat track, upset. "I was going through a really hard time, and he asked me if I was okay, and I just broke down and was ready to go home." They spoke for an hour and Bodur cried before Reid suggested they channelled the feelings into a different song.
"He just handed me an acoustic guitar and was like 'Play something'. And I was like, 'I can't play guitar,' and he was like 'Yeah you can, I saw you play a half-hour acoustic set when you were like 17, so don't say you can't do it. I know you can.' That was the first time I was like 'oh wow, I was able to make something beautiful out of this horrible feeling I've had today, and since then, I've been like 'That's what I should turn to in these moments.'
MAVI translates to 'blue' in Turkish. The project, Bodur says, reflects her "bluer reality", the opposite of an Instagram highlight reel. "This EP has been such therapy for me, compared to the other releases in the past. It's just been really cathartic getting out all of these feelings that I had, not knowing how to communicate them properly, being able to make something beautiful out of that dark, horrible pain, and being able to play it to people, and having them understand what I was going through via a song."
Bodur has struggled with her mental health, which she links particularly to a year spent in a university flat without heating or electricity. "That was a tough year that made me develop a lot of quite bad habits that led me to suffer low mood quite a lot. The years since have just been me trying to unlearn those patterns."
Whilst she's largely better now, she still grapples with a notion that she's falling short of her potential. "I definitely struggle with it and sometimes it is frustrating that I'm not the person I want to be yet because I just feel like I don't have the energy." As well as music videos, the pressure to create an infinite stream of TikTok and Instagram content as an artist is one she struggles with.
Thankfully, the music she's making is one element where she feels positively fulfilled. "Especially with this project. I don't think that where I'm at in my life, at my age, I could've made a better one right now."
The EP rounds off a defining year for Bodur, which began by being named as one of Jamz Supernova's Artists To Watch 2021. Two months ago she left her part-time office job and is now an HMRC validated full-time musician. "Jamz doing that really changed this thing in my brain where I was like, 'OK, damn, I'm gonna go for this now.' That's why I've been doing the music videos, I've been doing the visuals, I did an EP in November last year, dropped another one now, and I've got another one ready to go for the first half of next year as well. I'm not taking my foot off of the gas."
Bodur actually first encountered Jamz a few years ago at The Great Escape festival, as a plucky first-year student. "I gave her like the world's worst business card ever, that I had made. With [a picture of] me drinking a cup of tea and my email written on the back. And I remember saying to her like, 'When you look through your cards at the end of this weekend, remember that this terrible one is mine', and she was laughing. Jamz said it quite a few times on the radio, that she remembers me coming up to her," she laughs. "I must've been like 'Oh my god, hi!'"
The pinnacle of success for Bodur would simply be to play a big stage with her band. "It doesn't have to be, you know, the bloody Pyramid stage at Glastonbury. But, kind of like Solange, the way she does her staging, and yeah... I don't know exactly, in my dream space I just see me and my band up on stage doing that. And I just want my music to reach people."
Unlike many fledging artists, she and her band are seasoned live performers, having played together for five years, and Bodur doing in excess of 50 live shows to date. "I feel like if a song ever did blow up and it had to be performed on a big stage, we are more than ready and prepared. We are ready to go," she smiles.
"Obviously it would be lovely to win a bloody Grammy or a Brit award and get these things you dream about as a kid. I'd love to do Jools Holland and stuff like that as well." None of it seems insurmountable for Bodur, but still, she plans to work in her ice cream van next summer, hopefully with a driving license in tow. You get the sense that even if a Grammy win were realised, Bodur would still be ready, scoop in hand to help out her Dad on the busy weekends. "Yeah ... maybe I could wear a mask or something?" she laughs.
Get the Best Fit take on the week in music direct to your inbox every Friday