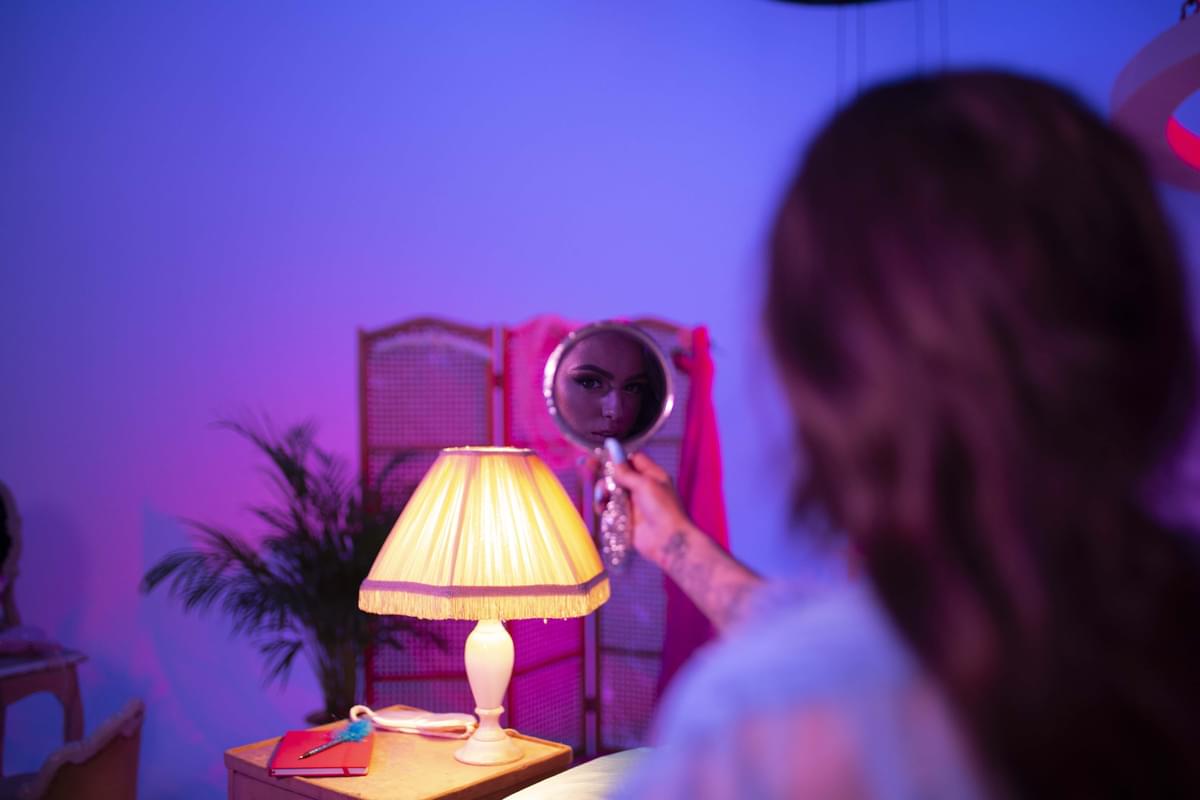 Cher Lloyd is bigger than the bullshit
04 May 2020, 07:30
"Oh, please! No, I'm definitely not into that!" she exclaims, disgusted by the very idea. Her quarantine experience does, however, sound wholesome in its own way. Daughter Delilah-Rae is keeping her "very busy and on [her] toes", whilst the whole family enjoy the sun and solitude in their back garden.
"We've gone out for walks a couple of times, but it's a bit eerie, isn't it?" she observes. "I think it can be quite scary for a very small child."
Of course, Lloyd's daughter isn't the only thing keeping her occupied. Her new single "Lost" debuted just last week, and in the accompanying video she appears nothing less than the perfect popstar. This is an accolade hard-won over a decade of invasive media scrutiny. 2020 has forced Lloyd to release a track without making a single public appearance. This could be seen as both a blessing and a curse for an artist whose life has often been shaped by the cruel voyeurism of the British media.
"This is the first time I've ever released a song and not had to leave my front door!" Lloyd laughs. "If I had shot the video a week later, we wouldn't have been able to do this. It was always pencilled in for this date, so we thought, 'let's just go ahead with the plan.'"
"Lost" is far and away the strongest release of Lloyd's career to date, blowing those who still reference "Swagger Jagger" as a career high out of the water. The new cut sees Lloyd embrace languid balladry as a vehicle for a surprisingly hard-hitting lyric. It's still slickly produced and radio-friendly, but there's a heart and soul to it that many mainstream stars would struggle to match. Lloyd puts this down to the fact that she is now able to be at the forefront of the creative process behind her tracks.
"I found it so important that I spearhead all of it," she says, firmly. "I'm co-writing a lot. It wouldn't be authentic, and I just don't think that I would be a good enough artist, or be doing myself any justice, if I took a bunch of songs that were written for other people and ended up singing them. It's so important that I'm the leader in all of this."
In terms of authenticity, the one question "Lost" raises is how Lloyd – happily married since 2013 – has ended up singing about a breakup. She's quick to explain that that the track is about significantly more than it first appears: "Although you can listen to 'Lost' as if it's about a romantic relationship, it wasn't necessarily that for me," she explains. "I had relationships with certain people in my career that I had to take a step back from, and get the strength and the courage to be like, 'no, I'm good on my own, and I'm not going to be lost when you're not around – if anything, the opposite!' That was the message for me when I wrote this song."
What Lloyd is referencing is, doubtless, the cabal of industry professionals who shaped the early years of her career following her reality TV debut. Whilst she's tactful in her phrasing, it's easy to understand why she might harbour an ounce or two of justified resentment. Indeed, Lloyd felt the lukewarm reception to 2014 album Sorry I'm Late was largely due to Epic Records' failure to effectively promote her music.
"It's not been the easiest of rides for me," she admits. "I was completely unsigned and ended up releasing a song on my own – super hard – back in 2016. It was really difficult. I found myself not really knowing where I was, then I started to really write. Like, write properly, in a way of having full control and knowing what I was doing. Luckily I found a great management company, and ever since I've teamed up with those guys I've found my feet a lot better. I feel a lot more supported and able to take risks and make bolder decisions."
One such risk, Lloyd tells me, is the extremely lockdown-appropriate video that accompanies "Lost". Filmed in one take, the visuals' pastel tones crystallise a surreal – and glamourous – vision of quarantine, something Lloyd insists was a total coincidence.
"I didn't know that all this was going to happen! It's all shot in one take in a bedroom, and couldn't be more appropriate. Although my bedroom does not look like that, and I definitely do not look like that! That whole look takes commitment, and right now I'm just throwing my hair up in a messy bun and keeping my pyjamas on!"
Despite noting the contrast between her daily attire and the rhinestoned corset/feather-edged robe ensemble of the video, Lloyd still feels vulnerable sharing the glamour puss vision of herself with the world.
"I'm so nervous, because I've never worn anything like that in my life!" she exclaims. "I certainly didn't think that I'd choose to wear it after having a child. I do look back on how self-conscious I was then, and how I didn't want to wear certain things, and I'm like, why didn't I just go for it? I had no stretch-marks on my legs and on my bum, my stomach was so flat! Now, so what? We live once, I'm just going to go for it."
Lloyd credits director Raja Virdi for how comfortable she felt during the filming process, having worked with him last year to create the visuals for "M.I.A.":
"He makes the whole day so great and enjoyable, which is what this is meant to be," she gushes. "I'm living my dream! I'm meant to enjoy this! That's what he enables me to do, and not only that, he's super talented – amazingly talented. The video is exactly what I had envisioned. It couldn't have gone any better."
"The song is the leading thing...it doesn't matter how much you want to dress it up, chuck a load of great drums on it, or do this new cool thing production-wise; it's about the actual song."
What Lloyd had envisioned was the single-take format the video successfully achieved, something she is rightly proud of realising to such a professional standard. I ask how long it took to get the take that was released.
"We had four takes," she replies; an answer that hinges surprisingly heavily on the logistics. "The reason for that is because in the video I break a vase – I just throw it off the bedside table – and we had limited breakable vases on set! It got to the third take and they were like, 'we've only got one more left.' I was like, 'well, this is it!' I spent the whole day getting ready to do four takes, and then we were done!
"It was a bit of a crazy idea on my part," she continues. "I don't know what I was thinking! It was the most simple video I've ever done, but the hardest. I just wanted to shoot the whole thing, not stop and start and do different things. I wanted it to be authentic, and to not have to hide behind everything and make this absolutely perfect, polished video flickering between scenes. I wanted the song to be at the front of all of this, and the message and my attitude to come through. That's what I feel like we've achieved on this video."
Lloyd is committed to the idea that her songs should stand alone, free of any gimmicks.
"The song is the leading thing," she insists. "It doesn't matter how much you want to dress it up, chuck a load of great drums on it, or do this new cool thing production-wise; it's about the actual song."
The video of "Lost" is beautiful and beguiling but the track itself – even were you to strip it of the twinkling production wizardry – is a bloody good pop song. It's no surprise, then, that Lloyd finds herself taking inspiration from some of the greatest songwriters of recent decades. Her influences span genre in exactly the way you'd expect from an artist who once mashed up Elton John and Eminem on national television.
"Growing up listening to Dolly Parton, I got my inspiration for writing songs that actually tell a story and have a meaning," she says, when asked which artists help to stimulate her creativity. "On the flipside, I love Nicki Minaj because of her delivery, her attack. When she delivers, she can almost sound angry, and then she can sound really soft and delicate – it's the different shades that she's able to put on a record. Of course, they're worlds apart, but that's the beauty of music. There are no rules, and we are at a time right now where it's not just one specific genre of music getting on radio or being top of the streaming charts. We're open to everything, and that is so great."
Lloyd credits social media as playing a huge part in our current acceptance of such varied musical styles, noting one platform in particular that has stuck out to her in recent months: "I'm just starting to get my head around his whole big, big movement with TikTok," she says with an earnestness that belies the new app's irreverent nature. Nonetheless, she continues: "Music building a buzz on TikTok then making its way into the charts has been a huge eye-opener to me. 10 years ago we didn't have all of this. Streaming was just starting, but now it's huge. I've seen it all evolve and change. Nobody really makes physical copies of the single anymore. It's crazy to me that I've been around that long, really."
She laughs with me as I lament how little I understand of TikTok – I barely managed to grasp Vine before it was nixed in 2017. Like Lloyd, I am in the latter half of my twenties, and the unintelligibly Dadaist comedy shorts of TikTok often fall far outside my realm of comprehension.
"D'you know what? I can relate to that so much!" she admits. "The thing is, you will end up making an account and you'll tell yourself, 'I'm not going to post anything, I'm just going to watch them. I'm just going to flick through.' But then it traps you in! You find yourself sat there for hours flicking through all these weird and wonderful – and sometimes too strange! – videos. You're trapped!
"For me as an artist now, I feel like I should be on a platform like that," she adds. "That's why I signed up –for the reason that I think it's cool that my fans get to see me in a different way. They maybe get to see me silly and a bit mad, rather than in the serious light of releasing music, glamourous videos. I still feel I'm not 100% sure what I'm doing!"
When it comes to viral content, though, Lloyd stands head and shoulders above most of her peers for her brief cameo in one of the funniest British memes of all time. For the uninitiated, now would be as good a moment as any to search "disgustang" on KnowYourMeme.com. Lloyd, however, knows exactly what I'm talking about as soon as the subject is broached.
"Oh, those poor girls! Oh, God, the song and everything. It's hilarious."
I have to wonder, do people still regularly reference it to her?
"Yeah, quite, a bit," she says, with sportsmanlike good grace. "I still find it hilarious," she continues, adding: "Could you imagine a collaboration? Could you imagine it?"
I suggest that she ought to get them on TikTok sometime?
"It would be hilarious."
So, when Lloyd isn't trapped in her home making TikToks, what do her plans look like for the future? It's been six years since the ironically titled Sorry I'm Late, and there have been whispers for months now that a full-length follow-up is finally on the horizon.
"An album is definitely on the cards," she confirms. "We're definitely working towards that, I just don't have a timeline. Especially right now, just because none of us know what's going on. I have the material. I'm confident that I have enough to fill a great album that's going to show me in the way I should have been shown from the very beginning."
"There's not a day that goes by where I don't go online and see a media outlet trying to pit one woman against another."
Again, Lloyd finds herself making an oblique reference to the beginnings or her career; a time in which she found herself grievously misrepresented as a bratty ex-reality television contestant, rather than diligent and determined. Her Traveller heritage drew ire not only from the tabloid press, but from a public who – even to this day – generalise the community in a harshly negative light.
In Lloyd's eyes, being part of the Traveller community was not the only reason the media saw fit to scapegoat her, saying that gender "massively" plays into tabloid celebrity coverage to this day.
"There's not a day that goes by where I don't go online and see a media outlet trying to pit one woman against another," she observes, sharply. "I see it all the time. It's not like, 'oh, let's commend these women for their success and their strength,' we just pit them against each other or point out the flaws. Why?"
She continues, allowing herself to sound a little hopeful about the current trajectory of such things: "The most incredible thing is happening where us as the younger generation – and even the older generation – are now saying, 'd'you know what? We don't want to see that anymore.' Because I have a daughter, I'd hope to see a bigger change in the way that women in particular are treated in the media. I still see articles about celebrities – if you like to call them that – that I think are damaging, and mean, and unnecessary. I can't say that we're 100% there yet when it comes to taking people's feelings and mental health into consideration.
"If I see a crappy headline, whether it be about how someone looks, or painting someone in a bad light, I just don't click on it," Lloyd adds, decisively. "I don't get sucked in by that negativity about someone that I don't personally know. I think that's why reality TV is changing now, because we don't get sucked in anymore. We don't want to do that."
When it comes to coverage of Lloyd herself, she agrees that there has been "a huge shift" in the past decade. It's hard to feel wholly appeased by this, however, given that, two years into her career, she felt the need to make a trans-Atlantic relocation in order to start anew, free from the baggage of her X Factor beginnings.
"I chose to focus on music and not get sucked in by it and try not to react," she explains, "Fortunately, I have such a great support network. My husband has always been so incredible – a complete rock. When I was down on my luck and everything was going really shit, he was always there. I've been lucky. Other people aren't so lucky."
In light of her own experiences, I have to ask: how would Lloyd react if her daughter voiced a desire to follow in her shoes as a popstar?
"Who am I to stop her?" she responds, so quickly as to almost seem defiant. There is a pause, though I can't see her, I can almost feel Lloyd's steeliness down the phone line. I wonder if I've overstepped, bringing her daughter into this charged conversation, but then she softens:
"I'm her mother, I am there to guide, but I will never get in her way. Of course, I would be anxious, and I'd have concerns. If she came to me and told me she wanted to be an astronaut, well then, that's what she's going to be. I will help.
"My mum and my dad never, ever stopped me," she continues. "People would call me crazy, because even as a young child I'd always say, 'I'm going to be a popstar.' I remember someone else in the family saying, 'well, that's really unlikely. Why don't you get an idea of what else you could do, just in case that doesn't happen?' I'll never forget my dad turning round and saying, 'we don't make plan Bs, because plan A will work, because we'll make it work.' I love that. That mindset is exactly what pushed me to believe in myself and achieve my goals. I feel like I'm doing my best to carry that on."
It may have taken a decade, but Cher Lloyd is finally releasing the music she deserves to be making, and it's all on her own terms. As we wrap up, I can't help but observe how impressive her commitment has been to battling through everything, and to come out the other side making truly great pop music.
"I think I've always had that in me, from such a young age," she remarks casually, the shrug is almost audible despite our distance. "I just think the music's so much bigger than the bullshit, you know? If I can make the music live then I've done my job, and all of the crappy little things that might get said about me will die. Those things will go away, but the music will live, and that's it."
Get the Best Fit take on the week in music direct to your inbox every Friday