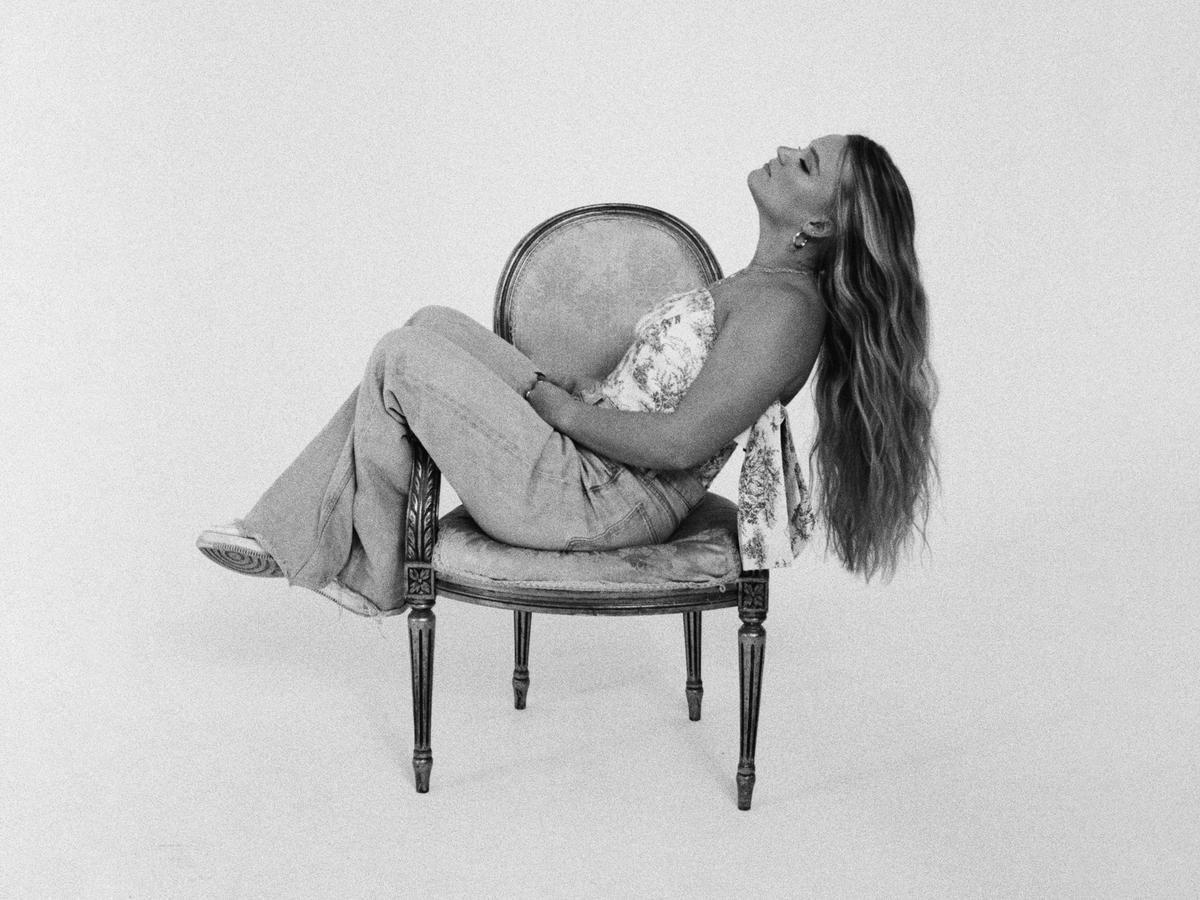 On the Rise

Charlotte Jane
16 April 2021, 11:00
Even as the world around her changed, Charlotte Jane held onto her passion for music and performing, seeing her childhood dreams through.
"They're just rock and roll stars to me," laughs Charlotte Jane down a morning Zoom line from Stockholm where she's waiting for a writing session to begin. "They'd just get up and play anywhere that'd have them."
Charlotte is recounting the leisure pursuits of her grandparents who moved to Spain when she was young and spent their free time performing soul classics at bars and open mic nights. As a child, she would join them in rehearsal and on stage, without permission she adds, cementing her early love of music and performing.
"My grandma would teach me how to harmonise and I'd do the backing vocals and they'd do me like a two foot high microphone and I could join in," she smiles. "I would put the lyrics on the stand, put the little reading light on and then I'd just stand at the microphone and sing, and that's how I learnt loads of older tracks; Tina Turner, Aretha, Otis, because I just wanted to. There was definitely a part of me that liked performing but from the earliest point it was just for me, there was no one else in the room. That's something that's never gone away. It wasn't all about being on stage, there was a very internal thing going on as well."
Charlotte is now twenty-two and released her debut single, "I Tell Lies" in 2019, although the journey to finally putting music out into the world has been a test of endurance. Charlotte joined the Voice in a Million choir in her early teens, performing at large arenas around the UK and channeling her creative energy into developing her path. And then at fourteen, her parents moved to Singapore with work and she found herself in a country with no obvious network for young, contemporary talent. Instead, she struggled to fit in at a fiercely competitive new school. "I'd come from Hull and gone to Singapore and they couldn't be more different," she explains. "If I talked in class it wasn't the teacher going, excuse me, don't talk in my class, it was someone next to me going, 'Will you shut up? I'm trying to listen.'"
She began to write songs in her bedroom as a way of catharsis, longing to be back home with her old friends. "My plan when I was growing up was, turn sixteen, go to BRIT, be Adele. I had it all mapped out and it was a flawless plan," she laughs. "And then after two years in Singapore I had it in my mind, I'll just move back to Hull and be so happy. And I'll just move back to my old school and everything will go back to the way it was and that's what I'll do. So I moved back to the sixth form at my old school. Wasn't the same, I'd changed a bit. So that was a bit of a shock to the system."
She kept writing and performing whenever she could until a family friend offered to introduce her to Paolo Nutini's manager in the hope he could lend a little advice. He ended up taking on Charlotte as a client. "He was quite drawn to my story of my grandparents and how I found music because it was quite similar to Paolo's story," she explains. "We went down to London and met with him at the St Pancras Hotel. It was like, woah, where am I? We walked through the main bit then we went through a secret door and down all these secret passages into this members only bit and I was like, THIS. IS. IT."
Charlotte began to spend her spare time travelling to London and Surrey for writing sessions, developing her ability to collaborate with others. After sixth form graduation her management team and parents surprised her with a trip to LA to meet with songwriter Toby Gad, the pen behind tracks like John Legend's "All of Me" and Beyoncé's "If I Were a Boy".
"I'm quite good at keeping my composure and holding it together and brave facing stuff but I remember being sat in the car outside that session and I couldn't stop my hands shaking," she says. "We chatted and then he was like, can you play for me? And I was like, errr yes?" Gad offered her a publishing deal on the spot, a moment which changed the course of Charlotte's burgeoning career.
She began to release music, picking up huge shows across the summer of 2019 with Jess Glynne and Lewis Capaldi, who reckons she's on course to be, "One of the biggest fucking things in the world." Her first EP, Nowhere To Hide, is a collection of instant and heartfelt downbeat pop, Charlotte's voice a gripping centrepoint to the productions. "I felt like I had to be very in your face like, 'Hi, I've arrived, listen to me, I can sing this high, how good is that?'" She laughs. "When I perform live that isn't the case at all, everything's super stripped back, completely bare, and the songs still cut through. I learnt from that."
Charlotte's new EP Refuge is an elegant and mature journey kicking off with the instant and direct harmonious plea of its title track. Lead single "Get it Right", penned in her single days, is simple yet striking, an emotional polemic against the monotony of dating. The remaining tracks find Charlotte now coupled up, uncovering new trials and traumas in her romantic life. "Baby Steps" is a sultry and confessional introduction to navigating a relationship, while "Reassure Me", which features Jordan Mackampa, gives honest insight into the fears and fragilities that develop. Across the EP, rich production supports Charlotte's immense voice while dynamic construction allows it to ebb and flourish.
"People don't want to admit there are rough and ugly parts to being with someone else but that's kind of the beauty of it as well. When things aren't so simple, that's probably when you get to know each other the best. It really makes you realise if there's anything that's not completely great in your mind because it's very exposing," she explains, stopping to consider her point. "I always find something negative to talk about."