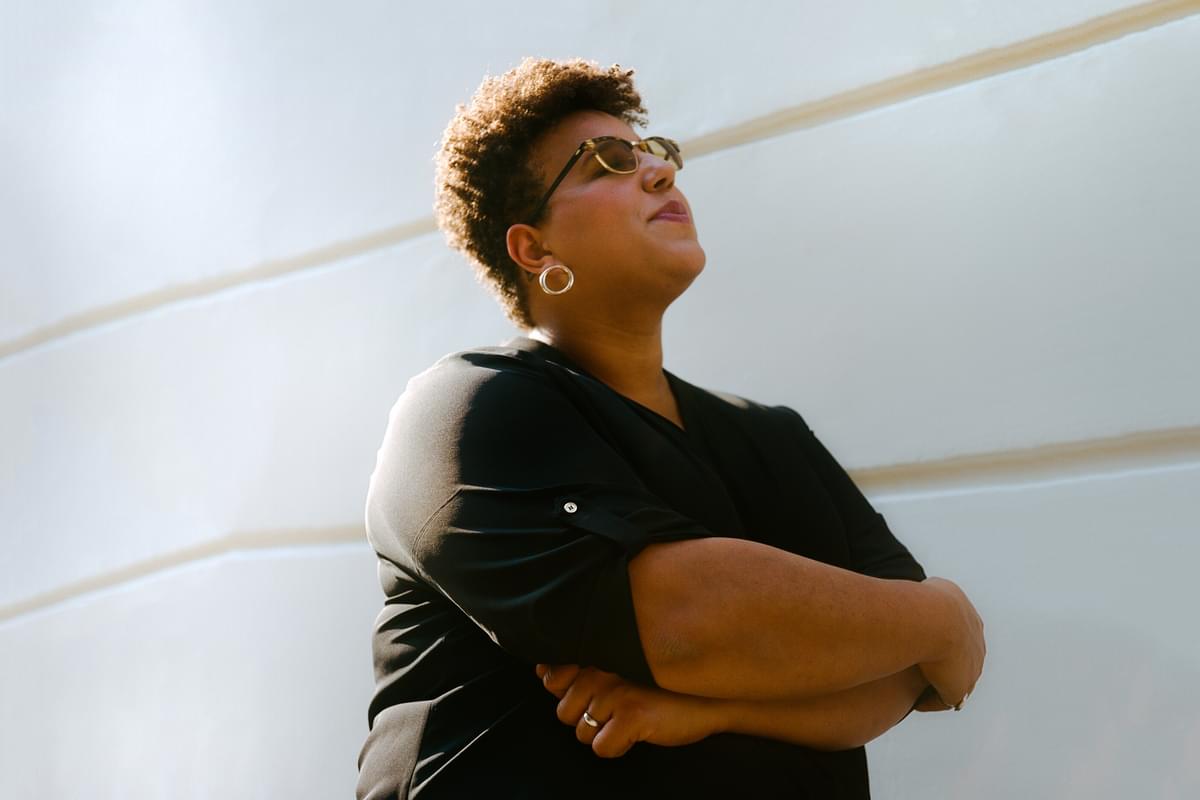 Brittany Howard: Staying High
17 September 2019, 21:07
Since turning 30, Alabama Shakes frontwoman Brittany Howard has recorded a debut solo record and is giving less f*cks than ever. She tells Jack Lloyd why she can't recommend it enough.
As the sun settles in rural Alabama, tractors idly cruise down country roads past fields and creeks, deep into the hills while passing the occasional junkyard or farm, some of which owned by local residents Christi Carter Howard, KJ Howard and their two daughters Brittany and Jaime.
Perched high up on a hill both of Howard's parents would work, unbeknown to them that their surroundings would unlock a world of creativity and adventure. It was here, between the beat-up cars and the farm animals, that their daughters would play and run carelessly through woods allowing their imaginations to come alive and shake the sleeping spirit of Athens.
Jaime would take her younger sister by the hand and teach her how to draw and write poetry, revealing to Brittany her adoration for the arts. Things would take an unfortunate turn as Jaime suffered from a rare cancer of the eye and eventually died from the disease. This led to Howard carrying her sister's passion for creativity and subsequently using it as an outlet for her own.
Keeping to herself mostly, Howard would lock herself away in her bedroom and listen to records by Dionne Warwick and Elvis Presley, meanwhile jotting down her own song ideas. Both her parents never really knowing the full extent of her passion for music until years later when she was well into her teens.
By this point, Howard's music taste had drastically changed. In a small town (so small Howard remembers graduating with around eighty of her classmates along with Alabama Shakes band members Zack Cockrell and Heath Fogg) being the odd one out would suck, but Howard found solace in being an outcast along with her other friends. Her high school years consisted of Buicks and Black Sabbath while hanging out with older kids smoking weed.
"I'd be in the back of this Buick and be like 'What's this? This is really cool' and my friends told me it was Pink Floyd and I was like 'Whoa', it blew my mind. I started getting into all the classic rock stuff, like Yes, Cream, all that stuff."
But life in Athens just wasn't enough. Those passions would manifest into ravenous ambition and soon Howard would come to feel the pressures of living in a small-town while craving something more. Frequently, she found herself gazing into the sky watching countless planes pass by wishing to be on the next flight out of town. Even when it came to practicing with childhood friend and bassist Zack Cockrell. Cockrell had his reservations about touring because of his job. It would appear that Athens had a cast-iron grip on its residents.
Upon reflection, I asked Howard what she would say to her younger self back then, to which she replies "I'd tell her to be more confident, take a deep breath and worry less, that everything would be fine. Actually, if I could go back to the past and see my younger self, I'd probably just be like 'Let's go party! It's going to be excellent!"
"I've always wanted to do a solo record since I started playing music so I thought 'Hey, now's a good time as any. You never know you could die tomorrow so let's just get to it."
Because of course, it would be. Howard went onto form blues-rock band Alabama Shakes along with band members Steve Johnson, Heath Fogg and - hesitant at first - Zack Cockrell. Alabama Shakes released two records, Boys & Girls (2012) and the Grammy award-winning Sound & Colour (2015), gaining huge success and selling out arenas worldwide. So following from the height of their success, what was it about now - four years later - that was a prominent time to release a debut solo album?
"Inspiration wasn't really coming to me when me and The Shakes were trying to rehearse and make the third record. We had tried for a whole year to come up with stuff and I was just like nothing's really coming, nothing's really happening and it all got a little stagnant. So, I just thought well I've always wanted to do a solo record since I started playing music so I thought 'Hey, now's a good time as any. You never know you could die tomorrow so let's just get to it."
Howard had already ventured into new creative territory with her two side projects, Bermuda Triangle and Thunderbitch but this was an opportunity to immerse into something solely her own and form a new chapter. Howard explains: "I wanted to do something on my own. Just my music, that didn't have to have a genre or stick to fans' expectations." The result is her debut solo album, Jaime, a sonic exploration spread over eleven tracks charting her own existential journey. Uncovering deeply personal and emotional territory, Howard wrestles with the idea of who she is and where she is now in her life.
Leaving her home in Nashville, Howard travelled to Topanga Canyon to record the album, hoping a change of scenery would rid herself of distractions and remove the aforementioned stagnancy but unfortunately at first it never did. So, what changed?
"It got really hot one day, a hundred and four degrees Fahrenheit and I was working in a greenhouse of all places. I go into the house and all of a sudden, the songs just started coming to me, on this really hot miserable day, and if a song comes to you, you can't wait. So, I'm like working while pouring with sweat making these songs. In the end, they kind of just came out of nowhere so I shouldn't have been worried at all really because, to put it simply, it's like the more I tried the less the songs came and the less I tried then I was open to receive the music."
"All of a sudden, the songs just started coming to me, on this really hot miserable day, and if a song comes to you, you can't wait."
Not only did Howard receive the music but she went from previously collaborating with The Shakes to now having full creative control on her solo record. Howard went to engineer Shawn Everett at his studio in Los Angeles to record, I wanted to find out how it differed from previously working with Alabama Shakes.
"Doing it by myself was easier in a lot of ways just because I already knew how I wanted everything to go down, I already had these demos fledged out and I would just show up and be like 'Alright here are your parts, take these parts. Here's why it's important. Here's what needs to remain the same but, of course, take it and do your thing with it'.
We just hit it off in one or two takes and then we had the song. It was so different than with The Shakes because it's like having four cooks in the kitchen, right?" This was a lot more thrilling because it was just like we went in and did it."
On the record, Howard highlights "Georgia" as a breakthrough song, and for herself. "That's a straightforward love song to another woman, which is something I never confronted until I was older," she says. "That's the truth of what it feels like to hold everything in and just want to be accepted for being yourself."
Have you accepted who you are now? I ask. "Yeah now it's great to be different, it's wonderful and awesome. Since turning 30, I give less fucks than ever. It's amazing, I couldn't recommend it enough really." Clearly Howard isn't afraid to speak her mind, her track "Goat Head" is a painfully candid account of Howard's family experience when she was growing up as a mixed-race child.
"Yeah, so that's a true story. One night my dad was visiting my mum's apartment, it wasn't a very nice apartment complex, kind of run down next to the co-op where they sell cattle and raise goats and chickens. My dad stays the night and wakes up the next morning to find that someone had cut off a goat's head and threw it in the back seat of his car and smashed the windshield in and slashed his tires and written on the car 'don't come back anymore'.
"Since turning 30, I give less fucks than ever. It's amazing, I couldn't recommend it enough really."
My mom didn't tell me till I was like 13 or 14 years old because my parents did a really good job protecting me from the people that lived there. I never thought my town had people like that so they definitely were protecting me from all that until I was old enough to understand it.
When I sang "Goat Head", I instantly felt afraid, embarrassed, vulnerable. I was definitely scared for the sake of my folks, bringing up bad memories, but it is my story to tell—that song was the experience of growing up in the South. My parents definitely didn't want me to be afraid to be me or have to change who I am."
It's evident that Howard is close with her family. "Stay High" – the first single to have come from her debut album – pays tribute to her father and stars Brooklyn Nine Nine's Terry Crews in the video. Crews flew down to Alabama to shoot after receiving a heartfelt letter about Howard's admiration for her father.
The album title, of course, is in memoriam to her sister but it's also very much about Howard's journey and represents an enormous step both musically and personally. In terms of the album's success, Howard is tempering her expectations, "I have no idea what's going to happen," she says. "I have to measure my success by the fact that I did something I didn't think I could do—I knew I could, but I didn't know if I would. So just the fact that I made it, and gave myself permission to just fuck it up and do some stuff that's maybe stupid and not cool, is pretty successful.
I don't really have a responsibility creatively to do anything I don't want to do anymore. I'm just going to do the things that I want to do. Being a creative person, that's the most successful thing."
On discussing live shows, Howard was keen to reveal a particular favourite from her set list. "I really like performing the song 'Tomorrow', it's a really huge piece of the set and has three different movements in the song". Critics have already hailed Howard's live shows as a "funk-rooted tour de force" guiding her audience in every which way through an early 70s soul repertoire with splashes of jazz and an incendiary backing band.
So how does someone like Howard detach from the global behemoth that comes with a touring and promoting a new album? "I usually spend a couple of days just like readjusting to like doing laundry or getting back to see the pets. I have my two cats and three dogs, but you know it takes a couple of days to get adjusted and then after I'm just like, 'Okay. What is life again? What do I do?' So I usually like to go fishing, it's kind of like my thing, I'm a pretty avid fly fisherman."
Being an avid Alabama Shakes fan, I greedily ask the question whether a return was likely, to which Howard coolly replies "Yeah I mean, we'll see, right now it's like Jaime hasn't even come out yet. Got to take little baby steps before I can get back to the place where I'm like okay creation mode again. Like right now this is what I'm focused on but you know never say never".
Jaime is out this Friday via Columbia Records.
Get the Best Fit take on the week in music direct to your inbox every Friday