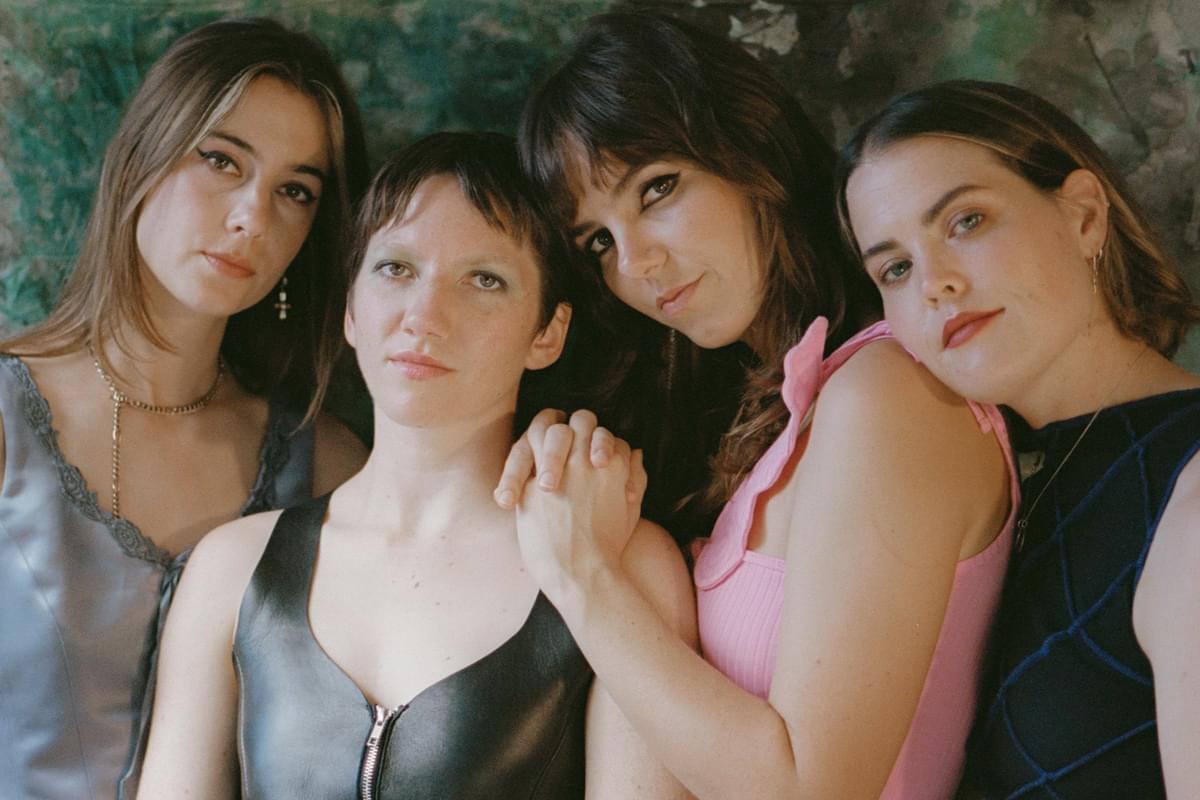 Body Type are reclaiming their place in a male-dominated industry
22 June 2022, 09:33
"Someone one asked me whose dick I had to suck to be able to go on tour," McComish says, a cheery expression on her face as she recalls the memory from her home in Sydney via Zoom. "That was probably the worst I've had. I should've punched him in the face. But then I just sent an e-mail to a manager."
On their debut album Everything Is Dangerous But Nothing's Surprising, strongly-worded emails are replaced with a triumphant middle finger at those who have wronged them. The band's debut album is a celebration of their flaws and mistakes, and a truly joyous celebration of chaos and passion – and an understanding that letting go of unrealistic expectations unfairly placed on female musicians is the first step towards creative freedom and fun.
It's an album where the band up the ante to the max, making for a sound that is more liberated – and 100% more punk.
"The Brood," the second track from Body Type's debut album, starts off with what sounds like a soft, gentle – almost Satanic – hymn. But then, of course, the punky guitar riff kicks in, as do the drums, and finally the swelling of the female vocals culminates in a victorious roar of a thrilling crescendo.
"What's your resistance? What's your resistance?" the vocalists cry with a guttural vigor, partly in unison, partly as a challenge to one another.
Growls, yelps, screams, and cries are abundant in Everything Is Dangerous But Nothing's Surprising, the long-awaited first record from the Australian quartet comprised of Sophie McComish, Annabel Blackman, Cecil Coleman and Georgia Wilkinson-Derums. Guttural howls are aplenty in Body Type's excellent debut effort, the shrieks and unrestrained vocal wails the truest and most harrowing form of female rage.
"I've got CHAAAAAAARM!!!" screeches vocalist and guitarist McComish on "The Charm," written about an industry figure who told the band a few years ago that they would lose their "charm" unless they became better at playing their instruments.
But when McComish sings the lyric, it's not so much to convince the man – it's to show that she doesn't need to prove anything at all.
"We had six years of being told that we didn't know what we were doing," says McComish. "We were in this creative chokehold. We found ourselves in a situation where people were telling us what to do, and it didn't sit right with us. So, we took the reins back. With this record, we wanted to have less trepidation about how we wanted to sound."
Body Type's first two EPs are perfect dream-pop records, with enough reverb-drenched guitar that would make Alvvays happy. The melodic guitars are crisp and clean-sounding, and the vocals are mannered; trained. But on Everything Is Dangerous But Nothing's Surprising, the band were fully intent on taking back control for themselves and to refocus themsselves away from feeling pressured by men – and others – to perform or record in a certain way. And to let all hell break loose in the most positive way possible.
"It was always very conscious for us to want to be more noisy, more rock, with this album. When we were recording the EPs, I didn't have an overdrive pedal because I was scared of sounding too gritty and too noisy. But now I've got three overdrive pedals and a couple of distortions!"
It's refreshing – and cathartic – to listen to the screeches and growls that populate Everything Is Dangerous But Nothing's Surprising. There are wails and whoops, hollers, yaps and squawks. The band adopted this unrestrained means of expression, actively encouraging the grittiest and most gruff ways you could distort your voice. Even now, in mainstream music, there remains a silent expectation for female musicians to sound graceful, pleasant, and flawless. Not Body Type.
"I think we're channeling the joy and rage in a very apt way. The more mistakes, the better," concludes McComish. "Take The Raincoats, who built a whole fucking band on their mistakes," agrees Wilkinson-Derums. "I love it! I love going to gigs and maybe hearing a wrong chord. Music shouldn't be about taking things seriously. In order to be confident, you have to have fun. Music shouldn't be about worrying if you're going to be perfect all the time."
She continues: "We were listening to loads of the Raincoats, and we learned that it's not so much about hitting a particular note. Like, I mean, I don't feel that I have a great voice..." "No!" McComish hollers. "Not true!" But Wilkinson-Derums just shrugs: "I'm all for yells, anyway."
Rather than strive to this unrealistic level of perfection, the band decided to say fuck it – and and just have fun. "Our producer was very open to just letting us do what we wanted. I forced him to let us stand next to each other and sing into the same mic… Recording vocals were my favourite part!" McComish recounts.
"What is this standard of ability that's always expected from us? It's always men that get to choose these standards, supposedly. But I can play guitar however I want and make noise however I want." - Sophie McComish
Everything Is Dangerous But Nothing's Surprising was recorded over eight days in 2020, shortly before the members would be separated by the pandemic, but the lyrical themes and motifs have not waned, or lost their prowess. If anything, the time between the album's recording to its release has only strengthened its core and offered a new perspective when the songs are being performed. "That's what music does. It re-contextualizes things in a really personal manner," says Wilkinson-Derums. "Even when we've had a stint of a tour and we play the songs, they mean something completely different to when we wrote them."
The band worked with producer Jonathan Boulet, and entirely self-funded the album, which truly allowed them a sense of creative control and freedom as both musicians and women.
"It's a very intimidating thing, getting into the production and the recording space," says McComish. "Before this record, we'd always felt that it was a very masculine space. Especially with all the electronics – it's very scary if you don't know about it! So you kind of naturally take a step back and are like, 'I don't know how to do this, so I'm just going to not do it or let this guy do it for me.'"
"We'd get so much shit about our playing abilities," says Wilkinson-Derums. "I know that there are loads of good musicians out there who have incredible ears, but I'm not sure what that has to do with us. We're the only ones who get to choose what we sound like, regardless of whether it's technically the right thing to do."
There is a broad scope of subject across Everything Is Dangerous But Nothing's Surprising. "The Charm" and "The Brood" are about female anger, while the unsettling, angsty slow-burn of "Animal" is about sheer terror about the dangers a man poses. "Flight Path" is an exuberant and high-energy track about a particular trip to Los Angeles that yielded a Nick Cave sighting at the Chateau Marmont, and "Couple's Song" has the band trying to guess at whether a neighbour's noises signal love or loss.
Re-colonizing the recording studio and not thinking of it as such a male-dominant space was the first step to allow the band to be comfortable with themselves, and in their own music.
"Being a female musician is still really hard because you still feel like you're on the outside of it all," continues McComish. "But when it's something that you're creating and it's your art, you become so vulnerable and you want to get it right. People are giving you all this feedback, and you're trying really hard to get it to sound good and perfect, I guess, and it's just adds to the fear."
It was a breakthrough moment for the band when they decided that they didn't want to give into the fear. Instead, they sought to break the pattern that would potentially lead to feeling insecure about their own musical abilities and making mistakes– which would only lead to needless pressure.
"Like, what is this level [of musicality] that they've imagined?" asks McComish. "What is this standard of ability that's always expected from us? It's always men that get to choose these standards, supposedly. But I can play guitar however I want and make noise however I want."
After being told for so long that they were to closely follow the rulebook, they decided to rip it all up and treasure the messy, the unruly, and the unrestrained – and only became more assured for it. "Eventually you get better at reviewing your old songs and the production and actually knowing what you want it to sound like," says McComish. "And maybe all four of us just felt more confident in collaborating and expressing ourselves to each other.
Being comfortable enough to make mistakes also allowed the band to push themselves and explore their boundaries. "The Charm" ends with a truly wicked Guitar Hero-esque solo, packed with riotous energy and a controlled sense of chaos. McComish laughs at the mention of it, which she previously described as the "wankiest, shreddiest moment I could possibly write."
"It's not even that wanky!" McComish giggles. "I was just really trying to tap into the male ago and let loose. It's really hard. It was fun! But hard." "There's this part at the end of the song when we play it live, and I feel sometimes that there are moments that the band just clicks together," Wilkinson-Derums adds. McComish nods: "It's a fun feeling."
This philosophy of allowing oneself to let go, to learn to be unafraid of artistic expression – and to give in to wanky solos – has bled into their live show, too.
"Nobody really cares!" exclaims McComish. "We opened with a song that Annabel sings on, and I just forgot how it went and I just couldn't play it. I was so overwhelmed. I forgot everything. But then you kind of get drawn into the energy and by the second song, everything was fine. But the first one you just have to kind of relinquish yourself to the live music gods."
And it turns out that relinquishing yourself to the live music gods can be the most hellish sort of fun. "We played this show with Wolf Alice the other day," McComish says, laughing at the memory. "Soundcheck was running late. The mixing console had all of these issues, and as soon as we got into soundcheck, my tuner broke and Georgia's lead broke. It was just one of those very exclusive live music experiences where everything went wrong for one of the biggest shows that we've ever played! But then it probably ended up being the best that everyone that played.
Their take away from the whole experience? "Just embrace the chaos!"
Everything Is Dangerous But Nothing's Surprising is out now.
Get the Best Fit take on the week in music direct to your inbox every Friday