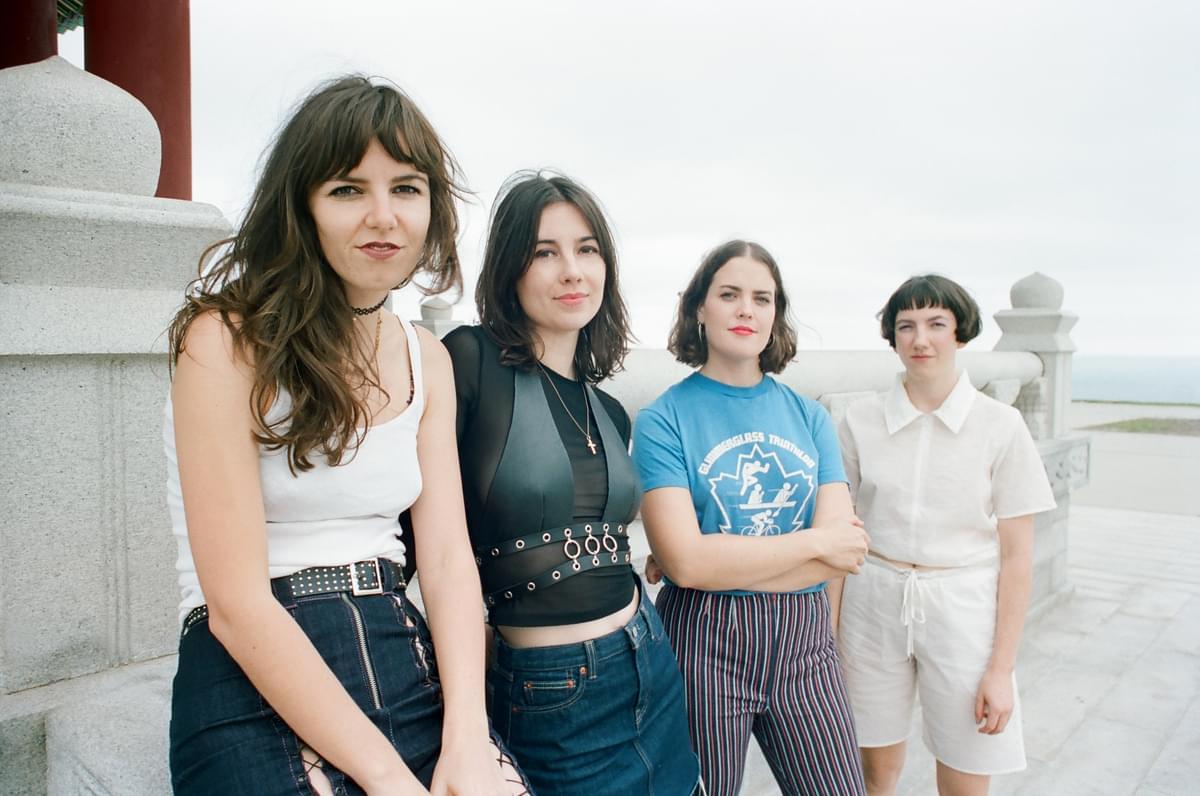 On the Rise

Body Type
07 May 2019, 08:00
With two freshly signed record deals, a live show that is beautifully chaotic and a talent for writing songs that feel like old friends, Sydney quartet Body Type are ascending fast
"It's such a strange thing to reflect on because I still don't really know how it all took shape." Body Type's singer and guitarist Sophie McComish is looking back on the past three years from her Airbnb in rainy Portugal. It's a whirlwind exhale of events and dates that sounds so natural she seems to be surprising herself. "Suddenly we were a band. Suddenly we were recording. Suddenly we played shows. Suddenly we were playing shows in New York."
McComish is originally from Perth, "I'm a Sydney fake" she laughs. So are Georgia Wilkinson-Derums and Cecil coleman, the respective bassist and drummer of Body Type. Although they never really hung out back home.
After University, McComish decided to move to New York for a year, landing an internship with 4AD, further fuelling an admitted Bradford Cox obsession. She got caught up in the romance of the city, reading Patti Smith's Just Kids and buying a guitar from a thrift shop. In her defence, this story is told with more than a hint of tongue-in-cheek. She started to write songs before returning to Sydney to further her career working behind the scenes in the music industry.
McComish continues, "I'd just moved to Sydney, Cecil was there, she told me she was leaning drums, I was like, 'I'm trying to write songs, I've got a handful, shall we just go and jam on them, see what happens?' Then we met Annabel [Blackman, guitarist] who's friends of friends, we saw a guitar in her bedroom once and we were like, 'Oh my god, you play? You should come jam with us.' And she loved it. And then we needed a bass player, enter Georgia."
So far, so simple. They released their debut single "Ludlow" in 2016. "Spoiler!" McComish tells me, "I wrote it on the corner of Rivington." They began playing shows every weekend, cutting their teeth on Sydney's supportive live circuit, picking up help and opportunities from the likes of local label Dinosaur City.
Now this is where things take a strange turn: McComish was working for the Australian music group Inertia, home to the likes of Björk, Hinds and Robyn down under. The label put in an offer for Body Type. Working in an office day in day out, you get to see the real side of people, you get to know them too well. I ask McComish if it was weird signing with those same colleagues?
"It was definitely strange" she laughs. "But everyone there is so amazing I knew that we would be in good hands and I also had to keep remembering that we're a band of four people, it wasn't just me. So in a lot of the discussions I would just sub myself out. But it was the right thing to do."
Working from the same office for two weeks before the annual Big Sound conference in Brisbane was a well respected young woman from Partisan (Idles, Cigarettes After Sex), and Body Type were playing BigSound. You can see where this is going.
"I feel so lucky that everything's panned out as it has" smiles McComish. "Inertia and Partisan are a great force to be working with."
The band played their first international shows last month, opening two sold out nights with Fontaines D.C., at "Fucking Union Pool!" before travelling to play our Best Fit stage at SXSW and absolutely killing it.
"That was my favourite show of South By, in fact, I think that might be the best show we've ever played. There was a great crowd there, and people were pissed because it was St Patrick's Day, so all these randoms were just getting into it, and it was the best show we've ever played, I think." We couldn't agree more.
Do Body Type find it different playing outside of Australia? "I mean, the crowds are definitely different, but mainly because we don't have our friends in them" she laughs. "It was cool playing to a room full of strangers and seeing them getting in to our music. That's one of the best things about playing live actually, seeing people you've never seen before grooving along to your songs."]
Body Type's second ever show was supporting Cate Le Bon, their third was supporting The Coathangers. In Australia they've already completed three national tours supporting Pond, Alex Cameron and Rolling Blackouts Coastal Fever. McComish attributes their booking fortune to being cheap and saying yes to shitty fees, but surely the fact they're four girls has played a part?
"The amount of times we get asked in interviews, literally, 'So do you think you've had some advantages of being an all female band?'," she sighs as I feel terrible for ticking that lazy journalist box again. "Or like, 'Oh, it's great to see a badass all female band!' It's like, just don't. But I guess in the context of Australia, people haven't really gotten behind…" She trails off. "Maybe we were just writing cool songs?"
The songs are cool, for sure. Effortlessly so. Tracks like "Palms" are so clever in their simplicity, layering guitars and vocals into a weave of infectious melody. Their delivery sounds so confident it errs on nonchalance, and their gift for finding riffs that feel like sunshine is joyfully indulgent. But you can't ignore their gender, and you shouldn't, because it brings a fresh take on a tired genre and a different passage to creativity. And yes, they have been compared to The Big Moon already.
"Yeah, it's a compliment" asserts McComish. "My bandmates and I have been talking recently about female rock groups through history. Who is the female Arctic Monkeys? Who is the female Strokes? Who is the female Coldplay? Muse? Like, all these big indie rock bands have all been men. And we consider ourselves people who look for the female equivalent, but it's so hard to find. And if we've missed it - someone show us who they are."
So who are Body Type? I ask. The Female… "Female all of the above" she laughs. "The female U2. Fuck. Wait. Can you make it the female Coldplay instead? My bandmates will kill me."
The next few months are starting to look busy for the band. A EP just dropped this month and an Australian tour will follow. And of course, a trip to the UK to play The Great Escape this week and a few headline gigs. So, aside from some very non-Chris-Martin-esque crooning, what can British audiences expect?
"Georgia and Annabel have been choreographing a fight scene and they will only be acting it out at the UK shows. So if you want to see them perform their choreographed fight scene, including weapons - Georgia has nunchucks, Annabel has a whip - you've gotta come to our shows. Maybe there'll be blood? I don't know."
Body Type play at Best Fit's Great Escape party this Friday at Komedia
Get the Best Fit take on the week in music direct to your inbox every Friday