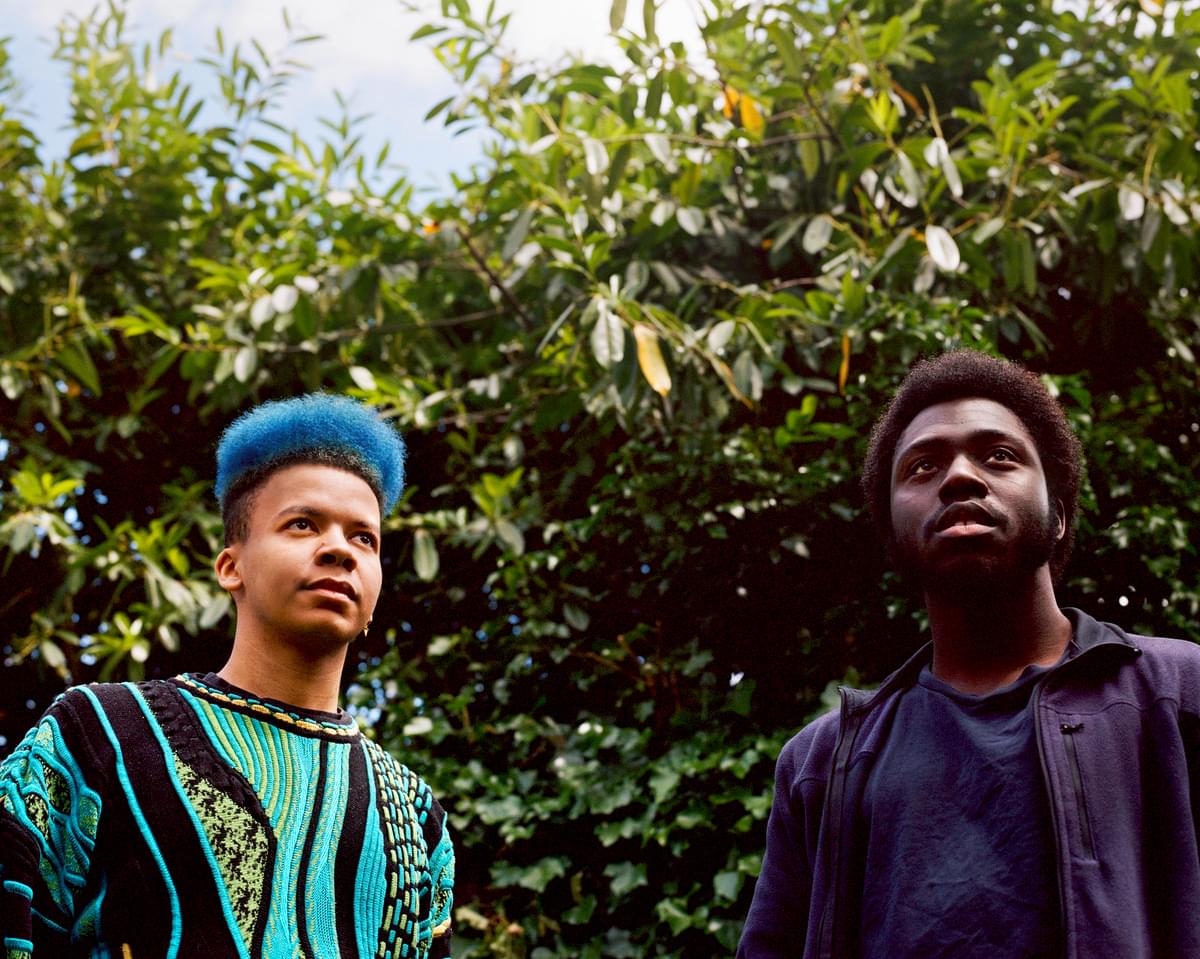 On the Rise

Blue Lab Beats
29 June 2019, 10:00
Blue Lab Beats are a pair of London-based producers at the heart of the city's blossoming jazz scene, their sound combining hip hop with horns, packaged and delivered with funky élan.
Chatting to Blue Lab Beats has put me in a very good mood. There's no secret as to why: for them, having fun comes first, and they want me to know it. Their music is so joyous, so danceable – soundtracks as fit for a lazy summer afternoon as a raucous knees-up – it's no wonder they chose to christen their new EP Vibe Central.
The duo's sound combines intricate, glitchy hip-hop beats and afrobeat inspired rhythms – produced by NK-OK (Namali Kwaten) – with devastatingly catchy hooks – provided by jazz multi-instrumentalist Mr. DM (David Mrakpor). The boys met each other at the North London's Weekend Arts College, an organisation where for just £2.50 they could get two hours of music or production tuition. "Me and Mr. DM met when I was 13 years old." NK-OK recalls. "I was playing my beats in the lunch hall there, and David just walked past and said, 'Hey man, we're rehearsing down here, I love what I'm hearing.' I saw him pick up a bunch of instruments and I thought, 'Yo, I've got to work with this guy!'"
NK-OK's voice bounces around like his shock of bright blue hair, while DM's incisive interjections cut with the same precision of his solos (keys, guitar, vibes: he does it all). During our conversation – as they reminisce on the things they've achieved – the pair frequently break into the kind of knowing laughter that you only hear from two old friends who have spent a colossal amount of time working together.
After their lunchtime collision, the pair quickly got to making their own music in NK-OK's bedroom, the tiny 'Blue Lab' that spawned their name. It's a surprisingly relatable beginning: which music loving teen didn't have a mate round to mess about for hours on Garageband? "Originally it was just in my room... the acoustic set up was just horrible." NK-OK laughs, "But we could still get a really good feel for the tracks. I edited the first Blue Lab EP [Blue Skies] there. So yeah, a lot of history in that room." NK-OK cites MF Doom and Madlib as influences back then, while Mr. DM goes for Thelonius Monk and Herbie Hancock - matches made in jazz-hip hop heaven.
The boys' creative process sounds as chilled and vibe-driven as the pair themselves. "We try to base the tracks off the vibe there and then, without touching it up too much, cos that's the main part of a good record." NK-OK says. "If it gave you that good feeling at the beginning, it should work anywhere else – on stages, clubs, blah..." I ask them if creating a Blue Lab track from scratch is equally casual, and NK-OK breaks it down. "Generally it's beats first, but sometimes David will have a cool chord idea and then I'll do drums after. But it varies really. It can even just start from a good synth sound, and then messing with the sonics of that and building the tracks from there." And when it comes to collabs? "We much prefer making the track with the artist there. It's more for us getting to know the artists musically, feeling that energy, feeding off that and then putting it in a song." NK-OK continues: "We always like having the freedom of putting solos in there too, and everyone just bouncing off that creative flow. It's about just making good music, or the best track for that day. Just good vibes all around really!"
As you can see, NK-OK and Mr. DM like to keep things positive. On more than one occasion, when the conversation is veering towards more academic subjects – like the maturity of their sound – the boys happily bring me back to what making music is about for them, repeating what should be their epithet, "It's just having fun really, that's the main key of life!"
This line feels pretty representative of the attitude of the blossoming, youthful jazz scene dominating London right now. The capital is home to a community of musicians who have been mates since they were kids, all creating music they love and getting the kinds of plaudits that many thought impossible for their chosen genre. Although the Blue Lab boys are two of the scene's rapidly rising stars, they understand how improbable it is that jazz has become the music of the moment. They tell me the success has kept them "mad grateful", humble in the knowledge they are doing what they love and enjoying the ride.
After graduating Weekend Arts College, NK-OK and Mr. DM continued their musical education at Tomorrow's Warriors, another London-based project that nurtures young jazz talent. A staggering number of the finest players in the city have passed through its doors. "I knew Nubyah [Garcia] from Tomorrow's Warriors, that's where most of us know each other from." Mr. DM tells me, before NK-OK adds: "Yeah, it's mainly from there – that's where I met Dylan [Jones] from Ezra Collective, the trumpet player for them. One of my teachers there was Binker [Golding]. It was really good for me because even though I was mainly a producer back then, I wanted to absorb some of the jazz language … I was just watching, understanding and taking it all in".
I'm astonished by the casual tone with which they reveal how long they have known and played with the biggest names in London's jazz scene for, but NK-OK quells my amazement: "We were all just mates before, and we just happened to make similar kinds of music and we all had similar tastes." When you've been friends for that long, I guess it doesn't really feel like name-dropping.
Nubyah Garcia, Dylan Jones, Moses Boyd, Femi Koleoso and many, many more feature on their 2018 debut Xover, a culmination of years of musical interactions at places like Tomorrow's Warriors and Weekend Arts College. It's filled with songs that cooly strut along, never breaking their stride. "Pineapple" is the statement track, a song with winding guitar lines that appear to grow from the ground like a writhing pair of vines jostling for position in the sunlight. The instrumental tracks on Xover are Blue Lab at their best – "Piña Colada", which features sax from Nubyah Garcia, is a laid back, boozy, beachy, Brazilian hit – but turns from rapper Kojey Radical and other vocalists prove they can also stay true to hip hop if they so please. The album sees them fully capture their best-of-both style, taking what they like from hip hop and jazz, before putting it through London's many-coloured kaleidoscope.
The UK's capital has long been a remarkably multicultural city, and this has had a huge impact on its jazz scene. The striking and innovative sound coming out of London has developed in part because of its creators' willingness to incorporate global styles into their own, drawing on heritage but bypassing rigid tradition to cultivate things that are vibrant and new. The city has large, proud African diasporic communities, so the euphoric sounds of West Africa – afrobeat, highlife, etc. – have long influenced and been adored by its musicians. Mr. DM tells me he was seriously impressed by KOKOROKO's colourful afrobeat debut – "Big up to them, I like how they do things", in his words.
"I think we include that because of our heritage," NK-OK replies, when I ask why so many musicians are turning to West Africa for inspiration. "Our parents were playing that stuff all the time in the house, you know, Fela Kuti, all those legends. It's just part of the culture of London really and also because it's such an amazing, soulful genre." Mr. DM goes further, musing on the stylistic features that bind jazz to ancient African musical traditions: "I think it's also to do with jazz and its origins – jazz has African origins as well if you trace it back. The polyrhythms, the syncopation... African music is the source, where it all started, so I think it goes hand in hand [with jazz]." Tracks like "Run Away" and "808" from Xover nod to this African lineage – their rhythms intermingle and toy with each other, basking in the syncopation.
While the rest of London's jazz players earned their chops performing at gigs across the capital, NK-OK and Mr. DM – though equally stellar musicians – came to playing live comparatively late on. They started off as bedroom producers in every sense of the word, doing remixes for the likes of Rag'n'Bone Man, Dua Lipa and Jodie Abacus when not working on their own beats. Sticking strictly to production was where they thought their careers were heading: "We always thought that we would be producing for other people," NK-OK explains. "That our own stuff would be very... You know, if you're a proper vinyl nerd then you'll like it and get to know us a little bit". In fact, for the first four or five years that the pair worked together, their music was completely confined to the Blue Lab: live shows were nothing more than hypothetical. NK-OK continues: "Me and Mr. DM, we had no clue. We thought maybe a live thing might happen, but we didn't think fan base wise it would ever get like this. We thought we would just be background producers, working for other people. We didn't think we would be artists in that sort of spotlight."
When that spotlight eventually fell on them, the boys adapted their work in the studio to create something more gig-friendly. "It was quite hard creatively to think how we would make it really entertaining all the way through, how to keep the audience with us the whole time," NK-OK remembers. "Then it was just experimenting – David playing keys, then bass and guitar, then me on my drum machine. When we both worked that out, we thought 'OK, this can work live'". After tweaking their live performances and amassing more material - Mr. DM says "people were asking whether we had any more songs at the end of our set, so we had to expand it.".
The pair have now played everywhere from Womad to Ronnie Scott's, Paris to Berlin. I mention that I saw them alongside Tenderlonius at Leeds' Belgrave and how much I enjoyed it, and am met with genuine appreciation. That night, they played singles from what was then the upcoming debut, effortlessly dropping niche Herbie Hancock tracks in amongst their own (it says something about their calibre that at first I thought Hancock's "I Thought it Was You" was a Blue Lab creation).
Ahead of their newest EP Vibe Central, the boys went a little further afield than Leeds for inspiration. NK-OK giddily recounts their trip to Morocco to play with local musicians and later, somewhat unexpectedly, for a big crowd: "It was such a crazy trip. We thought originally it was a studio session, then we found out that we actually had to make a set on the spot. That was wild - we had to make four songs from scratch, rehearse them up and then do the gig… Crazy! There were about 500 people there, really packed, even 30 mins before the show started there were like 100/150 people waiting outside. We were like, 'This is just crazy!' And then when we played, it kicked off differently."
The boys tell me that a new album is also in the works. Stylistically, they are continuing the process of picking and choosing what they like, enveloping even more varied sounds into their own which, on the new record, will include some of the exotic harmonies they discovered in Morocco, as well as sounds they've picked up on trips to Cuba and tours across Europe. Newest singles "Hi There" and "None of That" squelch with the bass-driven, dirging funk of Bootsy Collins or Dâm-Funk, while another, "Liptstick", sees them team back up with Jodie Abacus for a catchy, sex-obsessed jam with an equally West Coast vibe. I ask them if heavy funk is the new direction, but am met with a rebuttal: "It's kind of like the last album," says NK-OK "which was totally a mixture, but this one is even more of a mixture."
Mixing it up, playing what they want, having fun: this is the Blue Lab way. It's taken them from making beats in a bedroom to being invited to record Xover at the prestigious Real World studios, an experience they described in an ecstatic string of superlatives (you can take a peek behind the scenes of the recording process on their YouTube channel). Their rise is in an assuredly upward trajectory, but don't imagine for one minute they'll pause to consider what they've achieved so far. "Again, it's all about just having a lot of fun – and you're seeing that on stage," confirms NK-OK. "Once again, that's the most important thing in life: fun."
Vibe Central is out now.
Subscribe for news and competitions