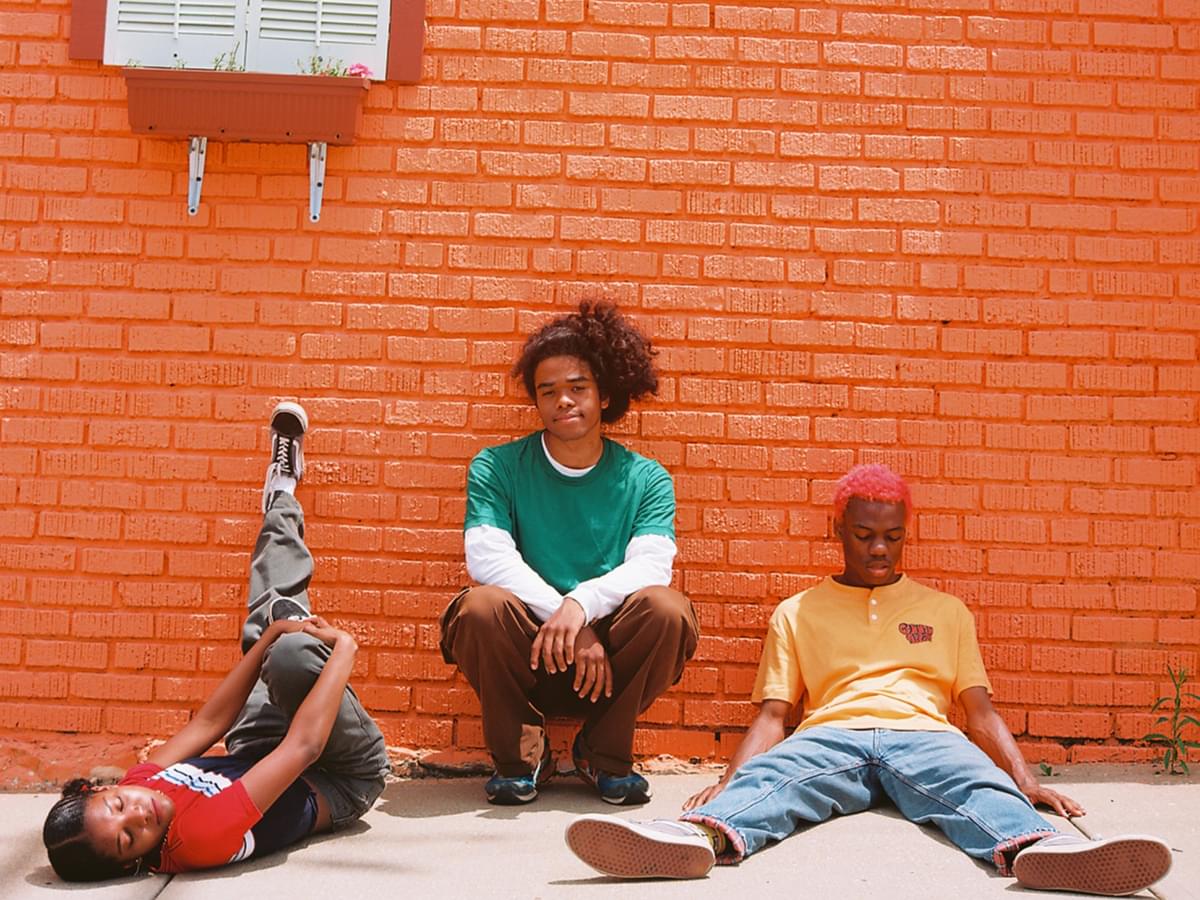 On the Rise

Blackstarkids
16 December 2020, 09:30
Three insanely productive young creatives driven by a work dynamic, Blackstarkids are doing their growing up in public and changing the rules for what it means to be an indie band.
This is a Black coming-of-age story. Picture this: the technicolour joy of Ferris Bueller's Day Off meets the cultural grit of Boyz n the Hood; a VHS tape founded just as much on blue-sky daydreams as the bittersweet taste of growing up.
Enter, our main characters: TyFaizon, Deiondre, and TheBabeGabe – or, to you and I, Blackstarkids. Bursting onto the scene in a flash of collect 'em all colour, these Kansas City teens have become one of the latest Dirty Hit signees, joining The 1975 and Beabadoobee who were soundtrack to their own adolescence – except now, Blackstarkids are shaping up to be the soundtrack of yours.
Since their emergence in 2019, Blackstarkids have already dropped three records which define eras of their lives - as if dropping three full-length albums was the most natural thing in the world. "For us, making music is not the work, it's the reward," TyFaizon, the group's songwriter, vocalist and creative director, says.
Get them started, and hear the three of them froth over with excitement as they talk about their love for Missy Elliot, Pharrell Williams and the cinematic merits of Confessions of a Teenage Drama Queen ("Too fire, bro, too fire"), but no one quite lights up like TyFaizon when it comes to talking about his idols. It's down to him that Blackstarkids are bubbling with nostalgic references to get your 00s heart beating, from "Britney Bitch" to "How I Met Your Mother" and Kill Bill's "Beatrix Kiddo".
As well as each record capturing a period of time in their lives, you can draw a direct lineage of discovery from one to the other, based on which shows, movies and artists they were obsessed with at the time. Speaking on their 2019 debut, Let's Play Sports, TyFaizon says, "We were just building ourselves up, and we were ready for the world. We were excited to just get out here and live life." Packed with warm, hip-swaying synth ballads and effervescent funk, it comes at little wonder that their bedrooms were filled with everything Janelle Monáe and Toro Y Moi, to Blood Orange. From spinning until you're dizzy dancing to MTV, to fantasising about James Franco coming over to their house for coffee, Let's Play Sports was a bold statement of intent, to say the least.
"And then Surf was us actually getting out into the world," Gabe explains, the singer who has melodies wrapped around her little finger, with a voice fluffy and sweet like candyfloss. "And life wasn't what we thought it was gonna be!" The record was shaped by confronting their vulnerabilities as they stood on the precipice of adulthood and the weight of the responsibility of it. Born from Nirvana, MGMT, and the soundtrack to Scott Pilgrim vs. the World, tracks "Too Depressed 4 Sex" and "Instant Bummer Endless Summer" had their finger on the pulse of the Gen Z spirit.
Ty agrees: "We were like, "This is some bullshit, bro. This is tough. We need to figure something out, because the first quarter is not going so well. So then, we just thought, 'Whatever, Man…'" - it was when they let go that they started to get the hang of things, and their third record came to be. Like so many their age, their lives have been defined by the sounds of The 1975, and Whatever, Man is covered with the band's fingerprints. "I'm a super fan," producer and singer Deiondre says – the one with the incredible hair with his head in the clouds. "The singles they were doing for Notes [On A Conditional Form] had the biggest influence on Whatever, Man – not only that, but Beastie Boys and Missy… this one is really us. They're all us, but this one: we're a little bit more confident in it, and we've got a lot to say."
2020 for many was the year everything came to a standstill, and while their fantasies of living in lavish mansions and cruising around LA in a raspberry Benz may have to wait a little longer, Blackstarkids didn't stop for a minute. Besides dropping two albums this year, the likes of The 1975, Beabadoobee and Rina Sawayama have become more than idols, but labelmates. "We love them a lot," Ty says, "and it's an honour to be on Dirty Hit with them. It's crazy that we were just fans before we became peers."
"It's a perfect fit," Deiondre adds, "They listen to us, 100% - they're super receptive to whatever Ty has in his head. They're the coolest people we've ever met." Sending their music to Dirty Hit was a shot in the dark. "Nobody was fucking with us, at first, honestly," Ty explains. "But the kids were into it, and that's what kept us going. It got a big reaction. We tried to push it to labels here first, like local labels and stuff, and nobody hit us back at all. We sent like 100 emails just trying to get some type of feedback. It took Dirty Hit – they were the first people who gave us the time of day." It was when 1975-frontman Matty Healy shared their track "Sounds Like Fun" to his Instagram story, touting it as one of the best songs of the year, that the world finally opened their eyes to their potential.
They remember listening to Beabadoobee, who is same age as they are, when they were finishing Surf. "We were just broke, we at the crib, and we like, 'Man, we've gotta do something!'" Coming from Kansas City, dismissed as a 'flyover state', there was a feeling that when they graduated high school, if they didn't figure something out, they'd never escape the dead-end of the nine-to-five.
"We sent like 100 emails just trying to get some type of feedback. Dirty Hit were the first people who gave us the time of day." - TyFaizon
When I ask where they were in life before Blackstarkids, they cringe at the memory. "Where was I?" Deiondre says absentmindedly, "… Oh Yeah!', as if there was no time before. "I had to sign up for community college so I wouldn't get kicked out of my family's house. We were talking about starting Blackstarkids around that time, and so I was like, 'Okay, I still need a bedroom to make music in!', and so I agreed to go." He ended up quitting in little over a month. "I realised, 'I ain't got time for college, I've only got time for music.'"
The only option to keep his grip firmly on music was to work at McDonalds. "We were like, 'We gon' get you out of there, bro!", Ty laughs. A year younger than Deiondre and Gabe, he had a glimpse of what life after graduation would look like – in the case of Gabe, choosing between cosmetology school or working at HomeGoods. While Deiondre was flipping burgers, Ty was in a rap group called Dropdead. "They're still my homies, and stuff," he says, "But it was like, 'I've got to make something work. Something has to pop with the music.' Their parents were supportive, but they needed some money to come in if they were to carry on. "It was just crumbling," he shrugs, "and I was kind of panicked."
I ask them if they ever doubted that things were going to work out. "We just knew," Ty says. "We knew it was gonna work."
The colour that Blackstarkids brought into their lives helped them get through life's monotony. While Kansas City is home to a thriving music scene – particularly jazz – Ty says, "We really couldn't fit into none of them, honestly. But the kids were embracing us because of that." While the established scenes of jazz, rap and rock had their gate-keeping issues, with venues reluctant to let them perform because Blackstarkids didn't fit neatly into a given box, he says, "right now, people are starting to crack down that gate."
So, of course, they started a scene of their own. The music video for "Tangerine Love" (the one where Ty is in his feels, sat in the bathtub at a house party while Deiondre throws up in the toilet) is full of the people who have been there for them since day one. While Blackstarkids is a trio, there are more than a few creatives in their orbit. The first person who comes to mind is Jerry P. "Without him, there is no us," Ty explains. "He's just as important. Like, he's really the fourth member of the group. He plays synth in our live band, and he shoots a good majority of our videos and edits them all. He's our homie, too, one of our best friends." Gabe laughs, "He broke his leg, and he was still out there with us!"
"Our music is the ultimate scrapbook - but I don't regret saying anything, because I feel like with these projects, we're tracking our lives in real time." - TheBabeGabe
Then there is Jake Kelly. "He's one of the main people I love in life, the freshest person that you can ever meet. Nobody gonna out-dress Jake, man – he's a real pretty boy," Ty says. He's responsible for the group's photography, with an instinctive understanding of the nostalgic, bubblegum-sweet look that defines the trio. They also have Daniel Ruez, a graphic designer hailing from Chicago, and Jack Dolan, their drummer. "They take our stuff just as seriously as we do," Deiondre adds.
"Our music is the ultimate scrapbook," Gabe says. The trilogy of albums each mark those first tentative steps into adulthood, marked by sky-scraping ambition, summer heartbreak and learning, day by day, how to give less of a fuck. "I just feel the growth," she elaborates, when they look back on how far they've come across such a short burst of time. Ty continues, "I'll listen back, and I'll think, 'I kind of miss that', because things are different now. But I don't regret saying anything, because I feel like with these projects, we're tracking our lives in real time."
Although their lives are growing at a break-neck speed, at least they have grown together. "It's crazy how much I depend on them, even compared to a year ago," Ty admits. "I've always loved them, but I need you guys to function now. Y'all are really like my family. We've just gone through everything together – the best times, and the worst moments. We did it together."
While their music is often gulp of sunshine tracing the highs of growing up, from box-dyes to the rush of falling in love, there is also something bitter to taste. "I think it's funny with our music," Deiondre muses, "there's a sugary upbeat-ness to it, but you know, underneath that, we sad." Ty elaborates, "I feel like we just always gonna tell the truth, like if we happy, we're gonna make a happy song – that's why people say that about our music all the time, because you can feel it. But I just think it's funny how - and I don't mind this at all - but like, it'll be a song, like, 'I want to kill myself!' And people just be like, 'This song makes me feel so good!' Like, you're not listening to the lyrics, but it's fine!"
From wishing the night would end, to giving up on the day to just listen to Frank Ocean, to more serious confessions of having to count the reasons to exist, their music is a safe space for the thoughts they wouldn't share with anyone else. "It gives me room to say what would be hard to say in real life. In music you can pretty much say whatever, as long as you make it rhyme and it sounds good," Ty laughs. "Kids tell me, 'You helped me with my depression', and I'm depressed as well! Like, how can I help you if I can't even help myself? It's not like we're trying to be heroes or saviours, or anything. But if a kid finds that naturally through our music, then that's beautiful."
Together, they feel invincible. And with their fourth record on the horizon as we enter 2021, this, they promise, is their most ambitious yet. While what it will mean only becomes clear to them in retrospect, one thing they've never lost sight of is their vision. "I would love to just be an inspiration to not only black kids, but kids who felt like an outcast – because we all felt like that growing up, being into things that are outside of the box. I want them to know that it's okay to do what you want and like what you like – you don't have to fit in with everyone else."
Ty also hopes that as they progress, they never compromise on their artistic integrity. He has visions of them performing, just like N.E.R.D when they're approaching middle age, and the songs still ring true. "I want to be a legacy group," he says. "I want people to still fuck with us just like they do today, because our music still stands as true. I want people to talk about us down the line, and be like, 'Love it, or hate it. They did it. It was them, the whole way through.'"
Get the Best Fit take on the week in music direct to your inbox every Friday