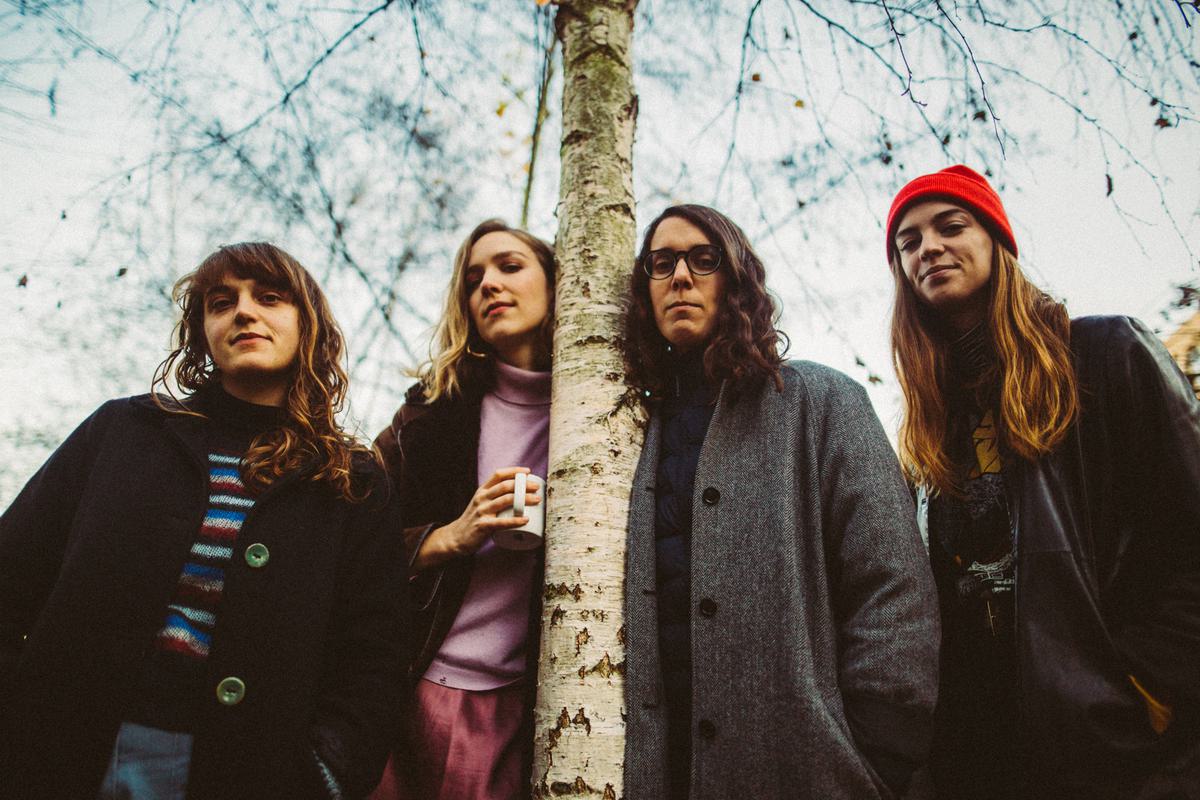 The Big Moon learned to find the joy in empty space on record number two
10 January 2020, 11:00
"Learning dance routines is So. Satisfying." muses Juliette Jackson, lead vocalist and guitarist of London four piece, The Big Moon. She's talking about the '90s boyband inspired choreography the band learned for their recent single, "Take A Piece". "It took me ages to learn it, but Celia learned it immediately".
Bassist Celia Archer looks genuinely chuffed with this comment. "That's because it's what I've always wanted to do! Sarah Green (choreographer) asked me if I'd ever done any dancing before, because I picked it up so quickly. I was like "No, I've just watched these videos so many times that I know them. They're in my soul."
The Big Moon's passion for nostalgia, paired with their ability to write buoyant guitar riffs and catchy choruses has seen them garner a loyal fanbase and critical acclaim since their inception in 2014. Their debut album, Love In The 4th Dimension was shortlisted for the 2017 Mercury Prize, and the band were invited to join The Pixies on their 2019 UK & Ireland tour. "It was a gentle intro into everything again after a bit of time off." Drummer Fern Ford explains.
"The Pixies are one of our favourite bands of all time, and they asked us to go on tour with them." Archer joyfully interjects. "Their set is different every night. Frank Black just starts playing, or calls out what they're going to play. They don't talk either. They just walk on stage and play 40 songs for two hours. In Leeds, they didn't play 'Debaser' and everyone went mental. It was such an amazing thing to watch."
I ask if The Pixies fans were impressed by The Big Moon's songs, and the band agree that they were well received, even by hardcore fans. "There was a lot of…" Archer mimes a hardcore Pixies fan reaction, which consists of creased eyebrows, one hand on your chin, and slow repetitive nodding. Jackson rightly dubs it "chin-scraping". When asked if they had a favourite venue from the extensive UK tour, they unanimously reply with "Ally Pally" (Alexandra Palace in North London).
Ford voices her humility at playing such a huge venue, where some of The Big Moon fans came out to watch the band: "When we walked on [stage] to our drone music in the dark, the noise the crowd were making....I was like 'Wait, do they think the Pixies are coming on now?' I was so confused. Then I realised they were cheering for us, and it felt great." Guitarist Soph Nathan echoes Ford's sentiment: "Sometimes, when you get up there [on stage], you ask yourself, 'Do I belong here? Can I fill this stage and play to this audience?' We did that with The Pixies, but it was nice to do that and be like 'Oh, this works!'"
It certainly does "work". During the interim period between their debut record and this support slot, the band recorded their much anticipated sophomore album, Walking Like We Do, released today. They also played numerous festival stages throughout last year and it was after the band's set at Green Man Festival that Jackson was proposed to by her partner on stage. When asked if they were in on this surprise, the band laugh with a collective "no".
"Nobody knew. He didn't even tell anyone!" explains Jackson. "He didn't organise it at all. He just came on stage at the end of our set, and expected the microphone to be on. I'm surprised the security didn't barrel him off stage. I was scared they'd rugby tackle him! He was lucky. And obviously lucky that I said 'yes'. I remember that whole weekend just being the best. I think Green Man is my favourite festival, because it has the best music and is in the middle of a load of mountains. We also had a camper van too, which was life changing." "I almost forgot that we'd actually played a show that weekend, because the proposal was such an event in itself." laughs Fern.
When asked if her first dance as a married woman will be as expertly choreographed as the routines in The Big Moon's music videos, Jackson doesn't have time to answer. Ford quickly replies: "Yes, If we've got anything to do with it," while ARcher quickly adding, "Your first dance will be with us, not your husband." Jackson laughs, undeterred by their comments: "That would actually be great. Some people do that. I had a friend who did a whole routine to the Shia LaBeouf song (by Rob Cantor). They all wore Shia LaBeouf masks. It was weird, but it was also great."
The expert choreography I'm referring too can be seen in the band's video for "Take A Piece", which Jackson and Archer happily spoke about earlier. The band are complimentary about their collaborator and choreographer Sarah Green, and clearly enjoyed making the video throughout its conception. "Sarah choreographed everything, but we came up with the idea quite simultaneously during a rehearsal." explains Jackson. "I thought they were joking" jests Nathan, adding "then I realised it was genius."
Archer's enthusiasm for the visuals is still clear: "It's the poppiest song we've put out, so we decided to do a really poppy video to it, and have all the fun we had when we were kids. As is Jackson's: "I really felt like a popstar that whole day. I felt like Britney Spears."
"You looked like Britney Spears" adds Archer.
I ask if they think the double denim they were sporting in the video will make a comeback in 2020. "Has it not already?" replies Jackson, as she gestures towards Ford, who is wearing a black denim jacket and black jeans. The comeback is clearly in full force, and I've missed its re-emergence. Shame on me.
From one brilliant video, to another, the conversation swings towards "Your Light". 1.2 million people have viewed the accompanying footage for the single on YouTube, which shows the band riding bikes in tandem through sunny fields, singing along to their song. "We woke up very early, got in a car, and someone took us to a very beautiful place." explains Archer.
Ford has a particularly fond memory of the day: "I remember laying down in the field while we were taking a break, and thinking "How could this day be better?" Then, out of nowhere, this fluffy cute puppy-dog came running up to me and started playing with me! It appeared, laid on its back, and then ran away after I'd stroked it." When I joke that maybe Ford was dehydrated and hallucinating, she calmly says "It felt real, and that was enough".
"We learned the routine the day before. We rode around Shoreditch Park on bikes. Sarah was trying to figure out what would be possible, and what moves we could or couldn't do. The Director came at the end of the day to have a look at what we'd done, and said, 'Don't worry. You don't have to remember everything, we'll do it section by section, it won't be in one take.' Cut to the first time we do it on the day, 'Oh, that actually looks really good, we're just gonna do it in one take.'"
This "one take" was hindered by many things on the day, as Nathan recollects: "I had some sort of allergic reaction in one of my eyes, so the director let me wear sunglasses for the first few takes. Then he was like "actually, sunglasses look silly, you're gonna have to do it all again without them." She battled through, probably because Fern remembers people shouting "remember the joy!" between takes, prompting them to feel the optimism and sunny disposition of the song while repeating their performance..
For some reason, I feel it's an appropriate time in the interview to tell the band that I cried the first time I watched the video for "Your Light". "It's just so uplifting!" I squeal, as they smile kindly back at me. Their charismatic performance in the visuals - which also translates onto the stage - is genuinely a pleasure to watch. I tell them I didn't plan to tell them I cried, it just sort of came out. "It would be funny if you'd written it down on your sheet of questions as 'at this point, tell them you cried'" jokes Archer. This makes me feel slightly less mortified about my behaviour. I ask if they cried at any point during the making of the video. They joke that they "cry all the time".
"I did almost cry once" confesses Ford. "When we were on the bikes on a bumpy bit of the track, I slipped and whacked my foof....but I carried on."
"You never told us that!" says Archer, "You're so strong and brave."
Ford's tears seem more justified than mine. I ask the band if they have a favourite music video (aside from their own, of course). Nathan is quick to answer: "We really like Marika Hackman's video for 'The One', directed by Louis Bhose, who directed lots of our early music videos."
"I really like music videos that go backwards." says Jackson, prompting Nathan to reply: "I was just about to say I like the Coldplay video that goes backwards! The Scientist! I watch that video a lot. It's still so good! Loads of people have done that, it's just such a great idea."
"I just wanted the sounds to have more weight to them: stuff like using sub bass instead of bass guitar, which is purer and harder, or using drum samples as well as live drums." - Juliette Jackson
I ask if that will be an idea for the next Big Moon video, and Jackson replies "Sure. We'll give it a go." It's an attitude that seems to be part of the band's live ethos too. When asked about their headline gig at The Lexington - their last gig of 2019 - the band reflect on their feelings about playing new material to fans, and how it's a learning process.
"[The Lexington show] was so good." says Archer. "We hadn't toured properly in over two years, we'd only played at festivals, where we were trying to work out a new set up for songs. You're playing to people who haven't seen you for a while. So you're like, 'Hey, this is a new one, how do you feel about it?' and then we toured with the Pixies, so it was still a bit 'Hey, how does this one sound?'. I'd forgotten what it was like to play to our own crowd - in London as well - so at The Lexington we were like 'Ohhh, this is a thing! People like us. We don't have to convince them here!'".
"It really cemented the new songs for us" Jackson continues. "We'd been playing them for a while, but it was still nerve-wracking to play new stuff to a new crowd. But they were received so well at The Lexington." The band all nod in agreement. I was at the show, and I don't hesitate to tell them how much I enjoyed their set. I quickly change the subject back to their new record, Walking Like We Do.
"We explored a lot more when we were recording it." says Nathan. "With Love In The 4th Dimension, we'd been playing those songs for ages, so we just recorded them and layered loads of guitars. Whereas on the new record, Jules put a lot of thought into leaving space in the songs, not just layering and layering sounds. So each instrument has more of a purpose."
"I just wanted the sounds to have more weight to them." explains Jackson. "Stuff like using sub bass instead of bass guitar, which is purer and harder, or using drum samples as well as live drums. You have a much wider landscape of sounds. So it's not just a pure rock album."
I ask about the recording process in Atlanta, USA. "It was really nice to get out of London, and immerse ourselves completely in the whole process without any distractions." says Ford. "There was a little roof on the garage where you could go and watch the sunset, have a little breather." Nathan reminisces. The whole set up sounds very idyllic.
"Jules did a lot of stuff to take herself out of normal writing patterns, coming at things from different angles." explains Archer. "In Atlanta, it was like you could imagine yourself as someone different, or you rise to different possibilities and use different instruments. Compared to if you were in London, and you were going home every night after recording. You get yourself in a different mindset."
Jackson took this step a little further: "Every morning, I would think about what clothes I was going to wear quite carefully, which I don't usually do at all. I was like, 'What kind of person am I going to be today? Which of these outfits matches that person, and their confidence to be able to finish those lyrics?'" "Or to sing that song in the right voice…" adds Archer, "Or to pick up that bassoon…" jokes Nathan.
The Big Moon's fans are going to be really disappointed if they don't hear a bassoon on the new album. Perhaps they should release a bassoon instrumental album next year? We digress…
I ask them what their top three tips for tour survival are, as they'll be touring the new album pretty soon. Ford is the first to suggest "Rest, space...." and Nathan finishes the list with "vegetables". "I really need vegetables. Or I need emergency Pho." She also adds her tips for staying distracted during long drives: "I spent a lot of time sitting in the van just staring on our last tour, so it's really good to have a puzzle book, or a book to pass the time. Just so you don't end up staring out the window, or staring at your phone."
"We do a lot of crosswords. We're really cool." jokes Archer. "Remember, these are helpful tips, we don't need to remind ourselves to do the fun stuff. We don't need to remind ourselves to have a beer. Just have a pint of Pho instead. Hav a pint of Pho on stage."
The band's upcoming UK tour will see them play to a sold out crowd at Oslo in Hackney, for Annie Mac Presents on 4 March. I ask what their anticipations are for this particular gig. "I'm hoping it'll be like The Lexington show." says Jackson. "I'm hoping Annie Mac will be there," says Nathan. "I'm excited to play the new songs as well, as everyone will have heard the album by then. It's so great when you see people singing along to songs that you've just put out." "We made the album in March last year, and finished everything by June" adds Archer, "so it's been a while. All this time has been about making sure everything's ready for it. So it's nice to imagine a time where we won't just be talking about it, it'll be speaking for itself."
Before I leave the band to their lunch (an unexpectedly expensive salmon fritata for Archer, a vegan slice for Nathan, and soup for Ford and Jackson), I ask if there are any bands or artists they're listening to who they'd like to recommend. Jackson offers a name first: "Gently Tender, who Celia plays keys for. They're a wonderful band, with incredible songs, that fill your spirit with joy and warmth. They're really good and not appreciated enough. I'm also trying to think of other bands that we aren't in. I'm just listening to so much pop music at the moment, there's no-one you wouldn't have heard of. Robyn, Charli XCX, I Iike Georgia too."
Archer admits she never knows how to answer this question in interviews: "We should really try and think of people ahead of time, because we do get asked this question a lot and it would be nice to support people we know. This is a good reminder to have a list. The worst is when people ask in interviews 'What's a funny story from tour? What's the craziest thing you've done?' and you're like 'Ah man, can I even tell that story?' or 'Oh God, I've never done anything funny'. I joke that these questions are actually quite good from a journalist's perspective, and that I should take note. She jokingly asks me not to. "Or, when people ask for something you've done that's really cool that has nothing to do with The Big Moon. I'm like, 'This is the cool thing that I do. My hobby was that I played music, and now it's my job - what more do you want from me?!'
And what a job it is. To be part of a band who are enviably charismatic, have a genuine talent for songwriting, and who are able to fully enjoy the many moments of humour that permeate the long processes of recording and touring a record. With a new album and several tour dates already on the horizon, 2020 looks set to be another successful year for The Big Moon.
Walking Like We Do is out now via Fiction