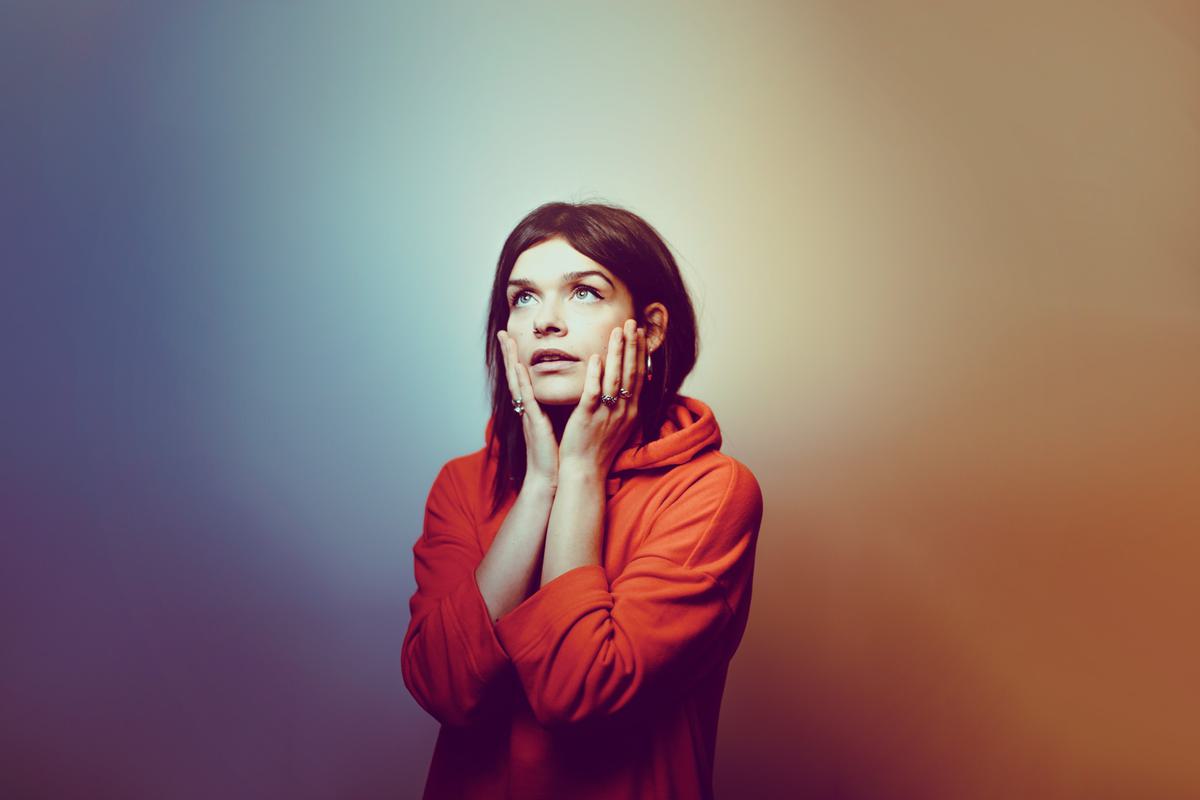 On the Rise

Bessie Turner
29 November 2019, 08:00
Independent DIY artist Bessie Turner is rising to the challenges of being a young, independent creative.
Bessie Turner breaks the ice armed with two accessories: a glass of Barroca and her "period pants", a size too big, which she stuffed into her bag in a panic after seeing them whirl around her boyfriend's shared tumble dryer.
"I was like, 'Look how massive these knickers are!'", she says incredulously, pulling them out of her bag, "I had to put them in my bag so no one would see them." It comes as little surprise that Bessie Turner has no business with smoke and mirrors. She is honest to the last, and it's absolutely brilliant. Since her emergence in 2017 with her debut single "Big Sleep", she has spun a delicate web of intimate, nocturnal instrumentals, marked with a particular, confessional magic that is all her own. Releasing only smattering of EPs and singles, it begs the question: where has Bessie Turner been? The answer is a long and a difficult one. But the final months of 2019, which she refused to let slip out of her grasp, herald something of a new beginning.
What better way to return to music than with "Down 2", her first single catching the tail-end of the year, which, with its rollicking, anthemic chorus shows Turner is equally as capable of defiance, ("I'm so down, I'm so down without you, dear / It's almost like having you here"), as she is vulnerability. "'How does it make you feel, Bessie, with your own words?'", she jokes, leaning back on the sofa, eyes to the ceiling, as if I were her (deeply unqualified) therapist.
"I think ["Down 2"] holds quite a lot of meaning for me," Turner considers. "I always struggle speaking about how a song translates. Like Cate Le Bon, when she got asked about her songs on an interview on Radio 6, and she was like, 'To be honest, that's for you to decide' – and I really respected her for saying that, and I'm of the same understanding." Her music video for "Down 2" has Russian subtitles, which say, "It doesn't really matter if this translates to you properly." There is a universality to her music, where, in the unlikely event the lyrics don't resonate with you, the music seems to run like watercolours into the soundtrack to your day.
"This year has been super transitional; I didn't have any of these foundations around me at the start of the year. The plan was to go with another song, but I think that I'm really one for going for the vibe that you think is right and what you're feeling, rather than what you think you're supposed to do." The track was written with Justin Young of The Vaccines – but also with her friend, Will. Though Bessie Turner's music grows in its sophistication with every new release, it's by no means reared under the industry's hothouse lights and is still reminiscent of a girl making music in her bedroom.
Turner's old comrades, BBC Radio 6 Music, the epicentre of alternative taste-making, have met her return to music with the same passion for her work as they did with her debut single two years ago. "I listen to 6 Music all the time, it's the only station I always kind of have on as a constant." When she first caught the eye of the station, it was a stroke of serendipity. "It's quite a bizarre story, actually," she explains. At this time, Turner was still living on a boat – just one of the odd little details she's in the habit of peppering her stories with – and she was about to cancel playing guitar for her friend's birthday in a small pub in Ipswich. "
I'd had a big argument with my boyfriend, or something," she says dismissively. "I wanted to cancel and let my friend down, but I didn't, because…" she jokes, cracking a smile, "I'm too nice." Spotting a guy in the crowd wearing an IDLES t-shirt and complementing him on his good taste, he said, "Oh, I saw you play at Latitude [Festival]" – this man was Paul Sheehan, the radio producer for Steve Lamacq. "He has been a massive, massive help in supporting my music." She adds, "I even look after his little girl sometimes."
Make no mistake, though: Bessie Turner is not the kind of woman to wait for things to fall in her lap. Since the beginning, she has been an independent DIY artist. Her debut single, "Big Sleep", was entirely self-funded and released through her own record label, Don't Try Records – a name that well-reflects Turner's particular brand of humour, but is also something of a riposte to the challenges of being an independent creative.
"I don't know anyone that's not an independent artist," she says. "Even people that are doing really, really well and excelling in music kind of still have this battle." She toys with the idea, for a moment: "The highs and the lows… The highs are when people appreciate what you do – that's mental. I started the record label and this kind of musical journey with a now ex-boyfriend. He was quite… paramount, in kind of pushing me and allowing me to kind of see that side of myself. I had… you know," she hesitates, "I still don't have tonnes of confidence at all, but I think that's one of the highs: realising people want to listen to it, too."
She's quick to name the downside of DIY, too: "Financial. Like, getting to a show, and, you know - some shows, you get paid nothing - and you've essentially paid like 50 quid in fuel and buying your band like Wetherspoon's tea, and you can't fill up the car on the way home, and it's like, 'Fuck. What the fuck am I doing with my life? I can't even afford to fill up the car with petrol.'" Turner reels off the mountain of Facebook posts, social media promotion and the pitfalls of navigating publishing and licensing she did when she started out. "I remember being so overwhelmed with stuff, like, 'Well, this isn't music'. Being a musician is about 10% music – maybe even less. It was quite disheartening, but I think, unfortunately, that's the stencil for now. That's just what you have to do."
But "it makes sense", Turner insists. She talks about music not as a choice, but as something inevitable. While she daydreams of "owning a café and lots of whippets", and while a career in music daunts her, her greatest highs are as a consequence of it. "I was so lucky and I'm so grateful for how things started, because otherwise I wouldn't be in the position that I am now. We released a song just by chance: right place, right time." Now, supporting slots with Ed Sheeran and song writing sessions with Bill Ryder Jones aren't so surprising. "I was like, 'Right, this is actually possible. People can do what I do for a living. I might not be rich," she says, talking about her days of pushing a trolley of sandwiches around a conference centre every day, barely making ends meet, "but this is sick.'"
Turner still struggles to reconcile herself with the idea that she's now recognisable. While she often catches the eye of people in her hometown in Ipswich who approach her to chat, and while she's both baffled and amazed that they want to interact with her, she confesses that sometimes, she wants to just "not shower for days, go to Sainsbury's buy some tin soup and get some Alpro yoghurts - and just not see anyone. I think that social media and our phones always being in our hands as well can be kind of like, 'Oh God, I'm an artist. I'm supposed to be telling everybody all about it.' Yeah, it can be it can be quite a pressure. I don't think I found… I don't know if anyone ever really finds the right balance of that."
Social media is an old adversary of Turner's. In 2018, she posted a selfie on Instagram of her crying; she shared, in the caption, that it was taken the day she started anti-depressants again. "It's actually just as relevant as any other picture", is the point she insists. "I think that social media is such a facade. I'm completely guilty of that as well - like, absolutely."
"I was brought up by two parents that were constantly relying on prescription drugs, and taking other drugs as well - being depressed and stuff. It wasn't… it wasn't necessarily the norm or anything, it wasn't something that my mum was proud of in any sense, but it was just something that was always relevant. And I remember people were just so scared to kind of say, 'I'm really, really struggling.' And for all of my parents' faults - and my mum, especially - she's just always kind of raised us to be able to feel whatever we want to feel: either like extreme elation, or mad nerves or just this huge anxiety about going to school, or, you know, anything. I think feelings are so important. If someone asked me how I am, if I'm not 100%, I just can't help but tell the truth. I'm not going to say 'I'm fine', because I'm not!"
While she was met with overwhelming support and coverage for calling our Instagram illusions into question, she was also met with criticism from unexpected places. "It was friends, as well, which, you know, didn't make me feel supported in the sense that I taking tablets and they were like, 'You don't need that.' Yeah, actually, that's not that's not what I need to hear. Like, it's a decision that I've made and I'm trying to better myself. Like, if you start running or something for your health, I'm not gonna be like, 'Oh! Why are you doing that?' - it's just a personal decision."
While it would be easy to point the publicity finger at Turner, she emphasised that the coverage her post gathered was kept quite separate from her music: "I was happy that it actually wasn't about the music and this kind of "I, Me, My" narrative. I was proud that it was for something a bit more meaningful than that."
"This year has given me loads of signs," she tells me. "It's been a really, really… what's the word? Reflective," she decides, "It's been a reflective year. I could write about it for years." She talks about having been close to death with a composure that only someone whose life hung in the balance could manage. "I feel hardened", she admits, "It makes me feel like a bit of a psychopath. I know not because I care lots about how people feel, but just a bit… cold."
Bessie Turner associates battling sepsis with a Greggs vegan sausage roll. She's quicker to mention being "pissed off" about the cold sweat and nausea she felt on a train getting in the way of her enjoying it, rather than how ill she suddenly became. She was confined to hospital for two weeks, with her infection markers spiking almost six times greater than those of a healthy adult. "I really wanted to die. That sounds dramatic, but I wanted to die. I've got this mad, really dark, gnarly song I wrote in hospital which no one's ever heard – but that's for my third or fourth album when I'm in my really dark Thom Yorke shit", she jokes.
Her life became a delirium: tangled with intravenous drips, mad antibiotics and cold sweat. "I just lost so much time," she sighs. "Everything kept getting postponed, and things kept changing, and I was like, 'Shit, maybe it's never gonna happen.' But I'm so thrilled I'm getting back into music – I'm so, so pleased. I feel like I can start next year like a ballerina, stretching before a show." She rehearses her next words like a mantra, a charm well-worn and held dear: "Though at the time I wish I'd died, I didn't for a reason." She shrugs and laughs, "I'm here now. You're welcome."