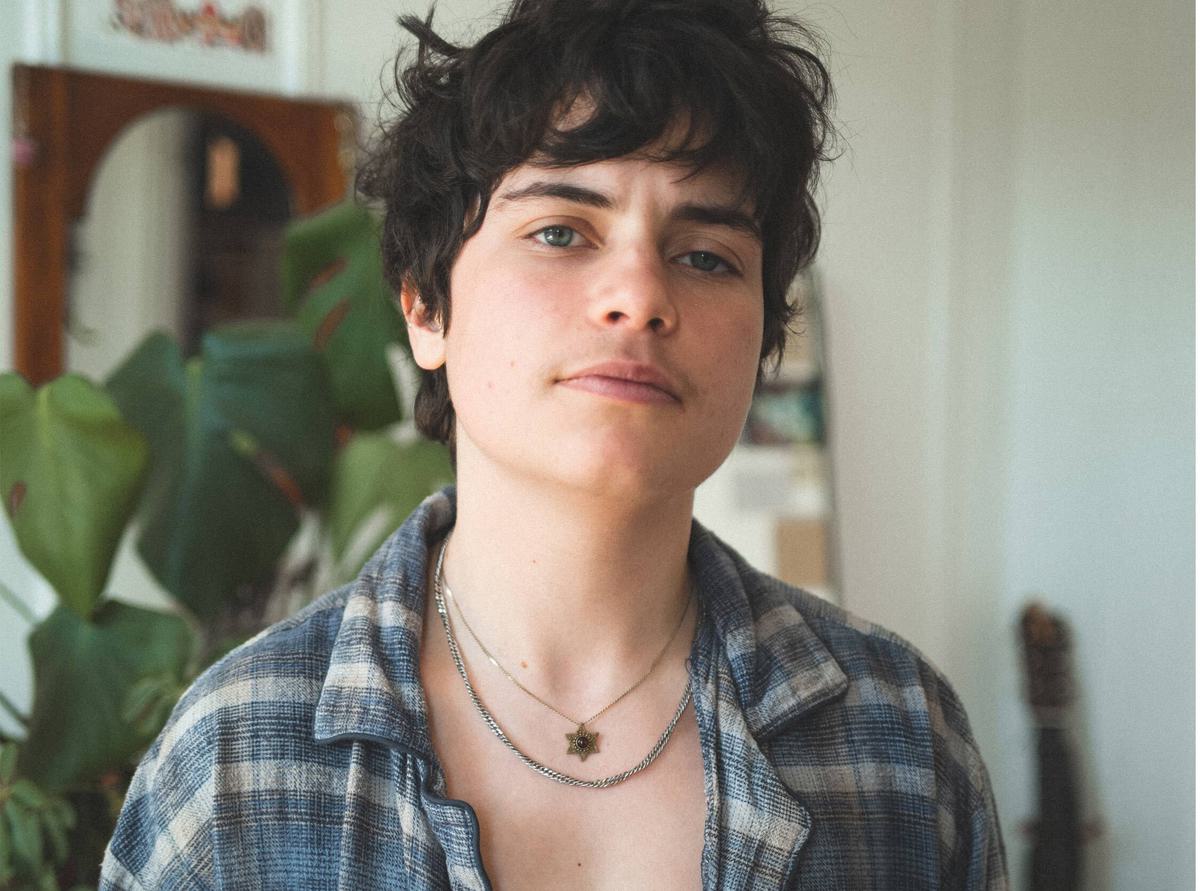 On the Rise

Bells Larsen
25 August 2023, 10:15
Lead photograph by Monserrat Muro
With his folk-inspired songwriting, Toronto-born Bells Larsen is crafting compelling stories about the queer and trans experience that speak to everyone.
Listening to a Bells Larsen track feels like a homecoming.
On a road trip to pick up a Facebook marketplace desk in an out-of-the-way Pennsylvania suburb with my girlfriend, I recognized his voice on a playlist we were shuffling. It turned out to be shortly after the release of second single, "People Who Mean So Much To Me," and I spent the rest of the drive hogging the queue just so I could play it over and over and over. The storytelling, the warm acoustics, the openness, vulnerability, and almost friendly quality of Larsen's sound struck me in a way that not many tracks do on first listen.
Part of it, maybe, was literal. Currently a resident of Montreal, Larsen grew up in downtown Toronto, in a neighborhood not too far from my own. And, though formidable, the Canadian music scene is small enough that if you're both familiar with it and somehow randomly hear the word "Outremont" thrown around in a song – especially after living in the States for three years and mostly being exposed to American talent – you'll probably do a bit of a double-take. What I mean to say is that not only do I like the music, but I also like to see my home team win. So, out of this perfect storm of events grew my adoration of and admiration for Bells Larsen, a rising force in the folk music scene and an emerging indie talent to watch.
About a year after I got hooked, I finally sit down with Larsen to discuss the release of their newest offering, the five-song EP If I Was, I Am. Larsen hops on our call from LA just three days before the project drops. It's sunny and they're fresh out of the shower. Though he's there for an industry showcase, it's also his first visit to the city. He says that it's "exactly how it is in the movies." We talk for a little while about being Toronto Exports, and they tell me that, with this new body of work, they're ready to finally try and "tap into more of the world" than they ever have before.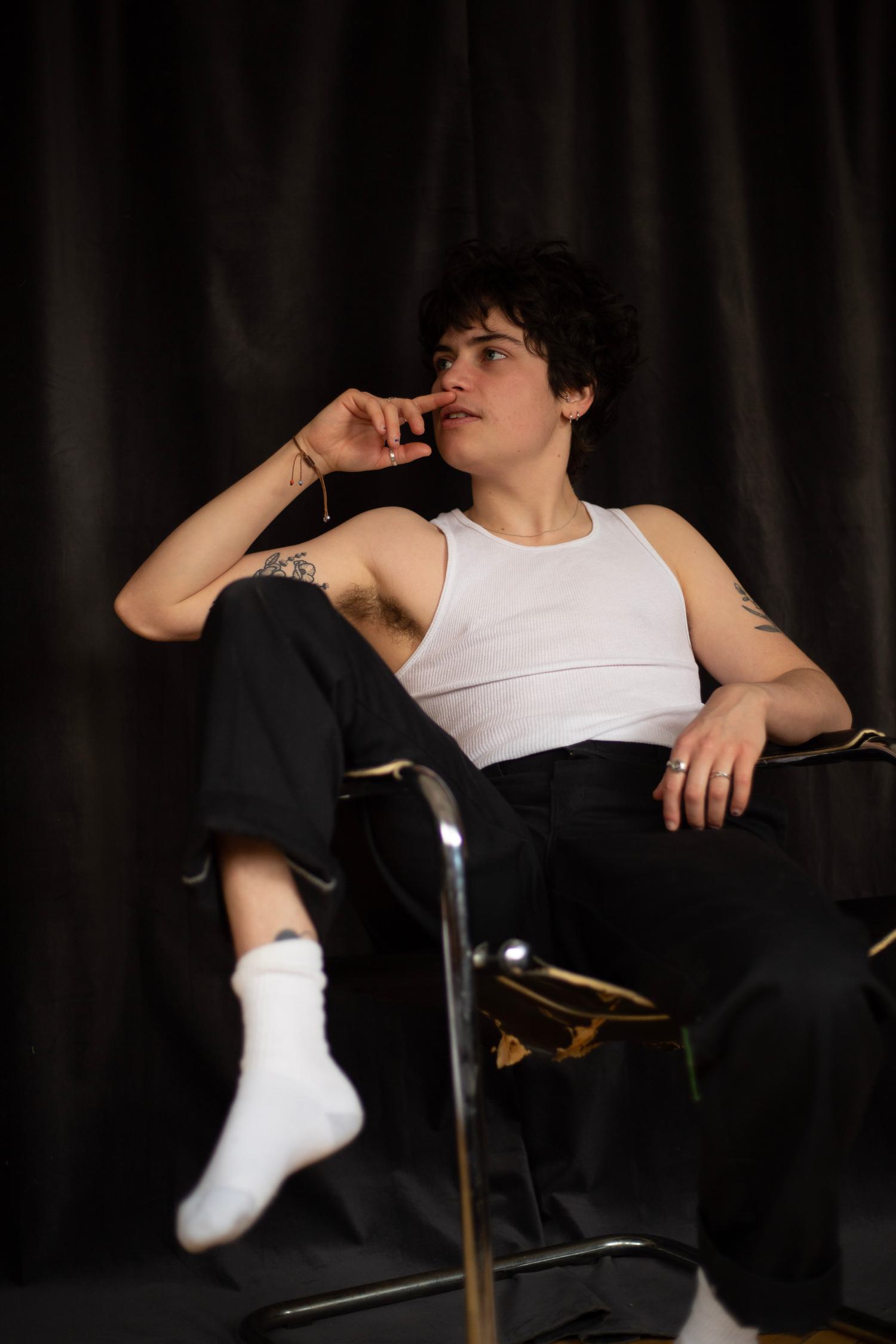 An alumnus of the infamous Rosedale Heights School of the Arts – a list that also features cult-favorite photographer Petra Collins and all four members of The Beaches, the breakout indie band of the summer – Larsen first started writing and playing music in their teens. At the school, Larsen met many of his first collaborators, many of whom he still considers "his nearest and dearest friends," and by 19, he had put out a self-released collection of nine songs on Spotify. The tracks were all material he'd written in his high-school days, touching on most of the typical teen fodder: queer love, queer longing, youth, firsts, and heartbreak. "At the age of 19, I thought there were only two jobs in the music industry: artist, and mysterious business guy who finds your stuff and sends you a contract."
Post-Rosedale, Larsen went on to enroll in the philosophy program University of King's College in Halifax, though, he discloses, more out of convenience than conviction. "I went to university not really because I wanted to, but because I figured that that was the next step in life that one does … The classic University model of many classes at the same time, many different papers, just essentially having to be an academic octopus, that totally was not for me." And, shortly after starting his first year, Larsen was blindsided by the death of his first love. Dealing with that passing caused a seismic shuffle of priorities for Larsen. "The most special things in life can be taken from you so quickly, do you really want to be spending your time reading Nietzsche? No."
That loss, and his ensuing retreat from the world, made up the material of his first record, Good Grief, that was released last September. "To be honest with you, the release campaign, just the process of releasing that first record was very, very, very difficult," he tells me. "The reception of these songs … it didn't feel as though that was a reflection of the stats of my music, but it felt like a direct reflection of the stories that I was trying to tell." And while it was important – even imperative – for Larsen to write and release that body of work, they tell me that their chapter of grief has now come to an end. After all, while Larsen was processing loss, he was also simultaneously thrust into his own rebirth. It took five years for Larsen to write and release Good Grief, during which time he also came out as trans. By the time the album came out, Larsen's physical transition was well underway. "By the time I was singing a lot of the songs off of my first record live, they were like a good six octaves lower (than the recordings)," he says. "It felt like there was this discrepancy."
With If I Was, I Am, Larsen took a new approach. "This EP has been more of a process of, 'I would like to once again reintroduce myself' in a way that feels much more raw and less produced." In some ways, it's also a return to Larsen's roots, with the production style of the EP mimicking the bare-bones acoustic sound he first played around with in high-school, one he fell in love with thanks to early influences such as Joni Mitchell, Cat Stevens, Nick Drake, and Elliott Smith.
"I do spend a lot of time thinking about my younger self and the sort of stories I wish that I would have had when I was younger," Larsen says on their writing process. Often, this takes the form of stories written about the queer and trans experience, about acceptance and choosing oneself. A recurring theme of the EP, Larsen's most poignant unpacking of the need for tender self-recognition and vulnerability comes on "Ten Hands," a track about finally finding safe, uncomplicated, enduring love with a partner. "But there's also the flip side," Larsen cautions. "This desire that I won't be: 'Bells Larsen, the queer, trans artist.' I hope that my music will resonate with anyone and everyone regardless of their walk of life. Transitioning in this day and age has a very specific connotation. But, you know, people have life transitions every day. Change is a universal human experience, whether that's a breakup or a move across the country or whatever."
On "Suitcases by the Door" Larsen manages to flip the lens, examining change not just as an inner phenomenon but to better understand their partner. "In this particular case, I was writing about changes my partner was going through last spring with the hopes of being able to love them better," he says. "I also love challenging myself and creating limitations of what I am or am not going to write about. 'Suitcases' is one of the few times in my writing where I manage to switch the direction and face [the story] outward."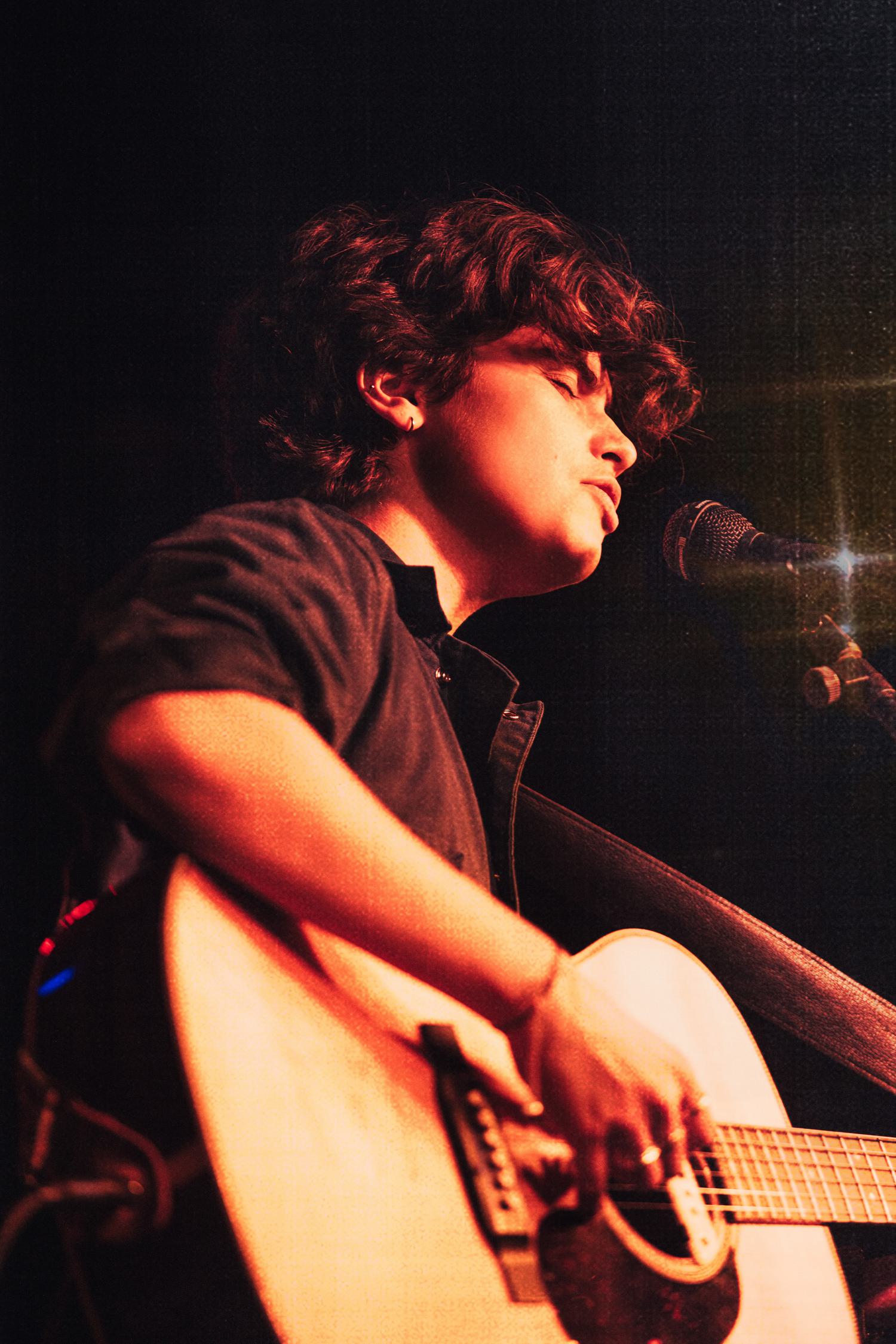 Though the thematic focus of the project is grounded in deep introspection, the recordings themselves were really a labor of friendship and community. Shortly after moving to Montreal, Larsen met Matteo Gueli, a fellow musician and photographer. "We would spend so much time together and go on walks and talk about how horrendous the music industry often is," Larsen says and laughs. "He taught himself everything he knows – recording, writing, mixing, mastering, playing. I think he's a genius." When Larsen had the itch to record a new EP, Gueli was their first call. "We picked five songs and drove up to my partner's cabin in rural Québec this past January and set up a couple of microphones, a guitar, and a banjo. During the day, he would, like, wander in the forest, and I would work my 9-to-5 from afar. And then at nighttime, we would record."

With the EP's release, Larsen's work now shifts to bringing his work to a wider audience, particularly through gigging across North America. "I feel very comfy on stage," Larsen says of their excitement to perform. "I love having the opportunity about the songs and give them a bit of context before I play each one."
Being able to now hit the road with a repository of fresh material, material that more accurately reflects Larsen's current frame of mind, makes the experience, they tell me, more meaningful than ever. And finding those pockets of meaning is what, to Larsen, the whole music thing is all about. "I hope that in the future, no matter what I'm doing with music – whether it's navigating the music industry, whether it's making music, whether it's simply being part of a music community – I hope that I can continue to just do things that feel good and continue to make cool things with cool people," Larsen says. "I hope that I can have my stories resonate with people who I think ought to hear them."