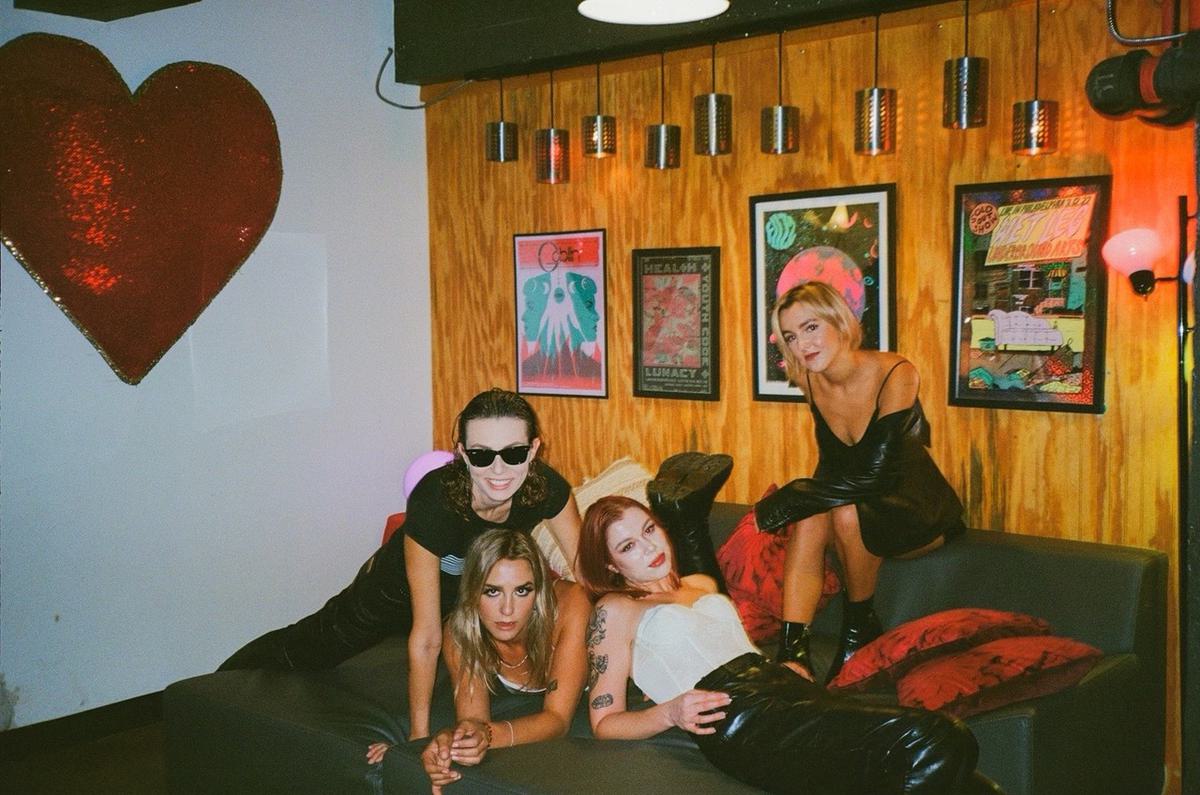 The personal reinvention of The Beaches
20 November 2023, 12:00
One of 2023's runaway successes, Canadian quartet The Beaches tell Laura David how building their own scene was key to the band's success.
It's a late October afternoon and Kylie Miller is waiting for her sweetgreen outside Philadelphia's Underground Arts.
A small queue of fans has already begun forming near the venue's entrance and their tour bus is parked down the street. Following introductions, she chats about cheesesteaks, New York bagel shop Russ & Daughters, and the hometown we both share, Toronto. When her order finally arrives she leads us inside to meet the rest of the band.
It's not The Beaches' first time in Philly. They were here on tour last year to play at the Dolphin Tavern during a small run of US dates, guitarist Leandra Earl tells me. The Tavern, she notes, is around half the size of the venue they're currently sitting in, and only about 50 people showed up. Tonight's show is sold out.
From first stepping into the room with them, the chemistry of the band is palpable. It's a rapport, familiarity, and genuine enjoyment of their own company that can only be built from experience. Given that the group has been playing together for over a decade, it makes sense. An export and long-time staple of the Toronto indie scene, The Beaches are comprised of lead vocalist Jordan Miller, guitarist Leandra Earl, drummer Eliza Enman-McDaniel, and backup guitarist/vocalist Kylie Miller. The group became friends while enrolled in high school at Toronto's Rosedale Heights School of the Arts, though the two Millers – notably sisters – and Enman-McDaniel go even farther back. The band itself is named after the Toronto neighborhood the group grew up in, an enclave in the east end of the city that sits on the edge of Lake Ontario.
"Jordan and Kylie started playing together right out of the womb," Earl quips. "Our tour manager actually taught them how to play guitar and then put them in their first band called Sisters Others and Brothers (SOB). Then they met Eliza in like, what? Grade one?" "Yep, grade one," Enman-McDaniel confirms.

By grade seven, The Beaches had assembled in their first formation, known at the time as Done With Dolls. Enman-McDaniel and the Millers, along with one additional member, began writing together and playing shows around the city. When the original fourth decided to quit the project, their first call was Earl.
"We knew Leandra because she was a peer tutor for my music class. I knew how talented she was, and she really liked our previous band," Enman-McDaniel shares. "She was like our only fan!" Jordan Miller adds, and the group laughs.
"She'd come to all our shows and made herself very known to us, so we just called her and asked her to come to the studio and play some songs with us," Enman-McDaniel continues. "It just fit so well. It was the best decision that we made, and that was like over 10 years ago now."
Right before their graduation, The Beaches were offered a deal from Island Records. Earl, who is a year older than the other three members, had deferred her university acceptance to keep working on the project, and the group had started to attract attention in the Canadian scene. By the ages of 16 and 17, the group had played 1000-person capacity venues and toured around the UK in various support slots. "It just felt like there was starting to be this little buzz around us that was serious, or at least a little buzzier than some of our friends' bands. And so, we were like, 'okay, this is a little bit more than a hobby,'" Earl explains. "We basically either had the chance of going to university or taking the deal, and taking it seemed like the smarter choice" Jordan Miller continues. "We knew we wouldn't get that chance again."
Their run with Island was essentially a development deal and admittedly they spent most of it living in LA, in and out of writers' camps. Eventually the group were transferred to Universal's Canadian arm, Universal Music Canada, where they met the producers who would help craft their first record,Late Show. The LP was released in 2017, and the next year they would go on to win Breakthrough Group at the JUNOs. During their Universal era, the band were tapped for a number of high-profile tours – key highlights being opening for the Rolling Stones and Passion Pit – and they performed well with radio stations. But their audience, as they explain, began to plateau and was made up of an older, rock-leaning demographic heavily concentrated in Canada. "We could sell tickets to shows, but it didn't really add up to our online presence," Earl explains.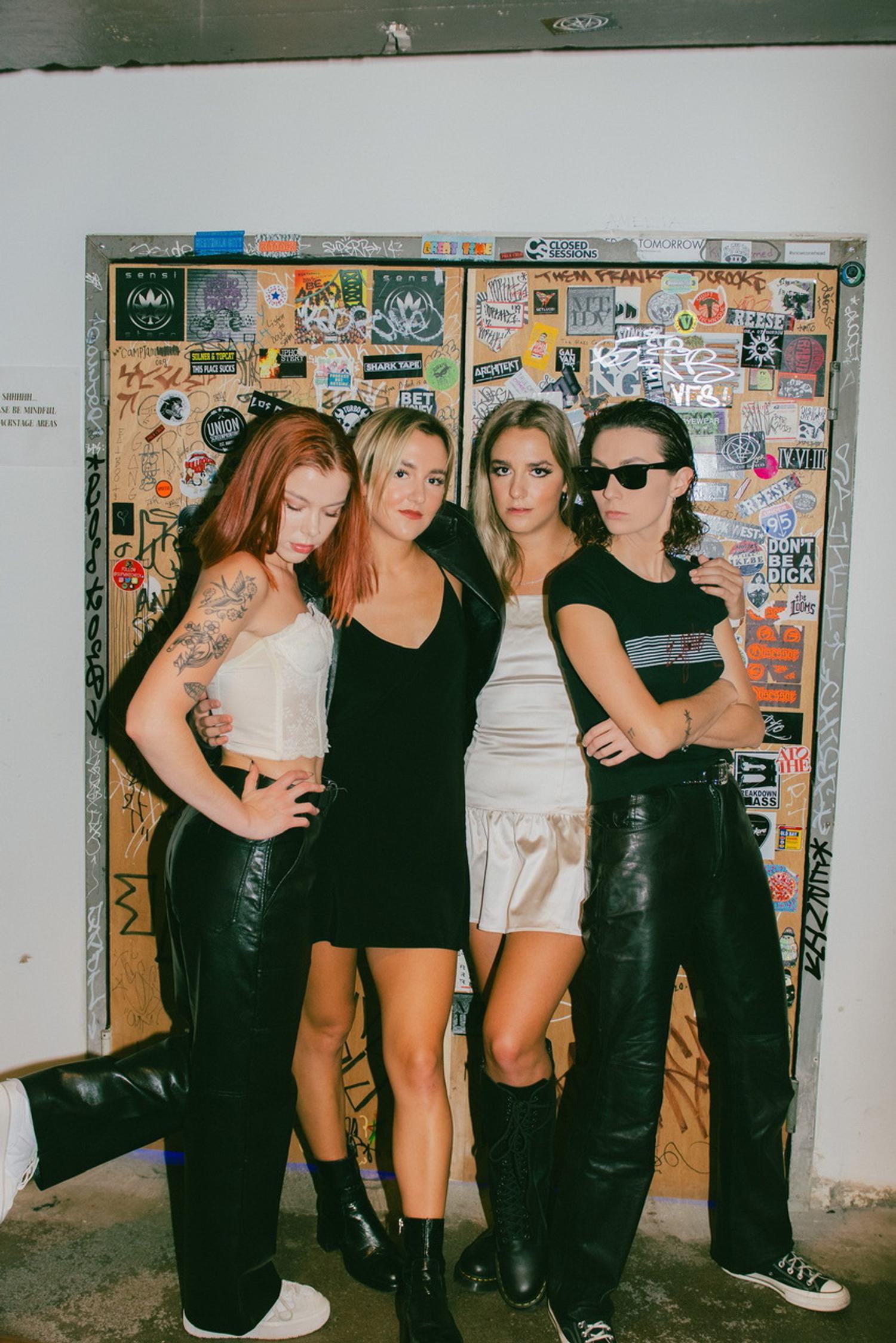 Signing that big 'major label deal' can look like the fairy-tale ending for up-and-coming artists. Contract in hand anything is possible, or, that's at least how it looks from the outside. But the reality is far different, the group share. Contract intricacies and changing label priorities can make it easy to get lost in the major shuffle.
"With Island, like, we didn't really have a sense of direction. That's kind of what happens when you sign a development deal. It's like, you try on a bunch of different looks and see what sticks," Kylie Miller says. "Working with them was amazing but COVID really shifted the way that the music industry works."
In 2022, The Beaches parted ways with Universal. Not by choice, though they make sure to clarify that there was no ill will, it's just how the industry goes sometimes. They wouldn't be who they are as people or as musicians, they explain, without their time at the label. But when it comes to the changing industry, the band is right. A reliance on digital trends has put a heavy numbers skew on music discovery and label priorities. It's more common now to see acts signed that already have a following that labels hope to capitalize on rather than the label picking someone out from oblivion and building that following from the ground up. Virality is key and the competition is heavy, but leaving a major label it might now be fair to say, is no longer the career hard-stop it once was. Multiple notable breakouts from the past few years – including Raye and MUNA, to name a few – were released from the major system before finding their footing. Most impressively, these acts have actually used such moments as pivot opportunities and selling points for their future careers. Still, it takes a band with unrelenting grit to press on and make it work. The Beaches, it turns out, are seemingly one of those bands.
"We had a conversation with our agent – we'd been dropped from our labels and had changed managers as well – and he had a very honest discussion with us saying, 'this next record has to be the thing that takes you over the edge,'" Jordan Miller recalls. "There was a lot riding on us, and it definitely felt scary," Enman-McDaniel adds. "The numbers matter. But now it's starting to change, and it's starting to feel different for the first time in over 10 years. I think we're all just finally accepting it because it's hard to let go of being jaded, I guess." Interjecting, Earl laughs "I've never been jaded!"

For the group, the big question was figuring out how to break out of the Canadian hard-rock bubble they'd been bouncing around in for much of their career. The paradox of the Canadian music scene is one familiar to its fans and artists alike. Government grant systems and Canadian content laws provide invaluable support to indie acts looking to get their start. Radio stations, for example, are required to play a minimum percentage of CanCon, a regulation system started in the 70s that tried to give homegrown acts a boost in order to compete with the behemoth industry operating south of the border. But CanCon, a contraction of Canadian Content, can be a double-edged sword. The rules to actually qualify are surprisingly stringent (no, qualification doesn't just mean the artist whose name is on the byline is born in Canada), often turning accessing that Canadian government infrastructure and tapping into international markets an either-or choice for Canadian talent.
Heading back into the studio, The Beaches teamed up with a new manager, Laurie Lee Boutet, who helped rebuild them from the ground up. "She really helped us facilitate our relationship with different producers in Canada because we did the whole record in Toronto, which is great because you get the funding," Kylie Miller says. "We went so far as redesigning our logo, redesigning our merch, everything. We really wanted this to be a fresh start and be our best foot forward, because there was a lot that just didn't feel cool and authentic to us. Like, our logo was this EDM logo for years. It served a purpose and we love it – my mom has it tattooed on her – but, yeah, it was just taking care and paying attention to those details... we had to kind of go through everything with a fine tooth comb."
As for the music itself: "We wanted to create a record thatwe would listen to, that we would be obsessed with," Jordan Miller expands. This meant that the group took cues from the increasingly popular indie-pop scene as well as the concurrent new wave revival. Their influences, they tell me, were a mix of Willow, The Cure, New Order, and everything in between. Miller, who takes care of most of the songwriting along with Canadian singer-songwriter Lowell, had also just gone through a breakup – with the now famous Brett, but more on that later – and wanted to put out a body of work that reflected the ups and downs of her own emotional journey.
"It would be like Jordan and Lowell were in the corner doing the main part of the songwriting and then we were listening to them and tracking to that as we'd go," Earl says of their writing process. "Gus, our producer, was really good at navigating that… it was organized chaos," Jordan Miller adds.
During the pandemic, Earl also came out to the group as gay. As she tells me, it was important for a piece of that story to make it on the record, too. "On our last tour we had some fans ask at a meet and greet, 'Now that you're out, why don't you have any songs that talk about queer love?' and I was like, 'that is so fair!'" Out of that moment came "Edge of the Earth," a track about Earl's now-ex and the often head spinning experience of falling in love with another girl for the first time.
As it was time to begin the album rollout, it was clear something was different about this project. The Beaches themselves weren't the only ones obsessed with it, swaths of new fans were, too. The lead single, "Everything is Boring," was released to a refreshing amount of energy and buzz, but it was really "Blame Brett" that became the standout.
The story behind the song itself is something of Beaches lore, now. The title name drops Jordan's ex, fellow Canadian rocker Brett Eamons of The Glorious Sons. TikTok teasers for the track began to rack up millions of views, shares, and presaves. On Spotify, "Blame Brett" has now amassed an impressive 20 million streams, the band's highest-streaming song to date.
"I've been the social media person for the past 10 years, so those numbers have always weighed on me," Earl says. "When I posted that TikTok [teaser of "Blame Brett"] and woke up to it hitting a million… it felt different. And then in that week, we saw our Spotify numbers actually going up. It felt real. It was wild, and it was exciting."

"We have had so many of our Canadian peers who have privately come to me and been like, 'we're rooting for you guys so much and it feels great that one of us has started doing well'"
(J.M)
"Although, I was also going through my own breakup at that time," she adds. "So, I didn't really get to enjoy it, but what Laurie said to me at the time was: 'The great thing about TikTok is you can do it from bed!'"
The group noticed strong numbers coming in not just from Toronto and Montreal but also from New York, Los Angeles, and even Australia. "Blame Brett" made a showing on Spotify's U.S. Viral 50 and charted on the U.S. Billboard Alternative list. The album, Blame My Ex, was released to a warm reception, particularly from the younger demographic The Beaches were hoping to reach. Their goal, they tell me, was to be able to play to a crowd where they could see themselves and their experiences reflected back at them, they tell me.
On their latest tour, the group has certainly achieved that goal. A slew of dates across the US, Canada, and UK have sold out, meaning the band will be on the road from October through December. But, when asked if they have started to miss home yet, they tell me they're too excited to think about that. It's their time and they're ready to hit the ground running, refusing to look back even for a second.
"You've got to strike when the iron is hot! Which, actually, is something Miss Bebe Rexha herself did tell us," Kylie Miller says. They're already thinking about the next era, hoping to push forward the momentum they've created. Maybe, they joke, that just means they'll have to have more breakups.

"It was so validating," Kylie Miller says of their international success. "And like, not any disrespect to Canada because we're so grateful to have had our start there, but a lot of bands do get stuck. It's really hard as Canadian artists to break out over here [in America] because the market in the US is so competitive."
"We have had so many of our Canadian peers who have privately come to me and been like, 'we're rooting for you guys so much and it feels great that one of us has started doing well'," Jordan Miller shares.
"Often people have to kind of hide the fact that they're from Canada, go somewhere else to get big, and then be like, 'hey, surprise, I'm Canadian!'" Enman-McDaniel notes. "Like, it's not super common to see a band that gets big in Canada and then goes somewhere else."
As the conversation comes to an end, we say our goodbyes and I head out for a walk around downtown Philly before the show begins. There's an excitement in the air, fuelled by a band that refused to give up and is now reaping the rewards of that persistence. Later on, the concert hall is packed wall-to-wall and the show proves itself worth the wait. The Beaches bring Philadelphia a hearty dose of girl band poise mixed with rock sleaze. When the crowd manages to sing every word of "Blame Brett" right back to them, the band look at each other in awe. "I'm just so proud of our entire team and the record and the work everyone has put into it," Enman-McDaniel says. "It's really been organic."