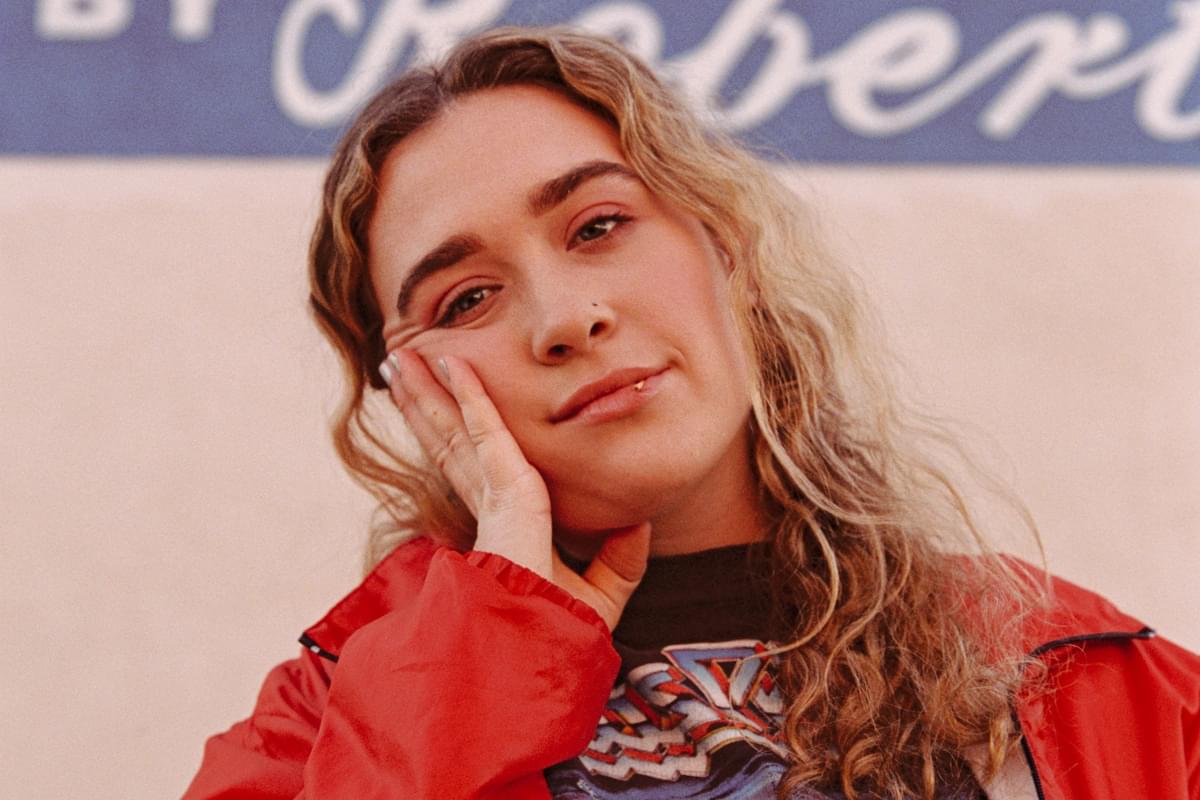 On the Rise

BAUM
14 May 2019, 08:00
A year on from the release of debut EP Ungodly, the LA-based artist – real name Sabrina Teitelbaum – dropped the lead single from her forthcoming sophomore EP just this Friday. Titled "Fuckboy", the new cut is a candid and self-deprecating insight into the mind of an artist who's more than over the status quo.
"You'd think – 'cause the song's called 'Fuckboy' and is sung by a woman – it's like, 'you're a fuckboy and I hate you'," laughs Teitelbaum, "but it's like, 'you're a fuckboy, and I'm also a fuckboy, so it's fine.'"
It's an altogether different story from the delicate metaphors charted on Ungodly; which saw Teitelbaum navigate heartbreak, queerness, and mental illness, albeit in far more abstract terms.
"I had been writing so much about wanting someone and not having them, or getting your heart broken, getting cheated on – that kind of stuff – and none of that was happening to me at the time," Teitelbaum explains, of the single's new direction. "I was sick of writing from the perspective of being helpless, romantically. Of course everyone falls in love with people and gets their heart broken and shit, but there is a reality that I think a lot of women just wanna hook up! I feel like the narrative that I'm always seeing in music, or TV shows, or movies, whatever – particularly about women – is like, a woman falls in love with someone, and they get their heart broken.
"It pisses me off that people portray women all the time as highly overemotional, helpless characters, and I just wanted to write about that from a different perspective. It's not a good thing to be a fuckboy, but everyone can be! I wanted to have that different perspective, like, 'I'm sorry, I have been a fuckboy before.'"
While Teitelbaum is rightly proud of exploring a new viewpoint on "Fuckboy", she admits that the track is perhaps not completely reflective of what's to come.
"It's the most lighthearted song on the project, and it's the most similar to the last one, which is why I wanted to put it out [first]. It's an in-between for the new stuff and the old stuff, and chronologically the first song I wrote for the project."
Whilst Teitelbaum's ability to craft emotionally rich indie-pop from the harshest of situations was evident from the get-go, things have changed a great deal since the release of jazz-infused debut single "First" back in 2017. To understand the shift between Ungodly, to "Fuckboy" and beyond, you have to understand how much has happened in the short year that passed between them. Whilst reticent with details, Teitelbaum makes it clear that her forthcoming record comes from a place very different to its predecessor:
"I had the world's most dramatic year on a personal level," she exclaims. "It was fucking awful, honestly. Okay, it was good and bad, but there was a lot of bad shit. 10 days into the year my mom died, then I broke up with my boyfriend who I'd been dating since I moved to LA. Then I split with my manager. It was just crazy. Every month, some shit was happening. I have to put it in my music, because I can't just keep it inside. That stuff hadn't really happened yet when I was writing ['Fuckboy'], or I hadn't really processed it yet, but all of the stuff that's on the EP is really heavy."
The intensity of recent months prompted introspection from Teitelbaum, something she says was reflected in her songwriting process for the new record.
"The way some people deal with shit is by feeling the shit themselves and going over it themselves. I have a very hard time keeping things in. When shit happens to me, I have to talk about it. That was what I did in the music. A lot of it was also stuff that I hadn't been able to say. There's a song on the project that's about my mom – stuff I hadn't been able to talk about. I went to a session one day like 'I'm gonna write a pop, fun, upbeat kinda song!' I got there and they were like 'oh, what do you think of this chord progression?' and I just started writing about my mom."
Whilst some songs may have sprung into being in the studio, Teitelbaum explains that the skeletons of several tracks were initially constructed in the privacy of her bedroom. Despite being fleshed out in later sessions, Teitelbaum's intention was not to lose touch with that initial solitude, instead preserving it at the core of her music. Keeping the production simple, she maintains an essence of vulnerability as pure as if she'd allowed you a peek into her private journal.
"It's a silver lining to make music out of something shitty," Teitelbaum admits, reflecting on the experience of creating the EP. "I've had some time between making that music and going through those things to when I'm actually releasing it. I've found more peace with those things. It's not as hard to listen to or sing, which is good. It's also feels like it's a burden off. You're like, 'well, I've put this out into the world already.' It's not just mine anymore."
Does she feel this process has helped her?
"In a way. It normalises things. I think one of the worst things is going through shit and feeling ashamed to feel the emotions that you feel. When you write about it, and then you have to sing about it in front of however many people, that stuff gets normal to sing about, and then you're not really ashamed of feeling sad about those things anymore. You have to own your emotions at that point, 'cause they're out there, and I think it takes some of the weight off your shoulders."
Pouring those emotions into syrupy, echoing synth-pop has always been a speciality of Teitelbaum's, and if "Fuckboy" is any indicator of direction, her sound is set to be bolder and more exciting than ever before. The sheer power of her voice as it rears up into that radio-ready chorus competes with anything we've yet heard from BAUM, whilst staying true to Ungodly's delightfully quirkier moments.
Teitelbaum suggests that there are a few more singles to come before we get to hear her next record, which she describes as "a long EP". She's already filmed the video for "Fuckboy" follow-up "Girls Who Like You", which promises some thematic overlap with Ungodly, albeit viewed through a more personal lens.
"'Girls Who Like You' about wanting to be with someone, but they want someone who's conventionally what the media and what people would say is more attractive than you – even though that's not true!" Teitelbaum explains. "It's also about gender stuff," she continues, adding that:
"I find myself to be somewhere on a spectrum in terms of masculinity and femininity. I do identify as a woman, for sure, but there's a lot of masculine energy that I have. That gets in the way sometimes, when I'm interested in someone. I'll randomly be more masculine one day, and they're like, 'what the fuck?!' That was theme that was coming up in ['Girls Who Like You'] as well: you want someone who's consistently this perfect idea of what a woman should look like and how a woman should be. I'm not that."
Whilst it might sound like "Girls Who Like You" is exactly the kind of heartbreak ballad Teitelbaum seemed keen to avoid this time around, she's quick to dispel that idea, instead framing it as an "empowering" reinvention.
"There's always an undertone of 'that's fine, and I'm gonna be okay regardless,'" she explains. "It's commentary on the fact that even if you're okay with yourself, if you're really happy with yourself, fucked up people are gonna choose the people who are conventionally what people think the ideal of a woman should be. I'm not that, and I'm happy with that, but you get what I'm saying?"
The topic is one Teitelbaum could talk about at length; as evidenced in the thoughtful missives occasionally shared alongside her own Instagram posts. BAUM is the project of a woman determined to be sexy on her own terms – one who's seen more than her fair share of shit, and is determined not to back down.
"That's been my biggest goal," Teitelbaum explains, "to normalise the way that my body looks, and maybe give some sort of representation for people who don't look like the people that we see everywhere in social media. If there were people who looked like you all the time in magazines, it would be a lot easier to feel good about yourself. I want to give that, in the small way that I can. I think it's cool to be dancing around and moving in the way that I move and having the body that I have, with curves and fat on it, and doing that confidently is something that I would be really proud of."
She might only be one single into her current project, but Sabrina Teitelbaum is already setting big intentions. Just as well she's got the tunes to back them up.
"Fuckboy" is out now, via We Are: The Guard.
Get the Best Fit take on the week in music direct to your inbox every Friday