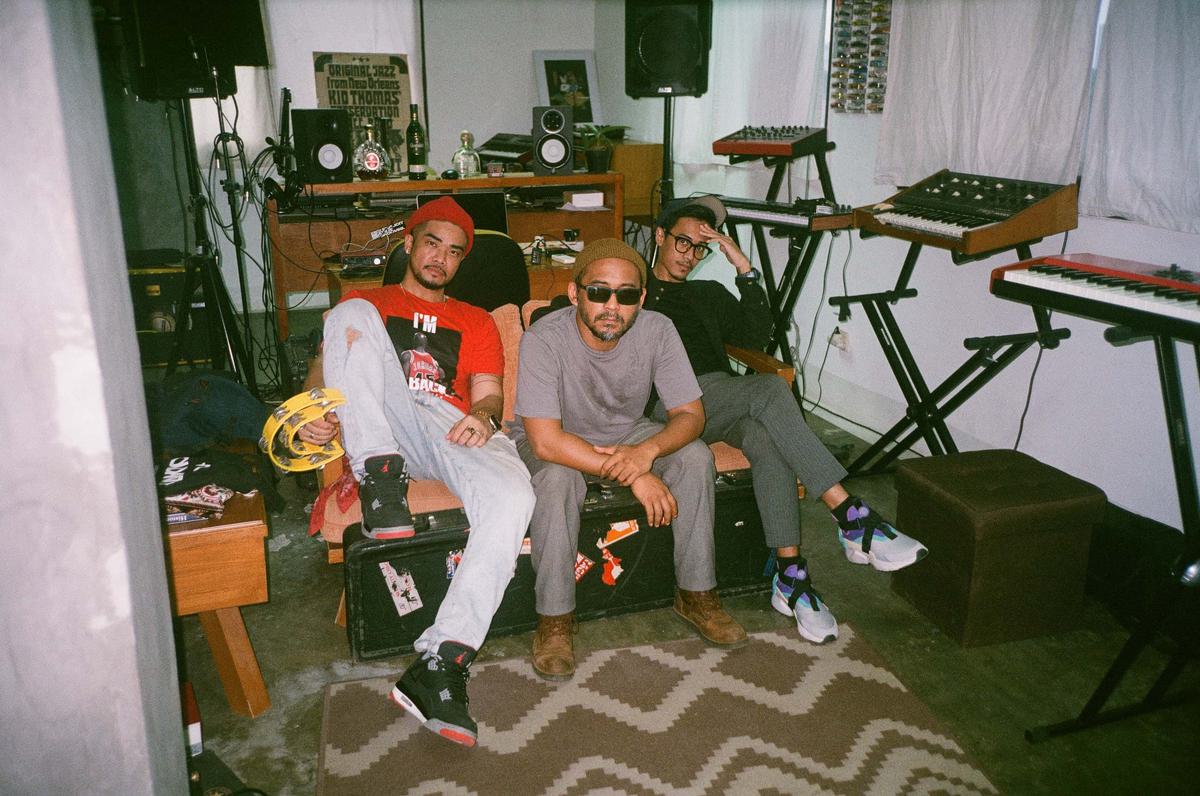 How Batavia Collective found freedom through chaos
26 July 2022, 09:00
Batavia Collective are on a mission to redefine the sound of Indonesia and bring the energy of their home city Jakarta to life in music. The trio tell Ed Nash how they plan to get there.
Batavia Collective view musical genres as a means of defying expectations rather than a straitjacket. ​
The Indonesian trio, keyboardist Doni Joesran, synth-bassist Kenny Gabriel and drummer Elfa Zulham, are just two EP's into their career, yet such is their innate genre fluidity, with compositions that move from freeform improvisation to more traditional songcraft, certain sections of the internet seemingly want them to stay within the realm of jazz, their musical alma mater.
The comments section on YouTube for their second single "Propulsion" feature some hilariously Pseuds Corner-esque debates about which type of music the trio play. One commenter - a self-proclaimed trained jazz pianist, no less - thinks that the keyboards aren't jazzy enough. Another takes umbrage to someone labelling the song "jazzy electro", who posts that "There is no drum machine (which defines Electro). This is more Jazz-Funk than anything, which is characterized by a strong back beat (groove), electrified sounds, and an early prevalence of analogue synthesizers". Such is the world of some YouTube keyboard warriors.
For their part, the trio are completely unfussed about adhering to a fixed musical pallet. Zulham tells me that jazz is "a vehicle with which we can express ourselves with freedom and mix feelings into the music", and that whilst they draw on the jazz tradition of improvisation, their ambition as a collective is to go beyond a set idea of genre. "We don't want to limit our music only with the jazz genres, because we have so much to explore with the sound in the future."
Despite their mutual love of jazz, their influences in fact go far wider, with Zulham's drumming inspired by hearing Drum and Bass as a child. "I've been listening to UK music and Drum and Bass since I was a kid, and those sounds and the way to play Drum and Bass is something that, as a drummer, that I love to explore." Joesran cites the visionary UK producer Joe Meek, who with "Telstar" introduces the idea of the pop song as an instrumental to the world, as a keystone in his approach to production. "I'm inspired by the sounds he created; the rough tones with lots of reverb from his instruments, as well as his chord repetitions."
With the internet creating a revolution in accessing of music, where songs from every corner of the globe are available at the click of a stream, Joesran feels the idea of genre in the current music climate is actually a moot point. "I think defining genres these days is getting harder and harder to do, because music in general - and jazz specifically - keeps evolving", he tells me. "Although I acknowledge that jazz isn't a product of my own culture, I love this method of expressing music. For me, Batavia Collective is a project that melts together everything and anything that I haven't done previously in my own musical endeavours."
Gabriel (pictured above) sees some benefits to Batavia Collective being labelled as jazz however, at least for the time being. "In a way, we still need genre classification as a means for documentation. Can you imagine looking for a book in a library with more than 10 million books without alphabetical order? I doubt that you would find it!" But like his bandmates, he views jazz as a frame of reference for the music they make, rather than the final destination. "In terms of the music and the composition itself, although I don't think we can be specific in one single genre" he reflects, "I can tell you that its jazz influenced, but art is always subjective to me; anyone can interpret it however they want it."
Given the tight-knit nature of the Indonesian jazz scene, the trio knew each other before they formed Batavia Collective, and first collaborated when they were in a covers band together playing hip-hop and soul songs, including Gang Starr's "Mass Appeal" Mos Def's "Umi Says" and "Moogy Foog It" by Karriem Riggins. Joesran explains that the band started with a project called the 'mixtape session', "it was meant to be a one-time gig. At that time, we were just jamming in between practice sessions."
The sessions continued and within two days, bolstered by addition of guest vocalist Kamga, the trio wrote and recorded their debut single "Affirmation", and decided to see what would happen if they played their compositions live. Joesran describes their live debut as moment they decided to pursue Batavia Collective as a full-time concern. "We performed at a venue called 25th in Jakarta. It was packed, and the reception was great when we performed "Affirmation." I think that was the turning point for us to start the band."
Their path to working together as Batavia Collective was a winding one. Joesran and Zulham, stalwarts of the Jakarta jazz scene, found themselves playing with three illustrious figures in Indonesia's musical history, namely Indra Lesmana, a pivotal figure in the jazz scene, who would go on to be a judge on Indonesian Idol, Yance Manusama, the pioneering bass guitar player and the late the multi-instrumentalist, Benny Likumahuwa. I ask how that came about and Joesran replies with awe.
"Those legends you just mentioned were my heroes. I played with my good friend, Barry Likumahuwa in Benny Likumahuwa Jazz Connection for a long while. I tagged along with him from stage to stage and stole a massive treasure trove of musical know-how from him", he explains. "Indra Lesmana is a musical muse for many jazz fans across the country. I've listened to his music since I was little, until one moment I had the chance to actually play along with him in a project called Jazztronika. Yance Manusama has been like a guru to me since forever. All of these guys I acknowledge as my masters, mentors and gurus, from whom I gathered many thoughts and ideas. They helped to shape my character as a musician, and as a person."
Zulham (pictured above) grew up playing jazz with his brothers in a band called ERZ Brothers Band. "We participated in jazz competitions and played a lot in jazz festivals since the 90's. So I'd already recognised them (Manusama, Lesmana and Likumahuwa) as my jazz heroes since I was a kid. I'd been lucky and very grateful to come across many opportunities to play with them, as I grew up in the jazz scene."
Gabriel had his first taste of fame in 2016, when he was a contestant on The Remix, an Indonesian TV talent show, based in the hit Vietnamese show Hòa âm Ánh sáng, where a DJ/producer teams up with a singer and each week they perform a new take on songs, ranging from staples of Indonesian musical history to western pop music. He'd spent two years as part of the house band before being encouraged by a friend to try out for the show itself. He was paired with the legendary Indonesian singer and actress Dewi Gita, under the name Electroma, and they went on to win it, but he modestly describes his time on the show as "I performed with some prominent figures in the music industry, so it was a substantial stepping stone for me."
The trio's plans had to be readjusted with the impact of Covid, which hit Jakarta hard. Joesran tells me that "The first year was quite devastating. A lot of people lost their jobs, but Jakarta is resilient, people actually came through together." However, the city is in a state of flux. Due to its problems with overcrowding, pollution and subsidence - with some areas of Jakarta sinking by 25cm each year – the government has decided it will cease to be the Indonesia's capital in the next couple of years.
The longstanding and ambitious plan to build a new capital city, Nusantara, founded on renewable energy, in the North Panajam Paser regency of East Kalimantan, has finally come to fruition. Added to this, the current governor of Jakarta, Anies Baswedan, is about to stand down, and with an interim governor to be appointed it will be at least two years before Jakartans can elect a new leader.
Zulham says that Jakarta is "the most crowded place to be at the moment, it's one of the biggest and most densely populated areas in the world. And as the capital city, it's a huge melting pot of cultures." I ask the three of them to describe Jakarta to someone who has never been there, and Joesran replies, "You gotta earn your spot to get noticed in Jakarta; it's not the easiest place to live in." Zulham adds, "Well, I guess if you're someone from a big city, Jakarta is somewhere that you will love to visit. The city is kind of rough, although it's exciting and full of surprises", whilst Gabriel takes a slightly more down earth view of life in Jakarta, "No money, nobody. LOL."
Batavia was the name given to the city by Dutch colonists in the 16th Century, and it wasn't until after the World War II that it gained independence, when Indonesia nationalists reclaimed the city and renamed it Jakarta. Joesran (pictured above) explains that the city's energy and history has had an indelible imprint on the music they make together as Batavia Collective. "We've always tried as best as we could to capture the essence of Jakarta in our sound. It's chaotic, yet it's also laid back. It's rough, yet it's also homey. It's that love and hate situation. Jakarta is a chaotic mess to tell you the truth." Zulham adds that "I guess we use that as our references on finding the story to our music, as we all grew up and live in Jakarta. We have so many stories to tell in our music every time we're together in the studio."
As with their own band, Zulham describes the Jakarta music scene as genre fluid. "The music speaks by itself. Jakarta is such an eclectic scene where people from all sorts of different backgrounds live, from traditional music to electronic, jazz to hip-hop, pop to punk, and many other crazy stuff happening", he explains. "Jakarta has developed into that live scene. It's actually been happening since the '80s and '90's, but it's picked up steam rapidly in the 2020's. We have more than 40 jazz festivals in Indonesia today, and lots of clubs and bars serving live music with different genres too."
As with the rest of the world, the city's live scene was put on hiatus by the pandemic, but Zulham is heartened by the re-emergence of live music after lockdown. "The live music scene is getting better this year; lots of clubs and bars are slowly getting packed and music festivals are starting to run again. People missed offline music so much in these last two years, and the Indonesian government is doing a great job with vaccines and all that. So the impact on the music industry after the pandemic is slowly getting better." Zulham says he also took some pluses from their enforced absence from the stage. "In some cases, it affected me in positive ways. I wrote lots of new compositions, many loops and beats, and most importantly, I had many great times practicing and looking for new sounds just for myself."
But being back in the studio has allowed them to revisit their love of improvisation, and their second single "Propulsion" is an instrumental, which started life as a jam and was then edited into shape. I ask Joesran what feeling do they get from improvising as a collective? "I think with improvisation it really captures the moment and energy. It is raw. It is unfiltered. And with improvisation sometimes we can get that extra 'lift.' Our music is best experienced live, so we will always try to add that flair in our recording."
They're currently working on their third EP and Joesran says to expect "mind-altering synths, snazzy chord progressions, deep sub-bass, energetic grooves and neck-breaking tempos". As well as plans for a world tour, they're planning to adapt their approach when it comes to recording their debut album, with Joesran explaining that they want to combine their love of improvisation with songcraft. "For the album we'll probably have some singer/songwriters or wind instruments as a feature. Hopefully it will be ready by late next year. In term of approach, we'll just improvise as it goes.
"We want to make club-ready jazz music, so the challenge is how to make complex yet well composed music that is easy to digest and is also danceable."
"Propulsion" is out now via R&S Records