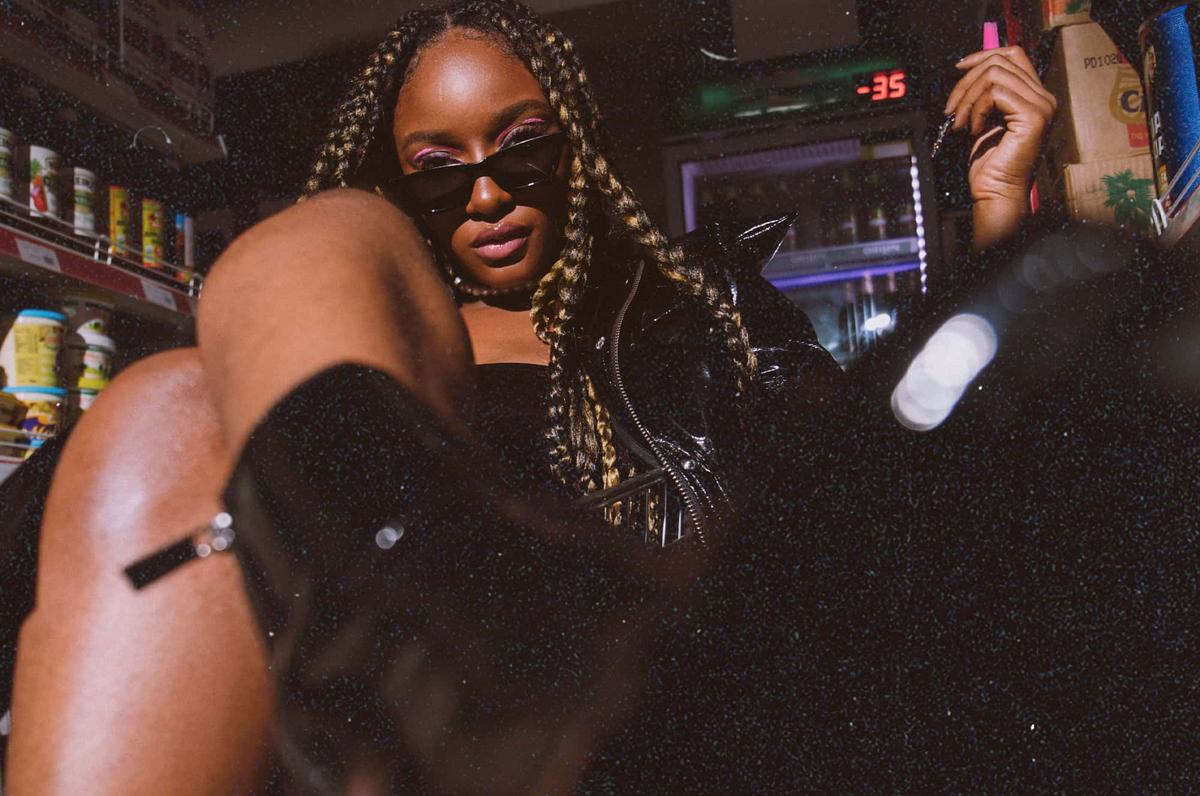 On the Rise

Ayra Starr
06 August 2021, 07:00
At the start of this year, Beninese-Nigerian pop juggernaut Ayra Starr hadn't even dropped her debut EP - but now the teenage-Don Jazzy protégé is paving her own path to stardom with her first album,- and she's not waiting for anyone.
The legendary Eartha Kitt is an unlikely opener for Ayra Starr's debut LP. "Life is not problematical," the "Santa Baby" hitmaker says in the extract from a 2001 TV appearance. "We make it problematical. Because we are all listening to someone else, to something, without listening to ourselves." It's a credo that guides Oyikansola Sarah Aderbigbe's debut: "I'm just gonna do what I want," the 19-year-old tells me.
The eleven tracks of eclectic Afro-pop on 19 & Dangerous offer the perfect playground for just that. A bounty of sonic flavours, Starr draws on afrobeats, R&B, trap, dancehall, Nigerian folk, and more to diarise coming-of-age as a young woman and the emotional vortex that accompanies. The title denotes her plucky navigation of teenage turbulence, alongside the ecstasy and optimism said youth can confer. "People are so dangerous when they don't care about opinions or societal rules," she explains.
Starr last felt nineteen and dangerous on stage at her Lagos showcase in June, an event that more than 7,000 of her fans applied to attend. "I was like: 'Aaah, these people don't know what's coming'", she smiles. The demand was testament to the blitzkrieg on the Nigerian pop chart that was her January eponymous debut EP. It followed a 2020 spent in the studio with Nigerian super-producer Don Jazzy after he scouted and signed her from an Instagram post. To date, the EP has amassed over 23 million global streams, placing Starr at the forefront of Gen-z pop in the region. With an Instagram following that has surpassed 400K, she counts Jessie Reyez as a fan, and was named one of Apple Music's Africa Rising Artists in spring.
According to Starr, uninterrupted trips to the supermarket are a rarity these days. This seems unlikely to change, with 19 & Dangerous pegged to further her induction into West Africa's premier class of musical exports with the likes of Rema, Burna Boy and Wizkid. She's reluctant to be grouped with her fellow West-African acts purely based on physical proximity, however. "I'm just trying to create my own thing: people that listen to Ayra," she asserts.
When making lead-single "Bloody Samaritan," Starr says she felt again "like, 'dayum this song is dangerous. I am ready.'" The track sees her dismissing those who "try to look down on me because I'm female and I'm young." "Dem no fit kill my vibe" she asserts over bolshie, club-destined production. "This is just a song to tell people that you can't mess with me. Hypocrites, you're bad energy cannot come for me."
It's an admonition similar to one Starr more audaciously deployed as a child. "You know I'm gonna be a superstar, right?" she recalls telling secondary school teachers. "You can't be mean to me because when I'm a superstar I'm not going to talk to you again."
"My aunty tells me now it's as if someone told me," she laughs. "I used to be so sure about it. When my best friends talked to me they would be like, 'you know, you are going to be the next Beyonce'. And, I was like: 'Yeah, I know.'"
Illimitable dreams ironically fostered pragmatism in a young Starr, however: "There were some things in school that I knew I had to do," she explains. These included staying focussed on her studies and refraining from parties - "I didn't want things to come back and bite me in the ass. And, I worked so hard. From learning how to dance, to how to sing better from YouTube, because my mum couldn't afford singing classes. All those little things. I always knew."
Starr's musicality was first kindled when she was much younger, however. "I come from a very musical family," she explains. "There was no way I wasn't going to be musical myself." Her big sister, mum, and aunty - the latter two, a former singer and rapper respectively - would set songwriting challenges at home. "They would give us a word and we would have an hour to write a song, or a rap, or a day to choreograph a song."
The games ignited a songwriting partnership between Starr and her brother - songwriter and producer Milar, who is one year her junior - that remains central to this day. Initially, they would rework lyrics of Disney songs to showcase at school, and by age eleven, Starr's mum had bought the two a guitar to share. "She got it from a thrift shop. It only had two strings," Starr laughs. "My brother learned how to play the guitar on two strings!"
The pair have attracted comparisons to their little-known sibling counterparts Billie and FINNEAS, and by all accounts, it's a collaboration equally as harmonious. "He's really good with words," she says. "I'll have a melody sometimes, but I won't know the right words to choose and he's so quick with thinking what to say and what to do." Their professional pursuits pull them apart physically these days. Milar's "a proper songwriter" for other artists now, but he's only ever a phone call away - evidenced by his co-writing credits across the record.
Starr's evolution into the archetypal pop all-rounder she is today wasn't comprised exclusively of musical endeavours, however. She finished in second place on Nigerian TV talent show Maltina Dance All as a child. "I think I never said this in an interview before," she laughs. "I don't know if there's a video on the internet. I checked but I couldn't find it."
As a teenager, she signed to Lagos modelling agency Quove Model Management but it was a school musical turn that was her real artistic genesis. "Parents were crying, teachers were crying, it was a whole thing," she tells me. Starr's unlikely mashup of Adekunle Gold's "Sade" and "Story of My Life" by One Direction caught their emotions: "Teachers were like: 'You know, you should do music.' So, on that day, that's when I realised 'people really like this, I should do this.'"
"I was a proper One Direction fan," Starr laughs. "People don't like to admit it. We all were at one point in our lives. We should see the truth." Empowered, global female phenomena were also a salient presence on her playlists. "[Shakira], I just loved her voice," she says. Along with Beyonce, Rihanna, Miley Cyrus and Nicki Minaj: "It was just the power I would feel listening to their music. We didn't get a lot of Nigerian female singers singing strongly about things like them, not as we do now." One that did play a formative role, however, was Asa. "She just wrote so beautifully," Starr says. "She was one of one of those people I would listen to just to learn how to write properly."
Starr would channel Minaj during lonelier times at university. At nineteen, Starr is an International Relations and Political Science graduate, having begun her studies in Cotonou, Benin as a fourteen-year-old. She explains that whilst it is common in the country to start university earlier, she was still "the youngest and the smallest person in the class. And, I would get a lot of people trying to prey on that."
She would listen to Minaj on her way to lectures, "just to feel like: 'I'm bad. No one can try me if I go to school today. Nobody is going to be on my level.'" Starr hopes her music will do the same for those in a similar position now. "I want people to feel what I felt listening to music growing up," she says. "I didn't have friends, I was always the odd one out, so I took my power from music."
As a child, Starr moved between Cotonou and Lagos due to her father's work. She remembers hearing Beninise folk music as a small child - "just the type that mothers would sing to their kids to send them to sleep." Starr was also introduced to reggae by her mum - the person she cites as her biggest musical inspiration. "It's a sound I find fascinating and compelling even till this day." Then moving to Lagos, aged four, she experienced a tempo hike: "In Nigeria, we have afrobeats where you're listening to 2Face, Wande Coal - you just want to dance."
While she wants her music to speak to fans globally, retaining African qualities throughout her work is a priority for Starr. "It's very important to add that Afro-element for me because it's my identity and it's part of my culture. I'm very conscious I need to bring that Nigerian melody into it, I need to bring that Nigerian slang and lingo in."
Starr's mum played a propulsive role in her musical development aside from just enhancing her palette. "As I grew older, when I joined uni, I started to see that for women, things are just so different," she explains. "There are some things you can't sing about in this part of the country that men are allowed to just sing about, but if a woman does that, it will be the end of her career." She cites body positivity, drug use, and mental health as cases in point. "I was like: 'I'm not gonna do music because it's harder for women, so maybe I'll just manage my brother. Maybe my brother will be a producer and I'll manage him.' But, my mum would call me from home and be like, 'you know, post videos of you singing online, you should do that. People should see what you can do.'"
And so she began uploading covers to Instagram when she "felt like it". Then in December 2019, still unsure about pursuing music as a career, she found the courage to post her and Milar's original song and now album track, "Damaged". Three hours later, "I was downstairs having cereal and I checked my requests. I was like, 'what?'. I just saw his name, and I just started screaming. A bunch of my aunties were there, and I was shouting like: 'Oh my god, Don Jazzy just sent me a message.' He said, 'This is dope,' and invited me to meet up."
The first day Starr met the influential producer at the studio, he told her he wanted to sign her to Mavin Records - previously home to the likes of Wande Coal, Tiwa Savage, and Reekado Banks - and the next day, she began recording. "That was my first time in the studio," she explains. "That was my first time recording a song ever. I recorded like five songs that day. It just came so naturally, and I was like 'I really want to do this."
Since then, Jazzy has continued to provide unconditional encouragement. "He didn't want to change my sound. He just loved what I did, and he was ready to support me."
Despite having the ultimate endorsement behind her, things weren't merely plain-sailing from there. On breaks during sessions with Jazzy and producer Loudaaa, Starr would go to the bathroom and "just bawl my eyes out," she says. "Because at that point, I just felt like I was failing. I think it was just me being a teenager. I was just overthinking things. I knew what I wanted to hear, but at the same time, I felt like I wasn't hearing it. I wasn't just like vibing on the beat now, I wanted to write meaningful things that touched people in a certain way."
Starr's candour in her lyrics perhaps explains her wish to execute them with such precision. Not least on the elegiac "Damaged", where she mourns a disintegrated relationship - "I'm sorry, that I loved somebody that would hurt me / I died when you left, when you left me." And, discusses leaning on vices for reprieve - "Oh sadly, I've been crying my eyes out with xany / I've been smoking very much since you left me."
Milar was conveniently also going through heartbreak when they wrote it together. "That's why he put all of his soul into it," she says. Could it be awkward writing about a breakup with your younger brother? "It actually has never been weird, but now that you pointed it out, it actually sounds kind of weird," she laughs. On the contrary, "it comes very easy", and having that level of trust between the two has been vital: "When I was younger, I was always told you have to be proper. You have to be a lady, you can't be loud, you can't be this. And that's why I think music has actually been like therapy for me because I couldn't express my feelings. I didn't want to be seen as 'oh she's stereotypical. Oh, she's just being a woman.' Or the stereotypes of being a woman and being Black: 'She's the angry Black woman' - that type of thing. So I would just vent into the beats, into the music."
Subsequently sharing the song on Instagram proved yet more daunting. "I was so scared that people would be like 'she's too young. What's she talking about? She doesn't know anything. I stood for like an hour contemplating if I should post it or not." But, following its success, the anxieties associated with being frank in her work no longer linger. "I feel like if that song has brought me here so far, then why not [be open]."
Starr's feelings now flow so fluidly that she pens songs semi-conscious. "I sleep-sing sometimes - it's weird for people around me don't worry," she laughs. She wrote the melody for despondent, dewy album track "Underwater" - "in my head as I was sleeping. Then I got up and I freestyled the whole thing from beginning to end on my phone at 2 am, and went to the studio the next day to record it. That track talks about depression, just sadness, just genuine sadness. Things I didn't want to admit to myself, and I just freestyled that."
"I feel like I'm on a very different path from a lot of people. There are some things that I want to do that nobody can even think of right now."
Her previous hesitancy to share music is undoubtedly a far cry from the seven-month turnaround between her EP and the album's release. "It does feel kind of fast," she says. "But I don't like to move according to other people's pace. If people feel like, 'Oh it's too fast' - it's too fast for you, it's not too fast for me. I feel like I do have what it takes - more than what it takes - to have an album out."
The pace could be perceived as her label capitalising on the EP's momentum, and surely exuberant fan reactions haven't stifled their trust in the project. Starr tells me about one supporter who on the day of her showcase, "gave me a gift bag that had my favourite book, wrapped in my favourite colour, alongside something that she made for me, and a flash-drive with five different playlists for when I'm sad, when I'm happy…." Such gestures mean she doesn't mind "not going to the grocery store anymore," she laughs. "All those little things just matter so much to me."
And, their kindness is often reciprocated. Starr refers to herself as a "celestial being" - "my mum brought us up to be very selfless," she explains. She carries snacks in her bag to give to people she encounters. "I always have a biscuit in my bag or water in my bag. Sometimes I'm fasting and I can't eat, but I still carry them in case someone around me wants one."
She assures me it was actually her who persuaded the label to supercharge the release: "They were so shocked. They weren't sure about it, and I was like 'I know what I want. I want that album out.'"
It speaks to her propensity to do things unequivocally on her own terms. "I feel like I'm on a very different path from a lot of people. There are some things that I want to do that nobody can even think of right now. I'm very self-assured because I feel like confidence has brought me here so far, so why not be?"