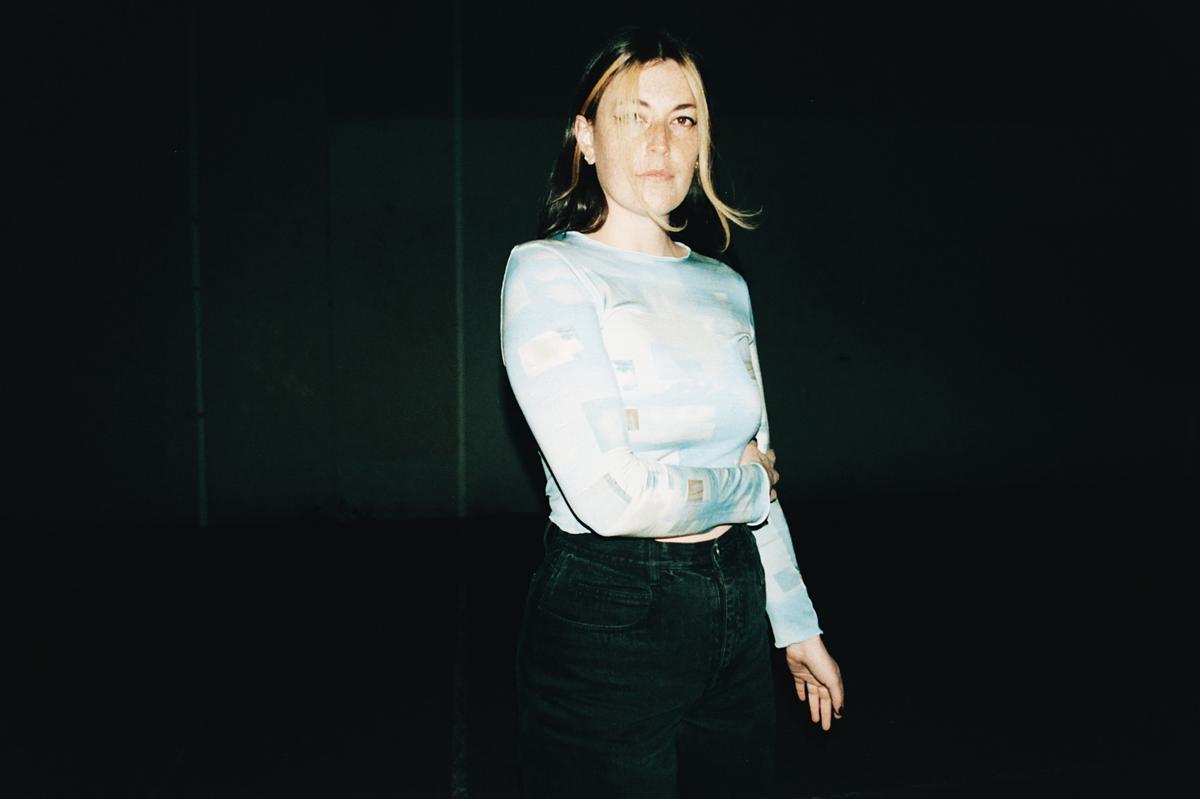 On the Rise

Aubrey Haddard
18 May 2022, 10:00
Like something sent from the heavens yet born from the earth, Brooklyn singer and songwriter Aubrey Haddard's evangelical songwriting and Herculean voice come together to drop jaws and move souls.
Hudson Valley is an undisturbed yet buzzing community situated two hours north of New York City. While it's famously where Woodstock took place in 1969, what makes this place really special is its reputation as a hotbed for talented musicians at the top of their craft. "There's something in the water up there," Aubrey Haddard tells me from the comfort of her Queen's apartment. Sammy Rollins, one of the best improvisational musicians to ever live was raised there, and as were so many important blues, jazz and country musicians that injected a whole new flavour into New York's world-famous music scene. What it isn't famous for is artists like Aubrey Haddard, someone contemporary that can break the mainstream and take Hudson Valley out of the clubs and onto the playlists.
"There was always a show to go see and some music to play," says Haddard. "My mom was amazing and so supportive when I was fifteen or sixteen and just getting into music. She'd drive me 45 minutes away just to go sing one song with this band of old dudes. It meant I got to go on stage and feel it out though. There's so much music and art going on. It's a perfect little bubble up there."
Haddard released her first EP Adult Lullabies, in 2016. A quiet five-song selection that shows a young artist with an already formidable capability to write songs that swirl around your head for days, she quickly attracted a team of musicians and producers around her who believed in her gritty talent. "I was playing with so many different bands. I was a total 'yes man'. I just wanted to play as many different types of music and meet as many different people as I could. I had so much fun doing it and I was gigging all the time. Adult Lullabies came about because there were songs I'd written that didn't fit any of those projects and I didn't want to let them go. I was feeling precious about them—my own beautiful creations. So I just recorded them with Matt Peiffer who's done all three releases with me. He's one of my best friends. It was very casual, the way we recorded it."
She met her dummer, Josh Strmic, through a comedic and surprising interaction that she laughs about now as she recounts the story. "It was so cute. He was like, at the front taking videos of me on his phone. I was like, "who is this guy?" Afterwards he told me if I ever needed a drummer he was the guy. It made me think maybe I could pick up an electric guitar and go a bit bigger." With so much community around her and a growing supportive cast she could consider both friends and fans, she decided to take things to the next level and build a band. "I never looked back."
It was around this time Haddard was also training at Berklee. With her voice as her principal instrument, she met someone who would expand the way she utilised her voice as a musical instrument and key to spirituality. "I had an amazing professor called Stan Strickland. He really connected me to my voice in a physical way and such a spiritual way. I'm definitely not a spiritual person but the voice is such an abstract instrument. You can look down and put your fingers where they need to be but your voice is inside of you. It's very subjective and very personal." However, after four semesters there she found herself at a crossroads. Either take out another loan to eventually get a degree or just pursue the career now, something she was already doing with her new band.
"I've been playing so many different kinds of music for so long and the only throughline was always the sound of my voice."
She followed this up in 2018 with her debut album, Blue Part. A profound and bluesy record absolutely dominated by her commanding and dynamic voice, this set the foundation for a career in music that was both sustainable and satisfying. Four years later she's preparing for the release of her sophomore record, Awake And Talking. Leagues beyond any music she's ever released before, laden with hooks, dynamic explorations of her sound, and synth-laden melodies, she's swapped out her soulful aesthetic for something closer to her heart as a songwriter—pop.
"I hate the word "soul" and do not want to use that word to describe my sound, like ever again," she laughs. Despite always being described as a soulful artist, it's a label she really has tried to shake off, and she's most definitely succeeded with Awake And Talking. "You can call it pop. Making good pop music is incredibly challenging and people do not understand that. I've been playing so many different kinds of music for so long and the only throughline was always the sound of my voice. It just gives me so much power. Singing is autopilot. When I'm playing the guitar and thinking about pedals and tone and parts it's so active but the moment I relax my whole brain is the best singing that I'll ever do."
Haddard finds a power in holding back, something that pop was purpose built for—tension and release. "There's a good Madonna quote where she says, 'you never want them to know everything you're capable of' – if you hold back people will always want a bit more and come back again to listen to it. If I lean on my voice less, it leaves a lot more space for an actual soundscape to take place. It's made room for this maximalist sound."
She had actually written an entirely new album in 2019 to follow Blue Part, however, she quickly realised that wasn't the project she wanted next. She ended up selling it for parts and putting out some of the songs as singles to build her image and diversify her Spotify portfolio. Awake And Talking started coming together when she first wrote a song called "Forever Is." "So I wrote part of that song right when I moved to New York. Just the chorus really. I rented a studio for two hours just to go practice and now our entire studio is in that same building. So that's a nice full circle moment. But I think the song that best sets the trajectory for the record is "Doors". That's just me being a sad little puppy in my bedroom wishing the world was different."
What's made her second record such a winning departure from her previous work is her ability to look both inward and outward. While Adult Lullabies and Blue Part may have been largely inspired by love, loss and personal relationships, Awake And Talking is about intangible feelings. It's about mythology and possibilities and the unpredictable and unspeakable avenues of life us and the people around us are taken through as we grow up. This album shows her maturity not just as a songwriter but as an adult. A level-headed relatability lays as the foundations for this record, a foundation she builds upon with harmonious melodies reminiscent of blues genre-benders Fleetwood Mac and contemporary glass-ceiling breakers like LP or Big Thief.
"I think the best part of the process for me is the writing stage. I love recording and I love production and arranging and being in the studio, but I think the feeling of writing is kind of unbeatable." That especially goes for songs like "Someone's Daughter", a ballad towards Haddard's womanhood and career as a woman. "It was so..." she pauses, "...incredible. Just a giant catharsis. I remember writing it so welI. I just took out my mic and had my notebook where I started writing things. It got to four and a half minutes in where shit starts to go a little crazier and I just started letting it all out. It felt so good. I was angry at the world and felt like I could talk about it."
"Someone's Daughter" and "Just A Wall" both really weren't so charged in a political way originally. "Now it belongs to other people, it has all this new meaning to it. The song was always just my plight, me chasing that feeling you can only find in songwriting," she says. "I teach kids and there's this one girl, she's eight. I can see it on her face sometimes. There's these moments of being truly high. She'll come to afterwards and be like, "that is amazing, let's do it again." I just know she'll be chasing that feeling forever. Whenever I'm in a room with my friends playing I guess we're chasing that same feeling."
Awake And Talking has helped Haddard process not just moments from her own life, but the people closest to her too. A song on the album called "Harbor" deals with the grief of two of her friends going through similar experiences. "They don't know that there's a song about them yet," she whispers. But that's exactly the behaviour that's inspired her upcoming record. In a strange way, she says this record is something that serves her both physically and mentally. Whether it's a 25 block walk through Upper Manhattan or a moment of trauma or crisis that needs an outside perspective to understand itself, Haddard has crafted her music into something she hopes other people will find as much utility in as she does: "You've got to gather yourself and be okay for other people but you still need to have your chance to fall apart."
Awake and Talking
is released on 19 August via Beverly Martel Records. New single
"Processing Power"
is out now.