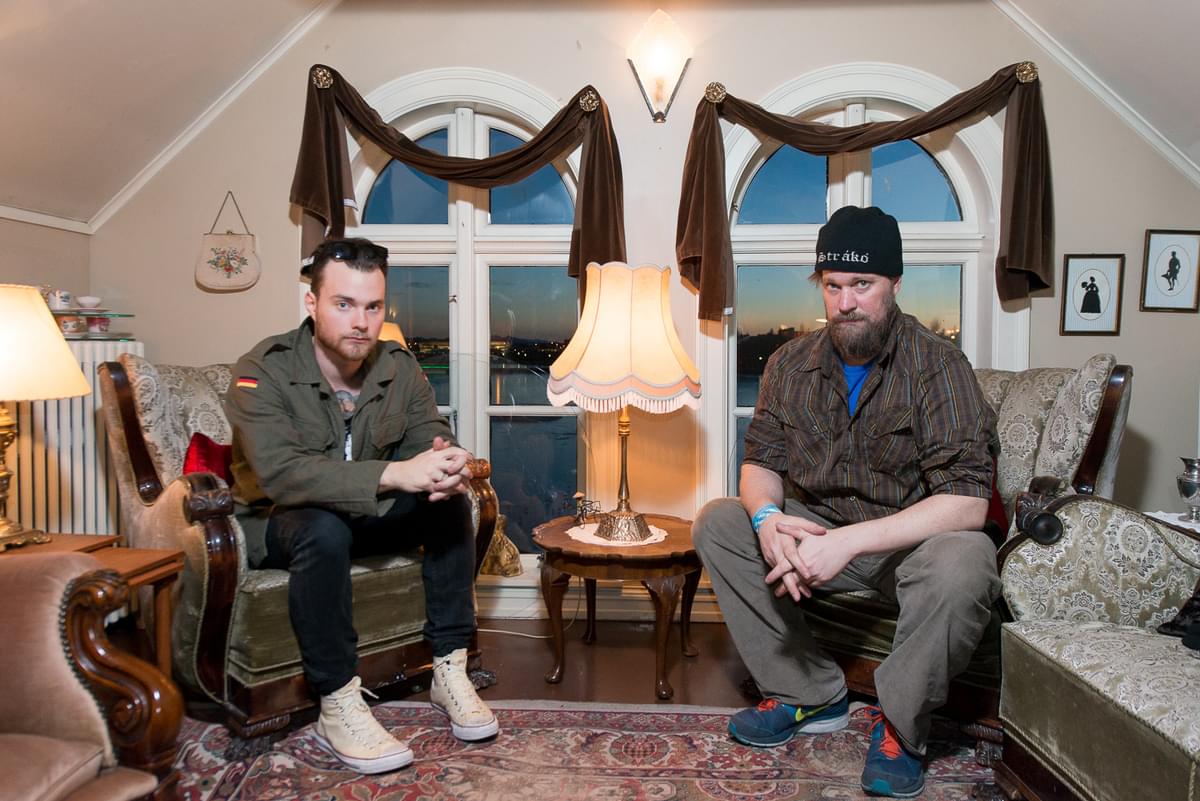 Speaking in Tongues: Ásgeir in conversation with John Grant
11 December 2014, 10:00
I came to Iceland for Airwaves in 2011, for the first time, and I was in heaven. I feel pretty much the same way now as when I first came here, which is nice.
I went back to somewhere after that - maybe it was London or Gothenburg, I think we had some more touring to do at the time. I was all over the place. I met Biggi Veira from Gus Gus at KEX Hostel after their show there. He said he might be interested in making some sounds with me and so I knew I had to get back here right away because I was in love with it. I met great people that I wanted to come back to and I sensed that I might be able to become part of a community here, which has been difficult for me to do anywhere else.
So I did feel something special, there was a musical connection. I remember discovering The Sugarcubes back in 1987 when Life's Too Good came out. And I saw pictures of Iceland...I've been fascinated for twenty-five years but I just hadn't been able to get here yet. And then I cam back three months later and was supposed to stay for a month. I ended up doing the whole of Pale Green Ghosts with Biggi and I've been here since.
Ásgeir Trausti: I first become aware of you in October [that year]. We always wanted to do an English version of this album. It was a month after the Icelandic release and we were thinking about ways to do this. We wanted to get some help maybe from someone and we were thinking about whether we should translate it or do a whole new lyric totally different to the Icelandic.
And then one day a friend came up to me and told me about you, John Grant. At the time I had never heard of you before, I must admit...
John: A lot of people hadn't [laughs]
Ásgeir: ...but I had seen you on the TV show Hljómskálinn with Helgi Björnsson and that was the only song I heard with you at the time.
John: That wasn't a very good representation of my music!
Ásgeir: No [laughs]...but I got home and looked at your videos and songs and really liked what I heard. You seemed like a really cool guy to work with so we decided to call you and see if you had the time and interest in helping us with this English version. We met at some coffee house down town. I was really shy. It was the first time I had to speak English in front of people.
John: We met at Snaps, didn't we?
Ásgeir: Yes I think so. Kiddi (producer Gudmundur Kristinn Jonsson) talked to you for the most part of it. I sensed a little connection there so we kept contact and a few days later we started working together I think.
John: For me, I just heard you on the radio. I'd heard about you though - there was a big sensation when the album came out. I really loved it. When you asked me to do it, I'd already heard the music...
Ásgeir: Just one song, yes? "Leyndarmál" (King and Cross)?
John: Yes.
Ásgeir: I just immediately sensed the connection because we wanted to get help from someone who spoke English as a native language and it would be a plus if they were a musician so we could understand each other on more levels...it just worked out really well.
John: It was best when we were actually working the lyrics out together in the studio. When you and Julius (friend and collaborator Julius Róbertsson) and me and Kiddi - the four of us were in the studio doing it step by step, talking about it. Because you can look up words but any translator knows that a dictionary is not necessarily your friend when it comes to these things.
Do you remember the idiom that translated as "to chase after someone with grass on your shoes"? It was something I didn't know...we talked about it, looked it up on the internet. You looked up the meaning of it...Are you going to attack them with the shoe? Stuff it down their throat? Does it mean you're interested in them? Stuff like that I find very interesting.
Linguistically it was fascinating for me and I got to learn a lot that gave me a kick start.
Ásgeir: When we were starting the English version and singing the lytrics, it was the first time ever I had really begun to speak the language - a year ago now - so my English has gotten better because of this. Doing promo tours, constantly talking English...in this year, it's really improved.
John: I've learnt several languages - Russian and German amongst them - and those are difficult languages to learn. Icelandic is a whole level up from that. For one adjective, there's 120 forms! If you think about what it's like to choose words, to have a conversation, to build correct sentences...and the pronunciation is very difficult too. The combination of sounds is quite amazing. I can't believe sometimes how hard it is.
Ásgeir: It still is really impressive to us Icelanders how fast you learned it! When we were in the studio talking about grammar and the Icelandic language...you knew more about the technical side than we did! We're used to talking it, not going after certain forms...
John: You don't have to!
Ásgeir: You know the things we learn in school and have forgotten.
John: We're all taught those things in school but we forget them because we don't need them though. Once I've learned Icelandic, I won't needs those things anymore either. It's been the same in Russian. Once you get past that language barrier, you simply don't need it anymore. You do what's right from instinct.
Ásgeir: The first time we recorded the first song we did in English - I think it was the opening track on the album, "Hærra" (Higher) - we did that through Skype. You were in Berlin. I was in the studio singing the vocals and Kiddi was talking to you between the times when I wasn't recording. It was pretty difficult. We spent four months recording it in Icelandic and we finished it and closed the book. In our minds it was over. The hardest thing for me was to get into the same mindset and emotions all over again. I think we recorded the English versions, the vocals, three or four times.
But we had deadlines to meet. Kiddi was in London mixing the album and we had another producer recording the vocals in Iceland and Kiddi only had four days in the studio there so we had to finish it in that time.
John: Does it feel better now?
Ásgeir: You're always getting used to it. The first times I was always thinking about pronunciation. I try not to do that so much now. It's okay to keep a bit of the Icelandic pronunciation in the English because that's how I speak it and I don't want to be fooling anyone, or myself. Up to a certain point, I try to just do a good job. I don't want to sound foolish - just to do a good job and entertain people
John: I keep to myself a lot in Reykjavík , I don't like to leave my house...
Ásgeir: We're the same with that [laughs].
John: I like to be on my own. I'm not one of those guys that wants to be in five bands at the same time but the music scene here is very much like that. There are lots of people here playing in lots of different bands and doing all sorts of different things and I've never been like that, you know? It just doesn't fit me.
But you can be as involved as much or as little as you like here in this city. You can do it because it's easy to get around. It doesn't take four hours to get places like it does in London. You can do a lot more in a day here. People get a lot done, don't you think?
Ásgeir: Yes, and a lot of the musicians are based in downtown Reykjavík...and if you want to go from one side to the other side it only takes you ten or fifteen minutes.
John: I don't want people to think they can see me anytime they want to, though. I don't want them to get tired of me and say "oh I've seen that fucker a million times". I want it to stay special so I don't play that much here.
When I'm here I love walking around Tjörnin (a large lake in the centre of Reykjavík). It's peaceful here. I love going to Mokka, it's my favourite place to drink coffee. I love very simple things. But I have a lot of respect for people who can do the ten band thing. A lot of these people, like drummers, they're perfecting their craft.
You can do as much or as little as you want in Reykjavík and still feel like you have space to breathe.
Ásgeir: It's really hard to be a musician in Iceland and only be a musician here and not explore the world...there are a few venues, maybe three main ones you can play here in Reykjavík. The population is only 300,000. We released this album in September of 2012 and a few months later you realise you've played in all the cities around Iceland and in all the venues and so it's pretty difficult to keep on going and put on more shows because you don't want people to get tired of you.
That's one of the reasons why musicians want to go out of Iceland.
John: There's a ridiculous amount of talent here and that can be a little overwhelming at first but ultimately it ends up being inspiring. There's not a lot of attitude. Everyone knows there's a ton of people round here who are great. There's people who rise above, of course, like Ásgeir...
Ásgeir: Oh, thank you!
John: Well, it's true! There's just so much talent. Everyone you meet is a great fucking singer. You meet someone and they sound amazing...oh and they play the trumpet too! And the saxophone! Oh and they also play the keyboard and drums...and build their own flutes [laughs].
People aren't snooty about it though. It's just the way it is. Everyone is excited about it and passionate about it and that rubs off on you. They're not trying to brag - they're just excited about it.
The barriers you might have elsewhere disappear for you when you're here. It brings things out of you that you wouldn't normally be able to express and that's really amazing. Of course there's plenty of bad things in Iceland too, but people are different here. You can find the nasty side of everything everywhere!
Ásgeir: I'm really introverted. I keep to myself. I'm not that open to people I've just met so I don't get some of the same feelings John is talking about [laughs].
Before we started touring I had maybe been twice or three times outside of Iceland but I hadn't felt the need to go before that. When I was growing up, all my classmates were so excited about the idea that they might one day go and live outside of the country. Most of my friends talked about it a lot but I never felt that...it felt like Iceland was enough for me and I didn't need anything else...but I'm really pleased about the things I've been able to do and see. To go all around Europe and America, I'm really blessed.
John: Do you find the travel tiring?
Ásgeir: Sometimes. It's still pretty new to me. I'm still getting used to it. This lifestyle - just seeing venues and going to hotels...I get homesick and that's probably because being in London and New York, I'm not used to it. It's overwhelming at times.
I wasn't in the music scene before this album. I wasn't in bands, I wasn't playing. It was more of just a hobby for me. I was recording at home so this has all been a whole new world for me.
John: It must be a bit of a mindfuck!
Ásgeir: I was as healthy as a guy could be, I was more into sports than I was into music - since I was ten years old. I was a javelin thrower and did track and field. It was a really big part of my life. It was maybe 50/50 sports and music and sometimes the sports took over.
Even weeks before recording the album I was really torn, thinking more about sports! A really good friend who heard demos of mine...he told me I had to do something more with my music. It was really strange!
John: It's a beautiful story. What do you think of places like New York and London? Because I find them overwhelming...
Ásgeir: You do?
John: I do...I love big cities but I feel the need to get out of them pretty quickly.
Ásgeir: You're from a small town too, right?
John: I am but not like you are - a few thousand people, maybe five thousand. And I love big cities like New York and London but I don't like what I have to become in order to thrive in a big city.
I can't stay as vulnerable as I need to stay in order to do the music that I want to do. I have to harden myself to survive in a big city. That's how I feel, you know. You have to steel yourself against that, I find, and stay open and soft on the inside at the same time. I find that very difficult.
Ásgeir: What I think about when I'm in big cities is...I need to have a lot of time to myself. I need to spend time in a hotel room relaxing. It's sad in a way because you should be exploring...
John: ....and people are always saying things like, "have you not been to that museum?!?! I can't believe you haven't been to that museum!?!??"
Ásgeir: Yeh [laughs] and I'm just, you know, sleeping...
John: I find London scary. I love being there. It's exciting and I love the places I get to go and how I get to go to them; as a musician you get whisked around all these interesting places. It's fun, it's exciting and I feel cosmopolitan. As a language freak I also love being in those situations. I'm an American consumer too so I love all the things you find in a city. But there's a Kurt Vonnegut quote...he says you should spend a lot of time in San Francisco but leave before you get too soft, and spend a lot of time in New York but leave before you get too hard...I believe there's some truth in that.
London is a tough nut to crack because it's so gigantic and there's so many different areas. I know lots of places around London but I wouldn't say I know London...to start putting them all together...all those places...it's tough.
But I feel lucky that we got to meet each other and we got to work together. I'm glad you're getting the attention you're getting - you deserve it.
The 3 CD deluxe version of Ásgeir's In The Silence is out now via One Little Indian and comprises Dyrd í dauðathogn (the the original 2012 Icelandic version) plus the English-language version and a CD of rarities and previously unheard material including remixes from Liam Howe (FKA Twigs, Lana Del Ray, Foxes) & Dot Major (London Grammar). John Grant's new record With The BBC Philharmonic Orchestra: Live In Concert is also out now via Bella Union.
Get the Best Fit take on the week in music direct to your inbox every Friday