-
Photograph by Jacob Krupnick.
Fresh from releasing the outstanding debut album Moonbeams. We recently caught up with Scott Reitherman, the brains behind Seattles' Throw Me The Statue to talk about the transition from 'bedroom act' to being signed to one of Americas most respected independent labels, Secretly Canadian.
The album was originally released on your own Baskerville Hill label but has now just been put out by Secretly Canadian. How did that relationship come about? Did they approach you or did you actively seek a 'bigger' label to release your records?
A friend of mine named Eric Fisher who plays in Damien Jurado passed along the Baskerville Hill version of my record to SC. A couple months went by and we hadn't been actively been getting in touch with labels to much extent, but then out of the blue I got an email from SC one day. Thus began my love affair with Ben Swanson over there. In continuing to talk with them over the next few months we got closer to finalizing things. So it began passively, and blogs writing about the record at this time definitely helped to bolster our case with other labels taking notice of us I think, and then in the end I really liked SC and went out to Indiana to meet them and sign up.
How do you feel you fit in alongside other artists on their roster? You're certainly in some great company…
The roster is intimidating, I will quickly admit that. I wondered if it might be too different from what I see as my aesthetic right now. Jens being on SC was an encouraging thing as far as SC's pop element. Also I really like diverse aesthetics, and on this first record I tried to fuse juxtapositions together, so in the end I didn't really worry too much about joining up with a label that some people have the impression of being "about" organic folk music.
So, is this correct, TMTS started out as a one-man project, then you wanted to play shows so you hired a bunch of friends to help? How did it all come about exactly?
That's basically right. I got my friends together to pull off the record live. A couple personnel changes here and there over the last year. Everybody in the band has a record out or coming out with their own projects as well. Aaron Goldman makes music as The Wild Types, Will Cone as The Golden Isles, Joe Syverson as The Final Spins. And these are all projects that we help one another with live and on record. And we all live together as well. They're my family in Seattle.
I've read that you took your name from an old mix tape title. What's the story behind this? Can you remember the track-listing on the tape in question…?
Ha, yea I wish I did remember the track listing better. I remember there being a Sigur Ros song, "The Mansion" by John Vanderslice was on there too. But yea it was the name of a mixtape I made for a girl in school. A couple years later I plucked it out of the past and reappropriated it for my musical project.
I know you were in some bands in high school. What have been some of your former classmates' reactions to seeing you play live back in California or elsewhere?
Oh it's really fun. I'm still close with all the guys I played with in high school, so it's a kick to be doing what we're doing now in Seattle and sending word back to the bay area about how stuff is going. We've only played San Fran once actually, and it was at Bimbo's which is sort of absurd. I think they were kind of like, dude your first show we see and you're playing there, what's going on? But we played really good that night so it felt amazing to have them there. I also pay more attention to the songs I get from those guys more than I do anybody else because of our history, which I guess is probably how most people are with their old friends. But it's great to have old friends that you love and still keep up with.
What is Moonbeams about? Is there a unified theme that flows throughout the album or maybe pieces of your life that you have amplified or developed along the way?
Well it's a scatter shot I think, but mostly it's trying to write an honest take on being young, living in the city and trying to make good art, unsuccessful connections with girls, not having a road map. I was pretty frustrated with myself at this point, I tend to be pretty hard on myself and I'd probably be better off if I weren't so serious sometimes. But I'd finished school, I'd lived in Seattle for a couple years and watched some of my friends make really great art or find love or go back to grad school. And I felt luke warm in general. I think Seattle can help that emotion if you're already leaning in this direction. I knew I wanted to finish a debut record and that nothing else would really line up until I got that done. I'd made recordings here and there that I felt good about, so I thought come on Scott where's the fucking album. I also knew I had to let go of some of that tension or frustration a little bit before I did some overanxious dry hump of a record. So I went out to the Oregon coast for two months to get my head clear and finish writing the songs, and I came back more relaxed and able to make a better record about youthfulness than I could have if I'd stayed in the city worrying about the usual micro-processes like paying rent and wondering when I'd get to accomplishing something meaningful in my life.
Over here in the UK we're slowly easing ourselves into spring. The sunshine is slowly starting to creep through and, for me personally, Moonbeams has been the perfect accompaniment – especially Groundswell..Was it your intention all along to make a "summer" sounding album?
Oh cool. Um, no I wouldn't say that. I think its cool that people attach a season to the feeling they get when they hear it. But I didn't expect that. I get it, but I was more trying to make a record with a youthful spirit, and people have since reacted with words like Pop and Summer. But that people feel anything about it or find some of its energy exciting is really a good feeling and I'm thankful for that.
What's the album cover all about, the story behind it, the photographer who took it, etc? It seems to evoke the spirit of the album perfectly..
The photographer is Heidi Johansen. Do yourself a favor and go here to see her work www.heidijohansen.com I feel really strongly about her talent, I want people to know the feeling of looking at her photos.
Can we talk about Baskerville Hill for a moment.. The history behind the label etc…
Sam Beebe and I started Baskerville Hill when we finished school and moved out to Seattle. Sam since has moved to Germany and now to London. Sam made a record as Black Bear called The Cinnamon Phase, which is a very powerful record. Go listen to it and try to disagree with me: www.myspace.com/blackbear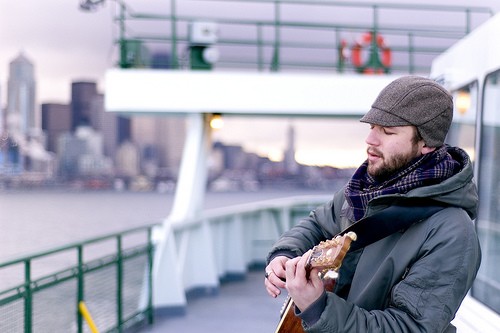 Photograph by Tae Rhee
Now that the touring for TMTS is about to ramp up how are you going to deal with some of the Baskerville Records business side of what you do? It must be quite a balancing act…
You ask good questions…! We're moving to a model that has everybody mailing out their own records basically. In the next month we're changing the BH site around a bit, the big difference being that each artist will mail out their own records as opposed to me mailing them out. It will affect shipping costs here and there, like Sam will send all his Black Bear orders from London, but I think not only is it necessary but its better this way too. I believe that for those people who still like to buy records that to receive more personalized shipments from the artist themselves is a great way to do business.
You have an 'open doors' policy to accepting demo tapes saying you'll listen with "open ears". You must get inundated… How do you sort the wheat from the chaff?
We don't actually get very inundated. We get people getting in touch with us over myspace and such. It's always more fun to get stuff in a package though.
Being as though the songs started out as being just you tinkering about in your home studio, how did you approach arranging the tracks for a full band? Was it a fairly tricky task or did it come naturally?
Well we started by learning the songs as they are on the record for the most part. Once we had a working knowledge of the tunes we've since reworked certain elements in both small and big ways for the live show. We also got this surprising offer to do a residency at the club Chop Suey here in town last month, and we tried with each show to play the songs differently. It was a great growth opportunity for us as a unit and for how the songs will sound live on the tour.
How are you going to approach recording the next set of songs now that you have a full touring band? Is the follow-up to Moonbeams going to be essentially a bedroom project still?
No I don't think it will. I'm in the midst of demoing the next batch of songs. The difference this time will be that I hand off those sketches to the guys before writing the parts for all the instruments. Then they can sit with the demos, see what they like and what they don't and write their own parts or modify what I started with. I'm not completely sure what it will sound like, I don't think it will sound bedroom but I also don't know what that word means exactly.
You've been known to try to engage the audience at shows by giving them something to do. Is anything planned for the coming tour?
Yes. Shakers, things to make noise with, etc. The battle against apathetic concert viewing wages on.
Any plans to bring the live show over to the UK any time soon?
God I would love that. I have deep feelings about making it to Scotland to the place where some of my family comes from originally. But yes, to play the UK would be a dream and we've been talking about potentially making it out there in the fall of this year.
What music are you listening to now that you think might influence that second album?
Some 80s stuff. Songs that might make you think of Miami Vice. People like Phil Colllins, OMD, Jermaine Stewart. You guys are in England so I'm trying to think of some contemporary Brit stuff too. I like Sleeping States from your country a lot. Also, Broadcast, Clinic, Comet Gain. You know like everybody likes to say I listen to a bunch of stuff new and old and soak up influences here and there that affects the songs variously. I think if some people thought this record sounded sunny, the next one may feel more cool blue.
And finally, with all this presidential hoopla going on have you picked/voted a candidate?
I'd really like to see Obama be the next president.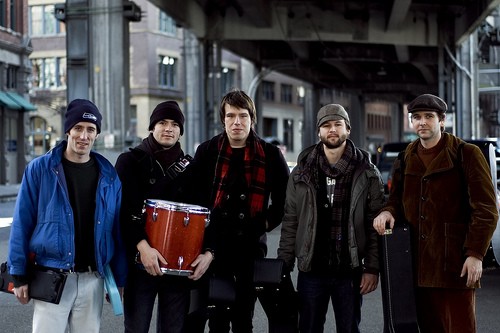 Photograph by Tae Rhee.
mp3:> Throw Me The Statue – About To Walk
Links
Throw Me The Statue [myspace] [label]