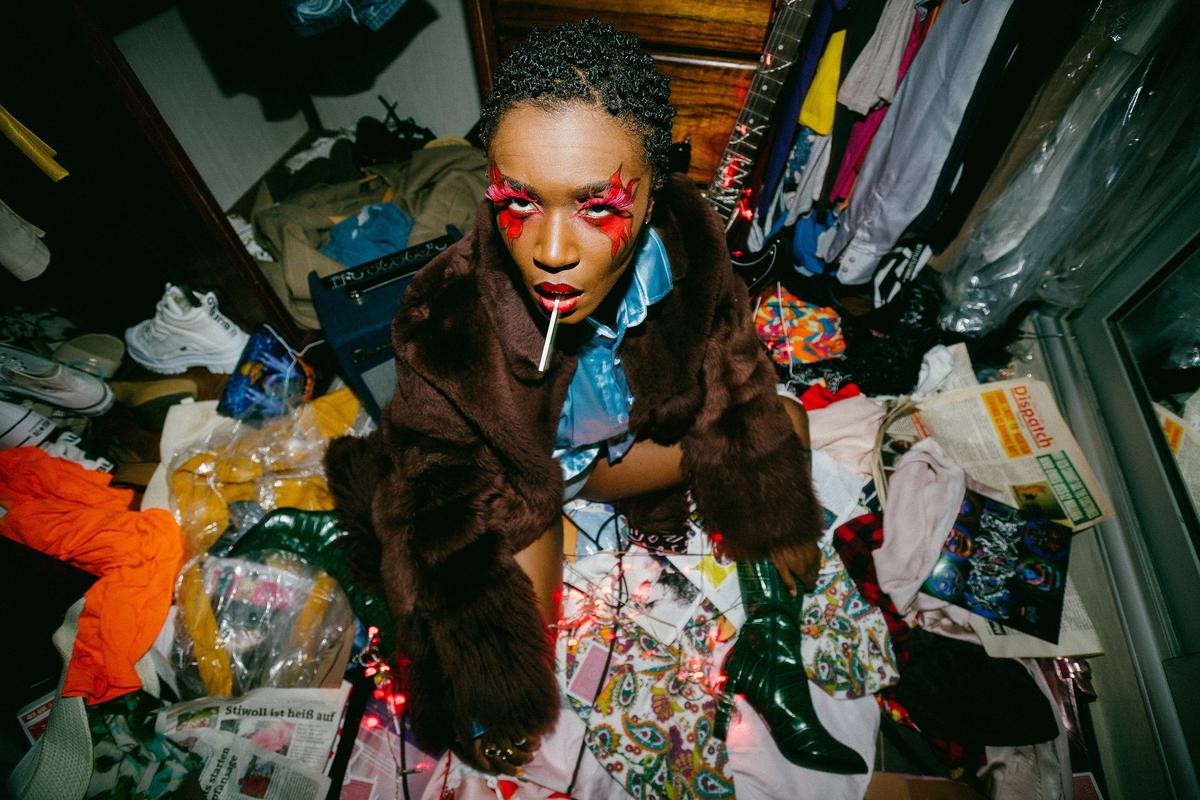 On the Rise: Amaarae
17 September 2020, 09:00
Already changing the face of music in her native Ghana, angel-voiced trailblazer Amaarae has her sights set on the world stage.
Serendipity put Amaarae in touch with her British cousin a few years ago. "Kojey would never really come to Ghana,'' she explains. When he did, the Londoner called on Amaarae's dad for a place to stay. "My [other] cousin texted me, and she said, 'Hey, Kojey Radical wants to meet you'. I was like: 'Wait … how do you know Kojey Radical?'"
It turned out she wasn't just a fan of the rapper, but family too. Fast forward to 2020, and the cousins are collaborating on Amaarae's forthcoming project The Angel You Don't Know – an EP of mellifluous Afrofusion, typified by sugary vocals and lyrical dexterity. Radical tells me, via email, that "I think the most enjoyable thing about working with Amaarae is seeing her genuine passion for music. She is one of the few artists that I know that will trust her gut within the studio. She's not afraid to say how she feels in what is quite a male-dominated industry." The 26 year old bagged a spot on Radical's 2019 LP, a contribution he sees as invaluable: "I couldn't imagine making Cashmere Tears without her input."
However, Amaarae's chance meeting with her rapper cousin is a rare development in a musical odyssey that's mostly relied on luck. The Bronx-born polymath is a singer/songwriter, rapper, producer and audio engineer – with a creative writing degree also under her belt. Her music reflects the changing backdrops of her childhood – from five years spent in Atlanta amongst Southern rappers, to a stint in New Jersey suburbia that tuned her onto Guns 'n' Roses. However, Amaarae's high school years in West Africa played the most propulsive part: "Moving back to Ghana, I think, was the genesis of me being an artist."
"Everything in Ghana is DIY whether you like it or not, because the systems here don't always work." A lack of resources ironically made music-making seem more accessible to her: "When I went to school in the US, the students weren't as adventurous as they were when I came back to Ghana. But here, they were always curious and saying 'Oh, what can we experiment with, what can we try next, do next?'" They parlayed broken keyboards and classroom computers into equipment. "When I saw that there are resources that we can use to help us get our creative ideas out - I was blown away and I was like 'Absolutely, I have to try this.'"
She started rapping aged 15 and would invite friends over for makeshift studio sessions. "I had this software called Mixcraft, and what I would do – at the time I didn't know it – but I would write my verse and everybody else's, and I would write the hook, and then they would record it." By 17, she was interning at a recording studio, before university, where she DJed and took vocal lessons on the side.
Amaarae's go-getting attitude doesn't just stem from her peers: "My mom is an interesting parent," she laughs. "I think the best thing that my mom did for me was helping me to understand that I'm creative and that's great, but how do you take this talent and monetise it?"
One way was to appoint her as her 'momager'. "It's one hell of a crazy ride", according to Amaarae. "Personally, if I wasn't an artist, I would never manage one, cause oh my god, we are difficult to deal with." Generational differences are the primary source of disputes between the two. "I could Tweet the wildest shit in the world, and to me and you, it's not a big deal because people Tweet crazy shit all the time. But my mom will see it and be floored. She's like, 'how can you take this thought that's in your mind and put it on the internet for everyone to see?'"
At the relationship's heart, however, is mutual respect, and her mum's business advice has paid off. "I never make a product, or a song, and wonder why isn't anyone listening to it? When I make a record, I know exactly what I need to do to get it to people's ears."
She's not avaricious, but Amaarae's candid on the link between making money and producing her best work: "You have to look at your art as a commodity, and you have to understand how the world of commerce works. Otherwise, it can leave a bitter taste in your mouth, and leave you quite disillusioned."
There's much duality when it comes to Amaarae though, and her serious approach to her craft is offset by breeze and buoyancy. As 2020 presents its endless stream of challenges she's "watching hella cartoons". When she's not making music, she's happiest in bed: "Give me a good 8 hours sleep – Woah." And the best way to listen to her new project is to "drop some LSD, drop some acid, and just trip out".
There's duality too in her gender expression. Amaarae's most recent video for flirtatious single "Fancy" sees her in an embelished leather dress and matching balaklava, in contrast to the sharp paisley suit she wears in "Like It". Since childhood, she says she has been unconcerned with binary norms: "I would wear like baggy shorts, but then have my hair braided really cute, with like pink baubles in them. That's always just been me."
As an artist in Ghana, where conservative cultural values largely remain, just being herself makes Amaarae a trailblazer. "Being part of the African youth, I take it very personally and as my sole mission to break down barriers, so that a lot of younger people – especially women – can come after me and do what they wanna do, without being put in a box."
The video for her track "Like It" featured drag queens and pole dancers. "Having that sort of representation in one video rattled a lot of Africans," she explains. "But it also opened a lot of minds, to be like 'Oh, OK, this is a route. We can allow space for different types of people, from all walks of life, all ages, all genders, to be involved.'"
The song caught the attention of celebrity elite too, finding its way onto Bella Hadid's Instagram story. "I was like 'Yo, how did Bella Hadid even hear this?' But it's crazy, she posted that video, and the streams went up like 15,000 in a day. I was like 'that's a fucking influencer right there.'"
A passion for bringing West African music to new fans around the world drives Amaarae: "It's the most important thing in the world to me." The global appetite in recent years for Afrobeats has seen acts like Burna Boy and Wizkid front and centre of an international stage, with both Universal Group and Sony opening Lagos headquarters. Alongside these major signing lies Nigeria's flourishing Alté (alternative) movement, led by artists and Amaarae collaborators like Odunsi (The Engine) and Zamir.
Working closely with the scene's key players means Amaarae is generally seen as part of the movement. For her, this is in error: "Ultimately Alté is a very specific sound and has a very specific bounce and movement. I wouldn't call myself an Alté artist. My sound is really Afrofusion." However, the hive of activity within the region provides a ripe creative environment. "Once we come together and take African music to the forefront, we can fuse our sound with like, Hispanic, hip-hop, with country artists, whatever. Just being able to cross those thresholds, I think, is the next frontier."
Her upcoming 12-track project The Angel You Don't Know is the latest tool in her arsenal. It symbolises a fresh chapter, following her 2017 debut EP Passionfruit Summers. "I just decided to say, 'fuck it'."
"What I really like about this project is that it's so colourful, and goes through so many different emotions, but at its core – it's really just a statement to say, 'I'm here and I'm not going anywhere, and everyone's gonna have to get used to me.'"
"I think my first EP was much more mellow and sweet, and I think this project is nothing like that. It's in your face." She credits an extensive list of collaborators for unearthing her newfound assertiveness, none more so than executive producer KZ. "He was the first person to really show me like, 'Yo, you could take this to another level, in terms of your attitude and your expression, so don't be afraid to do that.'"
The title plays on a saying her Dad imparted on her as a child – 'the devil you know is better than the angel you don't know'. "It means like, I might do something that you guys might think is crazy. But at least you know who I am, you don't know who the next person is – even though they might seem more virtuous and holier than thou."
Amaarae also wanted to conjure some mystique with the release's title. . "It means you never know what you're gonna get. And so you have to stay on your toes, but also that anxiety can be exciting at the same time. That's why I named the project that, because people don't know what they're gonna get."
"I want it to be like the soundtrack for the bad bitches, and all of their multiple personalities. I feel like women need that wide variety of music that you can cry to, be happy to, walk or run to, get dressed and feel good to, have sex to."
This injection of elusiveness makes Amaarae's work all the more enticing. And, with a debut album not yet on the horizon, it seems she's only just beginning. "When my ideas are a bit more refined, and I feel like I can really communicate everything that I wanna say up here, and that I wanna hear sonically – that's when I'll call it an album."
Her choice to hold off reflects her commitment to evolving authentically. "I'm just growing up and realising that life is really and truly what you make it. I'm not about to sit here and not make it the best fucking thing possible."
The Angel You Don't Know is due for release this Autumn.