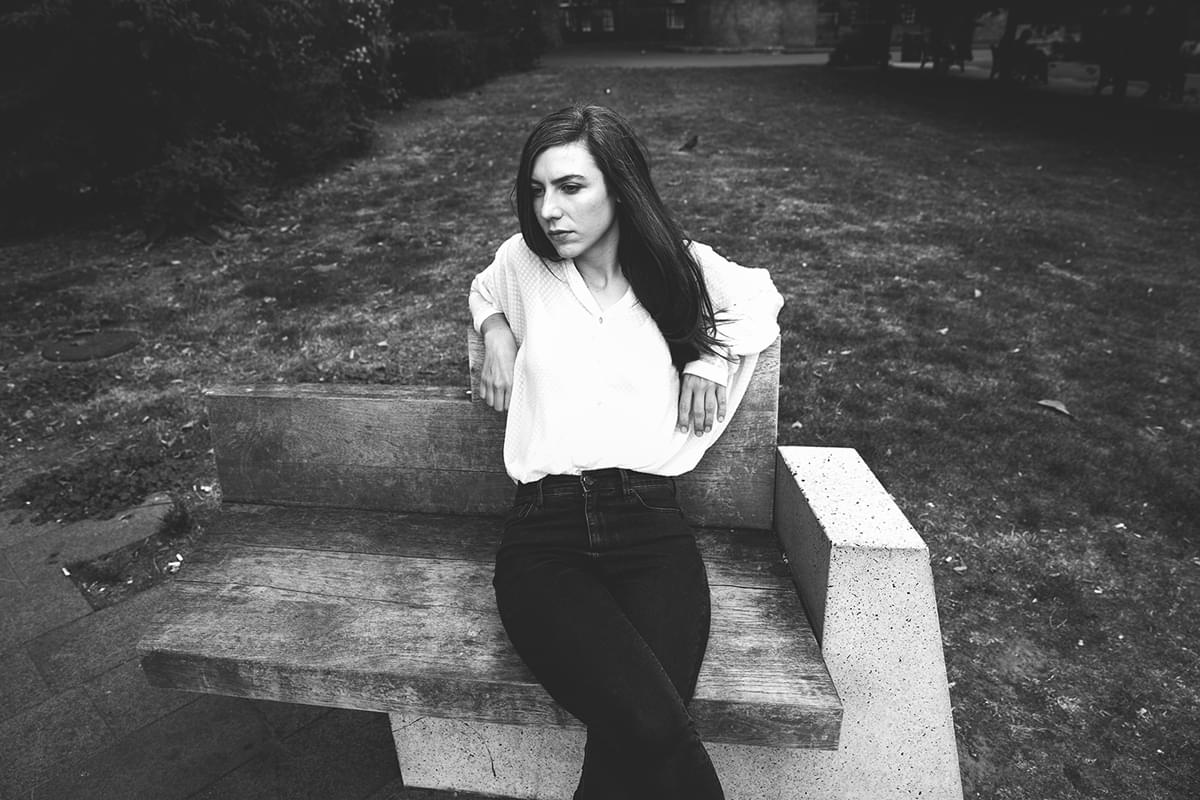 A conversation with Julia Holter about <em>Have You in My Wilderness</em>
10 December 2015, 09:45
Julia Holter made an avant-pop masterpiece this year with Have You In My Wilderness, our favourite album of 2015.
A semi-conceptual record filled with narratives and characters that resonate deep into the subconscious, it's a creative peak for the LA-born artist. In conversation with Best Fit, Holter takes us through the process that led to the creation of this extraordinary work of art.
How did the record begin Julia?
I started writing the songs that are on the album in 2011 (the songs "Have You in My Wilderness", "Betsy on the Roof", and "Sea Calls Me Home" are all from around then) -- you can find the original versions of them online somewhere. This was around the time that I moved away from my looping live set (layers) and opted for just playing the digital piano(with some string pads) and singing. I wanted to work on songs that rely more heavily on powerful melody than on intricate layers. These three songs were so adjustable that, to me, they would work with just piano and voice, as well as with a full band. It wasn't until 2013/2014 that I started to arrange and record band versions of the songs, and I wanted to write more songs that would fit in well with them to go on a record.
"I just wrote songs and they somehow all seemed to work together...."
Originally I imagined the record being called All My Love for You, but that ended up being the name of a song that never made it on the record. I didn't really put too much thoughtinto any "themes" for this record, I just wrote songs and brought them in and Cole (MGN - producer) and I went through and he helped me decide which ones to put on the record.
On records like this one (and Ekstasis), building the record is this kind of complicated process because there isn't an overall story I'm following (like there is in Tragedy and Loud City Song). so it's about using one's instinct to decide if a song "fits" with another song. I just wrote songs and they somehow all seemed to work together.
You've mentioned that an underlying theme to the record is possession, specifically in relationships and how the term isn't necessarily seen as a negative quality. At what point in the writing process did these themes begin to emerge?
As I've said, while each of my songs have their own poetic purposes that I put a lot of thought into while writing, I don't think I ever thought much about any overall "themes" until the record was over and I realized why I chose certain songs, or why I wrote the songs in general. Sometimes that kind of analyzing shouldn't happen until the end. I think instinct has a good way of making logical choices without us knowing, and so I assembled these songs somewhat "blindly" and it just made sense to me somehow.
I chose Have You In My Wilderness (which had been the name of one of the songs since 2011) as the title at the last minute, when I had to decide, and I think I chose it because that song best represented what I think I was trying to do overall with the record (I say "I think" because I wasn't completely aware of it while I was writing it), which was to make a "love songs" record, musically influenced mostly by '60s ballads, but almost playing off this kind of aggressive voice of love that we have experienced in ballads as well as in paintings and poetry--this 'romantic' idea that we have to hunt down and conquer the thing we truly 'love', which is, of course, a one-sided simplified view of a connection between two people. But that perspective might be very familiar to anyone who has been in love and been made totally crazy/delusional by it and it's also fun to play, and perhaps that's why the delusional lover is such a popular role in art. I made a mix that features a lot of the best examples of it.
"I think what I was trying to do with the record was to make a 'love songs' record, musically influenced mostly by '60s ballads, but almost playing off this kind of aggressive voice of love that we have experienced in ballads as well as in paintings and poetry..."
I wrote the song "Have You in My Wilderness" in 2011 imagining myself to be a man (or woman? somehow man came to mind originally but whatever) desperately trying to conquer his/her lover and not understanding why the lover in the end leaves. I wrote "Silhouette" in 2014, inspired by a story I read about these two sisters who both (!) fall in love with and thus remain fiercely loyal to a monk who once visited them and stayed with them but who never returns. They both hold onto his things (like "his coat" that I mention in the song) kind of crazily, hoping he might return, alternating between moments of letting go and holding on. In my song, there is just one character, but I imagine it a sister to Have You in My Wilderness--another voice of possession, not able to let go. There are also songs like "Vasquez" (about a beloved bandit, a law vs. outlaw song, with a 'who is the real bad guy' question) and Lucette Stranded on the Island (about a woman physically abused by her lover) that seem unrelated, but to me, these possessive power struggles and, occasionally, abuses of power, are related, whether between two people or in society.
How was your relationship with Cole during recording?
I've known Cole since around 2007, and when we finally started working together in 2011, it was fun and scary because I had never worked with anyone else to produce anything, and I didn't trust him at first. But of course what you realize is if you work with someone who really understands what you're trying to do, you can trust them. When I played him my home recordings for the record that became Ekstasis, he instantly responded, while I didn't understand that he understood. And then he would work on the song a bit, and I would be like whoa he really understands - he was taking the endless amount of crazy recordings I had for each song, and spacing them out and making them richer-sounding. For the last two records (Have You in My Wilderness and Loud City Song), he had sole control of the computer for all the final recordings, with the guide of the demos I had made at home, and, aside from producing and engineering, there are so many arrangements that he contributed in addition to what I had arranged.
Those records both really needed someone who had the extreme sensitivity toward frequencies that Cole has, and it is only because of his that they are so lush, with such a big deep sound--I wanted Loud City Song to have a theatrical orchestral quality, and I wanted Have You in My Wilderness to have a golden warm power, and I have trouble achieving either of those things alone, because I love so many layers and it's complicated to layer things and also create enough dimension for them to work together well sonically. Songs where you can really hear Cole so well are in songs like "Vasquez" (Have You in My Wilderness), which he arranged so much of himself with my demo as a guide, especially the intricate drum sequencing and the long sax "solo" section. Or "Horns Surrounding Me" (Loud City Song) or "Betsy on the Roof" (the piano at the end was live-processed by him as I played in the studio).
"Cole MGN is very impressive because he is no bullshit: all about the work and not about the aftermath..."
Cole is very impressive because he is no bullshit: all about the work and not about the aftermath, never patting himself on the back, despite the great work he does. A few hours after we finished Have You In My Wilderness (the last stage involved something like seven fifteen hour days), he won a bunch of Grammys for working on the latest Beck album.
Looking at the reception the record has had, when did you really start to understand the positive reactions people were having to it?
I'll never understand anyone's reaction to my music, it seems impossible to have another perspective on it than your own when it's your own work. I have such a love/hate relationship with my work, and that's pretty normal for an artist I think actually. You never truly love everything you do. I never can tell if people will like it - honestly, so much of what gains recognition and what doesn't is arbitrary, and I feel I have no power over it. I just try to be true to myself and my vision, sometimes throwing myself curve balls to see what happens.
A lot of my music is trial and error, and I embrace that side of things. If what is appealing to others about my music is that it is playful, than I can understand that I guess.
When we talked to you back in September, you mentioned how you dislike the sound of your own voice yet on this particular record it's very much at the forefront. Has the success of the album, and indeed the rapturous response to the live shows, helped you feel more at ease as a vocalist?
Not really, but I'm okay with not feeling "at ease". Uneasiness is sometimes key. I love singing always though, anxious or not.
Although still very much a 'journey' record, this feels like your most openly accessible release to date. As a songwriter, are there any areas you'd like to explore further?
I don't know how any artist would strive to be "more accessible" for purely creative reasons, because it's impossible to predict what people want, and best not to. Best to be the leader and let people follow if they want to, I think that works better. What I would say about this record is that it's the first record I've done that does strive a bit to work within a kind of loose musical "genre" ('60s ballads?) and that's new for me. It's not necessarily something I'll do again though!
What's your relationship to the record now?
I don't know, it always changes. I am happy for it though haha. I think it is separate from me now, some kind of creature floating in the world.
What's been your musical highlight of 2015?
I strive to keep things that move me secret, just for my own privacy but it never works...the 3 CDs I brought on tour with me (ya I brought CDs that I bought at a record store) were classic Patti smith, the new Joanna Newsom, Kendrick Lamar, all are extremely moving forever and relevant.
Get the Best Fit take on the week in music direct to your inbox every Friday